14 of the World's Most Charming Libraries
Atlas Obscura readers recommend their favorites.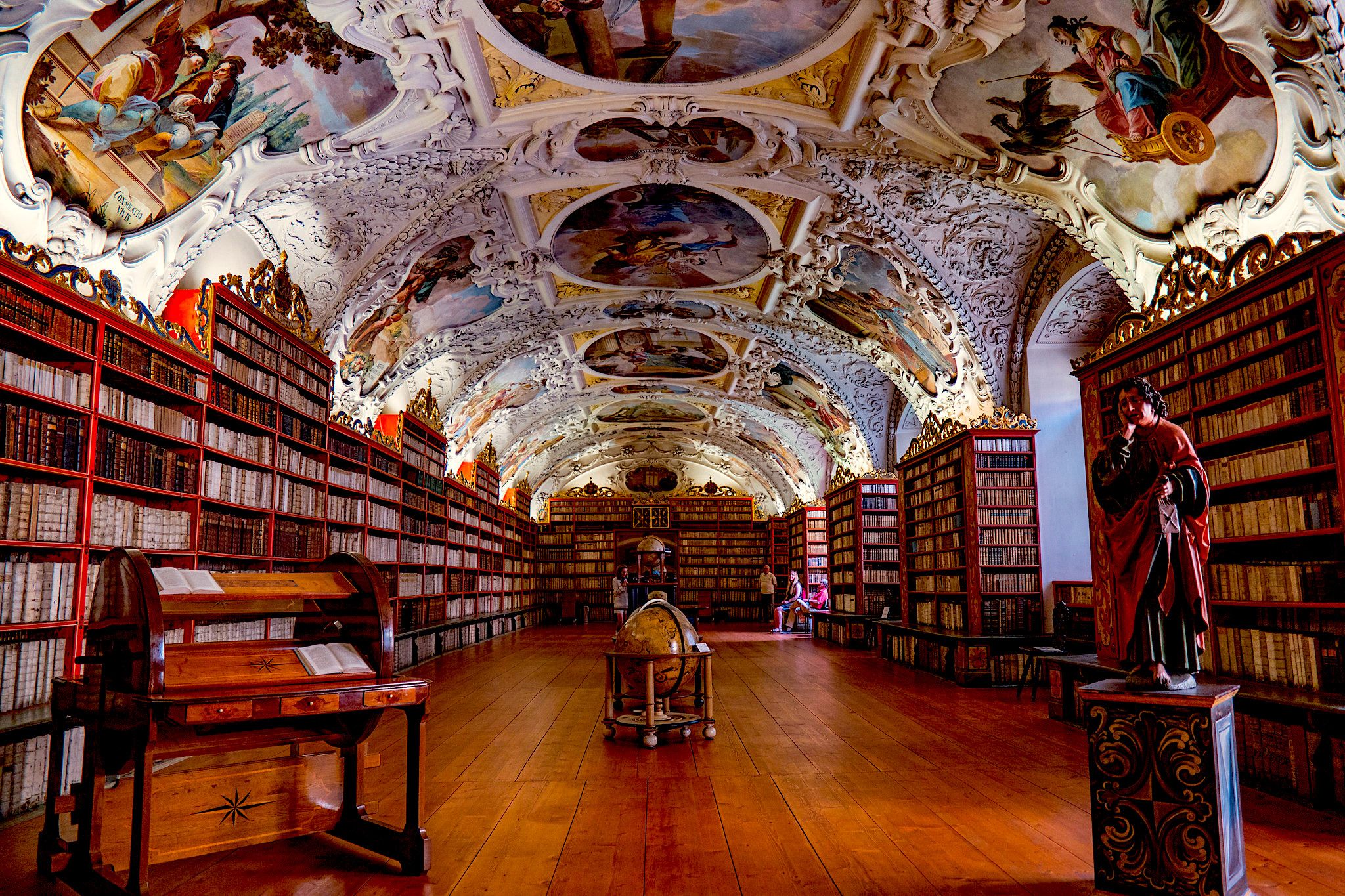 There are few things in this world more breathtaking than a grand, lovely library. Whether it's a sprawling monument to modern architecture or a baroque, historic institution that looks like it would fit right in at Hogwarts, libraries continue to stand out as sites of jaw-dropping beauty and undeniable atmosphere. There are so many beautiful libraries in the world, in fact, that we're not entirely confident we'll ever be able to catalog them all. Recently we asked Atlas Obscura readers over in our Community forums to tell us which are their favorites, and we nearly got lost among all of the incredible suggestions.
From a private library in North Carolina to a law library in Zurich, our readers gushed about a wide variety of charming reading rooms and lending institutions. And yes, we read these places by their covers.
Check out some of our favorite submissions below, and if you have a favorite beautiful library of your own that you'd like to rep, tell us about it in the forums, and keep the conversation going! Libraries are essential to the preservation of human knowledge, and they're pretty to look at, too.
---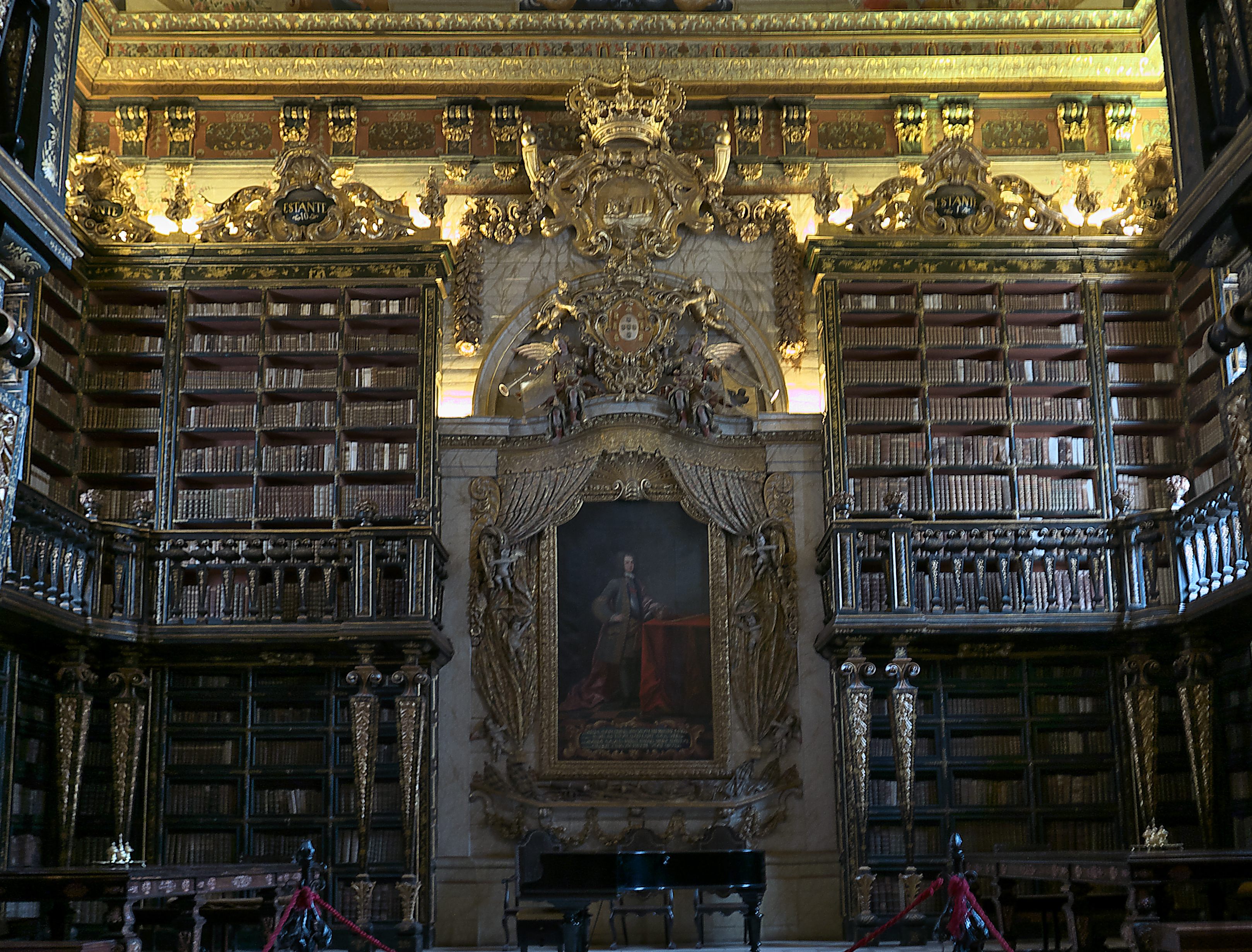 Biblioteca Joanina
Coimbra, Portugal
"The most beautiful library I have ever seen was in Coimbra, Portugal. Biblioteca Joanina, constructed in 1717, is located in the University of Coimbra. This baroque library was made with teak which maintains a healthy humidity level and temperature inside the library. Teak is also a natural insect repellent." — jbrown351
---
Asheville, North Carolina
"The library in the Biltmore House in Asheville, North Carolina, is magnificent." — Woodlaw
---
University of Illinois Math Library
Urbana, Illinois
"It was a real steampunk-y treat to visit the University of Illinois at Urbana-Champaign's mathematics library at 216 Altgeld Hall 11, featuring glass floors, narrow stairs and intricate iron shelving. The building was constructed in the late-1800s and feels castle-like." — onoma
---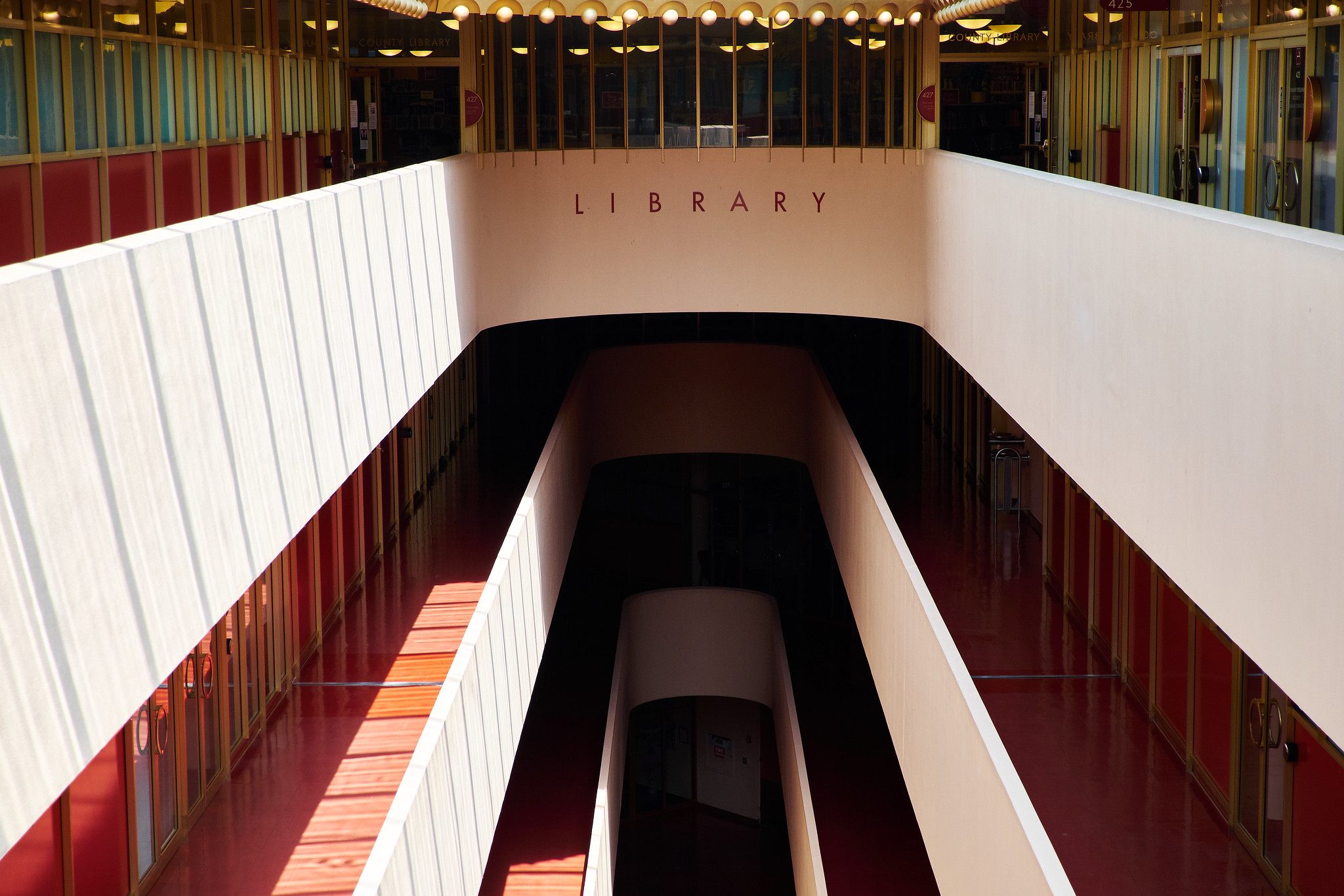 San Rafael, California
"Close to home for me is Frank Lloyd Wright's breathtaking Marin County Civic Center. The Civic Center Library within is one of the more humble parts of the building, perhaps so you can pay good attention to your reading, but—true to form—the round, gently domed room still provides the feeling you're inside of a flying saucer's library rather than properly tethered to the ground. As already pointed out in an AO article, this is also a great place to visit if you're a Star Wars fan, or if you've enjoyed the movie Gattaca." — onoma
---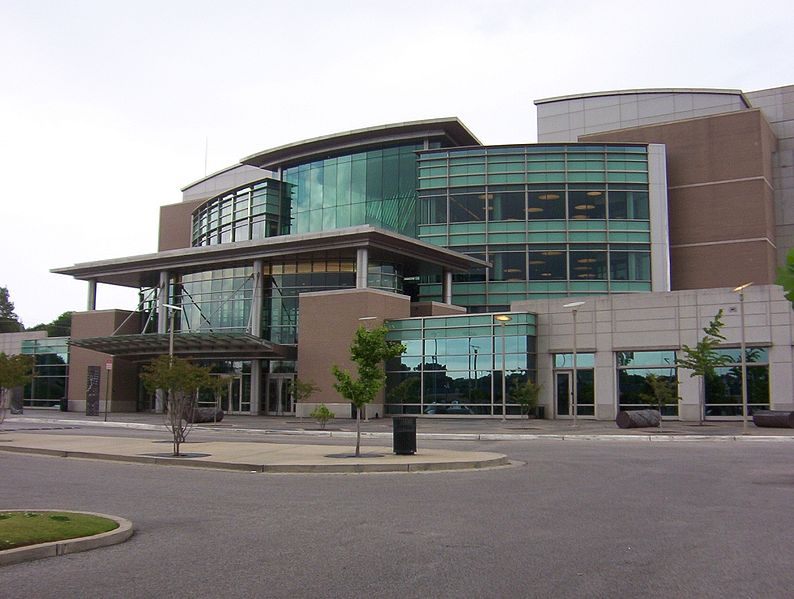 Benjamin Hooks Central Library
Memphis, Tennessee
"Photos of the Benjamin Hooks Central Library in Memphis don't do it justice. I take all my first-time out-of-town guests there, though, because the sculptural elements at the entrance are so very unusual and, I think, pretty exciting. On the huge pillars and into the granite flooring are carved quotations from great literary works, maps, hieroglyphs and petroglyphs, and really everything you can imagine that has to do with literacy. You could spend hours just reading outside the library! When you finally get inside, don't miss the children's area, whether you have kids with you or not. It begins with a brilliantly colored forest and continues with a variety of art—and oh yeah, tons of books." — korenni
---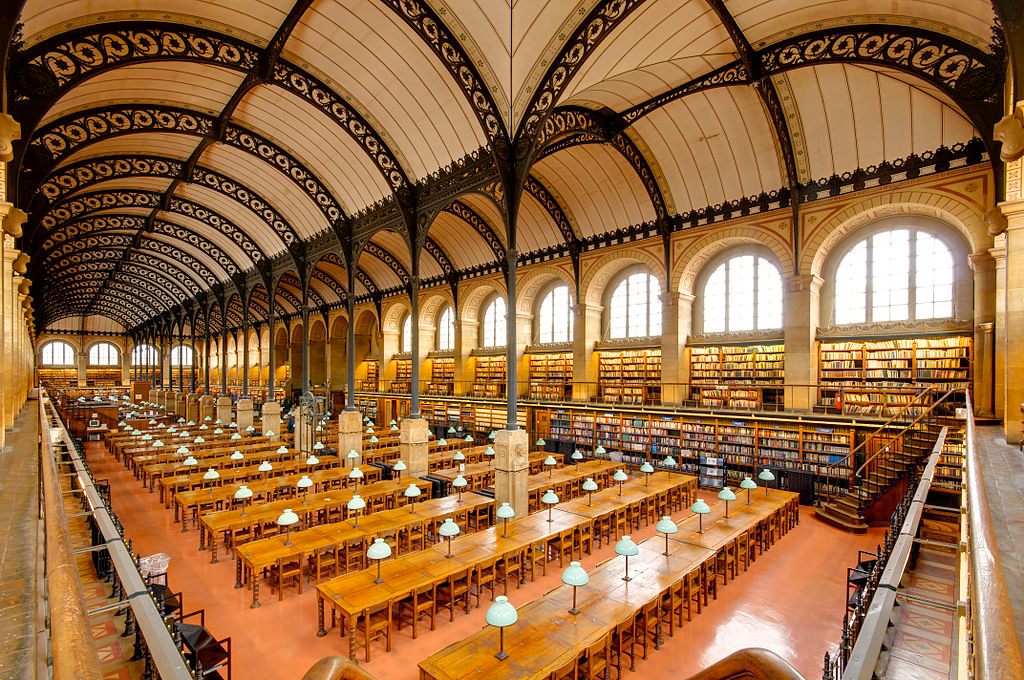 Sainte-Geneviève Library
Paris, France
"I would name Henri Labrouste's Sainte-Geneviève Library in Paris." — ale2x72
---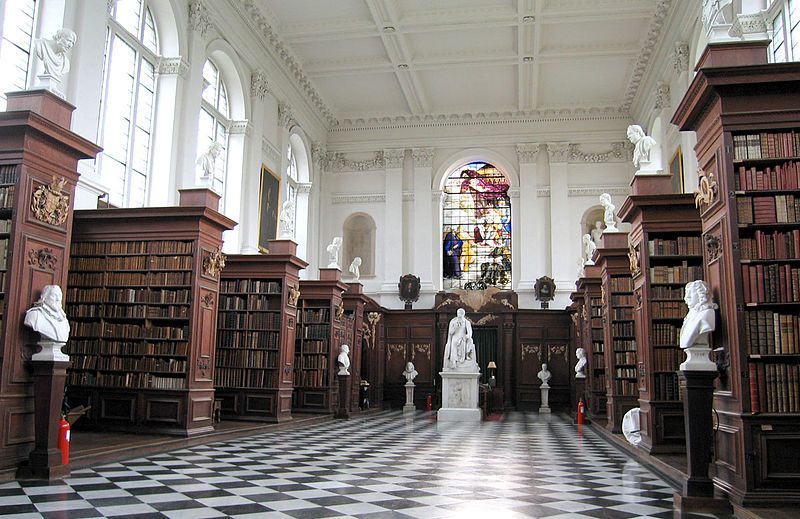 Wren Library
Cambridge, United Kingdom
"The Wren Library of Trinity College Cambridge." — jjlancaster88
---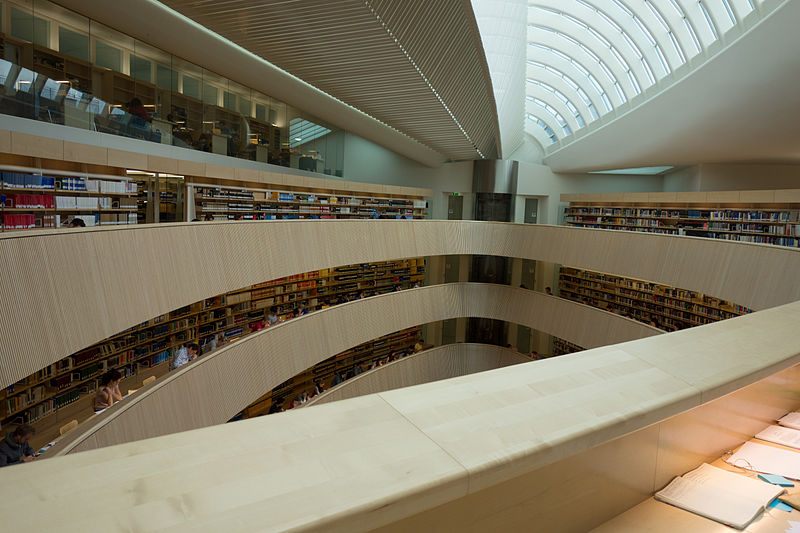 University of Zurich Law Library
Zürich, Switzerland
"Santiago Calatrava's Law Library at the University of Zurich. The louvered roof responds to the changing sun creating dancing shadows and light beams throughout the space. I have visited only once, but remember the experience very fondly!" — rivera8n
---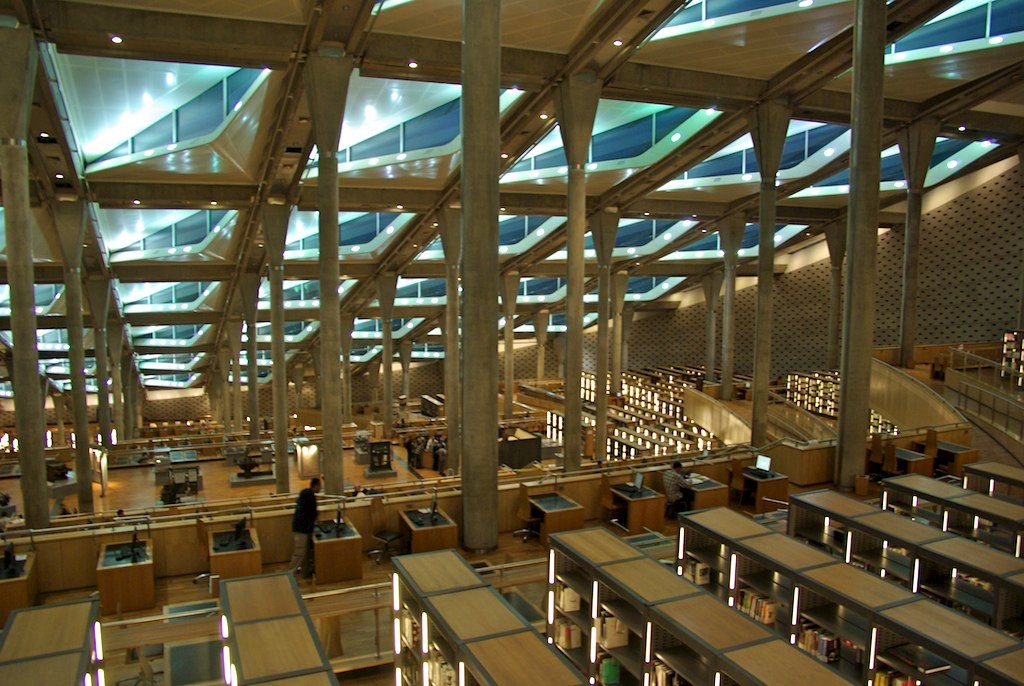 Bibliotheca Alexandrina
Alexandria, Egypt
"I was fortunate to see the Bibliotheca Alexandrina in 2006 when traveling in Egypt. The library was designed by a Norwegian architectural firm and construction began in 1995 and opened in 2002. The cost was U.S. $220 million, which also included a conference center, a special library for maps, multimedia, children, visually impaired along with four museums and art galleries and a planetarium. The library collection is trilingual, containing books in Arabic, French, and English and it was designed to hold up to eight million books. The main building was designed in the shape of a tilted sundial, and the outside walls have 120 different human scripts carved into the granite walls. It was quite an amazing place to see and experience." — deniseishere
---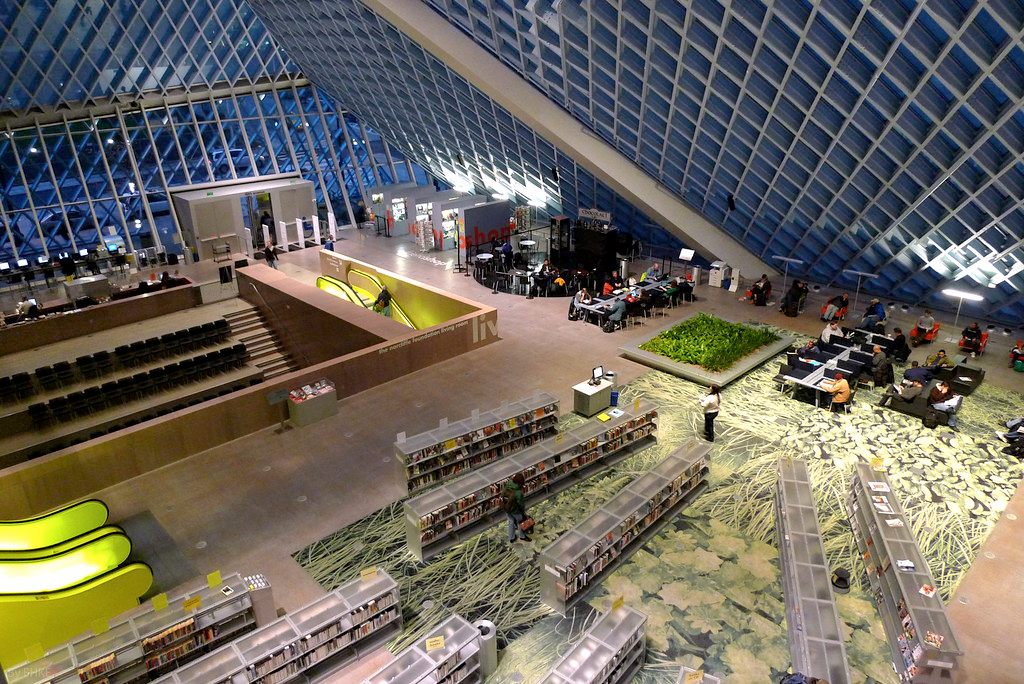 Seattle Central Library
Seattle, Washington
"The Seattle Central Library by Rem Koolhaas. Surprises around every corner and in every nook and cranny!" — Philip_Shane
---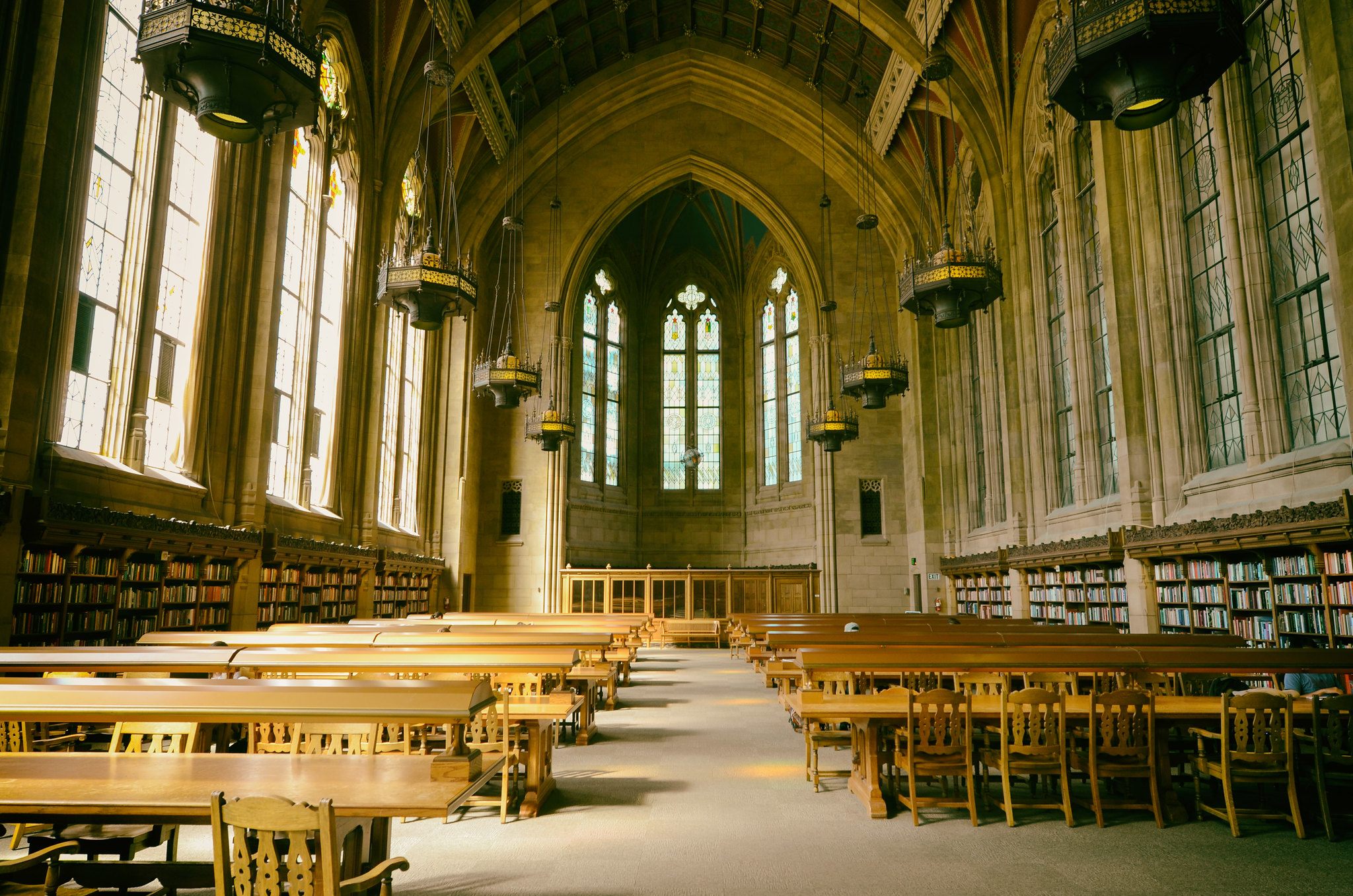 Suzzallo Library
Seattle, Washington
"I am so fortunate to be able to visit this library whenever the spirit moves me." — taymac_3c79f14b
---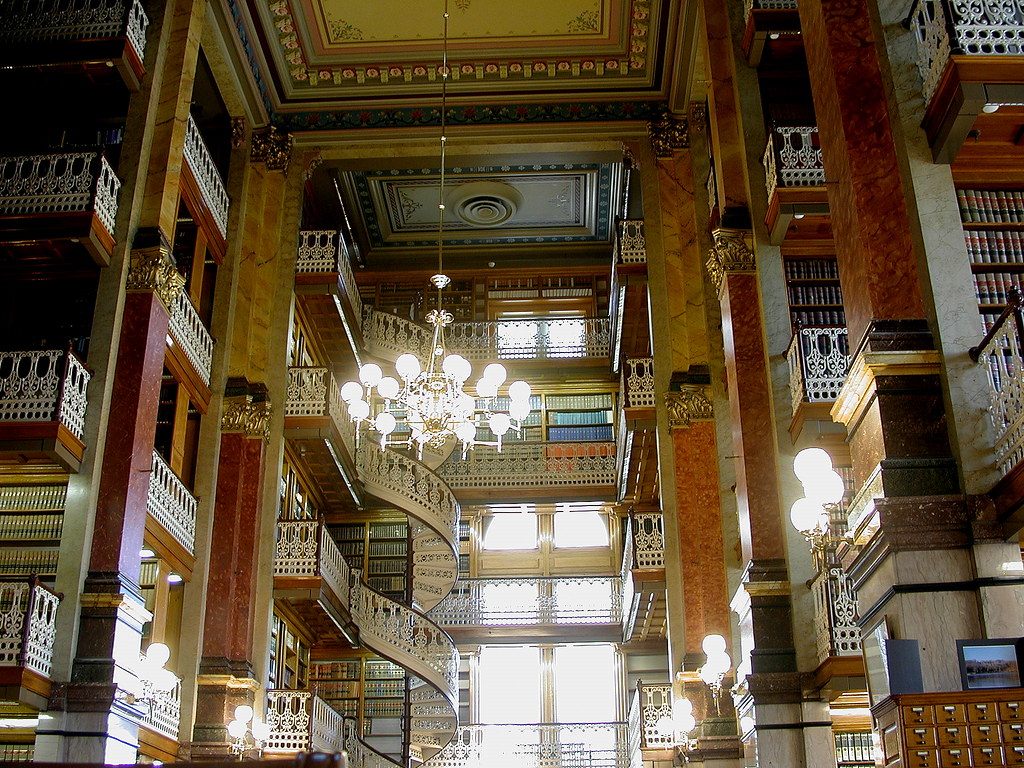 Iowa State Capitol Law Library
Des Moines, Iowa
"In the Des Moines, Iowa, state capitol, there is the State Law Library. It has four levels and a beautiful art deco design." — DellaRose
---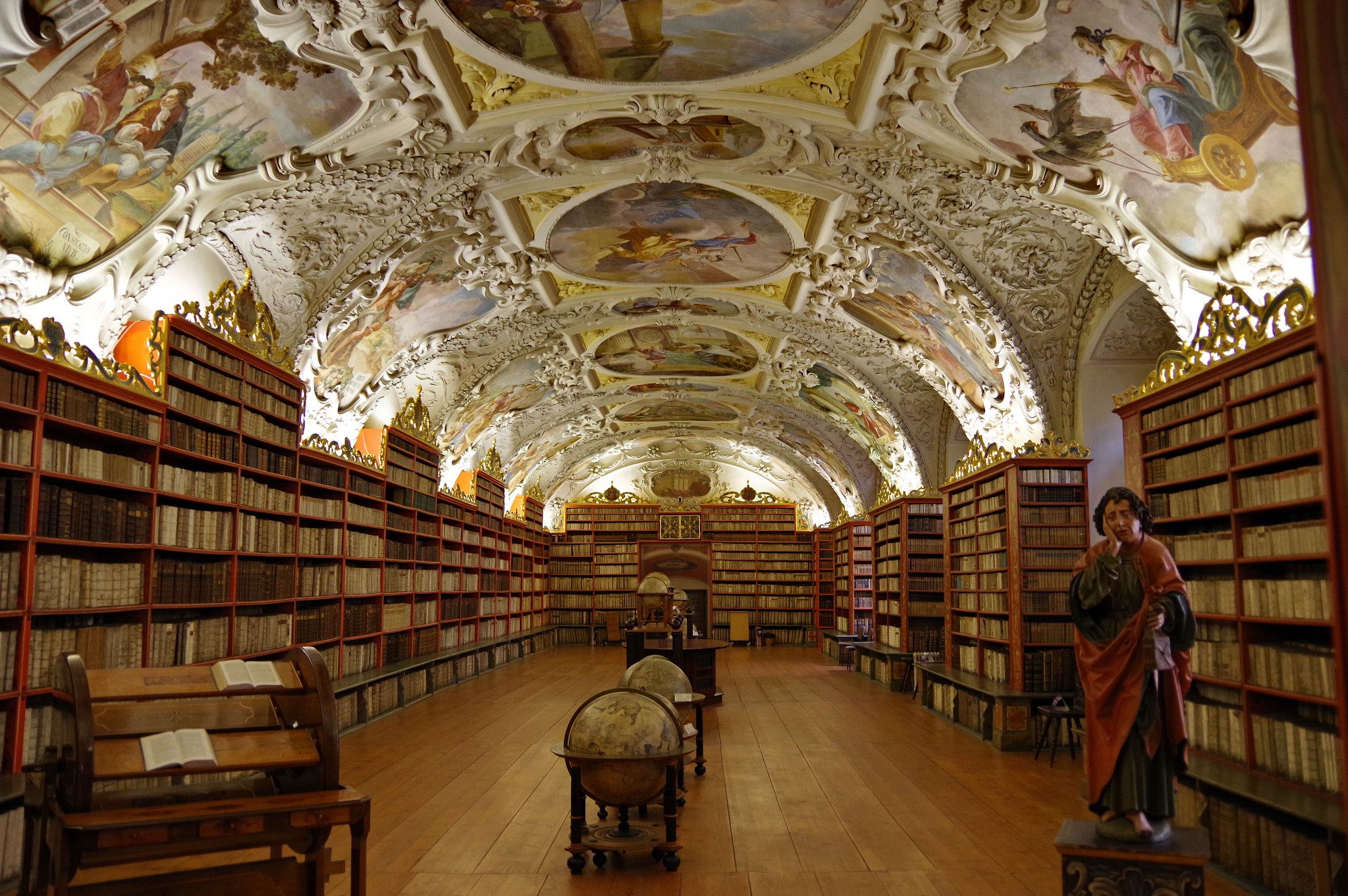 Prague, Czech Republic
"This is the Strahov Library in Prague. Amazing space, the kind of library you dream of. Full of science and art, and yummy looking volumes that we couldn't touch! And whatta ceiling! Rococo all the way." — cgralapp
---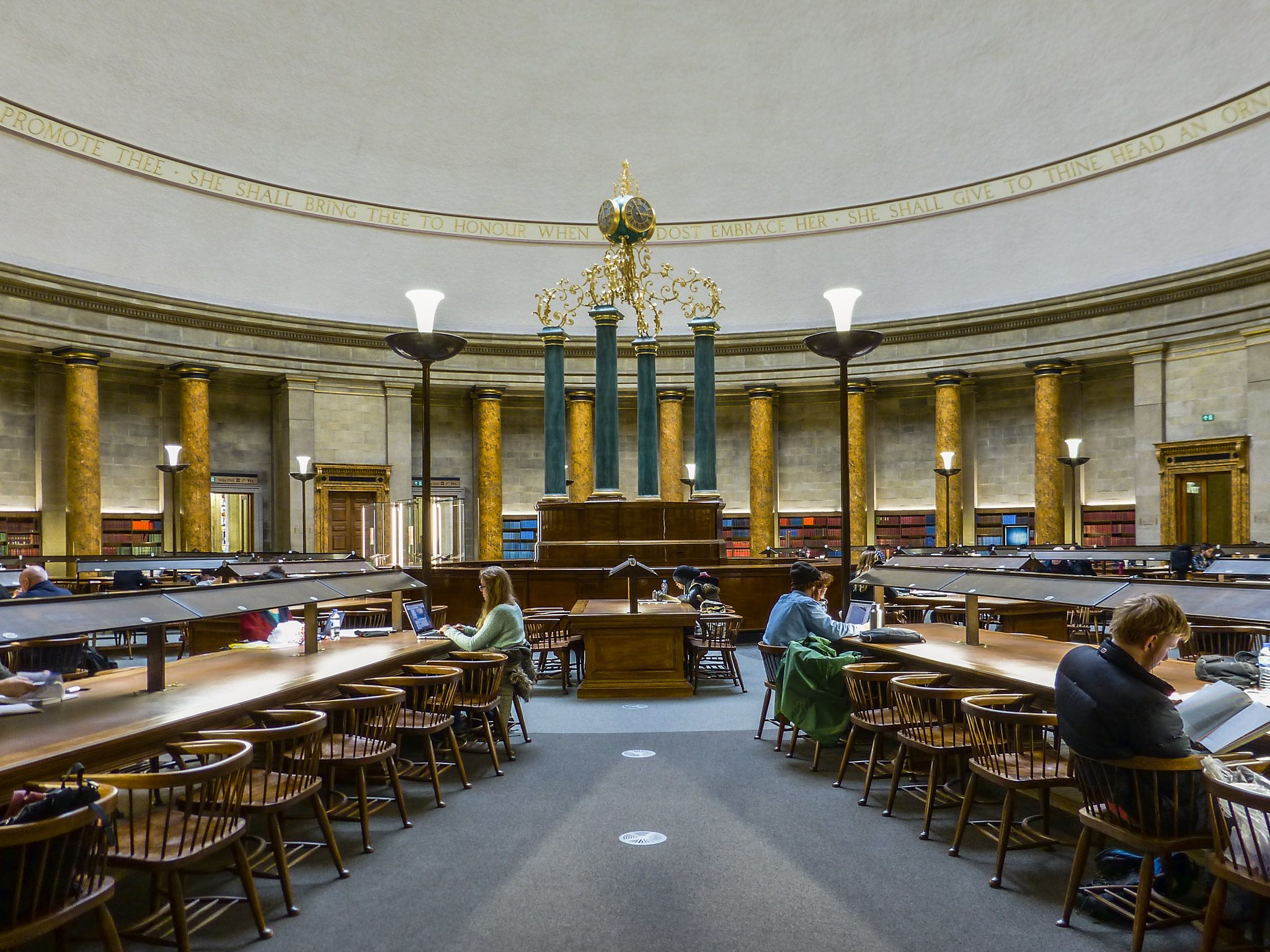 Manchester Central Library
Manchester, England
"So many stunning libraries, and now I just want to sit down in some of 'em with a giant hardback or 15… I'm fortunate in that my hometown has several glorious libraries. A few are already on AO, including the John Rylands Library and the Portico Library. The library I go to, though, is Manchester Central Library. It's a beautiful building modeled on the Pantheon in Rome, pride of place in St. Peter's Square next to the gothic town hall. The reading room beneath the dome is breathtaking and I liked looking at the Shakespeare stained glass window above the entrance when I walk out…" — JamazingClayton