7 Spectacular Libraries You Can Explore From Your Living Room
You can almost smell the old books.
Regular visitors to libraries may be missing the hush of the stacks, the smell of old books, and the welcoming atmosphere of the local branch. Many of these public, private, and academic spaces have closed due to the COVID-19 pandemic. But much like museums, libraries around the world have produced immersive, 360-degree tours of their interiors. These simulations can offer more than inspiring views of literary sanctuaries; often, they serve as interactive platforms that provide information about the library's history and resources.
Last week, Harvard University's Harry Elkins Widener Memorial Library released an online, 360-degree tour to support remote access during this period of widespread social distancing. "We've seen an encouraging number of site visitors to our tour page in the few weeks since it has gone live, and I imagine other libraries are seeing a similar uptick," says Matt Cook, the library's digital scholarship program manager. The guide offers high-resolution views of the 105-year-old cultural heritage landmark, from its marble, neoclassical-style rotunda to its grand Loker Reading Room. You can also click around to read annotations on the building's history. "This tour is the next best thing to being able to walk through the building," Cook says. "In some ways it is better, since it provides more information than you might discover if you wandered through."
Some of these tours even allow online visitors to browse portions of massive material collections. At Widener, Cook imagines linking the online tour to information on specific items, such as scans of rare objects and click-throughs to catalog entries, so that users can place circulating materials on hold. By moving their resources online, he adds, libraries might motivate users to visit and seek out resources they discovered remotely. Until we can safely return to these institutions, Atlas Obscura has rounded up several other virtual libraries you can visit right now.
The Klementinum library
This baroque library in Prague, Czechia, was built in 1722 as part of a Jesuit university complex, and its ornate interior has changed little over the centuries. Step into its 360-degree tour and gaze at shelves of theological literature beneath a ceiling of frescoes. In addition to housing more than 20,000 books, the library includes a collection of terrestrial and celestial globes. You can also explore nearby chambers, such as a public reading room flanked by massive oil frescoes and an observatory in the astronomical tower.
The Puratos Sourdough Library
Founded in 2013 by the Belgian bakery supply company Puratos, this collection of sourdough starters in St. Vith is the largest of its kind. Although it is not open for public visits, you can virtually venture into its refrigerators, which collectively hold more than 100 blobs of yeast- and bacteria- laden flour in jars. After hearing a brief introduction from its sole curator, Karl De Smedt—who globetrots to acquire these glorious globs—check out short videos that spotlight varieties of yeast cultivated by bakers around the world, from Altamura to San Francisco.
King's College Library at Cambridge University
This cozy university library in Cambridge, England, was established in 1441 and is home to notable collections of rare volumes, medieval manuscripts, and incunabula, or early printed books. Its second floor also houses the Rowe Music Library, a lending library of scores that is particularly rich in 18th-century English music. Roam the all-wood labyrinth of aisles and nooks in an online tour, which features short biographies of scholars who left their mark on the college.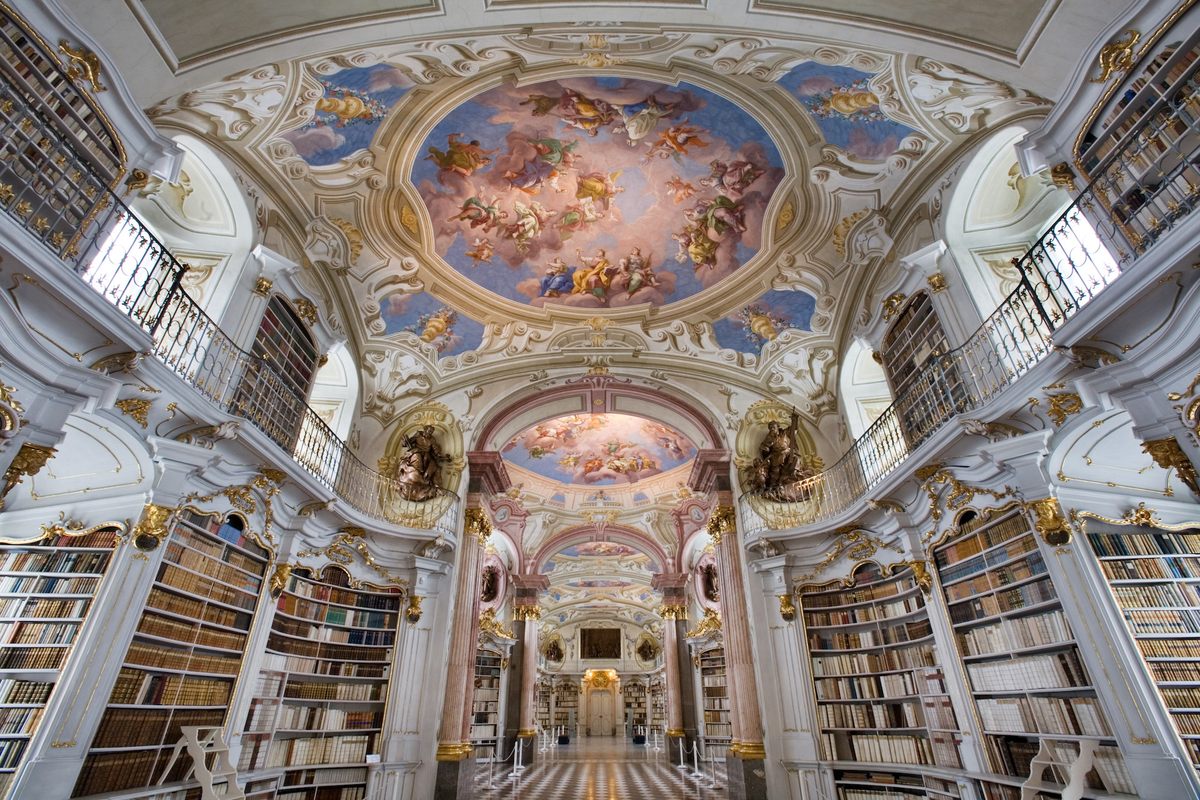 Admont Abbey Library
Completed in 1776 in the Austrian town of Admont, the world's largest monastic library is a striking example of late European Baroque architecture. Among the treasures in its 230-foot-long main hall are seven ceiling frescoes, two massive reliefs, and bookcases adorned with 68 gilded busts of scholars. Due to the pandemic, a virtual-reality version of this opulent space is now available online, accompanied by a multimedia presentation on its history. Like the library's physical tours, this digital one has an entry fee—for 0.99€ you can explore the main room and all its secret passageways, listen to audio guides, and flip through a selection of digitized books.
Jerome Hall Law Library
A beautiful, five-story academic library in Bloomington stores extensive collections of legal materials for Indiana University's Maurer School of Law. You can poke around the massive interior in a virtual tour, which offers views of its airy reading room, marble and oak atrium, and more. Keep an eye out for highlights such as hanging geometric sculptures by Morton Bradley and a special collection of signatures and historical documents from U.S. Supreme Court justices.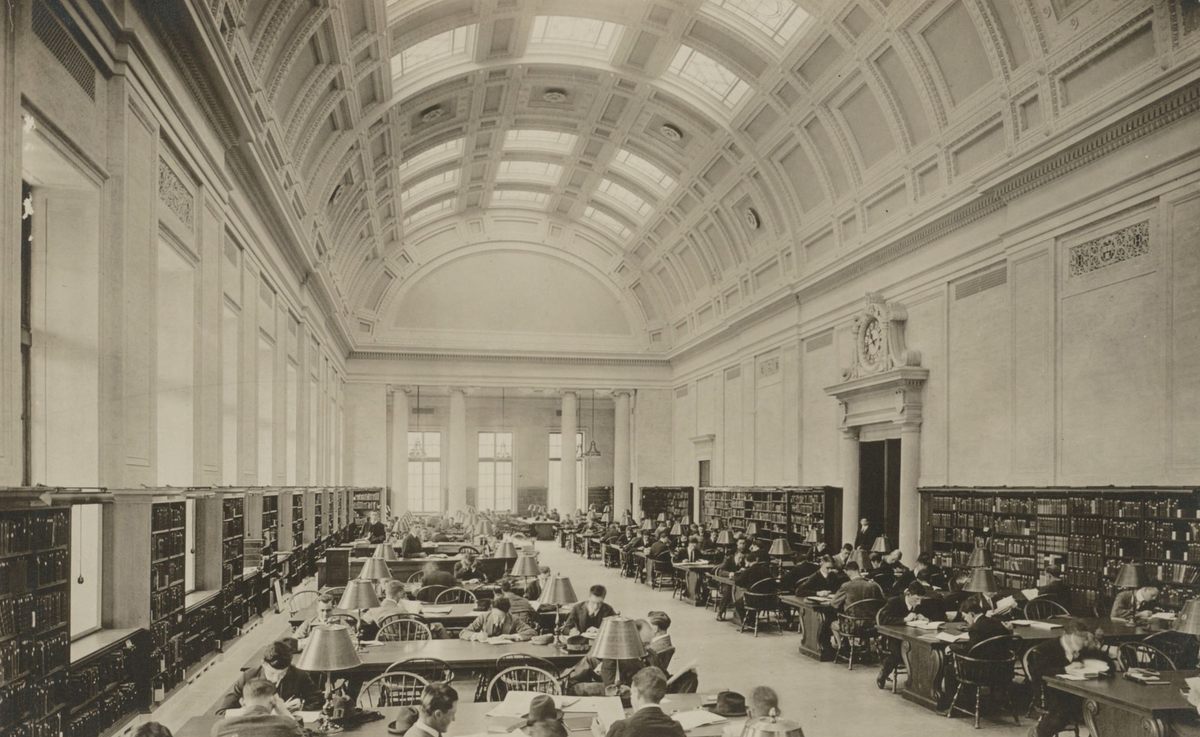 A.K. Smiley Public Library
This small library in the city of Redlands is a registered California Historical Landmark and architectural jewel. Built in 1898, it is designed in the Moorish Style and features red brick with hand-cut sandstone trimmings. Wander through the historic building in this 360-degree tour and explore its vaulted ceilings, reading nooks, and beautiful stained glass windows, which depict symbols associated with libraries and learning. Don't miss the bookstore in the basement, where you can catch a glimpse of the store's mascot, Swimmy the fish, who is a card-carrying library member.
You can join the conversation about this and other stories in the Atlas Obscura Community Forums.