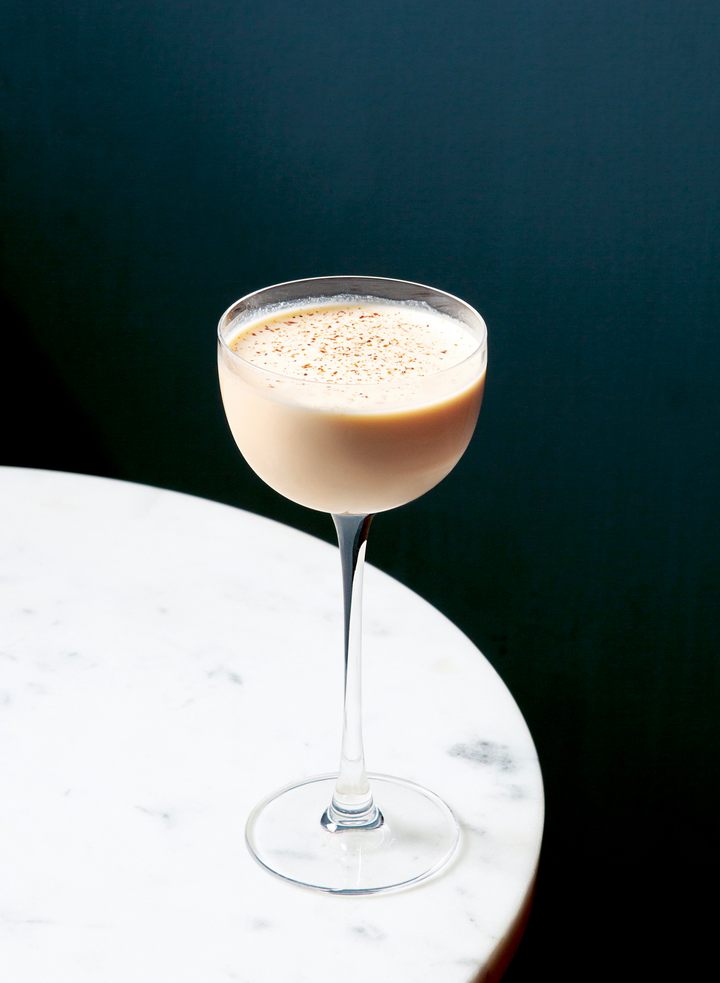 The Oat-Milk Cocktail That Took Down an Army
Amanda Schuster explores the origins of the Atholl Brose in "Signature Cocktails."
In 1475, Iain MacDonald, the Earl of Ross, was playing a dangerous game. The Wars of the Roses had been raging for decades and the entire region was in turmoil. Hoping to capitalize on the chaos, the Scottish Earl had signed a secret treaty with the British king, with the promise that he would partially rule Scotland if England subdued it. When John Stewart, 1st Earl of the Atholl of the Highlands, heard that the treacherous Ross was plotting a rebellion against the Scottish king, he devised an unconventional plan to stop the insurgent forces.
Spies informed the Earl of Atholl that MacDonald was hiding in the hills, waiting to strike. According to the legend, they also said that MacDonald and his troops liked to drink from a certain well. In the dead of night, Stewart instructed his men to fill the water supply with oats, honey, and Scotch. The rebels drank their fill of this extremely potent grog and promptly fell asleep. As a result, the uprising was quashed and a popular drink, the Atholl Brose, was born—or so they say.
"It's a fabulous story," says Amanda Schuster, who traces the origin stories of the Atholl Brose and 199 other iconic drinks from around the world in her newly released book, Signature Cocktails. It's so fabulous, in fact, that no one in Scotland particularly cares whether or not it happens to be true. An alternate origin story claims that the Scotch-spiked oat mixture was used to subdue the "Giant of Atholl," rather than an army. The fact that it has a fantastical tinge only adds to the fun—particularly when it provides an excellent excuse to indulge in this celebratory drink.
Readers of Schuster's book may initially be taken aback at a "cocktail" recipe rooted in 15th-century Scotland. The term cocktail didn't enter the English lexicon until a British newspaper used the term in 1798 and cocktails are generally thought to be an American invention. And while he was certainly not the first gentleman to preside over a saloon, Jerry P. Thomas, the drink slinger who authored How to Mix Drinks, or the Bon Vivant's Companion in 1862, is often credited with creating cocktail culture as we know it.
Many historians consider the Old Fashioned, which started appearing around the early 1800s, to be the first cocktail. "I think they started calling it an Old Fashioned just because that was the first," Schuster says. It's also one of the simplest, consisting of a base spirit augmented with bitters, sweetener, and water. Purists, Schuster explains, insist that a true Old Fashioned should be made only with American whiskeys.
Yet the history of mixed drinks is far older than the Old Fashioned. "People through the ages have been mixing alcoholic beverages—they just didn't call them cocktails yet, because that wasn't a word," Schuster says. She points out that throughout history, medicinal concoctions often included a hefty dose of spirits. "And then, of course, as people drank them, they'd start to feel better."
Booze, throughout much of human history, did not taste terribly good, so there was an incentive to doctor it with more palatable ingredients. The ancient Minoan Cretens mixed their mead, wine, and beer together. Two millennia ago, the ancient Romans added herbs, honey, and water to their wine.
William Shakespeare and his Elizabethan English contemporaries were fond of possets, a curdled mess of dairy, spices, and alcohol that tastes better than it sounds. By the 1660s, the British were ladling up increasingly sophisticated spirit-soaked punches in port-town bars. Cocktail writer David Wondrich credits James Ashley, a British punch-whisperer who made a name for his libations in London from 1731 to 1776 as the "world's first celebrity mixologist." Fish House Punch, which according to Schuster's book was the poison of choice of many instigators of the American Revolution, first appeared around the 1750s.
For a cocktail historian like Schuster, determining the world's oldest cocktail is an impossible problem, but also a fun challenge. "For the purposes of the book, we decided that anything could be a cocktail predating the 1800s, as long as it was interesting and had a good story," Schuster says.
In the curious case of the Atholl Brose, both the story of an unorthodox military victory and the resulting drink were too delicious to ignore. But the drink has evolved quite a bit since its tall-tale origin as a well-full of high-proof porridge. The descendents of the Earl of Atholl—who remain serious connoisseurs of Scotch to this day—still celebrate their family legacy by preparing a variation of the recipe. Although "brose" usually contains soaked oats, the family discards the solids, reserving the creamy, starchy liquid, making it effectively a DIY oat milk. This has been their formula for 179 years: It was served to Prince Albert and Queen Victoria when they paid a visit to Blair Castle in 1844.
There are plenty of variations of the Atholl Brose. Since figuring out the exact proportions of a beverage from the Middle Ages is just as insurmountable as determining who made the first cocktail, Schuster believes modern-day imbibers should feel free to take a few liberties with it. As she writes in Signature Cocktails, there's "no need to serve an entire well's worth for the sake of authenticity."
Instead, Schuster strains the oat brose for a perfectly smooth liquid, then mixes it with Highland Scotch, honey syrup, and a bit of cream. "You can get pretty creative with it, I think, and add whatever spices you want," she says. Cinnamon, nutmeg, or grated fresh ginger would all shine here. "If you have tonka beans lying around, that would be delicious. It's illegal in the States, so whenever I go across the pond, I bring back tonka beans for recipes like this."
In Scotland, this potent concoction is typically served around Hogmanay, or the period before New Year's Eve, which is celebrated in Scotland with all manner of revelry. Swinging fireballs, torchlit parades, and ritualistic blessings are all common ways of brightening the darkest nights of the year. Rich, warming, and pleasantly boozy, Atholl Brose is the perfect elixir for the festivities, although it would be equally welcome on any chilly autumnal evening.
Atholl Brose
Excerpted from Signature Cocktails © 2023 by Amanda Schuster. Reproduced by permission of Phaidon. All rights reserved.
Ingredients
Brose
12 ounces water
½ cup steel cut oats

Honey Syrup
2 ounces honey
1 ounce water

For One Cocktail
2 ounces unpeated Highland single malt Scotch (or blended, unpeated Scotch)
1 ½ ounces brose
1 ½ ounces honey syrup
1 ounce heavy cream
Optional: Grated nutmeg, cinnamon, ginger, or tonka bean
Instructions

1. To make the brose, bring the water to boil in a saucepan. Stir in the oats, then remove from the heat and let sit overnight. Strain and reserve the liquid (which is now brose) and discard the oats.

2. To make the honey syrup, combine the honey and water in a saucepan over medium-low heat. Stir until the mixture is warmed and thoroughly combined. Allow it to cool.
3. Combine 1 ½ ounces each of brose and honey syrup, with the Scotch and heavy cream in a cocktail shaker over ice. Shake vigorously for 20 seconds until combined and slightly frothy.
4. Strain into a coupe or small rocks glass and garnish with grated nutmeg, cinnamon, ginger, or tonka bean if desired.
Gastro Obscura covers the world's most wondrous food and drink.
Sign up for our email, delivered twice a week.