The Bagel's Complicated Journey Into Israeli Cuisine
The quintessential Jewish breakfast item is a trendy, foreign food in Israel.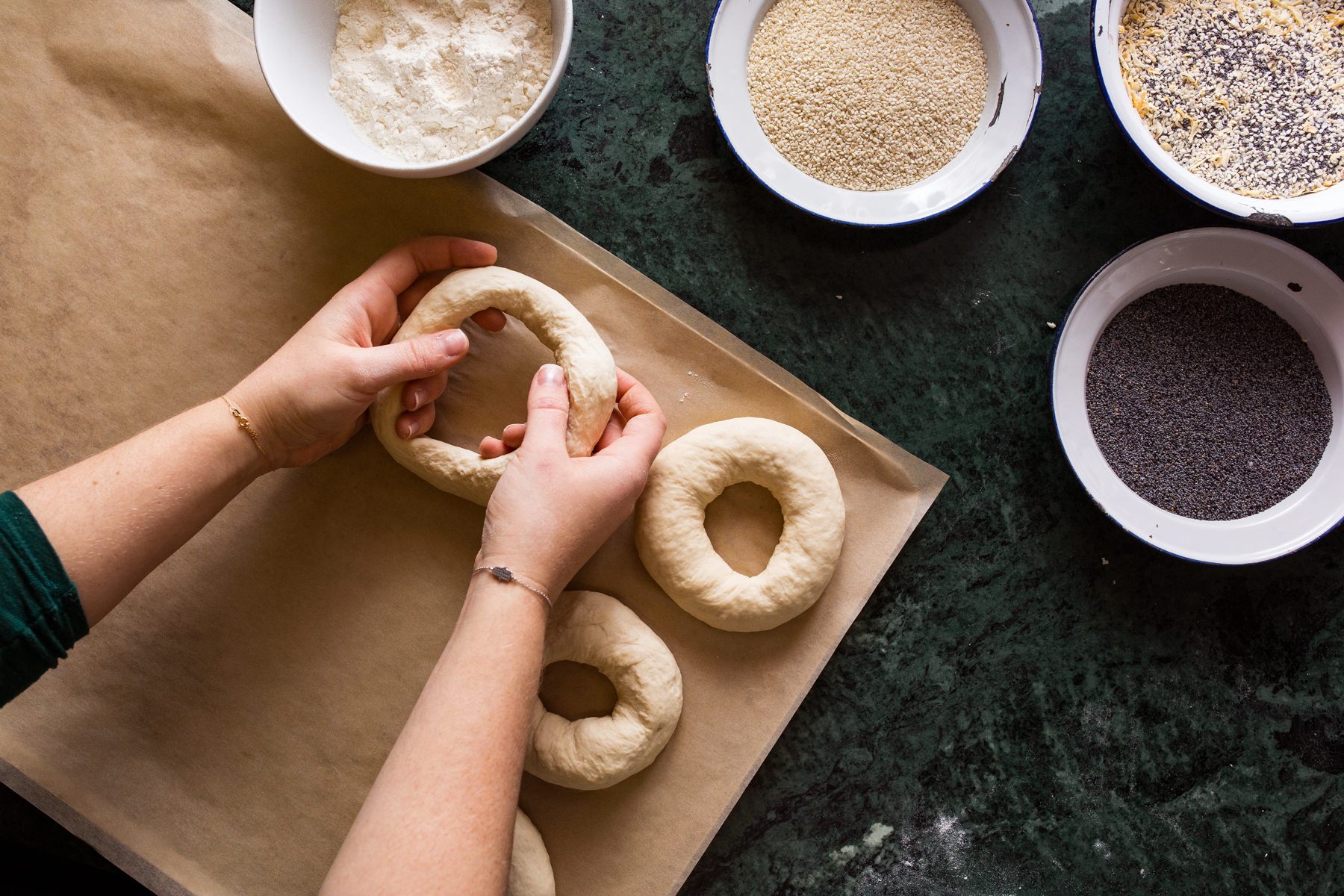 Xoho, a sun-drenched café in central Tel Aviv, is one of only a handful of places in Israel where you can find what most of the world considers a quintessential Jewish food: bagels.
"Many Israelis here order the bagels, but they don't even realize the Jewish connotation," says Xoli Ormut-Durbin, Xoho's Canadian owner and manager. Every morning, her peppy international staff boils small batches of bagels in malt syrup to achieve the delicate chewy-to-fluffy ratio found in a New York bagel. She says this cafe has "come a long way" in getting Israelis to accept the bagel.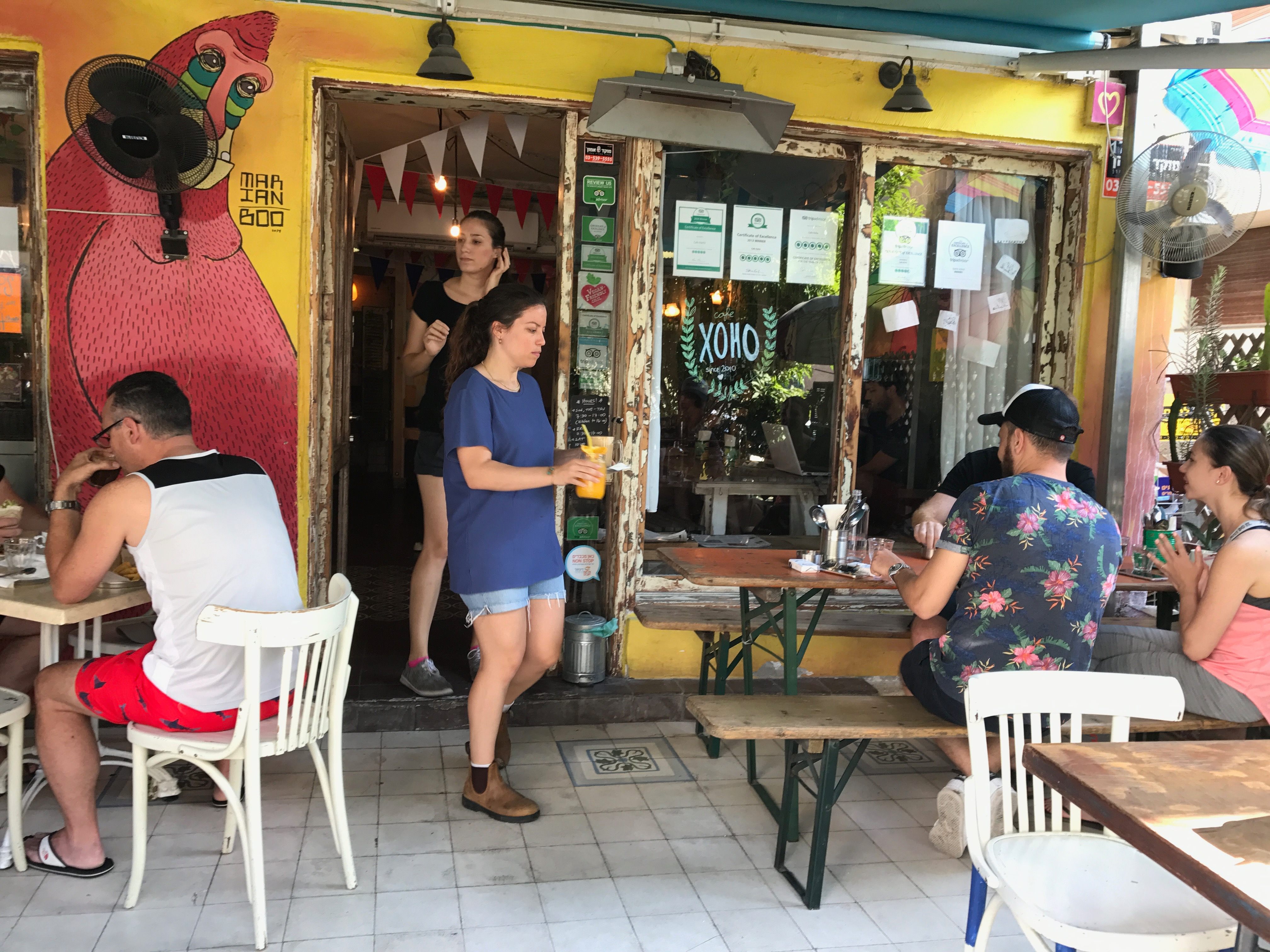 The bagel traces its roots to Poland's bagel-like obwarzanek krakowski, which were stacked on strings and sold individually by market peddlers. Although not an exclusively Jewish food, since the 18th century, Jews used their own name for it: the beygl, meaning "ring" in Yiddish.
The bagel's origins help explain its relative anonymity in a Jewish-majority country. After World War II, one current of Israeli thought viewed Poland as the shameful shtetl (Jewish town) of their painful past. While it was by no means universal, some Israelis blamed Polish and European Jews who were killed in the Holocaust for being "sheep led to the slaughter," as the saying went.* Holocaust survivors who moved to Israel in the wake of World War II were derogatorily called "sabon," or soap, in reference to the rumor that Nazis made soap from the skin of concentration camp prisoners. So instead of re-establishing their culture, European Jews who immigrated largely embraced the Zionist goal of creating a new culture linked to the land of Israel.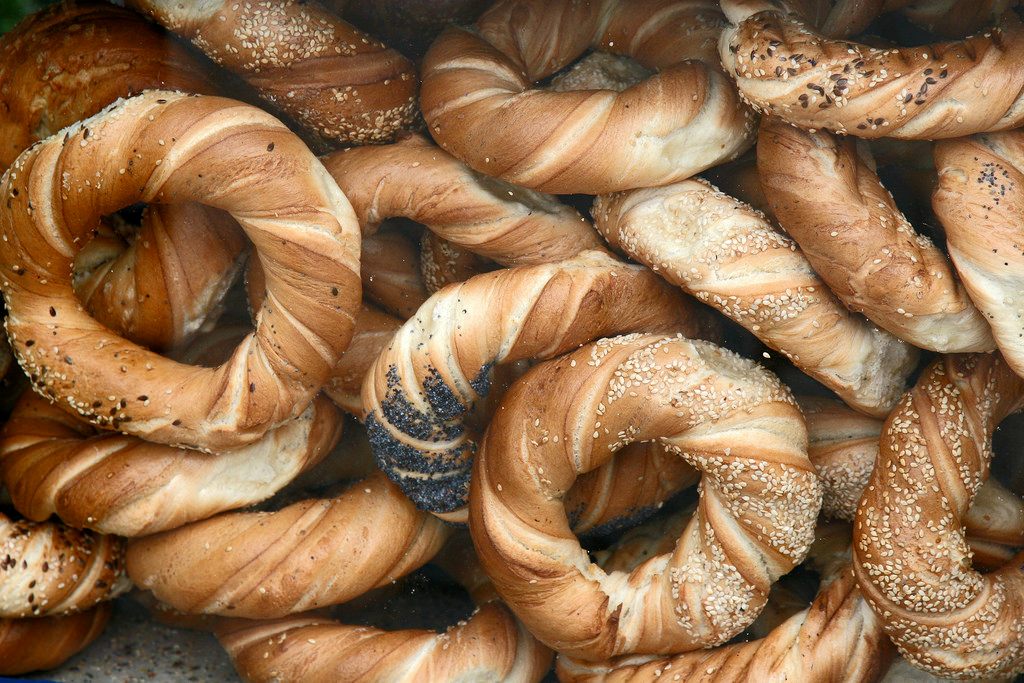 "In Eretz Israel, a vigorous and conscious effort to create a national identity required the revival of a national language, a national history, and, no less, national foods," Shaul Stampfer, a professor specializing in Eastern European Jewry at the Hebrew University in Jerusalem, writes in an article on the evolution of bagels in the U.S. and falafel in Israel.
The Zionists who flocked to Palestine had an early affinity for the Palestinians and their agricultural tradition. It sounds strange, since in 1948, the Zionists engaged in a bloody conflict with the Palestinians and neighboring Arab states that resulted in the expulsion of hundreds of thousands of Palestinians. But Israelis believed that Palestinians could help them discover the land, and, in turn, their own ancient roots. In their early years, as they connected with the land, Israelis crafted a national ethos built on a dedication to the tachles, or cutting to the chase. Where the European Jew had been weak and excessively cerebral, the new Israeli would be brawny, sun-tanned, and spontaneous. Rather than eat bagels, kugel (a casserole made from egg noodles or potato), and gefilte fish, Israelis adopted Palestinian and Arab cuisine, and its emphasis on vegetables and light dishes appropriate for the warm climate.
That process of culinary adoption accelerated in the 1950s with the arrival of hundreds of thousands of Jewish immigrants from Iraq, Syria, Yemen, and other Arab countries. Iraqi Jews made a national snack out of sabich—pita stuffed with fried eggplant, hard boiled eggs, and nutty tahini sauce—which had been a popular Saturday morning meal among the Jewish community of Iraq. Yemeni Jews did the same for the falafel, pairing the local Palestinian recipe for fried chickpea fritters with spicy condiments, like the Yemeni cilantro-chile paste known as zhug.
Likewise, Israelis romanticized Arab bagels. The Jerusalem bagel is a thin, oblong ring encrusted with sesame and served with za'atar spice, and ka'ak, which resembles a bagel, is only baked, never boiled.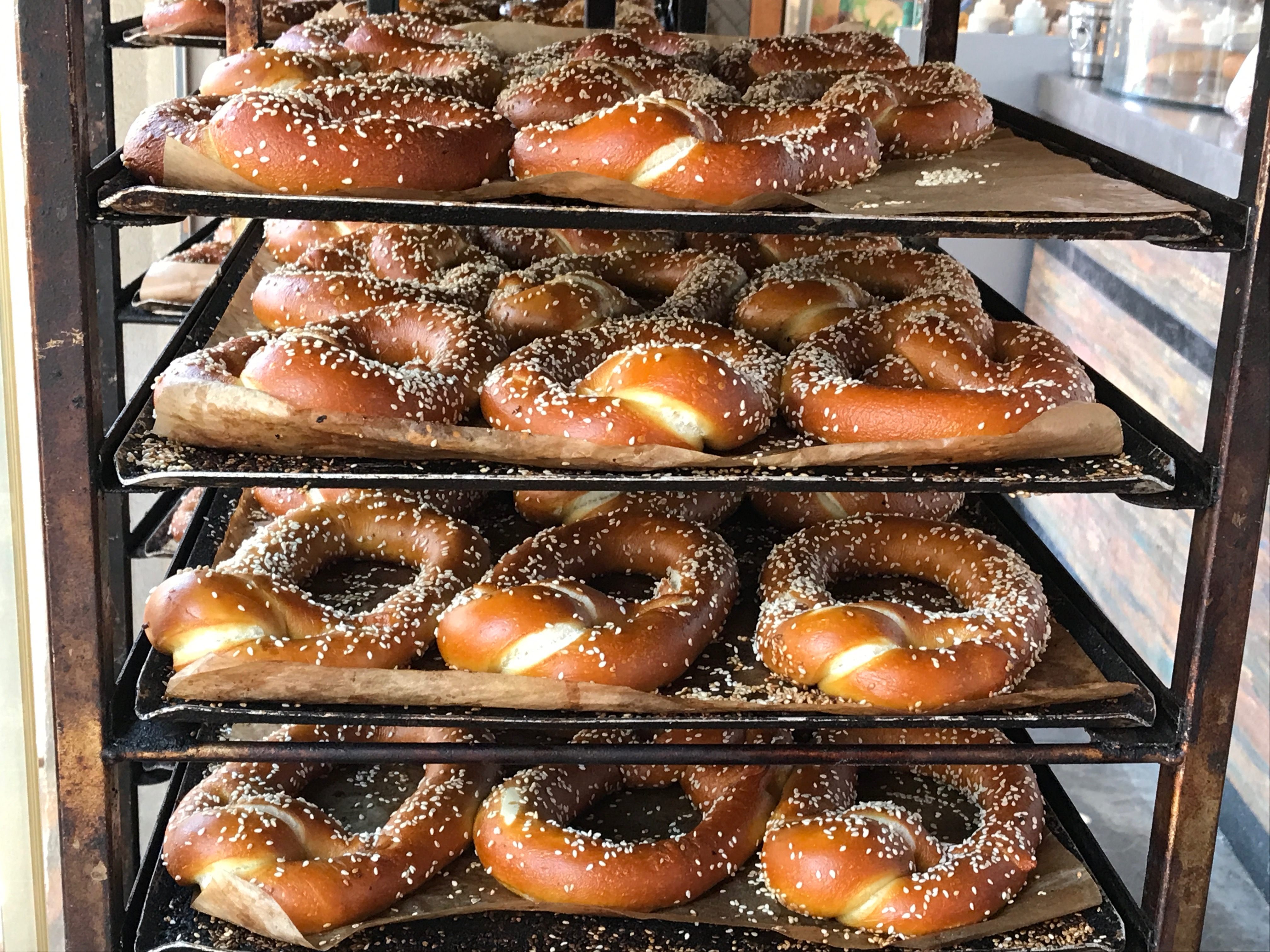 Israeli cuisine remained rugged, minimalistic, and inward-looking up until the country—then socialist and enduring periods of hardship and even food rationing—embraced capitalism and enjoyed greater incomes in the 1980s. With the shift, Israelis increasingly traveled and sought work abroad, and many were excited by New York—a place where Jewish foods had undergone a much different evolution.
---
By the turn of the 20th century, some one million Jews lived in New York, congregating in the tenement apartments of the Lower East Side and other poor areas of Manhattan. They watched the Holocaust from afar, but also saw the United States refuse entry to the MS St. Louis, an ocean liner carrying more than 900 German Jews seeking refuge. The ship returned to Europe, and historians estimate that more than a quarter of those onboard were later killed in Nazi death camps.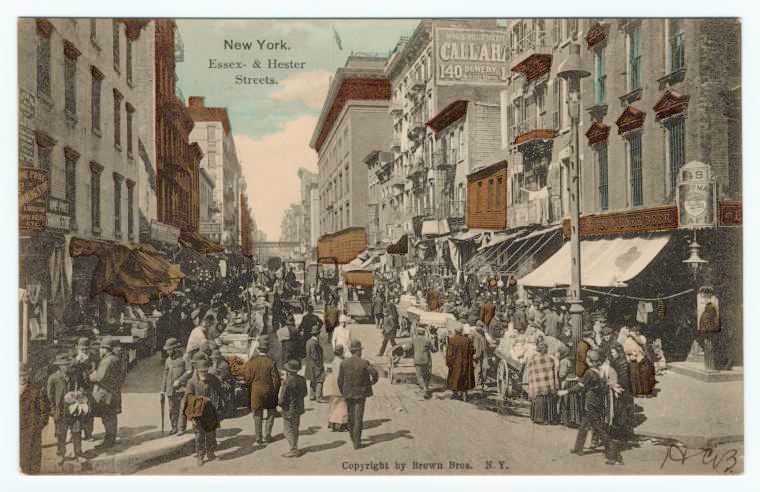 Unlike Israelis, American Jews, as one of many minority groups, were both eager to integrate and to preserve the traditions of the Old Country. In New York, Jewish vendors sold bagels, like in Poland, on the street. They soon replaced schmaltz—a spread made from rendered chicken fat—with cream cheese, a cheaper, American invention. Eventually Jews added smoked salmon, a fish that was prohibitively expensive back in Eastern Europe.
Many American Jews were secular, but they also sought to preserve their Jewish heritage, including some kosher dietary rules. Many refrained from eating pork, which had symbolized humiliation and persecution since the Spanish Inquisition, when Jews were forced to choose between death and eating pork to pledge their allegiance to the church.
"When, during the 1930s, many Jews abstained from eating the then-stylish but unkosher American Sunday brunch classic, eggs Benedict, they substituted lox slices for the ham, a schmear of cream cheese for the hollandaise sauce, and a bagel for the English muffin," writes Gil Marks, a historian of food and Jewish culture, in The Encyclopedia of Jewish Food. "Thus was born an American classic. Neither lox nor cream cheese had ever touched a bagel in Europe."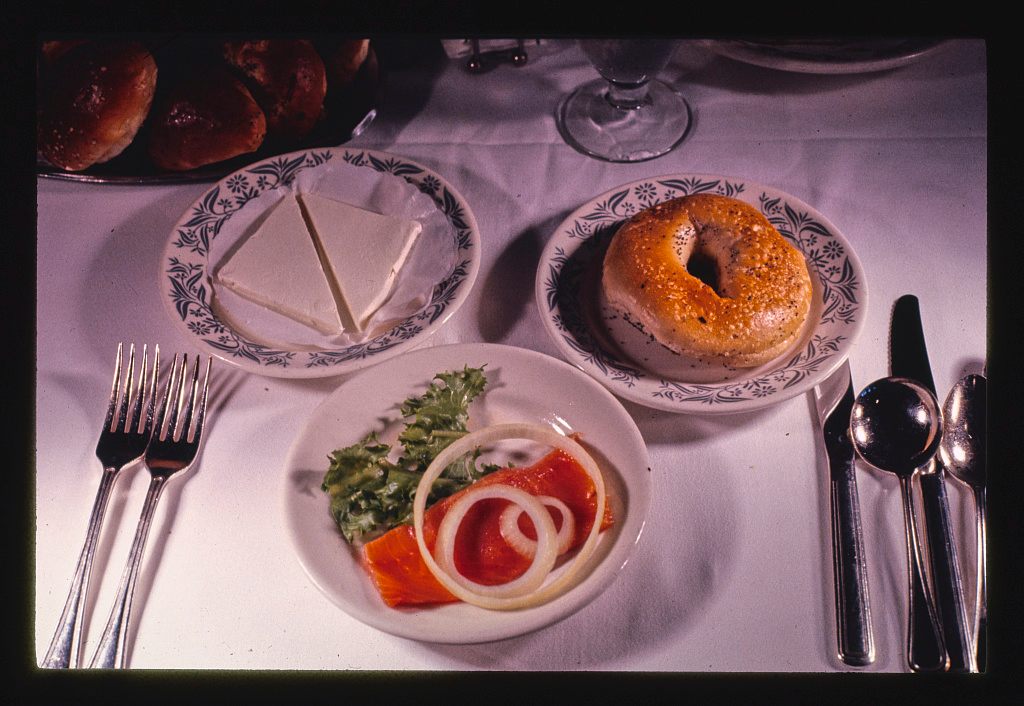 In the decades to come, though, it was the bagel, not eggs benedict, that claimed the title of New York's brunch classic.
And only then did Israelis catch on to bagels, but as an American trend, not a Jewish one, Israeli food historians say. In Tel Aviv, bagel cafes have been popping up alongside restaurants that specialize in Venezuelan arepas and Chinese steamed bao buns.
Gil Hovav, an Israeli chef and food journalist, says that bagels may end up as a passing trend in Israel, since the heaviness of a "white flour bagel filled with cream cheese is still something very un-Israeli."
"But then, again," he adds, "we're still too young to have our own cuisine, so who knows!"
*Update 11/16/17: This article has been updated to clarify how common condemnation of Holocaust survivors was in Israel immediately after World War II.
Gastro Obscura covers the world's most wondrous food and drink.
Sign up for our email, delivered twice a week.