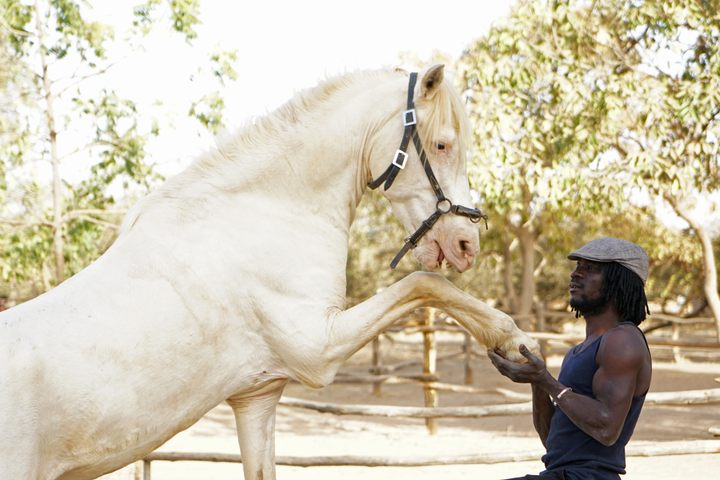 The Horseman Fighting to Preserve Burkina Faso's Equestrian Culture
Madi Dermé doesn't want to be the last of the country's legendary cavaliers.
When Madi Dermé touches down at Thomas Sankara International Airport in Ouagadougou, Burkina Faso, he is met by a phalanx of men on horseback with whom he rides through the city streets. Every year, the French-Burinabè equestrian artist trades the polished arenas of Europe, for the bustling streets and dusty hippodromes of his homeland—where his ancestors, who were blacksmiths and cavaliers, or traditional horsemen, rode steeds into battle and made them dance for kings.
Dermé is one of the few black equestrian artists who has built a name for himself throughout Europe; he honed his skills at an equestrian school in France, where he now lives with his family, mastering acrobatics, jumping, theater, and dressage. But his grand ambition is to reimagine the equestrian scene he participated in as a child in Burkina Faso, a country now wracked by insecurity, attacks by jihadist groups, and mass displacement of civilians.
In January, Dermé was in the midst of organizing the third edition of his biannual International Festival of Equestrian Arts (known by its French acronym FIDAE) which was scheduled for early February. It would bring together 120 cavaliers from around Burkina Faso to Ouagadougou, a quaint city with Afrofuturist architecture that looks as though it fell from another galaxy, Dermé hoped that others from the region–Mali, Benin, and Ivory Coast– might also join the festivities. But by late January, Dermé was forced to move the festival to October, after soldiers staged a coup d'état in Burkina Faso in response to the ongoing security crisis and rising deaths of civilians and soldiers.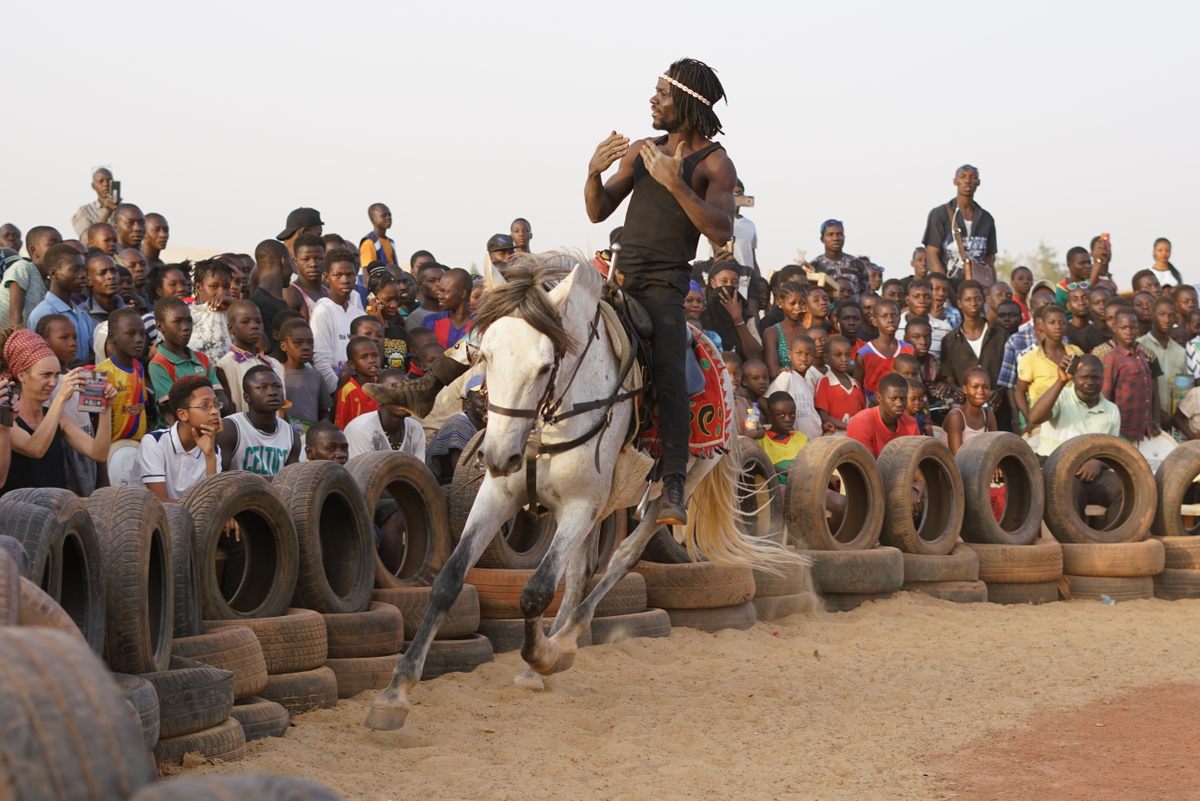 "My aim is for Burkina Faso to be the meeting place for all African cavaliers," Dermé says, undeterred. He wants to "shine a light on African cavaliers and promote equestrian arts in Burkina Faso"—despite the ongoing insecurity.
For Dermé the festival is the first step in reviving the old cavalier tradition, rooted in Burkinabè and Sahelian cultures, while also bringing the modern equestrian arts he learned in France to Burkina Faso's riders. During the festival men and boys strut around in leather boots and traditional smocks, with caps and cowrie shells adorning their heads. They ride through the traffic with their horses peeking through colorful fringes that fly open when they pull the reins and rear them in the air. When they arrive at the hippodrome the riders gallop in circles before doing jumps, tricks, and some European-style dressage which Dermé has often taught them.
Weeks before this year's festival was canceled twenty-three-year-old Hervé Compaoré, one of Dermé's protégés, raced around a concrete football field on his horse named Heart of a Lion, alongside another rider. They jump from horse to horse, flipping their bodies and throwing their legs in the air before building up speed again. "The difficulty for the cavaliers is we don't have materials, enough horses and it's difficult to make money—but we manage," Compaoré said, adding that they share three horses between a group of eight cavaliers. They perform at baptisms, marriages, events, and cultural festivals and practice with one another when Dermé is out of town, but these events were for a while curtailed by Covid-19 and then the security crisis. Like Dermé, Compaoré hopes to travel overseas and would like to see other cavaliers come to Burkina Faso to exchange techniques and ideas. He will continue to train in the weeks leading up to October.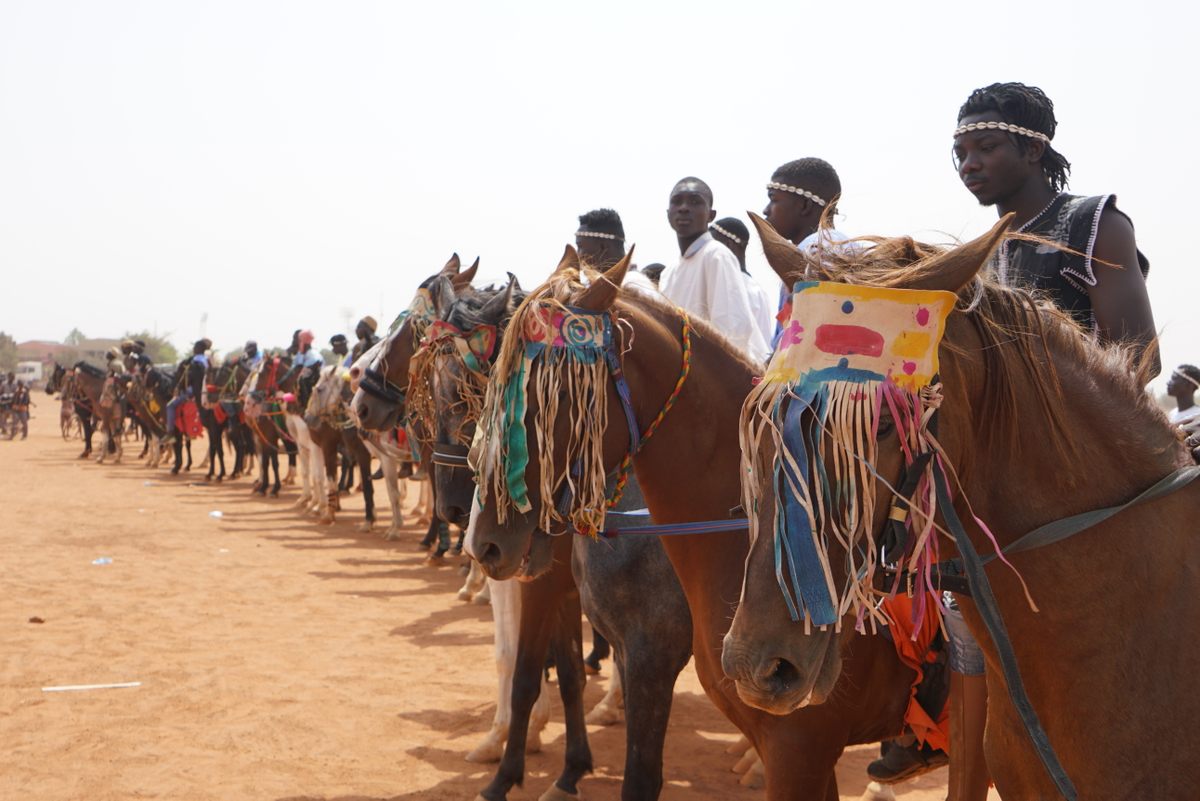 ---
Throughout the Sahel region, a vast stretch of land between the Sahara Desert and the southern savannahs of Africa, many ethnic groups have strong connections with horses, which are seen as noble and mystical creatures with protective powers. The story of Yennenga, a warrior princess, is the founding myth of the Mossi people who make up the largest ethnic group in Burkina Faso. Defying her father, the king, who didn't want her to marry, Yennenga is said to have escaped dressed up as a man, with her horse guiding her to her lover, an elephant hunter named Rialé. Together, they had a child named Ouédraogo, which means "stallion" in Mooré. Burkina Faso's coat of arms is of two standing horses bracketing two crossed spears and the national flag, and the nation's beloved football team are known as the "Étalons" or "stallions" in French. (Despite the legend of Princess Yennenga, few women ride horses, something that Dermé hopes to change through workshops and the festival and teaching a handful of girls during his stays.)
Dermé's own family traces its roots back to Timbuktu and Gao and the ethnic Songhai in northern Mali. They were blacksmiths who were called on by the Mogho Naaba, the Mossi king, to make swords and spears for battle and bronze jewelry for his wives and provide him with horses. Chiefs are expected to be able to ride horses that both dance to drumbeats and bound into battle and are seen to possess almost human-like noblesse. But with urbanization and movement from villages to cities, equestrian traditions in the region have faded. Dermé, who is of the fifth generation of cavaliers in his family, learned these fading ways from his grandfather in his old neighborhood of Ouagadougou.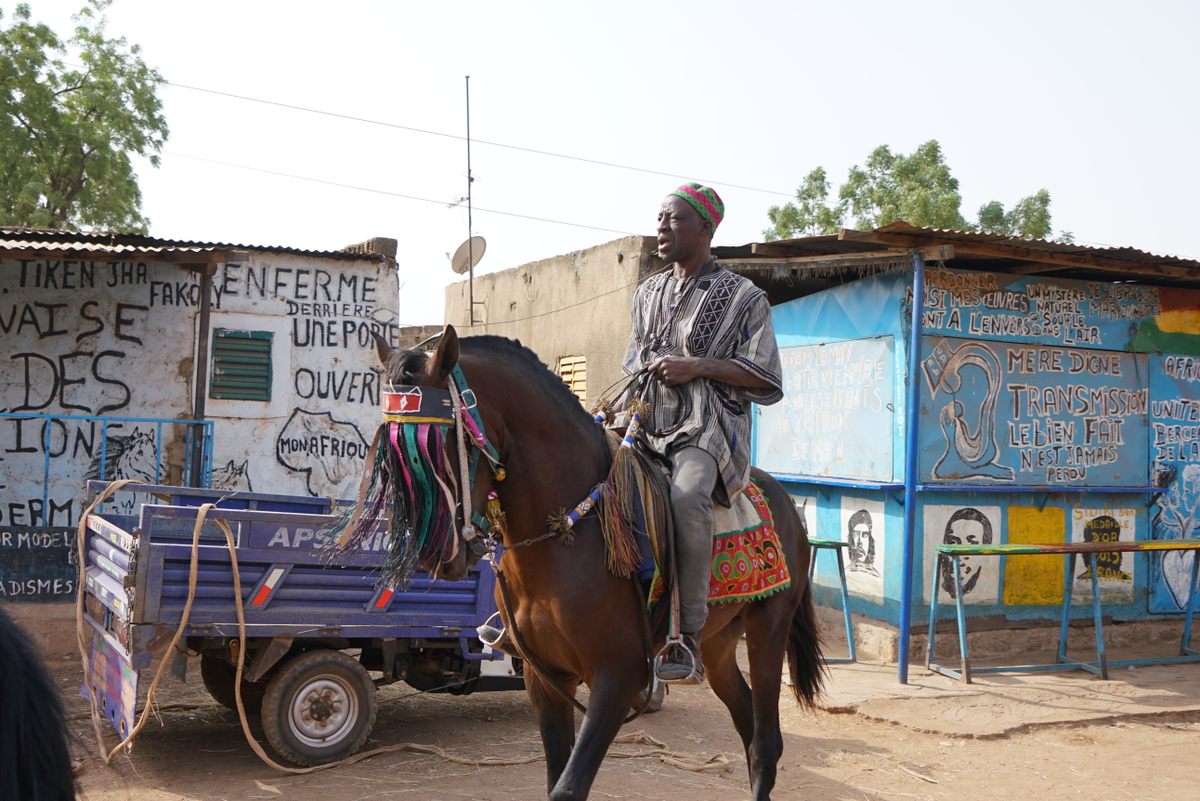 ---
In the family home in the cobblestoned corner of Nonsin, not far from Dapoya one of Ouagadougou's oldest neighborhoods, Dermé's uncle, also named Madi Dermé is chain-smoking and tending to horses—getting them fit for his nephew's festival. The elder Madi Dermé is known as "Big Madi," and the younger Madi Dermé, is known as "Small Madi," in part because of his diminutive form. Both live in France, with the younger Dermé performing in equestrian shows, and the elder training horses to race and appear in films, while he himself also boasts of a host of minor roles in films by legendary Burkinabè filmmakers like Idrissa Ouédraogo and the French director Charles Berling.
Dressed in a yellow pork pie hat, with a brown leather vest, and black skinny jeans, Big Madi makes often makes crude jokes about women and horses, but one comment takes on a more melancholic tenor. "A horse is like a woman, if you don't caress it, it cannot look you in the eye," he said, alluding to the current lack of care for horses in Burkina Faso. Big Madi shows me the two horses he saved from the abattoir—one now a muscular, dark stallion with a luminous coat and the other listlessly facing the wall with its ribs showing. "They are not as I expected they would be—they are skinny," he said.
Both men say that the millet, sorghum, and maize used to both feed people and horses are becoming more and more expensive, and many breeders, especially those who have been displaced from cities in the north that have been attacked or occupied by jihadists, can't afford the feed costs.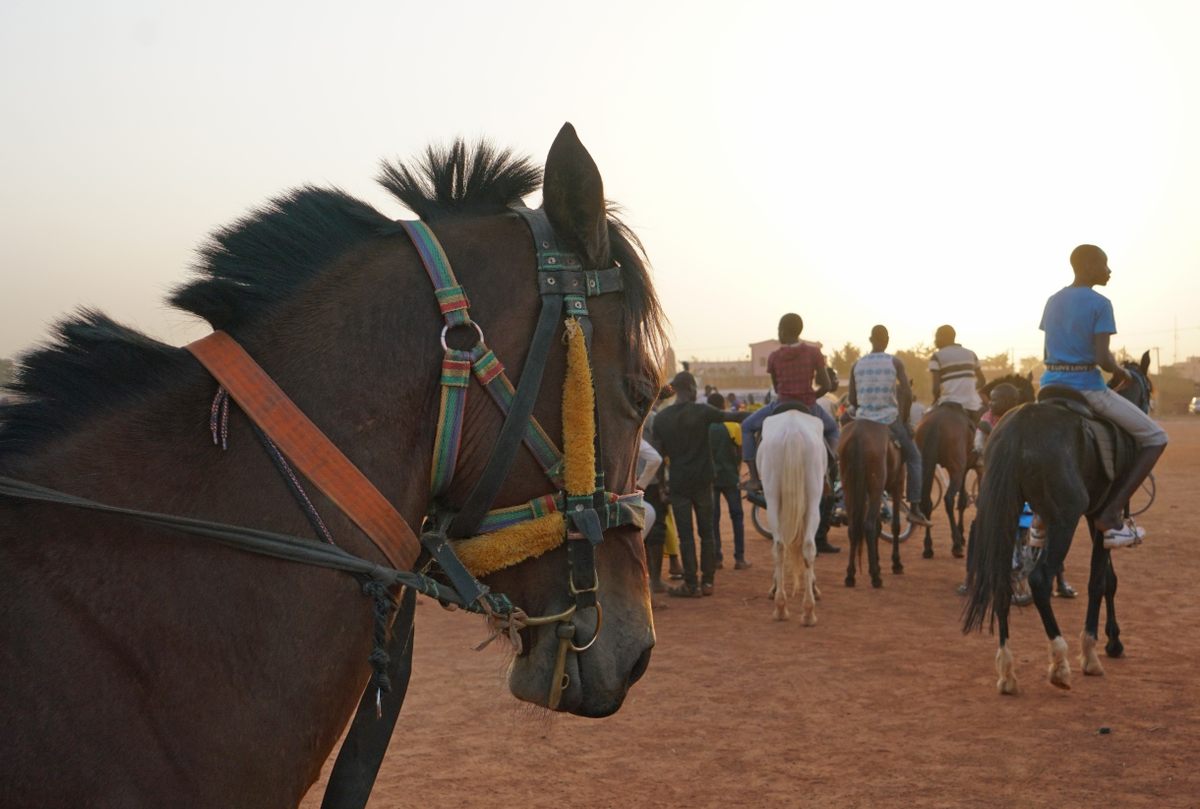 Many years ago, this courtyard in Nonsin was filled with horses and tourists wanting to go out for a trot. Sahelian countries like Mali and Burkina Faso were known for their horseback safaris which are now halted after more than a decade of kidnappings of foreigners by armed groups.
For the younger Dermé, a major goal of the festival, now in its third edition, is to garner potential interest and support for an equestrian school he hopes to create, where young cavaliers like Compaoré, who are often "passionate," but lacking in means, can be educated in both the cavalier traditions and modern equestrian arts, and become professionals who might one day tour beyond the nation's borders. For now, Dermé's dream remains a circle of tires in a large patch of land that sits around 20 miles outside of Ouagadougou. With growing violence in the country, few foreigners, particularly those from France, who might offer interest or funding for a future school are expected to come to the festival in October. But the show must gallop on. "We need for this equestrian culture to develop so that it can be transmitted to the youth, so that we will not lose this tradition, that's the aim of the festival," says Dermé.