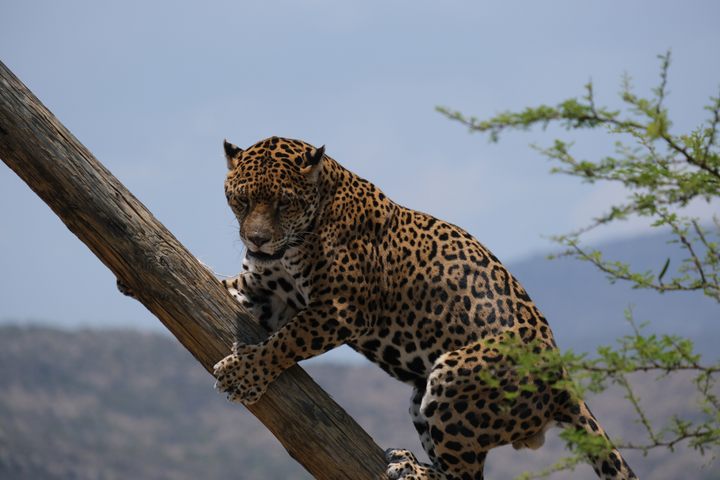 Can the Jaguar, King of the Forest, Save an Entire Ecosystem?
With a new train line threatening its habitat, the big cat may be the key to protecting this Mexican reserve—and everything else in it.
Tracking Jaguars is all about detective work," says ecologist Gerardo Ceballos as we trek through the dense forest of Mexico's Calakmul Biosphere, a protected natural reserve of about 2,700 square miles in the heart of the Yucatán Peninsula. We are followed by biologist Heliot Zarza Villanueva, a jaguar hunter turned conservationist known as Don Pancho, veterinarian Susana Llescas Furter, bloodhound trainer Eliu Campos Hernandez, and one of his trainees, Monica. The puppy, like me, is on her first outing in search of jaguars.
Suddenly, Monica stops. A distant roar echoes through the forest. "Howler monkey," Ceballos says, noting the puppy's reaction. "It's a good sign, her instinct is sharp." We continue to a local watering hole and fan out, looking for our quarry. Llescas Furter finds fresh tracks in the mud from jabali, wild pigs that are common jaguar prey. We find a jaguar print, but it doesn't look fresh. As the team documents the tracks with photos and measurements, a sudden cacophony breaks out in the surrounding thick foliage. "Tapirs!" Campos Hernandez says in a whisper, barely containing his excitement. Jaguars prey on the stocky herbivores; the tapirs' presence at the waterhole means that the big cats could be nearby.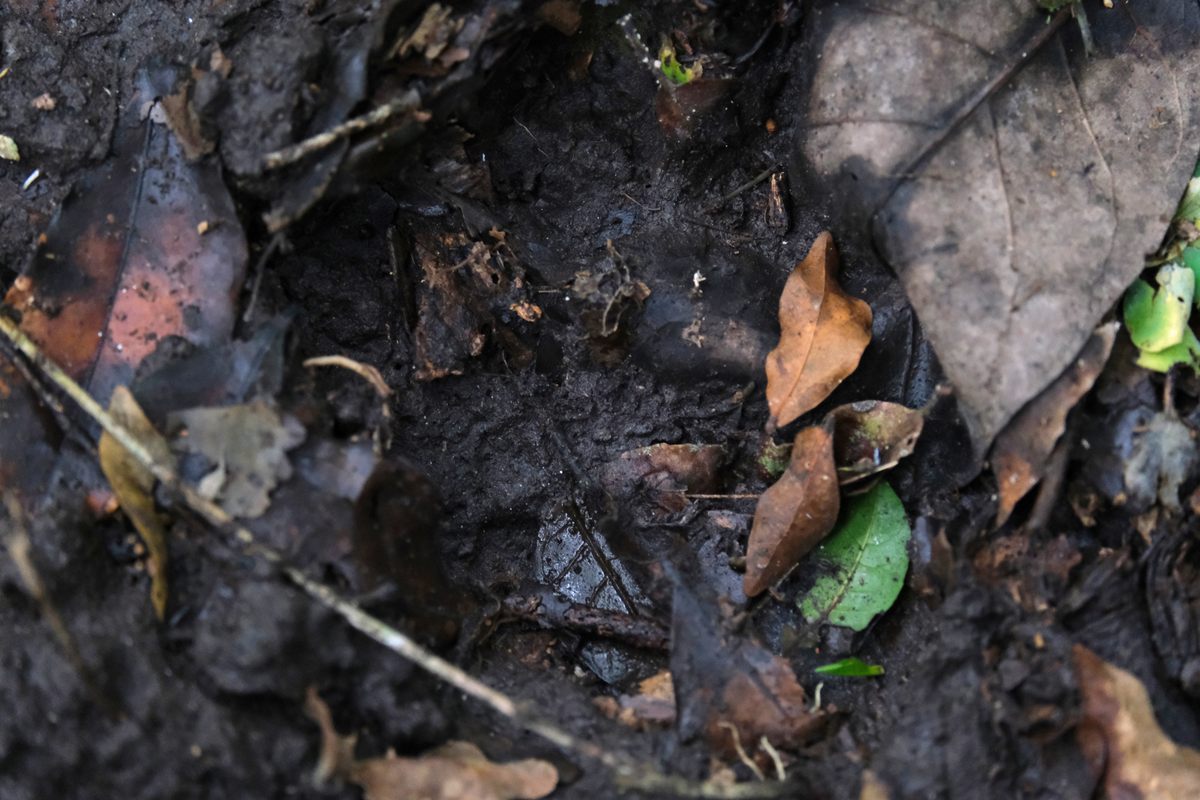 Don Pancho finds a mouse-sized hairball. Ceballos looks it over and smells it. "Jabali," he says. Scratch marks on a nearby tree are typical of the type jaguars make to mark their territory. More good signs. "Jaguars don't have the luxury to skin their prey, so they'll end up spitting out hairballs after they digest them," Ceballos says. "The fact that this hairball is still wet, and that those scratch marks are recent, tells us that a jaguar killed a jabali here in the last few days. He or she must be stalking their prey here, which makes it the perfect site." The team will leave some fresh meat at the spot and return with tracking hounds before sunrise.
Ceballos and his team want to find the elusive cats to learn about their distribution and habits. The jaguar program is one of several long-running research projects the ecologist and his colleagues have been carrying out in Calakmul, some of them for decades. The work is more important than ever because of growing challenges to the remote reserve. Illegal logging and climate change have long threatened the reserve's flora and fauna, but an even greater potential danger is on the near horizon: Soon, a new railway aimed at boosting tourism and trade in the region will bisect the Calakmul Biosphere. Ceballos hopes the work his team is doing will protect as much of the reserve as possible. Documenting the jaguar is a high priority.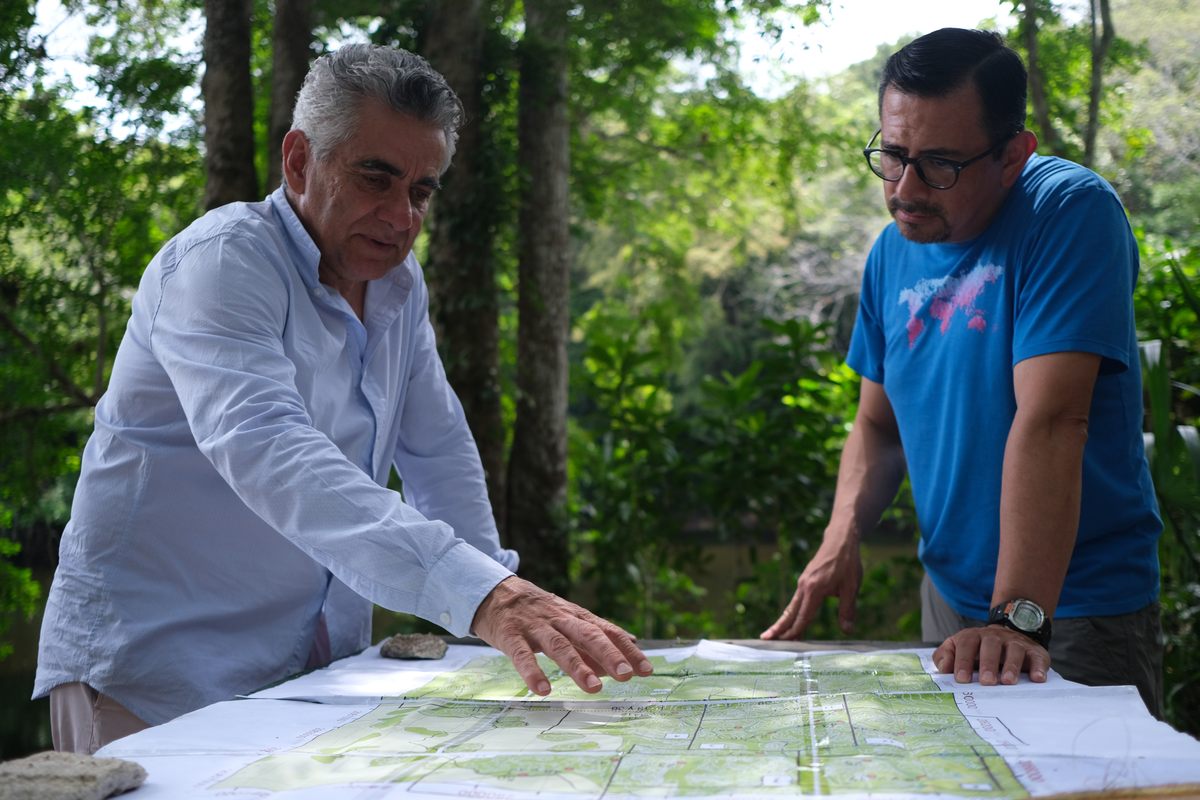 "It's the true king of the forest," Campos Hernandez says as we walk back to camp to prepare for the next day's predawn search. The big cats, which can weigh more than 200 pounds, are endangered, elusive, and, Campos Hernandez adds, "perfect killing machines."
Llescas Furter says that a brief, up-close encounter with a wild jaguar the team had trapped and tranquilized in the past was "like being in the presence of a mythical creature." For centuries, jaguars have been depicted as god-like beings with supernatural powers: They held up the sky, and carried the map of the universe on their spotted pelts. Now, when the team is able to catch one of the big cats, they place a tracking collar on it. Eventually, the collar will self-release and be retrieved by the team, giving them invaluable information about their territory.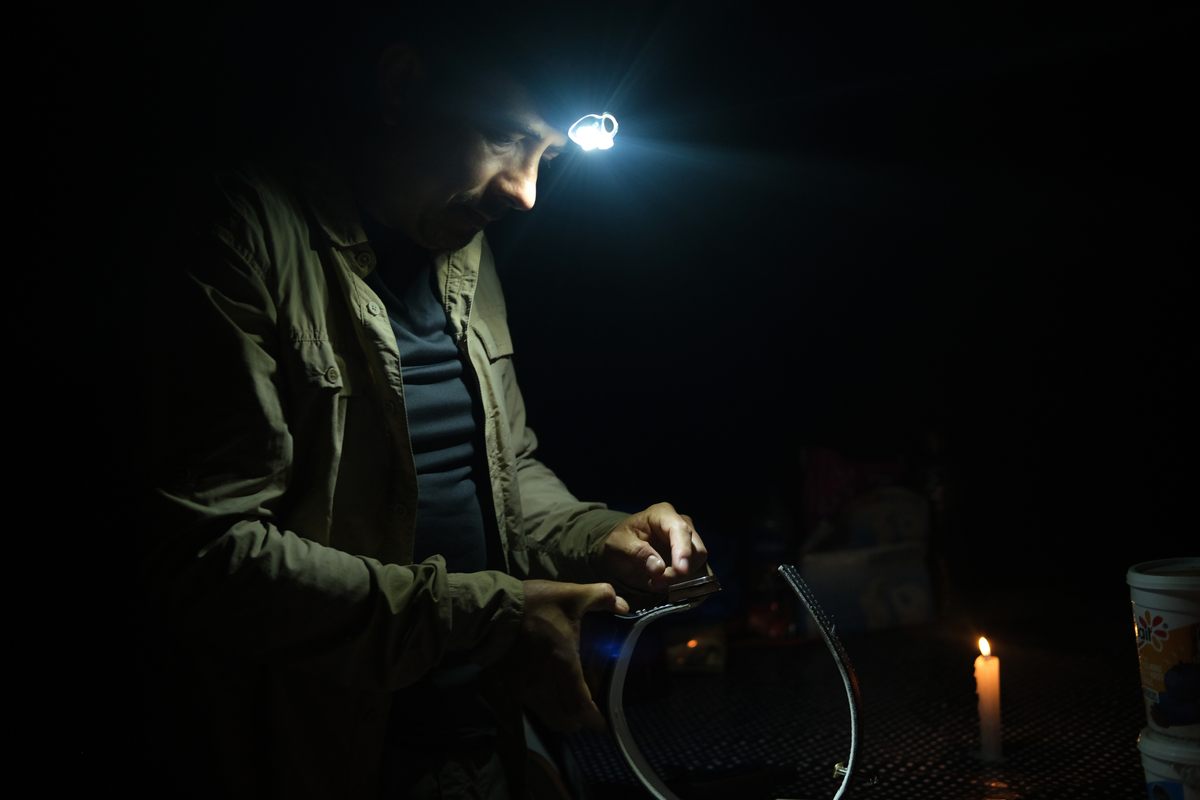 As the region's apex predator, jaguars keep the ecosystem in balance, say the scientists. "If you remove an apex predator from an environment, you could unleash an explosive mushrooming in the population of other species, which in turn could wreak havoc on the habitat, leading to its complete collapse," says Zarza Villaneuva.
"By tracking the jaguars, we can prove that they need an enormous space to survive," Ceballos adds. Safeguarding the jaguars will, he believes, also protect animals further down the food chain. "We need this kind of argument, using a charismatic species, to convince the government to expand the reserve. This is our last chance to save what amounts to an invaluable reservoir of Mexican history and our biological heritage," he says. About 500 jaguars live in the Calakmul Biosphere, as well as, Ceballos says, nearly 70,000 other species of plants and animals.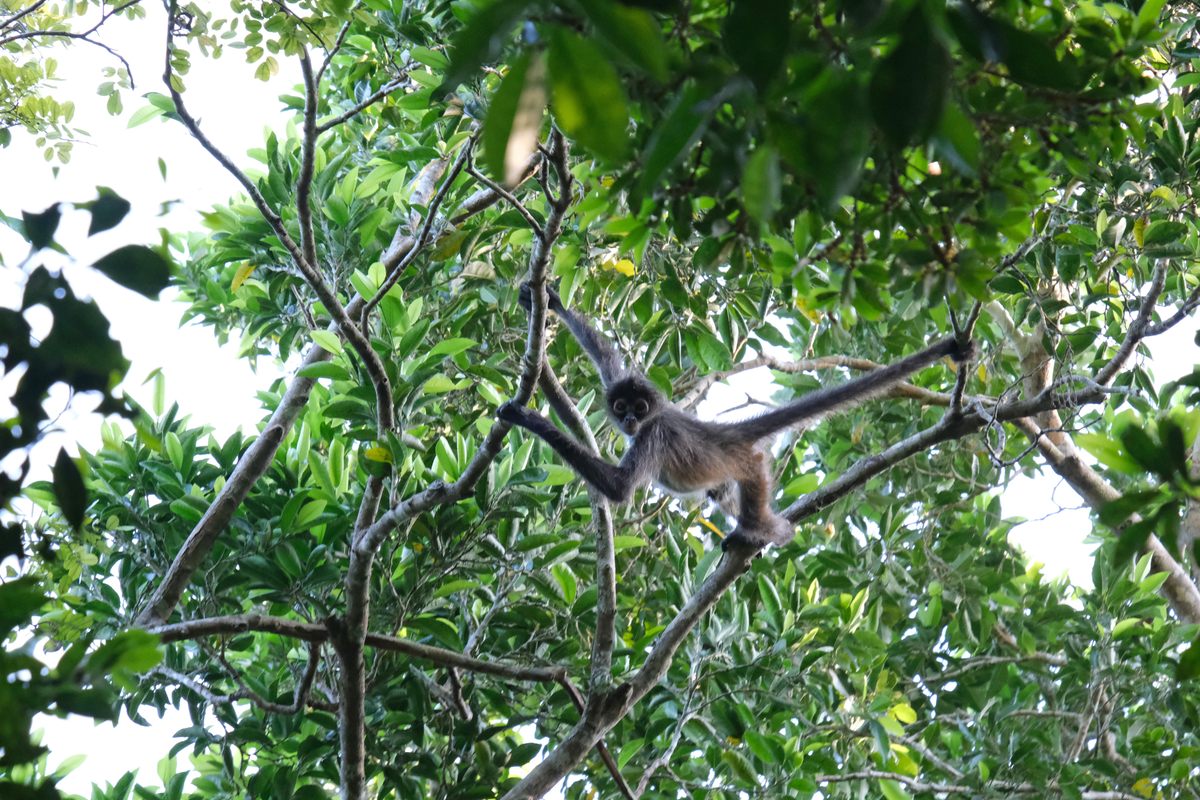 Much of that rich flora and fauna could be disrupted by the coming Tren Maya, or Maya Train, which will run through the reserve. The massive infrastructure project, expected to be operational by 2023, will connect Mexico's poorest and southernmost state of Chiapas with wealthy tourist hubs like Cancún. Work began in 2018 and has been accelerating, and divisive. Some say it will bring much-needed opportunity to remote towns and villages, others warn it is an ecological disaster in the making. Zarza Villanueva says opposition groups, including many indigenous communities, are calling it an "ecocide." In 2020, a group led by Ernesto Martínez Jiménez, an indigenous activist from Calakmul, won a legal battle to get construction suspended along one portion of the planned line, but it is unclear how long the pause will last.
Back at our camp as night falls and the air is thick with mosquitoes, Campos Hernandez pours me a shot of tequila. "For the bites and the itch," he says. When I mention the train, he and Ceballos pour themselves another drink. We sit in silence for a long moment, letting the choir of nocturnal insects fill the space between us.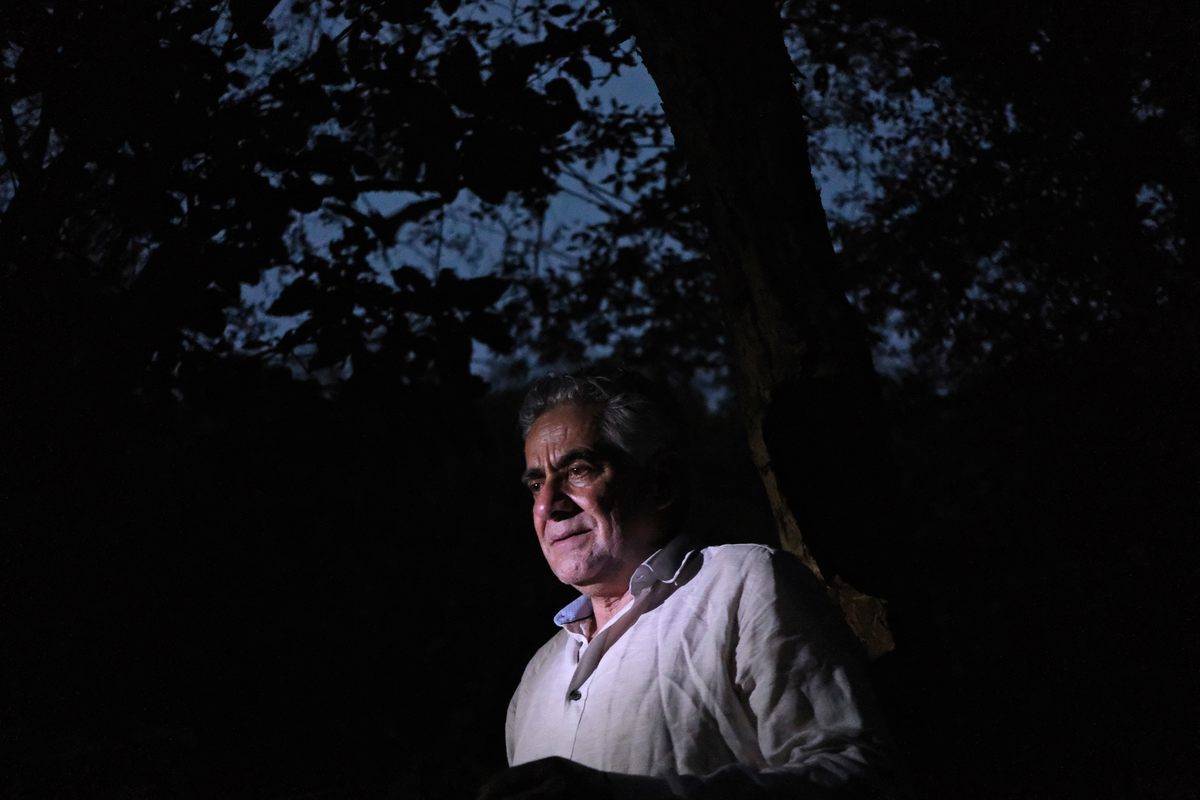 At last, Ceballos speaks. "When the train was first announced…I told government officials that if they touched the biosphere, they'd have to deal with me." As he and his colleagues learned more about the project, and its inevitability, he says, "instead of throwing our hands in the air and calling it an ecocide, we decided to get involved." Ceballos and his team began modeling the potential ecological impact, and petitioned the government to incorporate wildlife crossings into the plans, to allow animals safe passage between both parts of the reserve. Campos Hernandez notes that the Maya Train project will destroy less forest than illegal loggers do each year. He and Ceballos are now hopeful that the project may actually encourage environmentally sustainable development. "Having the military and the government on our side means we can protect the biosphere from illegal logging and potentially expand the reserve," says Ceballos. He also believes it could give locals an alternative to illegal logging and hunting. He finishes his tequila, and talk of the Maya Train. "And now, I highly suggest everyone gets some sleep, because we've got a four a.m. wake-up call," he says.
A few hours later, the alarm, and sounds of howling hounds, jolts me awake. Our caravan of two cars plus a pickup with four expert, jaguar-tracking hounds speeds along a trail through the forest. We reach the pile of fresh meat we left the day before but find no sign of jaguars. As the team searches the area for tracks, Don Pancho tells me to smell the air: There is a musky, barnyard aroma. "Jabali," he says. "They just passed us, but no jaguar."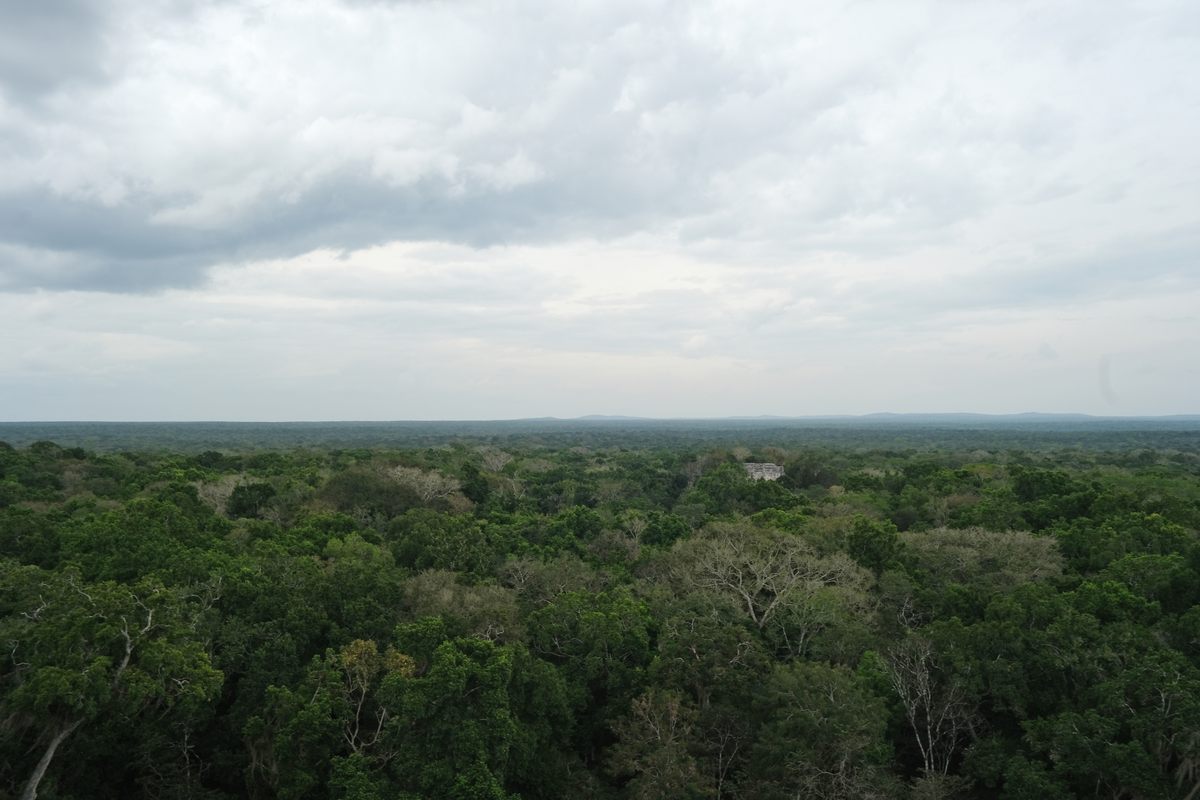 For the next four days, we repeat this pattern of an adrenaline-fueled predawn race to the site, followed by disappointment. Team members have different theories about why the jaguars are eluding us. Campos Hernandez thinks we're not leaving enough meat. Don Pancho says too much rain has scattered prey. Ceballos half-jokingly claims my presence is bad luck. He decides to abandon the search, for now, and return in August.
By the time he tries again to capture and collar a Calakmul jaguar, the Maya Train will be four months closer to completion. Even now, its construction creeps ever closer to the realm of these elusive forest kings.