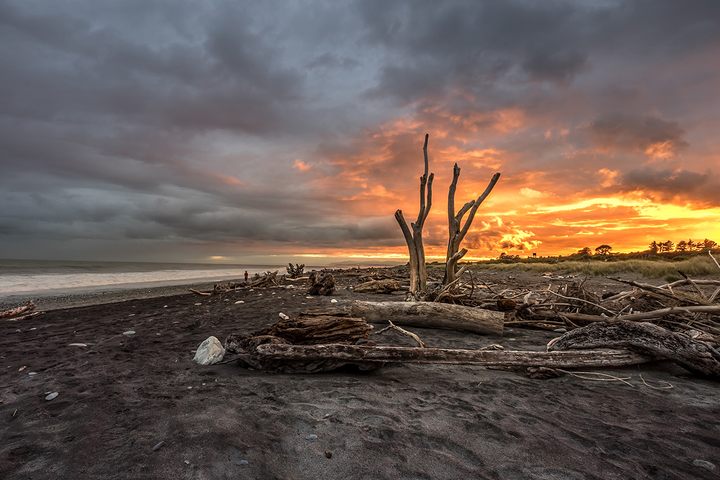 A New Zealand Festival Turns Detritus Into Offbeat Art
Amateur sculptors are invited to grab some driftwood and make a masterpiece.
One of the easiest ways to make residents laugh in Hokitika is to comment on their excellent sunny weather. This spot that bills itself as a "cool little town" sits on New Zealand's "Wild West Coast," a region known for its grey, rainy weather and dramatic landscapes. It's home to a small aquarium and kiwi center, a gorge filled with bright turquoise water, and what feels like the highest density of greenstone galleries in the country. And every January, the windswept coast is bedecked with colorful pennants marking the beginning of the Driftwood & Sand festival, which will line the beach with sculptures as charming as some of the town's many resident artists.
The town's beach abuts the mouth of the Hokitika River, which rolls through the mountains and forests in the center of the South Island. The fallen wood and other forest detritus it picks up wash out to sea and back onto the shore, in quantities large enough that there are jokes from the town's history about shooting a pigeon above the beach and taking hours to find the body. These masses of driftwood have given Hokitika and its roughly 3,000 residents a year-round attraction and popular photo spot in the form of a large driftwood sign of the town's name, and a seasonal one in the Driftwood & Sand festival.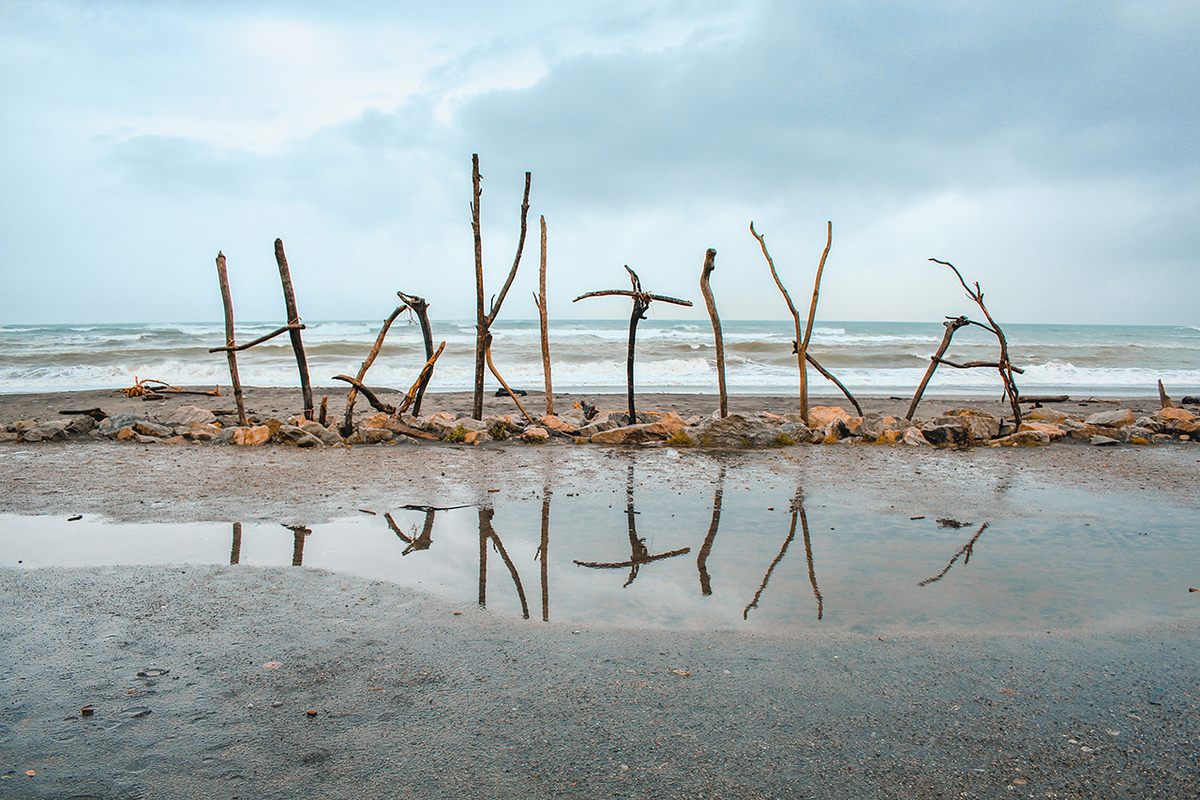 The beginnings of Driftwood & Sand took root in 2002, when Hokitika was host to a larger arts festival. The idea of a beach sculpture event had been brewing in the back of Hoki-raised artist Donald Buglass's mind, and came to the forefront during a discussion about what events to host alongside the festival. After a bit of a staggering start, the Driftwood & Sand Trust was founded in 2004 and it's been up and running on its own ever since.
"There's just so much material, so much potential on the beach," he says. "I got sick of people just going down there to walk their dogs or to bring out firewood."
There's no single secret to mastering a driftwood sculpture. Tips on the beach range from "balance" to "don't use sand" to "let the driftwood speak to you." Those who ask Sue Asplin for advice receive practical instructions on how to make a "dead man," a buried anchor for an upright sculpture. She's a wise choice for help, since she's been a key force behind the festival since its inception.
Buglass has since moved to the North Island, but returns each year for the festival, leaving Asplin, now a festival trustee and manager, as the driving force in town. Neither of them keep official statistics, but guesses range from around 50 to 80 percent of the participants being locals; the rest are travelers who either come in specifically for the festival or just happen to be passing through.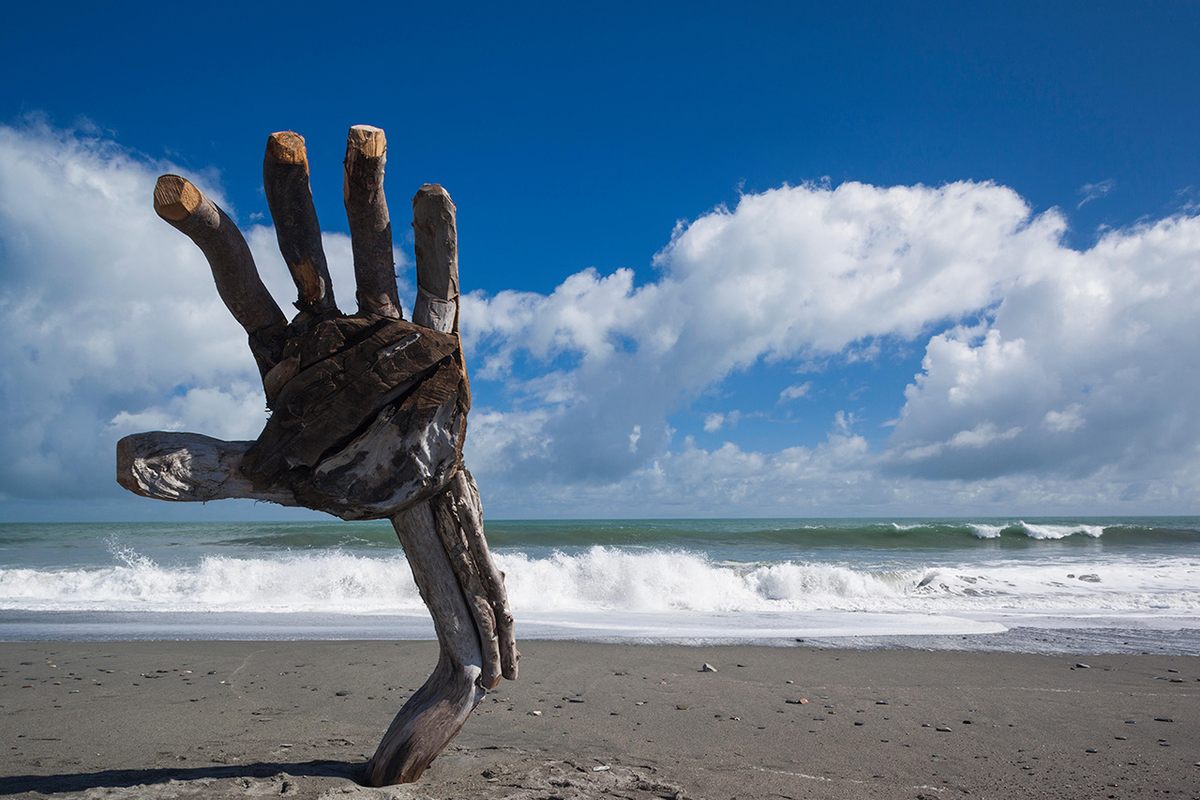 "Quite a few people come into town and discover the festival," says Asplin. "We could be advertising it and getting more people but it's quite neat to create that thrill of discovery. The whole ephemeral art thing is pretty cool—it's there and then it goes."
Participants get up to four and a half days to build their sculptures, and sculptures must be made "primarily" out of things they find on the beach. Other than a $10 registration fee, there are no entry requirements.
"They get so animated about it, it's lovely for people to have creative outlets when they aren't necessarily that creative in their day-to-day lives, and they just blossom on the beach," says Phoebe Wilson, the festival's 2020 on-site coordinator.
There's no consistent rhyme or reason to the sculptures. There have been giant hands reaching up from the sand, human figures diving off the rock wall, and phoenixes rising from the ashes of a bonfire. Some, like a hermit crab trailing a net of garbage titled "Catch of the Day," make an environmental statement. Others showcase the festival's distinctly Kiwi sense of humor; 2020's runner-up in the "Most Humorous" category was "Second Wind," which featured the headless corpse of a seagull with wings outstretched, hanging by fishing line from a driftwood frame.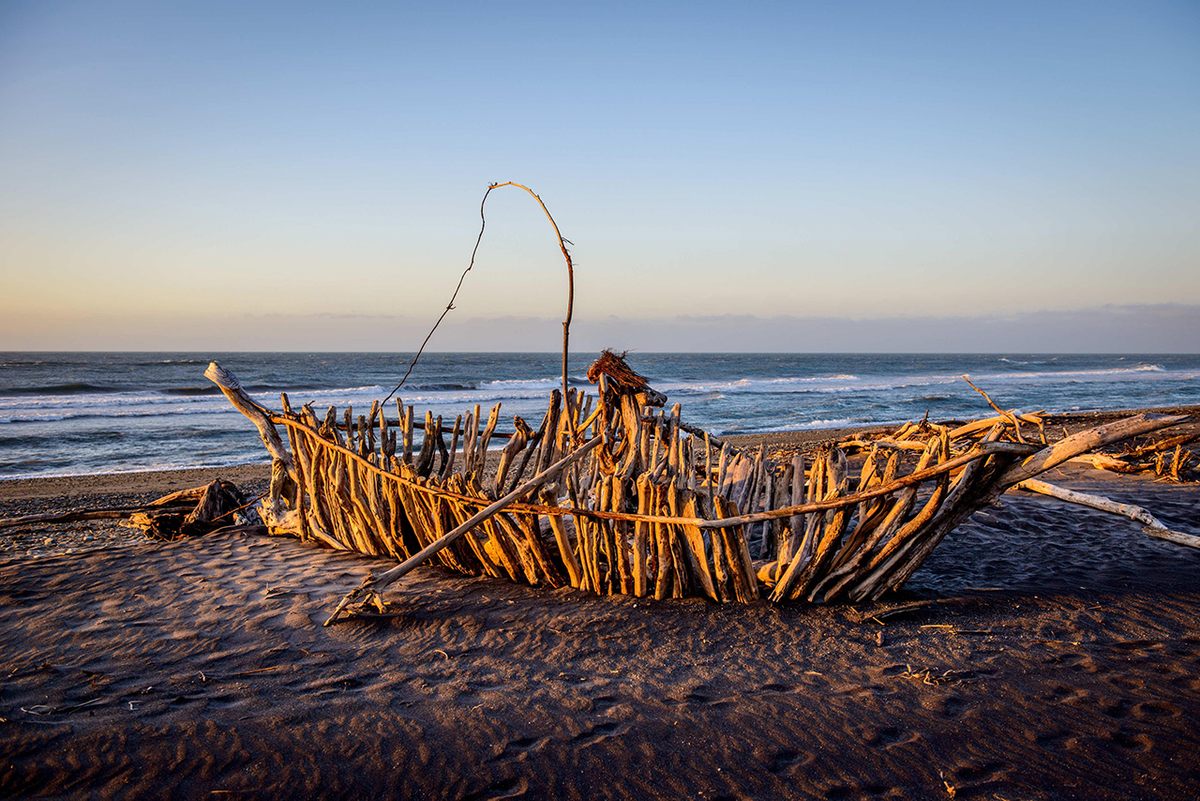 Asplin describes judging as "a wee bit of a challenge. It's not a curated kind of thing, you just get what there is," she says.
It's not the only challenge the festival faces. The South Island's position doesn't just give it masses of driftwood; it also gives the West Coast unpredictable weather patterns and freezing Antarctic gusts. Some years get lucky with a wide, sandy beach and copious driftwood, while others end up with either no beach, no driftwood, or both. Sculptures have blown over, washed out to sea, and contended with the mundane menace of teenage vandalism, which Buglass charitably described as "drunks coming out of the pub and wanting to express themselves in their own way." One year a spring tide swept in just an hour after prize-giving and washed all the sculptures out to sea—including, fittingly, a sculpture of a Maori canoe.
Despite its setbacks, the heart of Driftwood & Sand lies in getting people onto the beach and out of their heads. "It encourages people to get past that fear factor about being on public view or not doing something good, and just realizing the act of creation itself is worth the effort," says Buglass. "It doesn't matter if it's not da Vinci or Michelangelo. The important thing is to be part of it. As soon as that starts happening other people get the bug, they start looking at bits of wood and seeing something in it and thinking, 'Ooh, I know what that could be.'"