Everyone Thought It Was Art When These Clever Teens Put Glasses on a Museum Floor
Teens.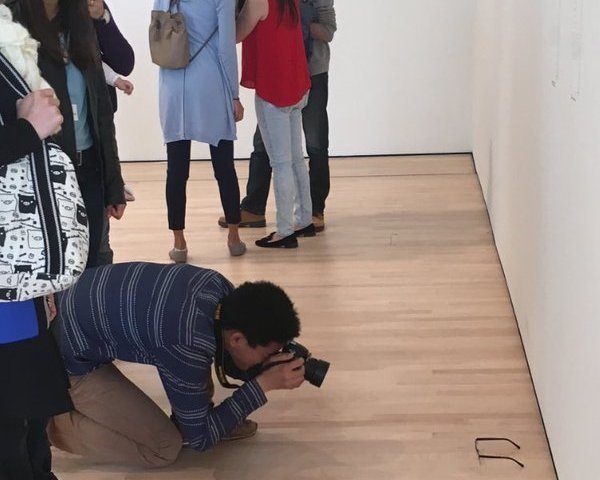 A MOMA visitor enjoys the new exhibit. (Photo: Twitter)
This past Monday, California teen TJ Khayatan and a few of his friends headed to the San Francisco Museum of Modern Art to destress after finals. They gazed at paintings. They took in abstract pieces. They goofed around near the sculptures.
Then, inspired by the mundanity of some of the installations, they decided to add an exhibit of their own: a pair of glasses, placed carefully on the floor, near a large blank wall.
LMAO WE PUT GLASSES ON THE FLOOR AT AN ART GALLERY AND… pic.twitter.com/7TYoHPtjP8

— teejay (@TJCruda) May 24, 2016
Minutes later, people began approaching the glasses, spectating, and even taking photos, Khayatan told Buzzfeed. Khayatan took photos in return, and posted them on Twitter.
The post quickly went viral on social media, which is like a museum, but for teens. Thus far, it has gotten tens of thousands of likes and shares. SF MOMA's reply—"Do we have a Marcel Duchamp in our midst?"—only has four.
Every day, we track down a fleeting wonder—something amazing that's only happening right now. Have a tip for us? Tell us about it! Send your temporary miracles to cara@atlasobscura.com.