An Icelandic Tannery Makes Fish Skins Fashionable
Consider the cod-leather coin purse.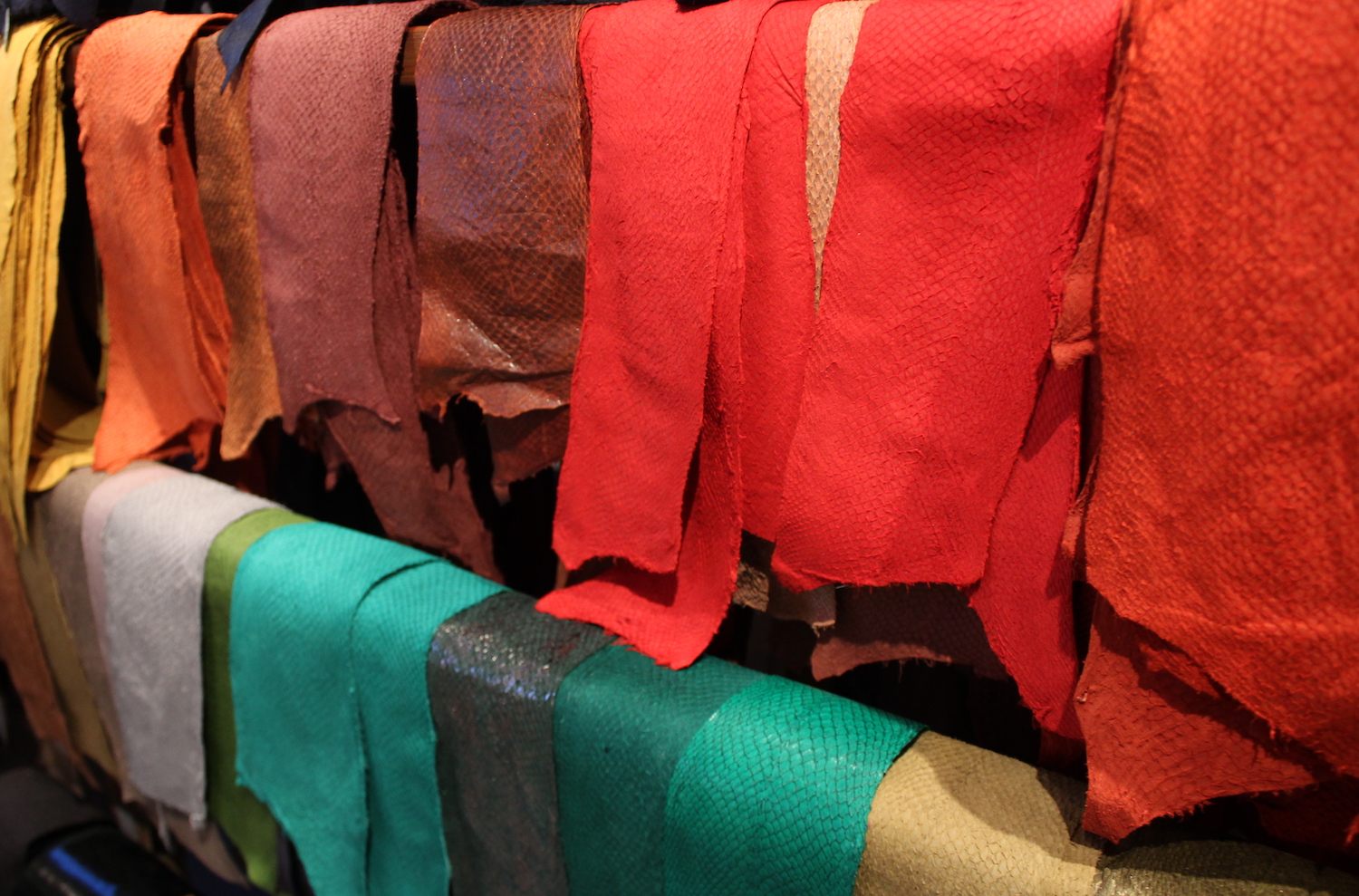 The shop at the tannery sells bowties, change purses, cigarette cases, and jewelry crafted from scaly, supple leather. At first touch, these wares seem to be made from the reptilian skin of a snake or a crocodile.
They're not. They're made from fish.
This tannery, Sjávarleður, or Atlantic Leather, stands on a side street in Sauðárkrókur, a fishing town on a mountainous, damp fjord on Iceland's northwest coast. It's the only enterprise in Europe that transforms discarded fish skin into sleek leather products.
It's also the last bastion of a once-robust Icelandic industry. Since the 12th century, Icelanders have practiced tanning, a chemical process that extracts all living matter from an animal's skin, says Sigríður Sigurðardóttir, a historian and curator of the Skagafjörður Heritage Museum, also in northwest Iceland. Tanning was an important practical activity, but it was also part of the country's culture: girls were told that the quality of the first pair of leather shoes they sewed would foretell the quality of their marriages, and children who were born on bearskins were said to never feel cold.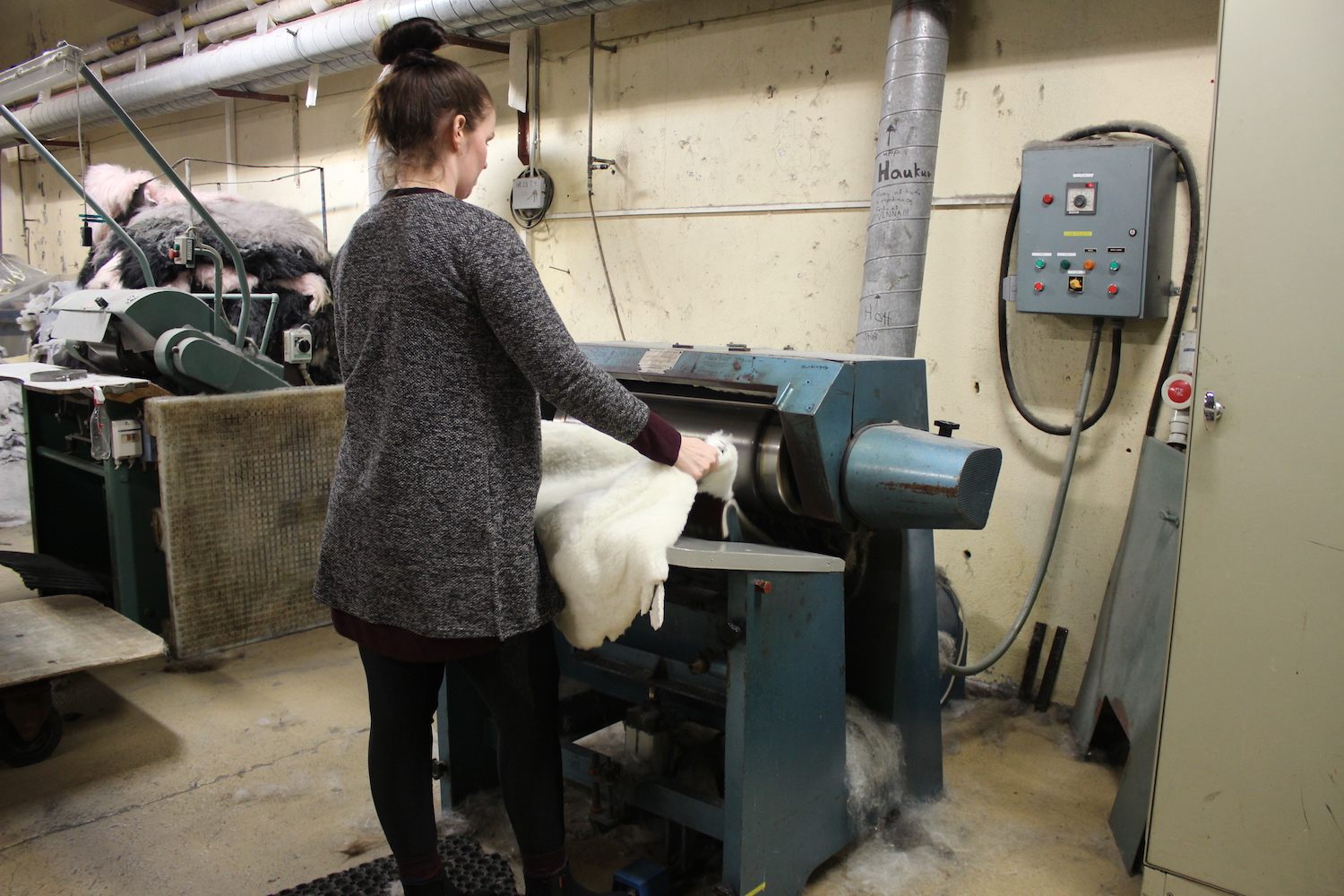 Then, in the 20th century, tanning became a small but brisk industry in Iceland, with approximately 10 operations employing hundreds throughout the country. These tanning factories pickled fox skins and tanned seal skins; they made leather liner for anoraks and sewed gloves.
But as the century died, so did demand for this labor-intensive product. Tanning, says Sigurðardóttir, involves breeding animals, waiting for them to mature, hunting them, slaughtering them, and then turning their skins into wearable clothing.
"It takes a lot of hands or machines or time, and it's expensive," says Sigurðardóttir. "They didn't have any market for it. And today, we don't have much market for it. So that's it."
In 1991, Steinunn Gunnsteindóttir and her family, the owners of Sjávarleður, found themselves confronting this uncomfortable reality. Gunnsteindóttir's parents had purchased the tannery in the 1970s and started processing sheepskins, but the rise of cheap synthetic fleeces, as well as the newly unstable market in the collapsing Soviet Union, put the tannery in a precarious spot.
Then, the family heard about a Canadian company that made fish leather. The family thought that developing this innovative, unusual product just might save their tannery. They wanted to buy the technique from the Canadians, but they didn't have the money, so they decided to develop it themselves.
"The first 200 tries were just fish soup. Mushy fish soup," Gunnsteindóttir says.
Now, though, Sjávarleður's products are sold to the high-fashion industry. Fish skin is a durable, sustainable substitute to snake skin and crocodile skin, says Gunnsteindóttir, and their leather was named best in the world at a Hong Kong exhibition in 2013.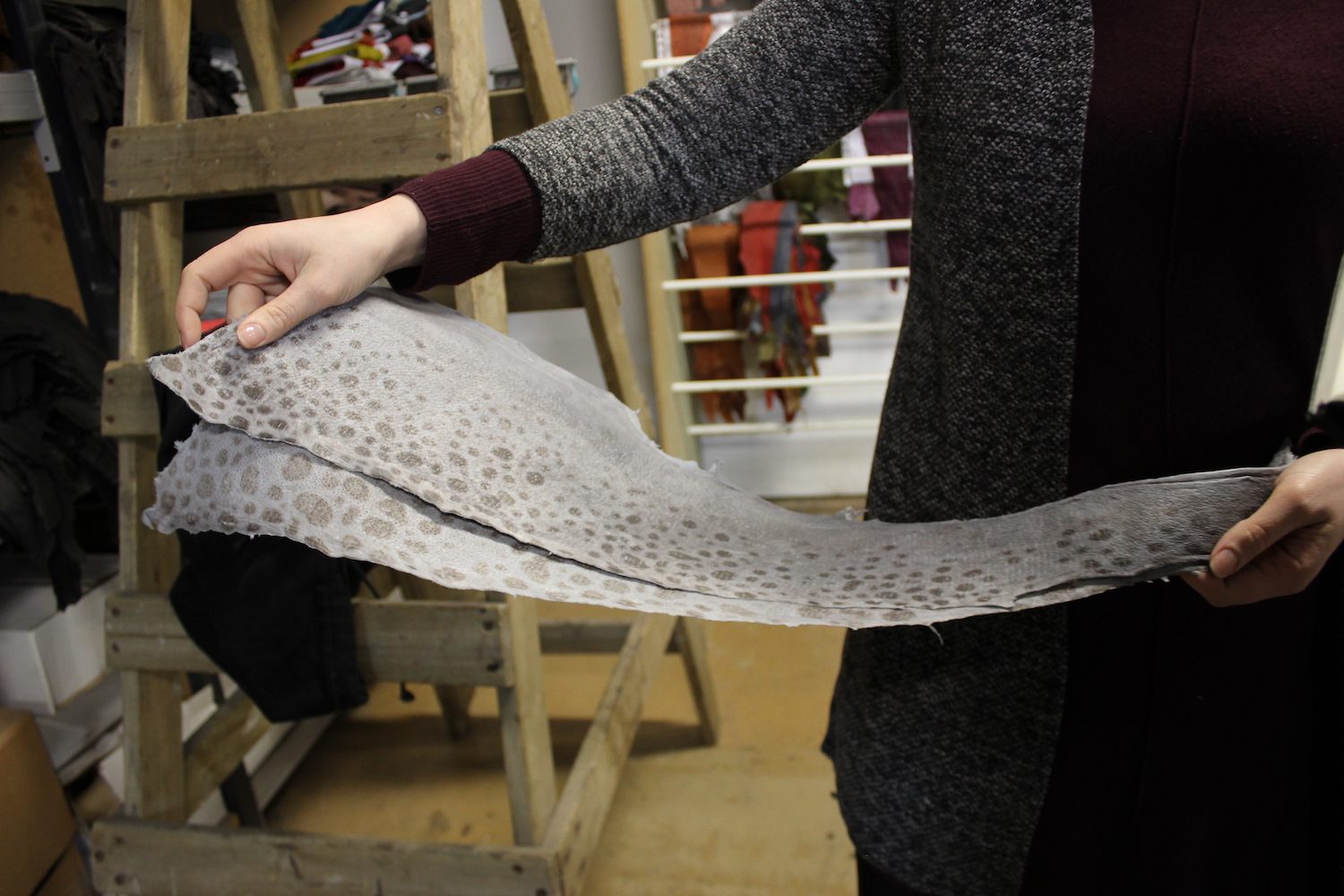 "Their method for developing fish skins has been revolutionary," says Tinna Björk Arnardóttir, project manager at Innovation Center Iceland, which sponsors entrepreneurial projects in the country. "For the town it was a bit of a boost as well."
Under the business name Sauðskinn, the tannery also still processes sheep and animal hides, which it exports to shops around the island. All sheepskins stamped with an Icelandic seal come through this tannery, although some sheepskins sold in the country are actually imported from Eastern Europe.
Now, Gunnsteindóttir, who grew up riding her bicycle through the tannery, helps her parents run these two operations. The next generation also pitches in.
"I always tell my daughters, if they won't comb their hair in the morning, fine, we'll just go down to work," says Gunnsteindóttir, pointing to piles of soft sheepskin, which must be combed many times before they're ready to sell.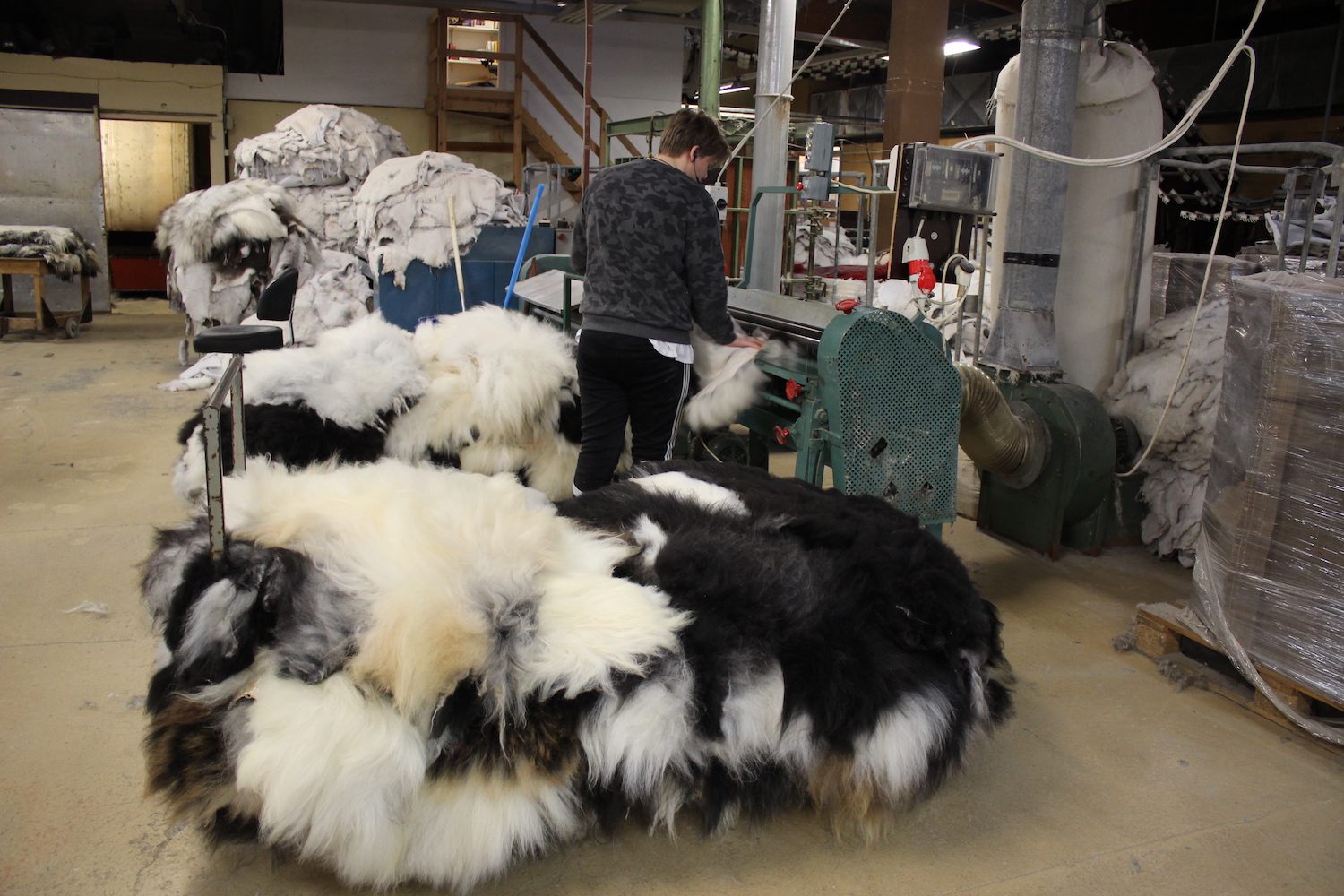 These sheepskins are processed in cavernous rooms, which smell of fat and chemicals. Here, workers wearing headphones to drown out the clatter of the machines pull skins off tables; others push lambskin through a sandpaper roll to remove the stain of yellow fat. Nearby hang rows of coffee-colored leather; once dry, it will go into tumbling machines, similar to clothes dryers, to soften. Whorls of fur lie on the ground.
These are old machines, says Gunnsteindóttir. She and her family tried out new, computer-operated equipment, but it kept breaking down.
Beyond the sheepskin-processing rooms are the cold rooms, smelling of the fjord, where the fish is processed. About a ton of fish skins come through this room every week. Many are purchased from a fish factory in Dalvik, a town an hour away, up the fjord. Here, a man turns a hose on a box of fish skins, defrosting them. Nearby, a jumble of luminous spotted-wolf fish skins lie on a blue tarp.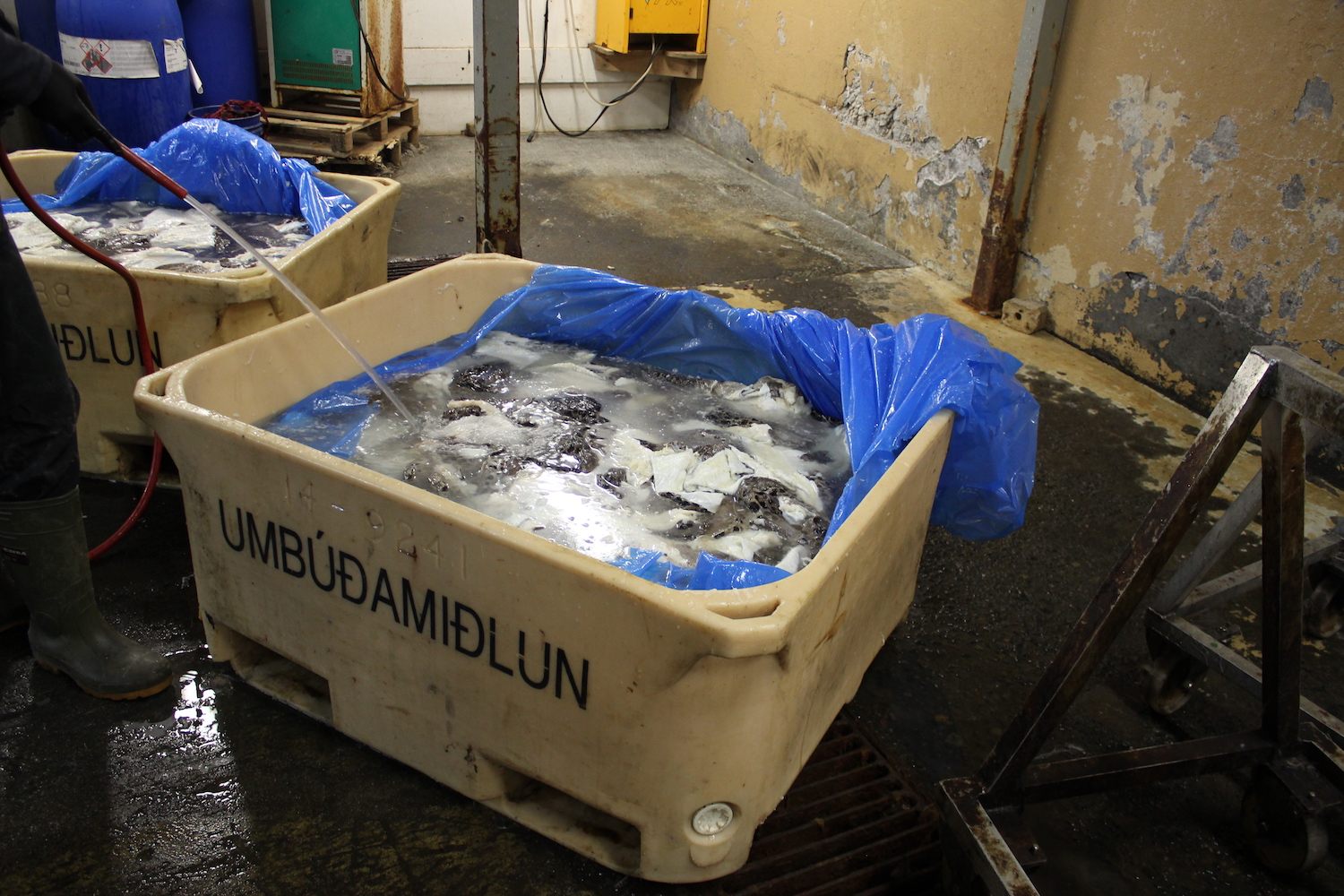 It takes three to four weeks for these skins to transform from food industry refuse into the colorful, shiny strips of leather in the shop. During that time, the skins pass through wooden barrels full of chemicals, then through tumblers. After they are tanned, the fish are stapled to drying cabinets, and finally treated and dyed in one of 4,000 colors.
These animal skin products make some visitors squeamish, but Gunnsteindóttir is adamant in her defense of tanning.
"I always think it's funny when people come in and say, it's so sad, poor animals. I say, are you wearing jeans? Those are seven times more toxic than our skins," says Gunnsteindóttir. "Tanning is one of the oldest things to do."
This argument revolves around the fact that tanners, or at least these tanners, don't kill animals, but use waste by-products from the food industry—an argument that the historian Sigurðardóttir agrees with.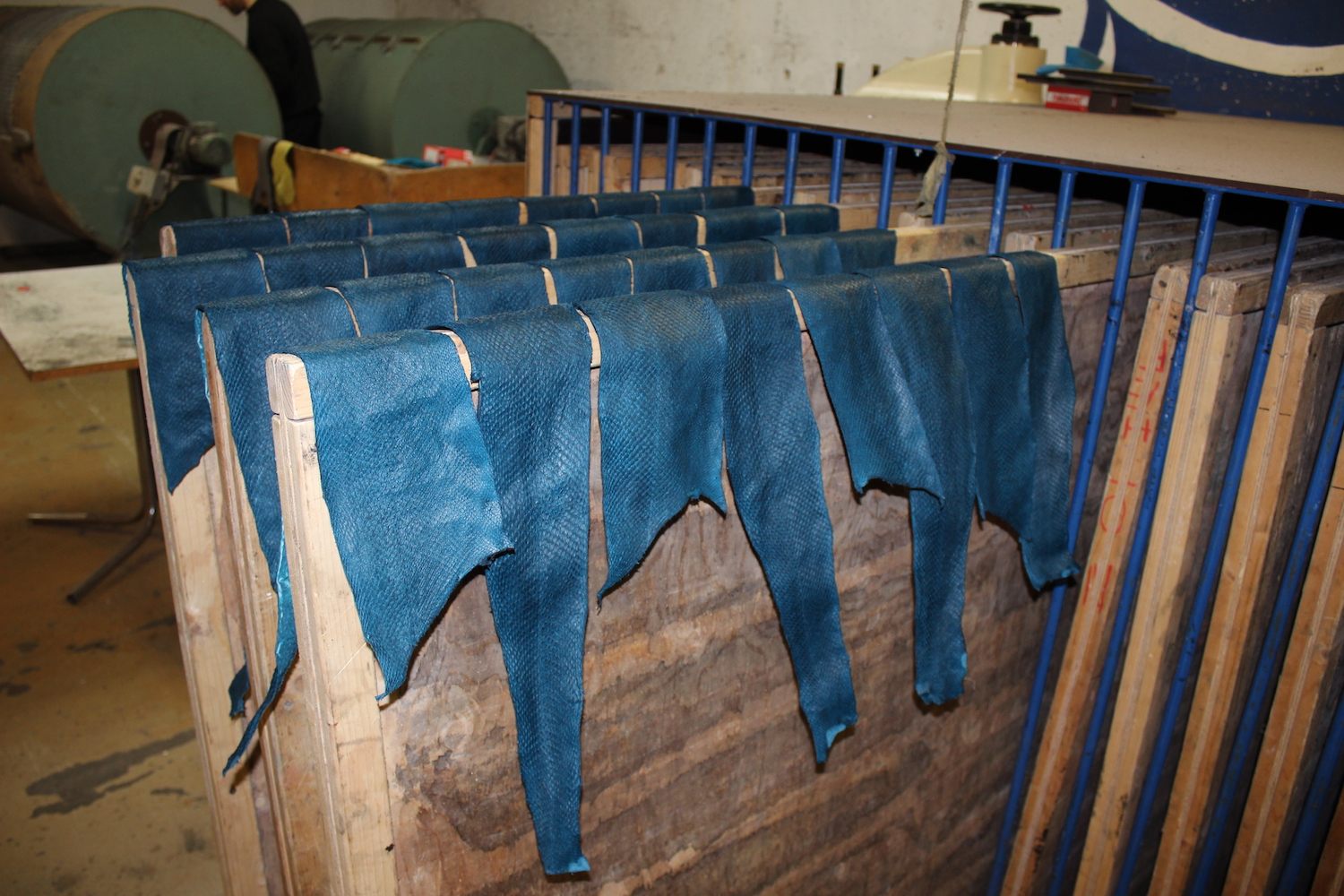 "What happens to fish skins if you don't use them [in the tannery]?" she says. "We have a lot of all kinds of skins from all kinds of animals and fish that are thrown away. Why should we do that, if we can use them? You're not killing animals to get them. They're already dead."
That's part of the reason why the tannery now operates a Gestastofa, or visitor center, where visitors can learn about the traditional processes behind the shiny skins in the gift shop. Arnardóttir, from Iceland Innovation Center, helped the tannery set up this center in 2012. She relied on a Canadian model called Économusée, which promotes the idea that tourists and locals should learn about how traditional workspaces and artisans operate.
For Sigurðardóttir, a local historian who's chronicled the rise and fall of industries in Iceland, the tannery's model is one worth emulating.
"They built something new on old knowledge," she says. "If you have to stop the old way of doing things, you have to open a new door and take a new turn. And that's what they did."