Found: A Black Box, Missing for 31 Years, High on a Mountain
Two Massachusetts men went on a quest, and found their "treasure."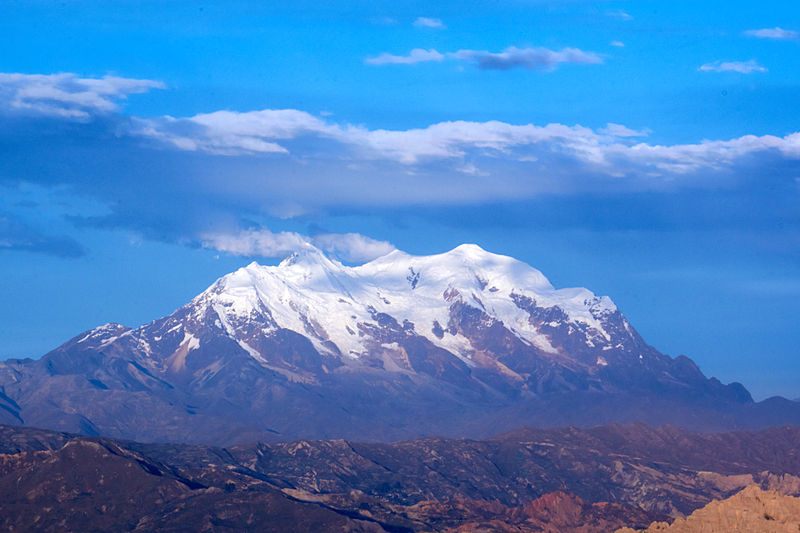 Mount Illimani, where the recorder sat for 31 years. (Photo: Hernan Payrumani/CC BY-SA 3.0)
Last year, Dan Futrell fell down an internet hole that started with search for MH370 and landed him on the Wikipedia page listing unrecovered flight recorders. On that list, one stood out to him: the records for Eastern Air Lines Flight 980, which was traveling from Paraguay to Miami when it crashed into a mountain in Bolivia in 1985.
The flight itself interested Futrell less than the reason the recorders had never been recovered—the location of the crash was too inaccessible. Futrell took that as a challenge, and now, he and his friend Isaac Stone think they have found parts of one of the flight's "black boxes" on Mount Illimani, the Boston Globe reports.
Futrell and Stoner aren't saying much about their find, yet; Outside is working on a story covering the trip, and they're keeping relatively quiet until that comes out. But on their trip blog, Futrell wrote that "we found what we believe to be the flight recorders."
We found the flight recorders @DanFutrell https://t.co/dMcSblVyLT

— Isaac Stoner (@isaacbstoner) June 4, 2016
Up on the mountain, when they reached the debris field, they spent their time examining pieces of plane metal, trying to locate any trace of the flight recorders. "Mostly what we found are just scraps of metal, pieces of nonfunctional orange casing," Futrell wrote. But on their third day of debris hunting, they found a piece with wires sticking out of it and the letters "CKPT VO RCDR"—indicating "cockpit voice recorder"—on those wires.
It's not clear that the debris that they found, including the potential voice recorder piece, will reveal anything new about the crash. They did find one roll of magnetic tape, which may have some tidbits on it. But they did accomplish their main goals: "survive the trip…meet some people, overcome the difficulty of the task, and find that black box."
Bonus finds: Giant pool of magma
Every day, we highlight one newly found object, curiosity or wonder. Discover something amazing? Tell us about it! Send your finds to sarah.laskow@atlasobscura.com.