Found: Faulty Bolts at a Nuclear Plant
An inspection at Indian Point revealed 220 faulty bolts.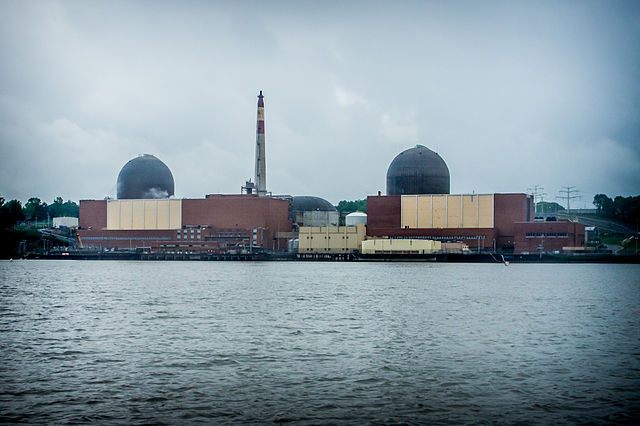 Indian Point. (Photo: Paretz Partensky/CC BY 2.0)
During a planned inspection at Indian Point, a nuclear power plant nestled into one of the most densely populated regions of the country, 2,000 bolts that hold the reactor plates together were examined. Of those bolts, 11 percent had problems, the inspectors found. Some were degraded; some lacked bars that were meant to hold them in place; some were just missing.
These 220 faulty bolts were found in the plant's Unit 2 reactor, which was shut down for the inspection and now will stay down for another few weeks. (Meanwhile, Unit 3 is still generating power.) The inspection was part of an "Aging Management Program" that the plant is implementing as part of its bid to renew its license for another 20 years.
Indian Point is located up the Hudson River from New York City, and in the event of a major incident at the plant, New City, Newark, and parts of Connecticut would be in its evacuation zone. Even in a smaller incident, the evacuation zone includes densely populated areas and would require around 1 million people to leave their homes. 
Entergy Corp., which runs the plant, said that, bolts aside, the inspection showed that Unit 2's critical components were performing safely. Earlier this year, though, water with "alarming levels" of radioactivity showed up in the plant's monitoring wells. (The contaminated water did not leave the site, and so did not pose a threat to public health.)
New York Governor Andrew Cuomo has said he thinks Indian Point should close. The plant applied to renew its license in 2007; its most recent licenses had expiration dates in 2013 and 2015, but the Nuclear Regulatory Commission allows the plant to keep operating while the license renewal process proceeds.
The plant produces a substantial amount of energy—about a quarter of New York City's demand, according to Politico—and if the plant were to be closed, that energy would need to come from another source, which could require New York to shift to a more carbon-intensive energy source.
Whatever happens to the plant in the long term, Entergy does plan to fix up those bolts, stat.
Bonus finds: Etruscan stele, giant faces on a mountainside
Every day, we highlight one newly found object, curiosity or wonder. Discover something amazing? Tell us about it! Send your finds to sarah.laskow@atlasobscura.com.