The Return of the Pie Company That Gave the Frisbee Its Name
An avid fan of the flying disc is now slinging Frisbie pies.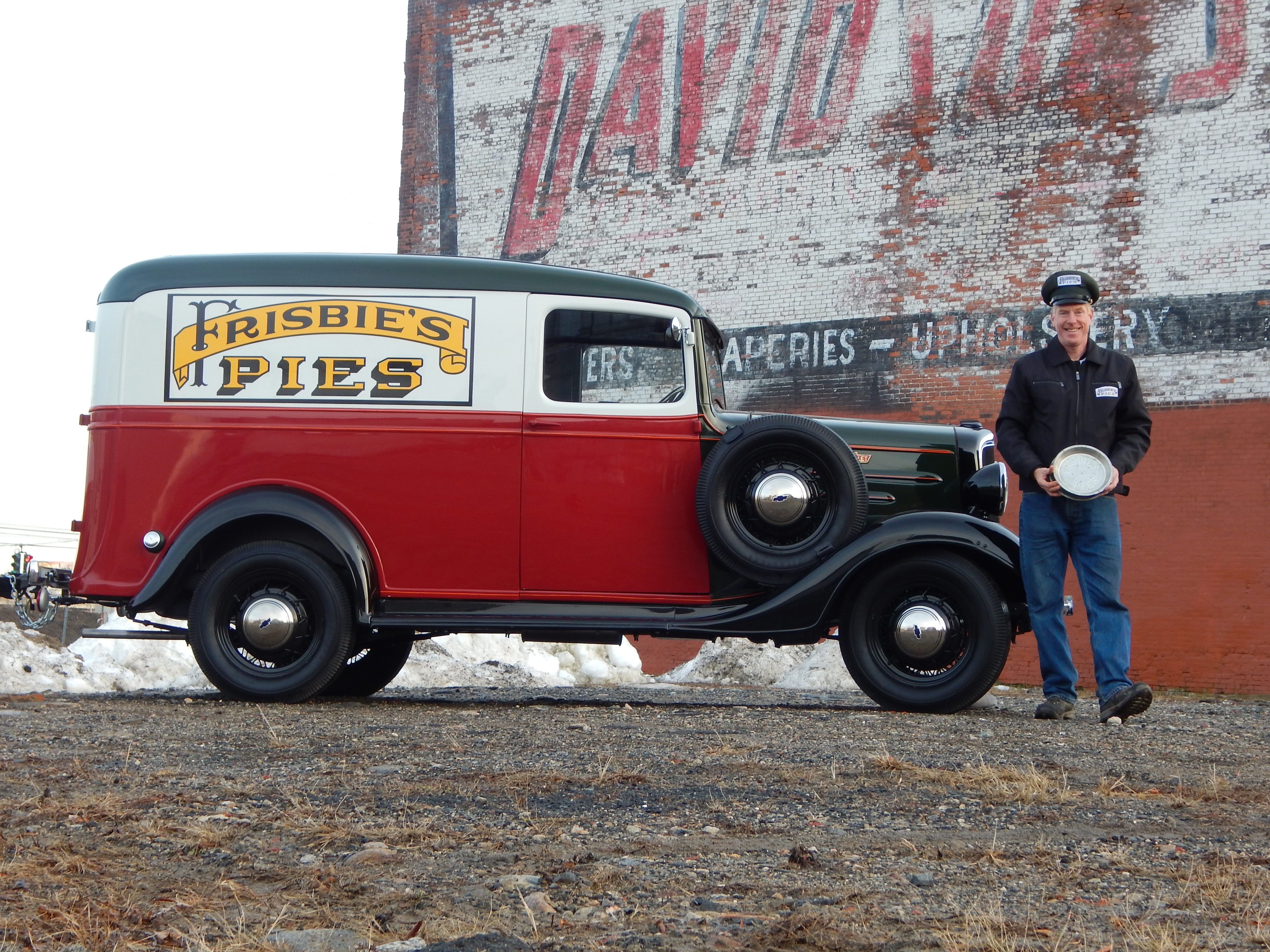 When Dan O'Connor picked up an old Frisbie Pie Company tin at a tag sale more than 30 years ago, he knew he had a piece of history in his hands. After all, the long-gone Connecticut bakery was the namesake of the wildly popular Frisbee flying disc.
The find made O'Connor, an avid Ultimate Frisbee and disc golf player, hungry for anything Frisbie. "I started collecting as many pie tins as I could," he says, amassing close to 100 Frisbie tins from tag sales, antique shops, and flea markets. Then, after decades of buying old Frisbie pencils, coin holders, and other knick-knacks, O'Connor hit the jackpot.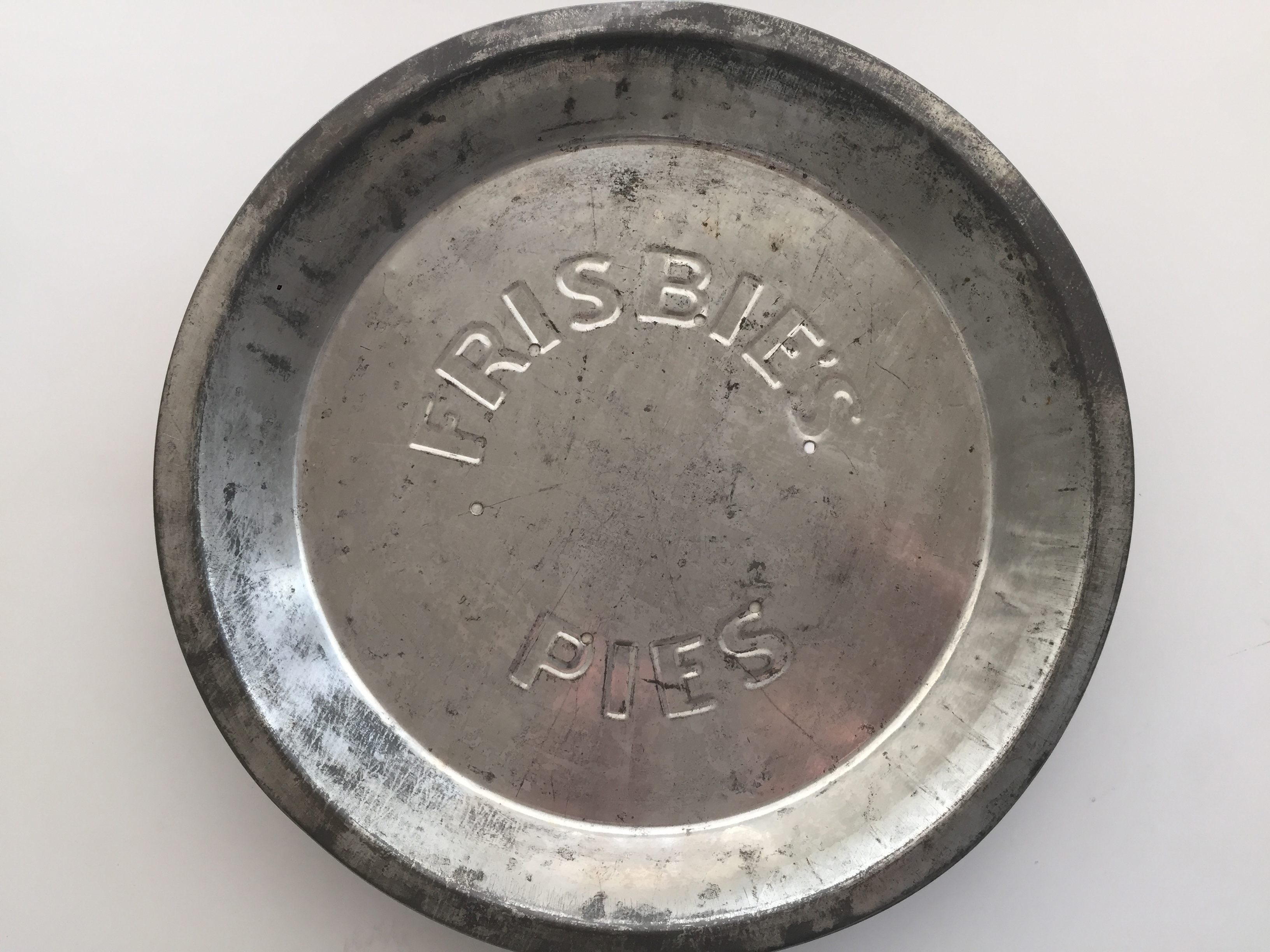 Ten years ago, at an estate sale auction in Hartford, Connecticut, O'Connor won a bidding war on recipes and photographs that once belonged to a Frisbie Pie Company plant manager. Even before his purchase, O'Connor had dreamed about owning a bigger piece of the Frisbie pie legacy: the company trademark. He discovered it still existed, but the owner, another pie company, wasn't using it.
So he licensed it. "I believe it was my destiny," he says. Now in his fifties, he'd already had a long career in the consumer packaged goods industry, working as a trade marketing manager at Pepperidge Farm and a sales manager with Campbell Soup Company. It turned out to be good preparation for restarting an iconic Connecticut pie business.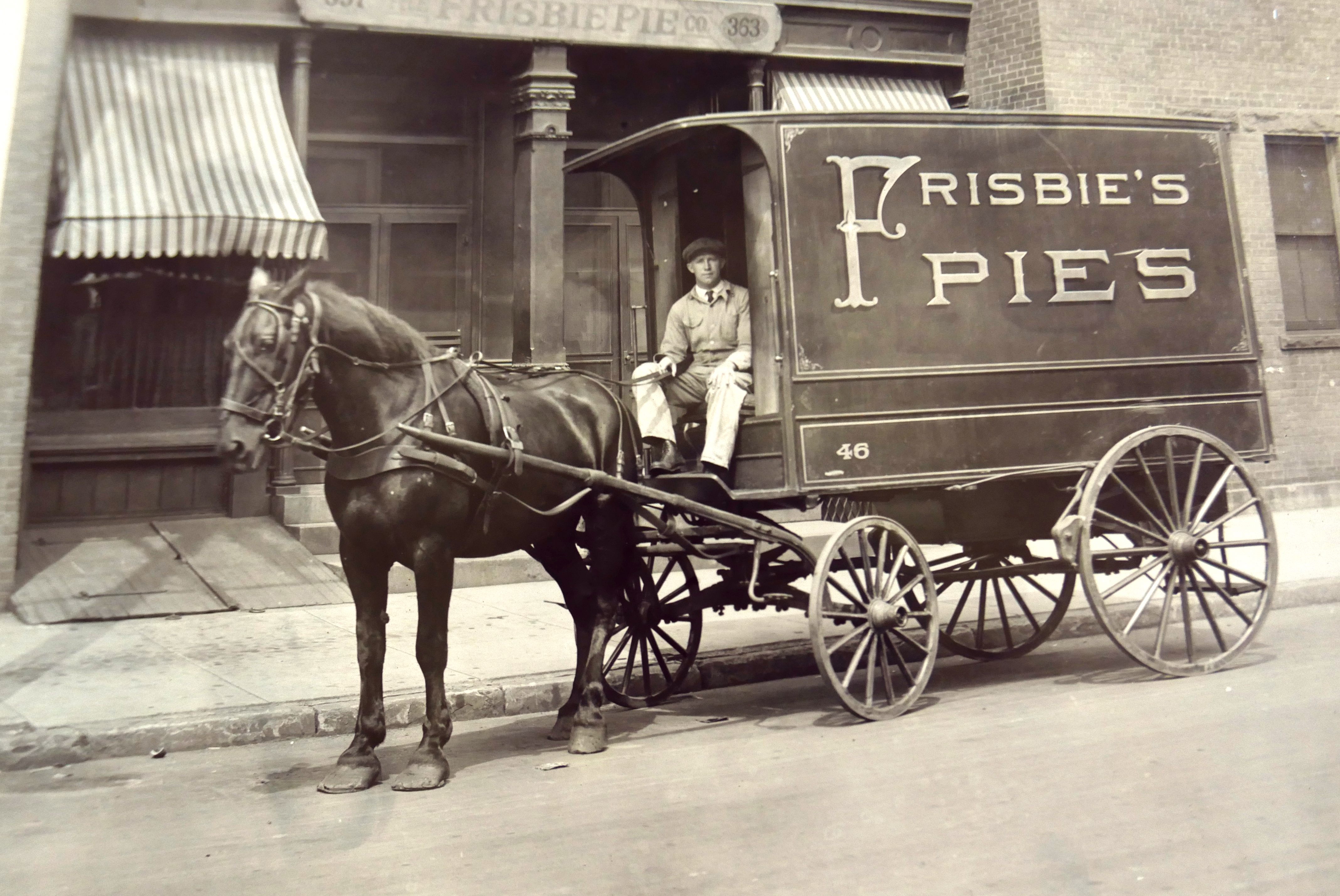 The Frisbie Pie Company got its name from William Russell Frisbie, a Civil War veteran who moved to Bridgeport, Connecticut, in 1871 to manage a new branch of the Olds Baking Company. Soon, Frisbie purchased the bakery and renamed it after himself. After his death in 1903, his son, Joseph Peter Frisbie, took over. Along with opening bakeries in Hartford, Poughkeepsie, and Providence, Joseph created a pie rimmer modeled after a potter's wheel, and a cruster that could process 80 pies in a minute.
Business in those pie-loving days flourished. By 1940, the Frisbie Pie Company churned out sugar cookies and 200,000 pies daily, and employed close to 800 workers. According to O'Connor, their pie varieties included such delights as apricot prune whip and cherry cream, along with the local favorites of custard and lemon.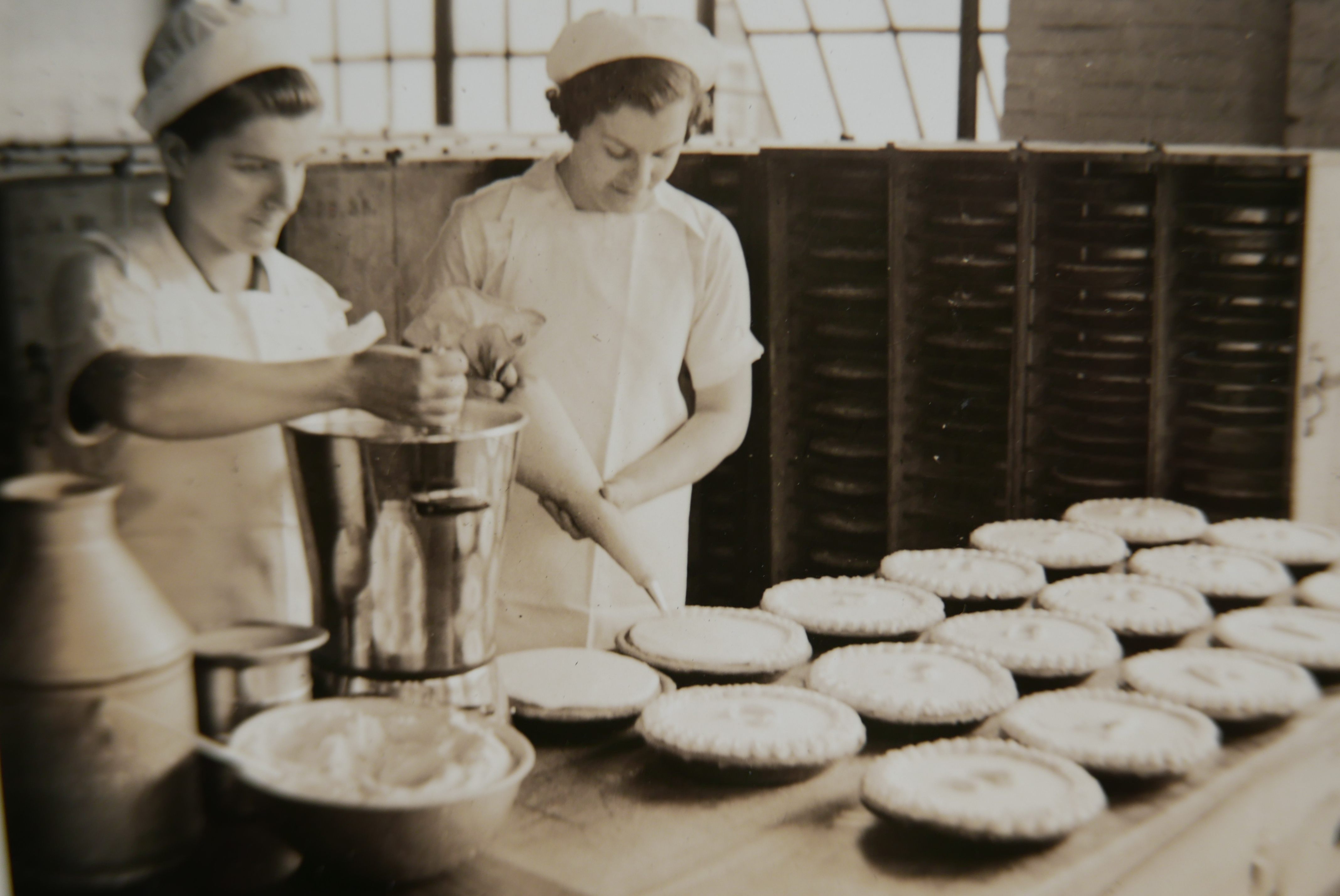 The company's huge pie production was an important step on the road to the Frisbee. In the 1920s, Frisbie Pie Company workers flung around the pie tins during breaks at the Bridgeport headquarters on Kossuth Street. But it was the company's customers that truly sent the humble Frisbie pie tin to new heights—in particular, college students.
The company sold Frisbie pies throughout the Northeast, to restaurants, grocery stores, and schools. One major customer was Yale University in nearby New Haven. Apparently, Yale students caught on quickly to the high-flying potential of empty Frisbie pie tins, tossing them to each other around campus. O'Connor noted that earlier versions of the tin came embossed with only an F, but would later spell out "Frisbie." Legend has it that students shouted "Frisbie!" as a warning to those standing in the path of a fast-moving pie tin. Soon, "Frisbie-ing" spread across the Ivy League.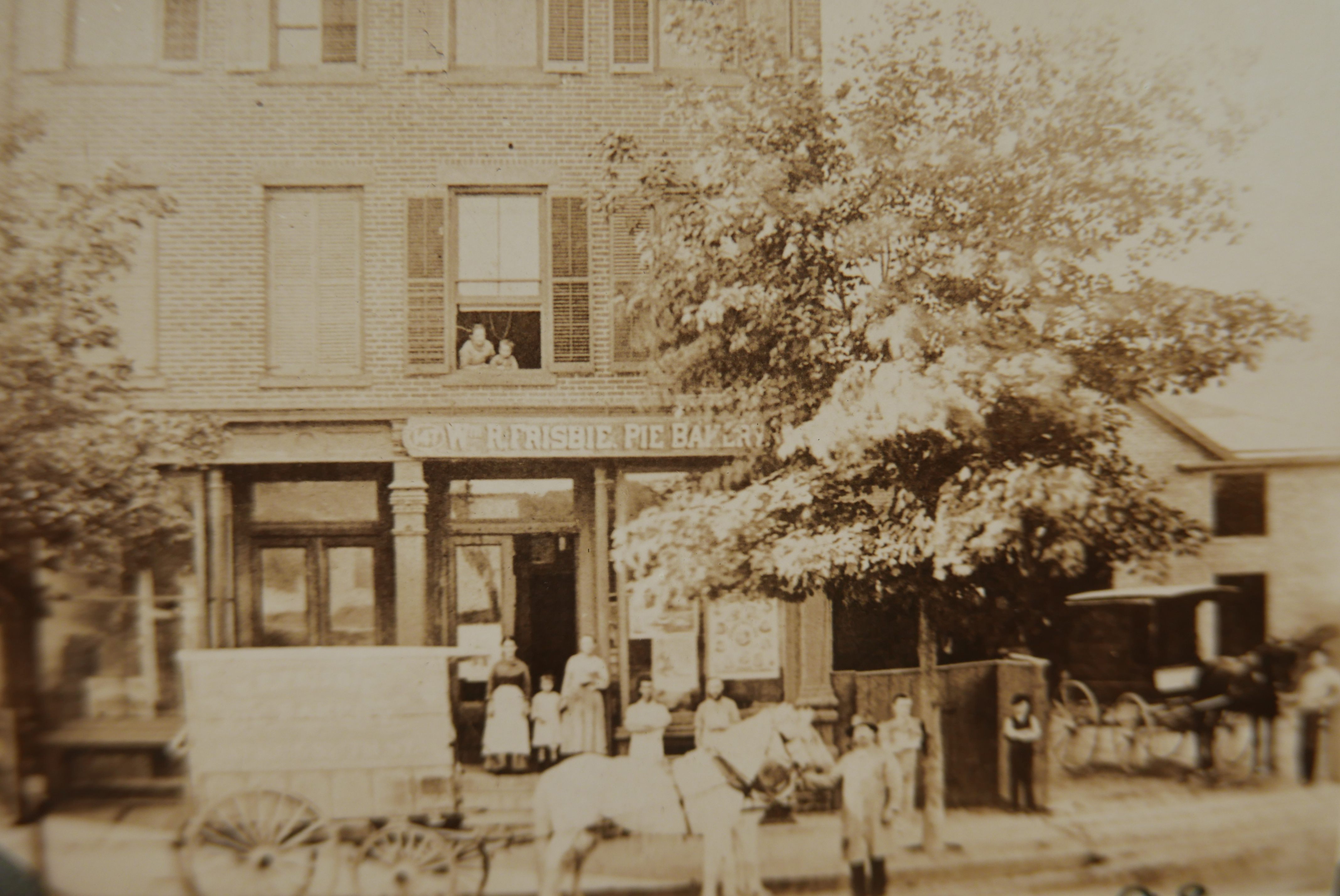 However, the credit for inventing the future Frisbee toy goes to a Californian named Walter Frederick Morrison. From tossing around a large popcorn can lid with his future wife Lucille at a party in 1937, the couple soon switched to cake pans. While playing with a such a pan on a Santa Monica beach, a passerby offered to buy it, kickstarting their "Flyin' Cake Pan" business. After Morrison returned home from serving in the U.S. Air Force during World War II, he tinkered around with different disc designs.
Over the next decade, Morrison and his then-partner Warren Franscioni began producing plastic versions. In 1955, Morrison came up with a new disc, and in 1957 sold the rights to his "Pluto Platter" to the toy company Wham-O. The same year, one of Wham-O co-founders, Richard Knerr, heard about New England's Frisbie-flinging tradition. To capitalize on the name without inviting a lawsuit, the toy company swapped out a single letter. The Pluto Platter became the Frisbee, and sales soared.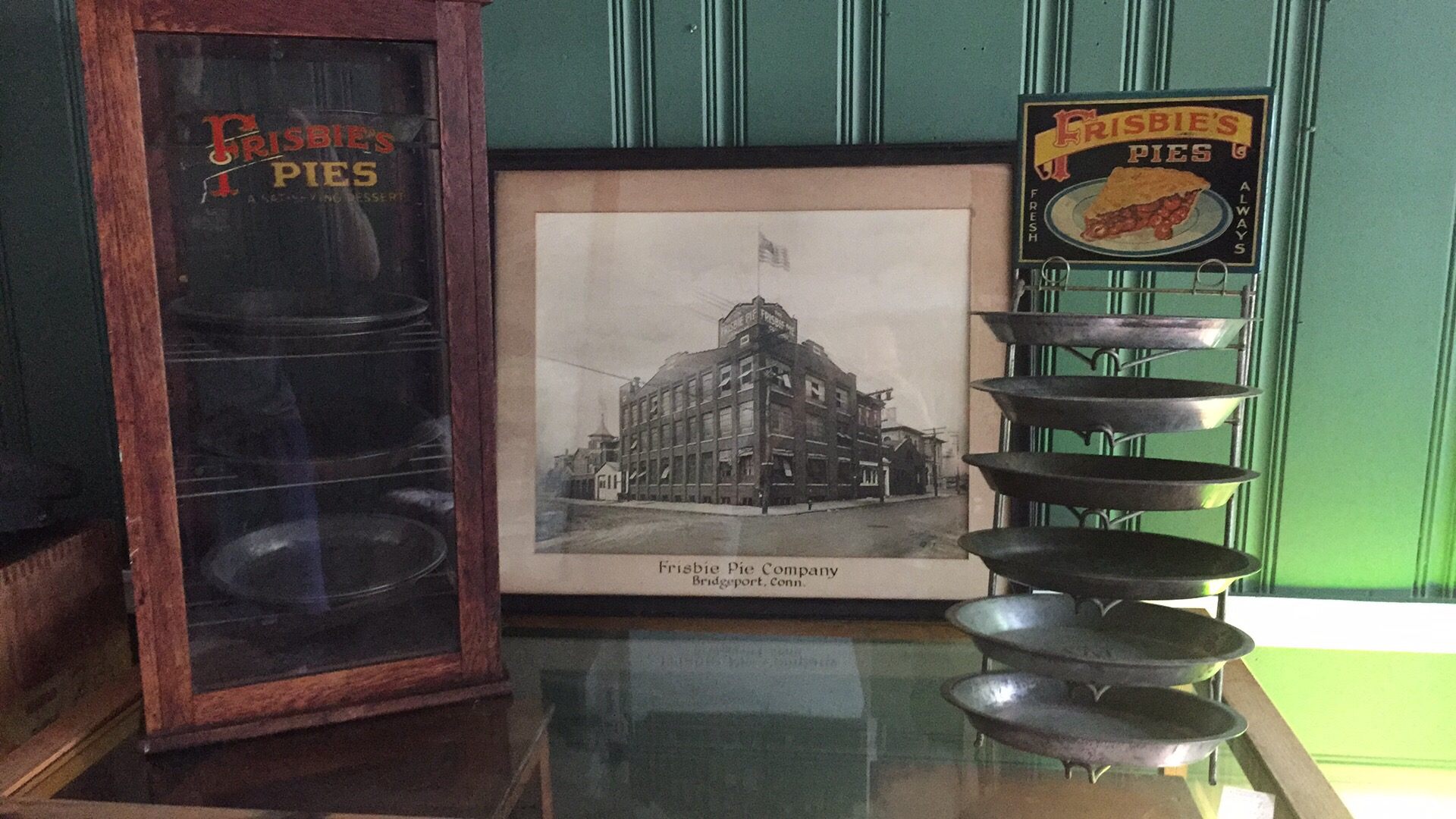 While the Frisbee flourished, the same couldn't be said for Frisbie pies. After Joseph Peter Frisbie passed away in 1940, his widow, Marian Rose Frisbie, and plant manager Joseph J. Vaughn kept the company going. But operations ceased in 1958, largely due to the difficulty of keeping up with rapid technological advances and the widespread consolidation of bakeries. It was Vaughn's documents that O'Connor bought at that fateful auction 10 years ago, sparking his desire to revive the company for the 21st century.
While O'Connor had the old recipes, replicating Frisbie pies took some trial-and-error. One thing that helped, O'Connor says, was seeking out feedback from people who consumed the original Frisbie pies during the 1950s (though he's adapted the recipes to include more fruit and fruit juice). After contracting with a regional baker in Connecticut for pie-making, O'Connor made his first delivery to a deli in December 2016. Currently, he sells four-inch apple, blueberry, and cherry pies, distributing them online and to delis, restaurants, and stores in Connecticut and New York. For maximum nostalgia, he also had a 1936 Chevy panel truck restored in the style of the Frisbie Pie Company's once-vast fleet of delivery vehicles.
O'Connor even met surviving members of the Frisbie clan to get their blessing, through the Frisbie-Frisbee Family Association of America. Diane Davis, a Frisbie descendant and FFFAA member living in California, noted that fellow Frisbies are quite pleased about the company's return. "I think everyone is excited," she says. That doesn't surprise O'Connor. In his opinion, bringing back the Frisbie Pie Company is a way of "keeping the story alive," for both aficionados of flying discs and flaky pastry.
Gastro Obscura covers the world's most wondrous food and drink.
Sign up for our email, delivered twice a week.