The Detective on the Case of the Perfect Hot Tamale
In the Mississippi Delta, a tragedy inspired Charles Sledge, police detective, down a tamale-making path.
The Mississippi Delta, an alluvial floodplain that covers roughly 7,000 square miles between the Mississippi and Yazoo Rivers, is globally recognized as the birthplace of blues music. But the region is also known for a staple street food that has fueled Delta life and culture for over a century: the hot tamale. This cornmeal-wrapped treat even inspired blues legend Robert Johnson to pen an ode, They're Red Hot, in tribute. While the hot tamale is still enjoyed by all around the Delta, it's hard to beat the version made by 43-year-old Charles Sledge, which his grandmother helped him perfect.
I recently spent a day driving around Clarksdale, Mississippi, with one thing on my mind: to find the perfect tamale. I quickly found out from both citizens and restauranteurs alike that the best tamale in town can't be purchased at a restaurant, but out of "that detective's garage." While many know Sledge as a kind, fair, and even-tempered member of the law enforcement community, he is better known as Phat Daddy, the King of Tamales.
Every Saturday afternoon, a long line forms outside of his ranch-style home, made up of diners from all over Mississippi, Arkansas, and Tennessee. On my visit, the Phat Daddy himself invited me to sit down with a steaming tray of husk-wrapped bundles, happy to share his personal story: a tale with as much tragedy and dark coincidence as any Delta blues ballad.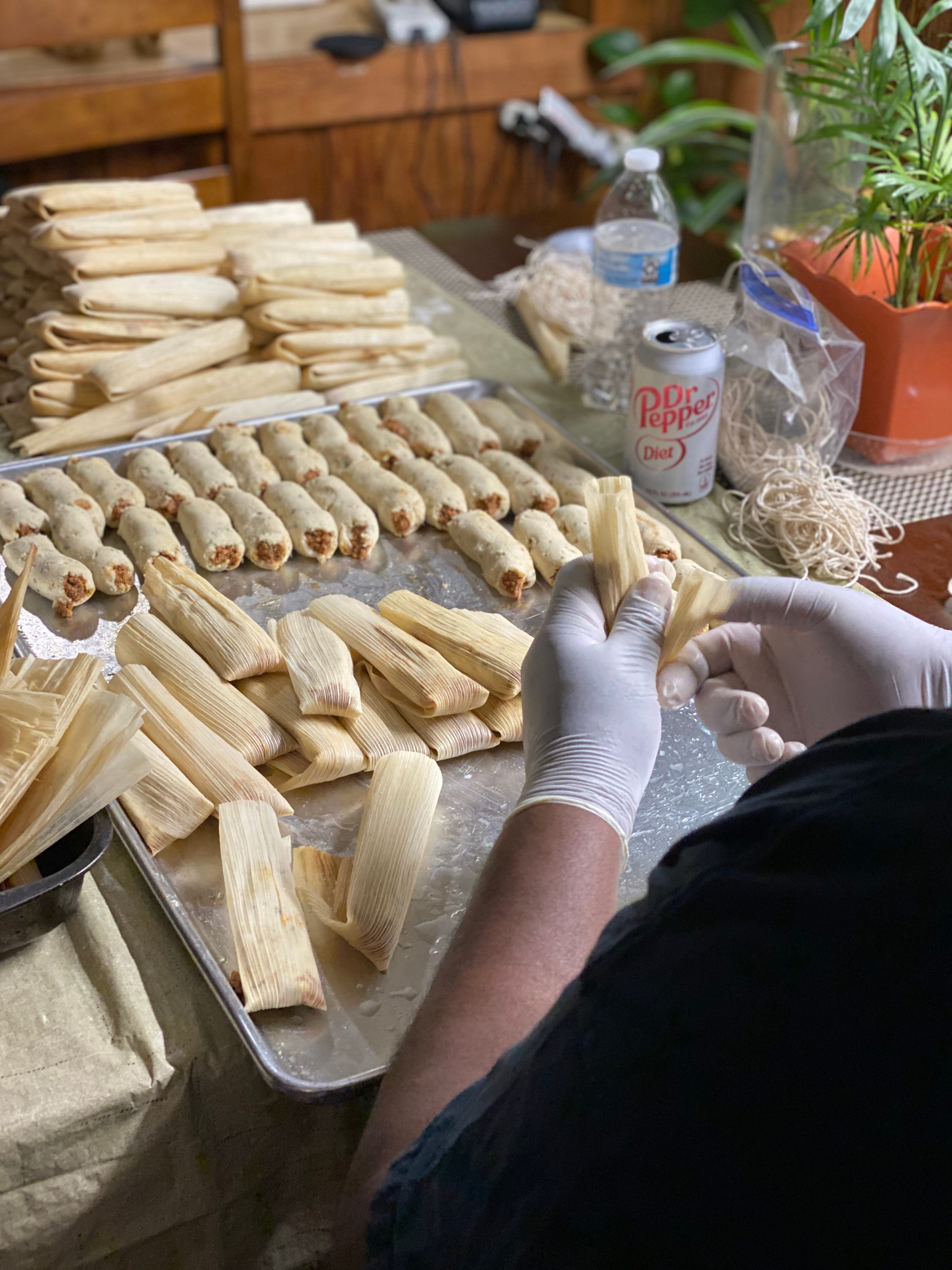 Sledge has been a police detective since 2004. One Christmas Eve, he reported to the site of a car accident, just outside of Clarksdale. "It was a head-on collision between two vehicles," he recalled. "I was first to arrive, and it was the worst accident I have ever seen." A young couple lay dead inside one of the cars, and, peering inside, Sledge noticed something unusual. "I swear the whole car was just filled with uncooked bundles of tamales," he said. "Turns out they were bringing up a whole mess of tamales, from Louisiana to Tennessee, to serve on Christmas Day."
As he talked, Sledge's jovial tone faded away. "Everywhere I looked, all I could see was blood and tamales," he said, before he continued to explain how that tragic night changed his life.
Aiming his flashlight around the car, the beam fell onto a business card on the floor, for a business called Tio Carlos' Tamales. "I don't know why I did it, but something told me I needed to take a picture of that card and call the number," Sledge remembered.
A few months later, he did call, and ended up buying a tamale-stuffing machine from Tio Carlos himself. Though he had never made tamales before, he wanted to try. "The thought wouldn't leave my mind. It became like an obsession," he said. "I spent the whole year between 2009 and 2010 trying to get my tamales perfect and couldn't get the flavor right."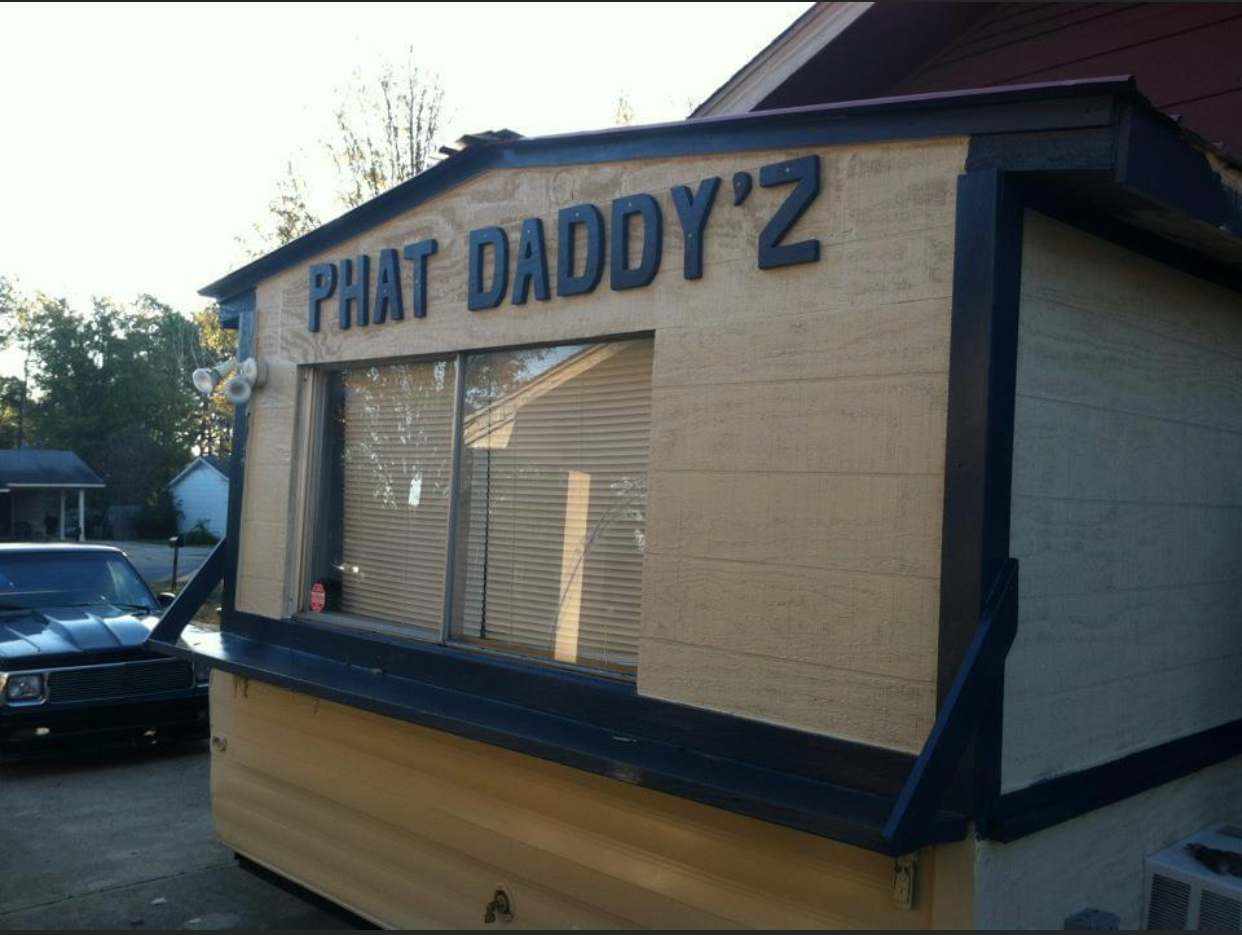 It wasn't that he was unfamiliar with tamales, or even cooking. "My earliest memories of hot tamales are from my grandfather on my mother's side, Obie 'Puddin' Hatchet' Lee," he explained, going on to boast that his grandfather was once the most famed gambler in the Delta. At the famous juke joint Po' Monkey's, he shot dice, played cards, listened to blues, and ate tamales. "When he was done gambling, he would always bring home a bunch of tamales from Po Monkey's for us to eat," Sledge said.
As for cooking, he learned it early from his grandmothers. "Grandma Virgie taught me soul food; that was neckbones, hog maws, collard greens, pinto beans, chitlins, and pigtails," Sledge said. "While my other grandma on my father's side, Lydia Pina Ellington, cooked everything Mexican-style. My recipes have always been influenced by both. That's that Delta flavor, it's in my DNA and every tamale I make."
Tamales are an indigenous food of Mesoamerica that can trace their roots back to ancient Mexico and Guatemala. In Spanish, tamal is the correct singular term, while tamales is plural. The name linguistically derives from the Nahuatl word tamalli. Ancient Aztec tamalli were stuffed with proteins such as axolotl (Ambystoma mexicanum), flamingo, frog, turkey, and xoloitzcuintli (hairless dog).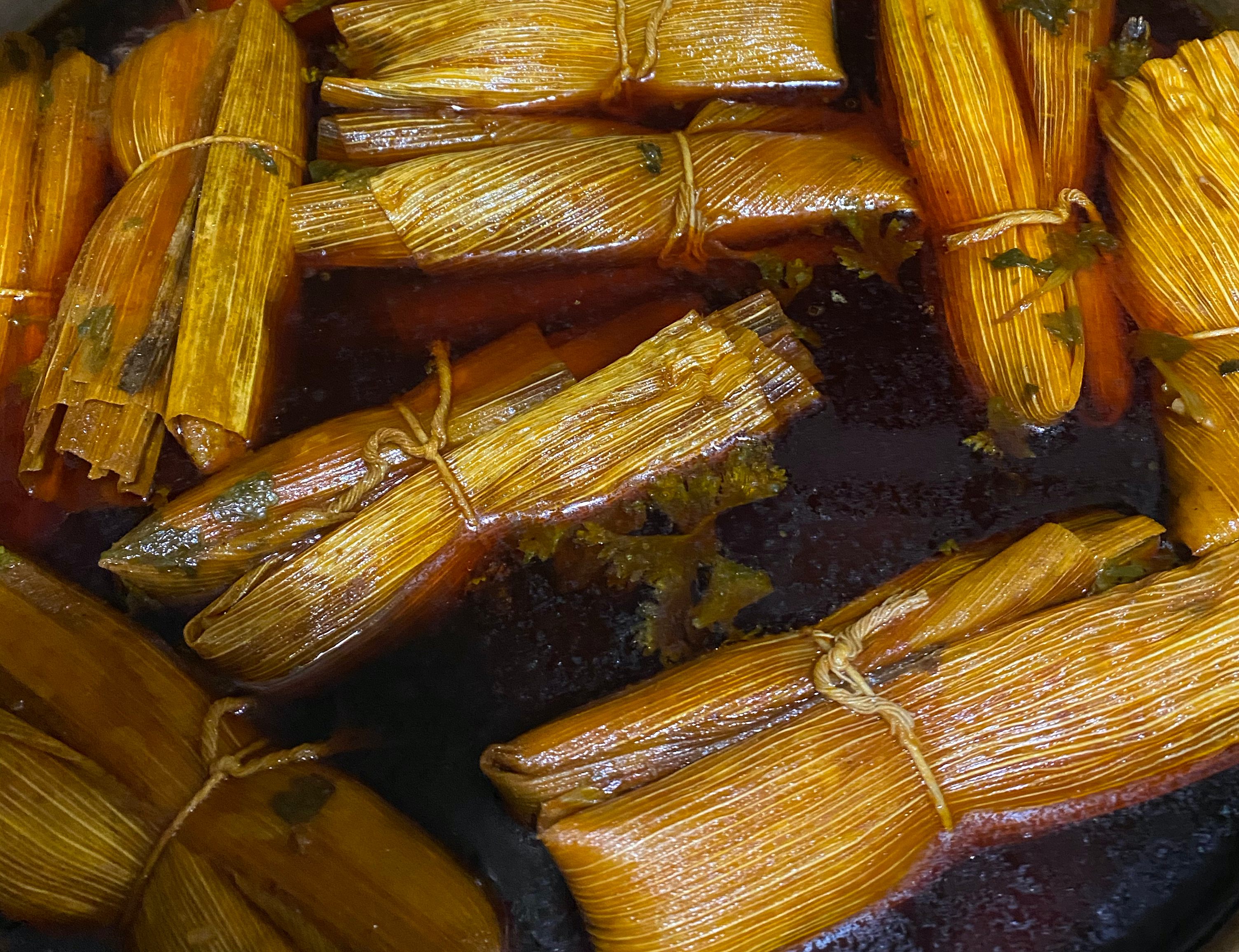 These early delicacies are a far cry from what Sledge has on the table in front of us: silky corn husk bundles, submerged beneath a deep red broth. Although heavily spiced ground beef is Sledge's signature tamale filling, he also sells chicken breast, turkey, and his newest brainchild, chicken-cheddar-jalapeño. Whereas a typical Mexican tamal will just be steamed, a Delta tamale will first be steamed and then left to soak in a crockpot of spicy broth. Some of the broth is always part of the meal when the tamale is served.
Theories vary among historians on how the tamal found its way into Delta soul food. Some believe the Spanish brought them along from Mexico, or that they were eaten by the local Choctaw people in the form of a bread known as banaha. Another theory is that the Delta tamale evolved from cush-cush, a cornmeal dish with connections to the Senegambia region, brought to Mississippi by enslaved West Africans.
However, the most widely agreed-upon origin story for the Delta tamale is also the most recent. In the early 1900s, migrant workers from Mexico worked the cotton plantations of the Delta, in the same fields as black sharecroppers. It was out of this intermingling that the Delta tamale was likely born.
Sledge's recipe proudly bears the trademarks of both cultures. For help with what he calls "his tamale journey," Sledge went to his grandma Lydia. "Although she boils her tamales in the Delta style, she still uses masa flour instead of cornmeal," Sledge explained, though cornmeal is the Delta staple. "She also taught me how to work the spices that came up to the Delta from Mexico."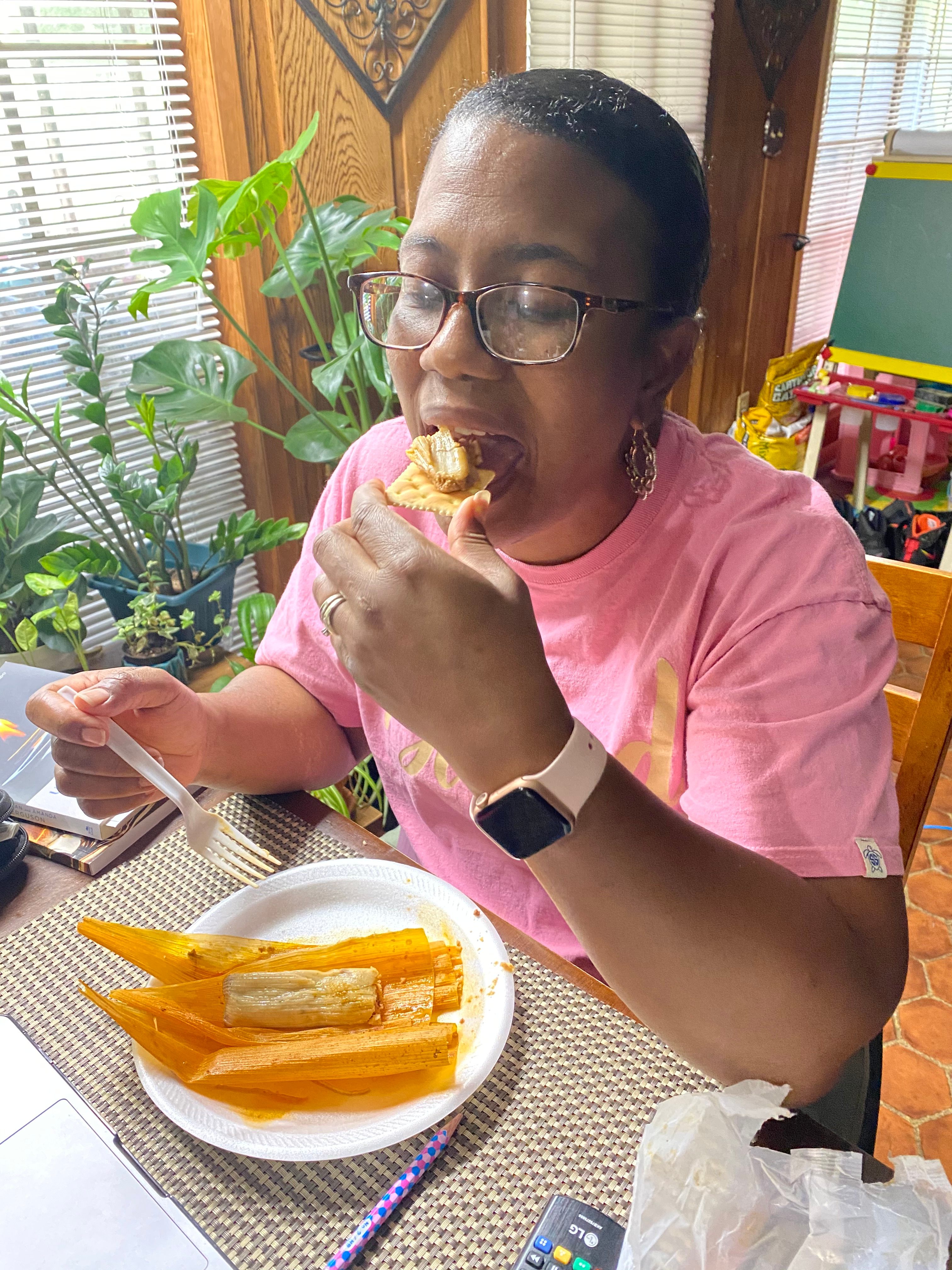 It wasn't long before Sledge was satisfied with his recipe. "At first, I made them for fun, to make people smile," he said. "But once that flavor science clicked, my friends said I needed to make this my business."
While Sledge admits his use of high-grade beef and corn masa over cornmeal might have something to do with his success, he keeps his exact recipe close to his chest. "I've been told that I have succeeded in creating the original Delta tamale that street vendors might have sold 60 to 70 years ago," he said. "What makes them the best isn't really for anyone else to know about." But he's confident enough in his skills that he hopes to retire from the force and devote himself to tamales full-time.
Now, Sledge is putting the finishing touches on his Phat Daddy'z food truck, which will be on the road soon. He plans on selling Delta specialties such as hog maws, pig ear sliders, and Kool-Aid pickles. But tamales will have the place of honor on the menu, which Sledge thinks is fitting, considering what started him down this path. "It was like a spirit guiding me toward a life of tamales that night," he mused. "The Delta is a strange place."
Gastro Obscura covers the world's most wondrous food and drink.
Sign up for our email, delivered twice a week.