How to Dress Like an Ottoman
A 19th-century style guide displays the diversity of an empire.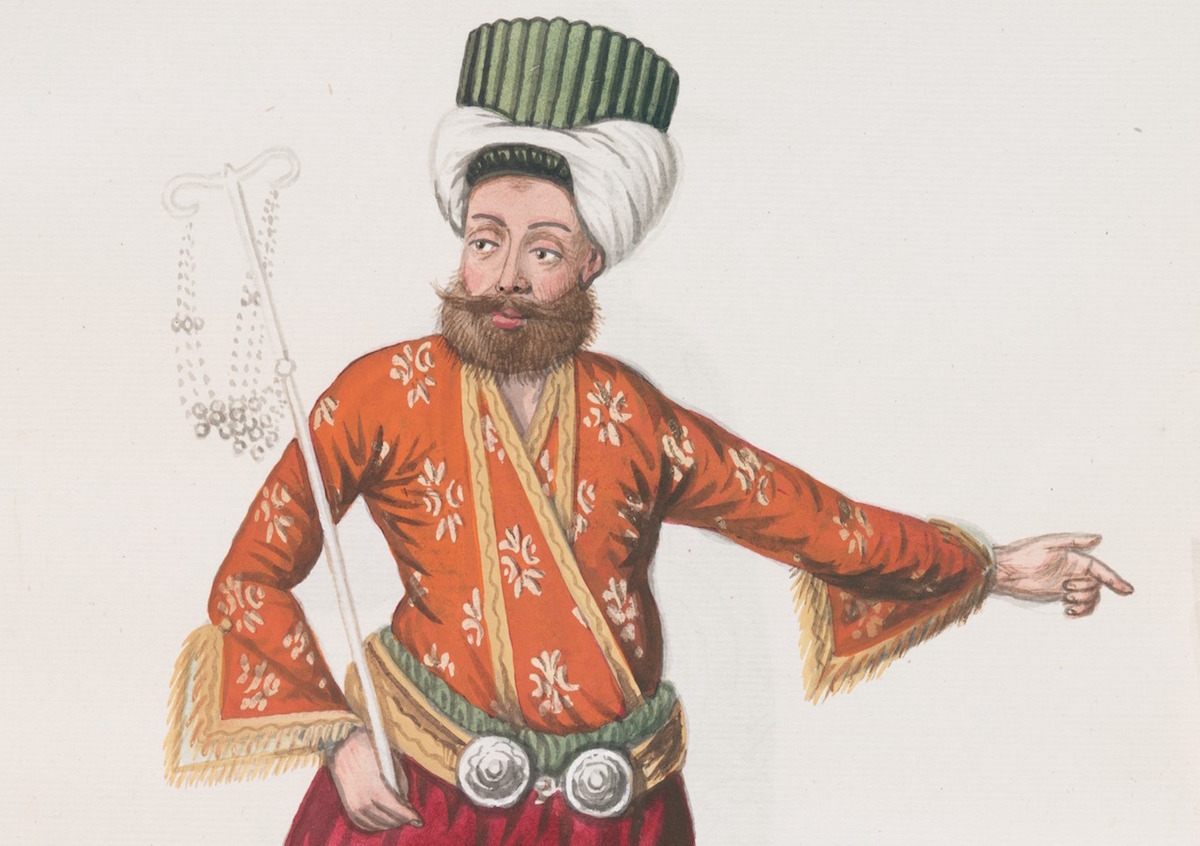 At its height in the 16th and 17th centuries, the Ottoman Empire stretched through Central Asia to the Balkans on one axis, and from the Middle East down to North Africa on the other. There, Greeks, Albanians, Armenians, and Bulgarians traded materials and traditions with Turks, Syrians, and Egyptians. Silks from Aleppo and Damascus, muslin from Mosul, and Egyptian cotton were dyed with vibrant plant-based pigments such as saffron and pistachio, or colors derived from insects, such as cochineal and lac. Adornments—fur lining, gold applique, beads, and leather—layered the costumes that members of the imperial court used to draw attention to their status, and that members of the many ethnic groups comprising the empire used to display their heritage.
This sumptuous dress was illustrated—and later photographed—in costume-books that were given to foreign rulers and emissaries by the Ottoman court. One watercolor collection, held by the New York Public Library, was illustrated in what is now Istanbul sometime between 1808 and 1826, and later presented to the Russian emperor Alexander III.*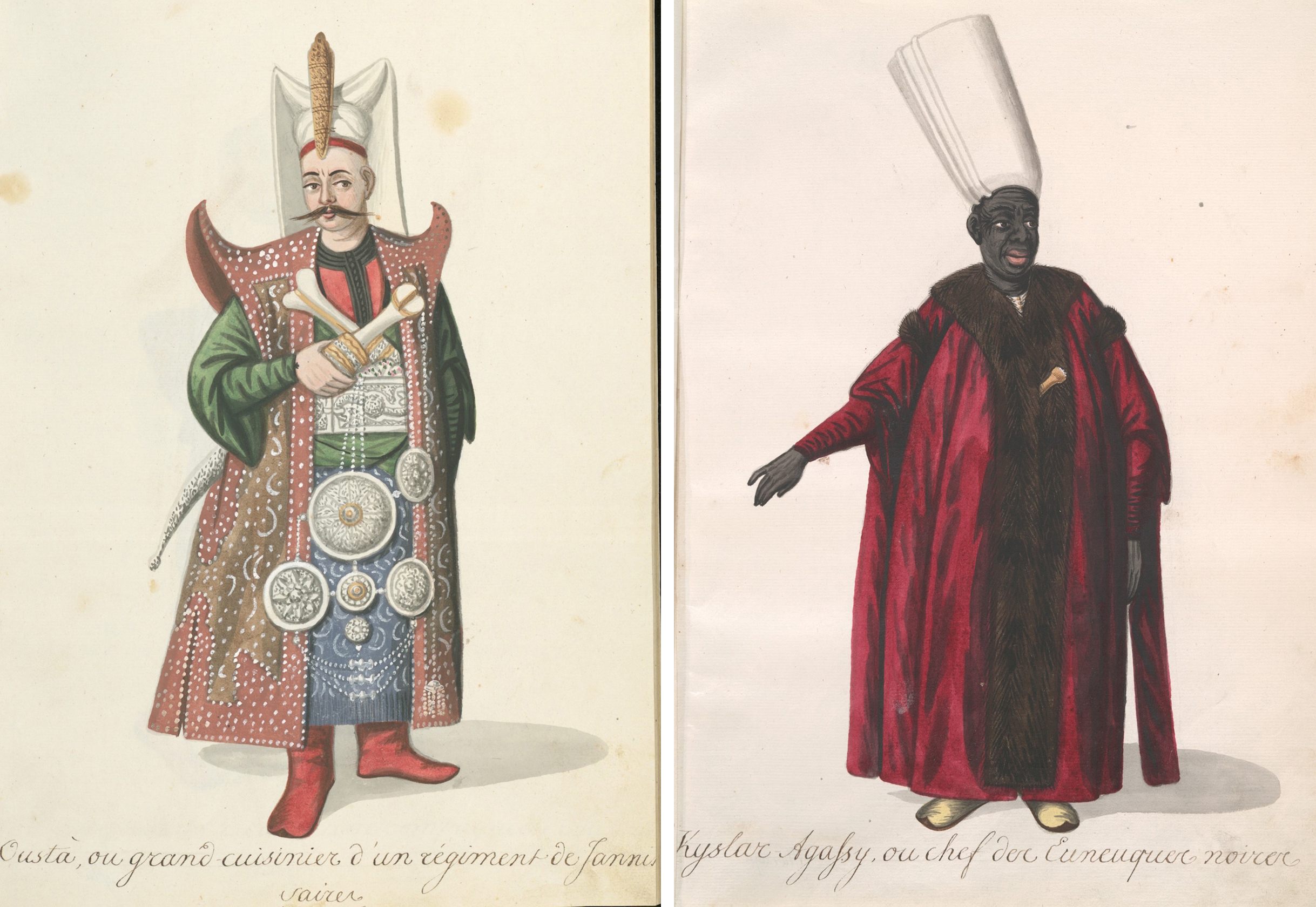 "It was basically propaganda—'Look how big we are, look how diverse we are'—without stating the obvious: We're bigger than you," says Gillian Vogelsang-Eastwood, who is curating an exhibit of costumes from Ottoman-era Syria currently on view at the Fowler Museum in Los Angeles.
A hint of hair edging out from beneath a Turkish woman's veil communicates that although she's Muslim, she has progressive fashion sense. An Albanian sports an outfit that would later be adapted by some Greek groups: a pleated skirt, sheep's-fleece cloak, and jaunty red cap, with a long tassel that differentiates it from an Ottoman fez. A Bulgarian cavalry member's hairstyle sets him apart, despite his uniform. A janissary leader decked out in a brocaded vest, with medallions festooning his belt (like some premonition of Flavor Flav) lets people know that he's in charge. "Clothing is a language without words," says Vogelsang-Eastwood. However, the cloth dialects by which people communicated, illustrated in this collection, would not remain quite so colorful and diverse within the empire's borders.
In 1826, sensing an impending threat from within, Mahmud II dissolved the elite janissary corps, a standing army that had grown increasingly corrupt and powerful. Three years later, he took on the role of fashion police as well, standardizing his court's dress in Western style. The ethnic and religious differences so richly depicted in these illustrations were no longer so widely visible.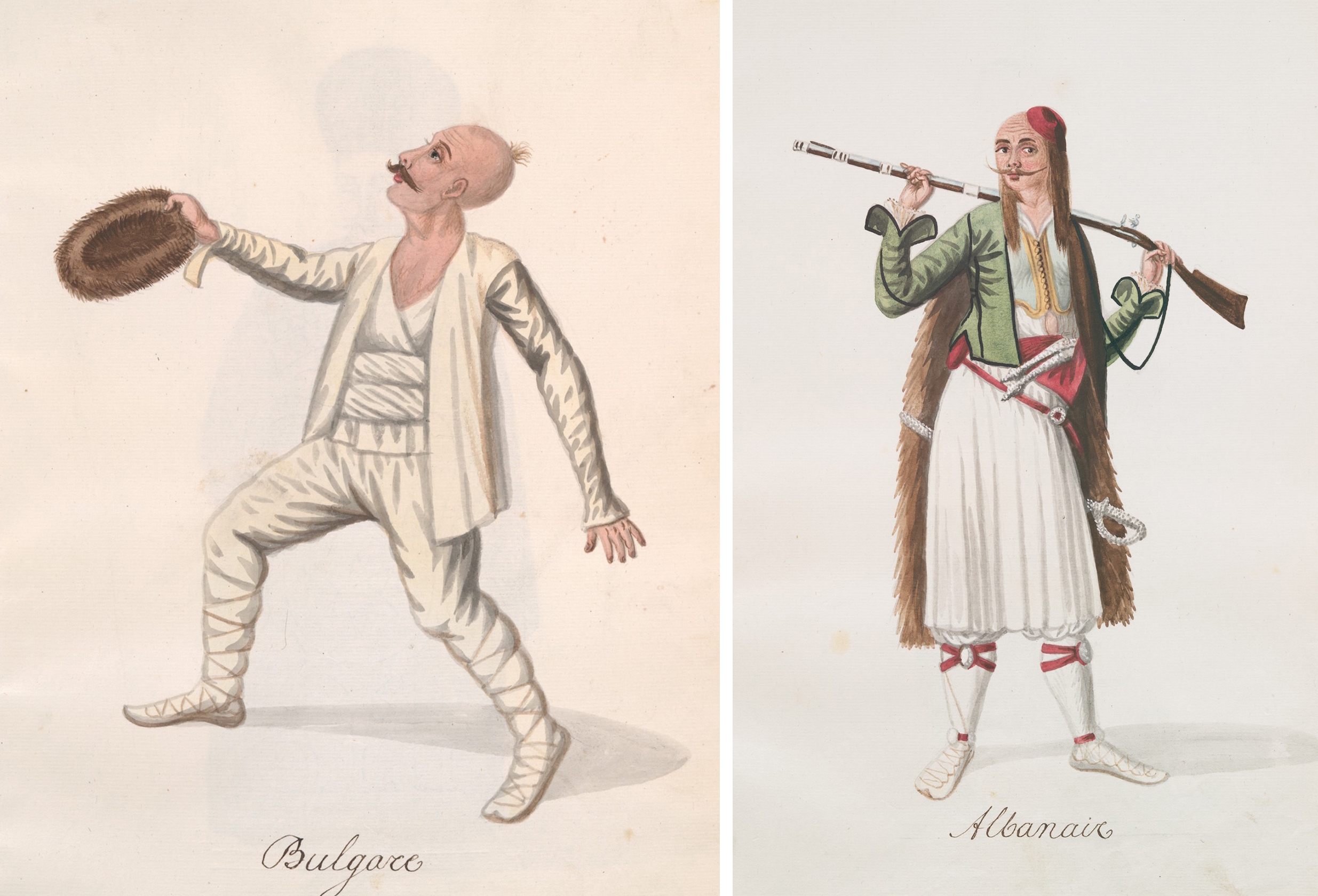 "When he placed the identical fez on all officials and allowed only a select few, such as the grand vizier, to wear headgear with a distinguishing feature, he laid claim to a new kind of sultanic control," wrote Ottoman historian Donald Quataert in the International Journal of Middle East Studies in 1997. However, that control did not last. The Greeks had already declared an independent state in 1822, and those still under Ottoman rule would continue rebelling. Bulgaria gained independence in 1878, and the end of the empire was in sight.
The illustrations from the costume book below are just a snapshot of the many regions and cultures comprising the Ottoman Empire at this time. No doubt they'll long serve as a source of sartorial inspiration.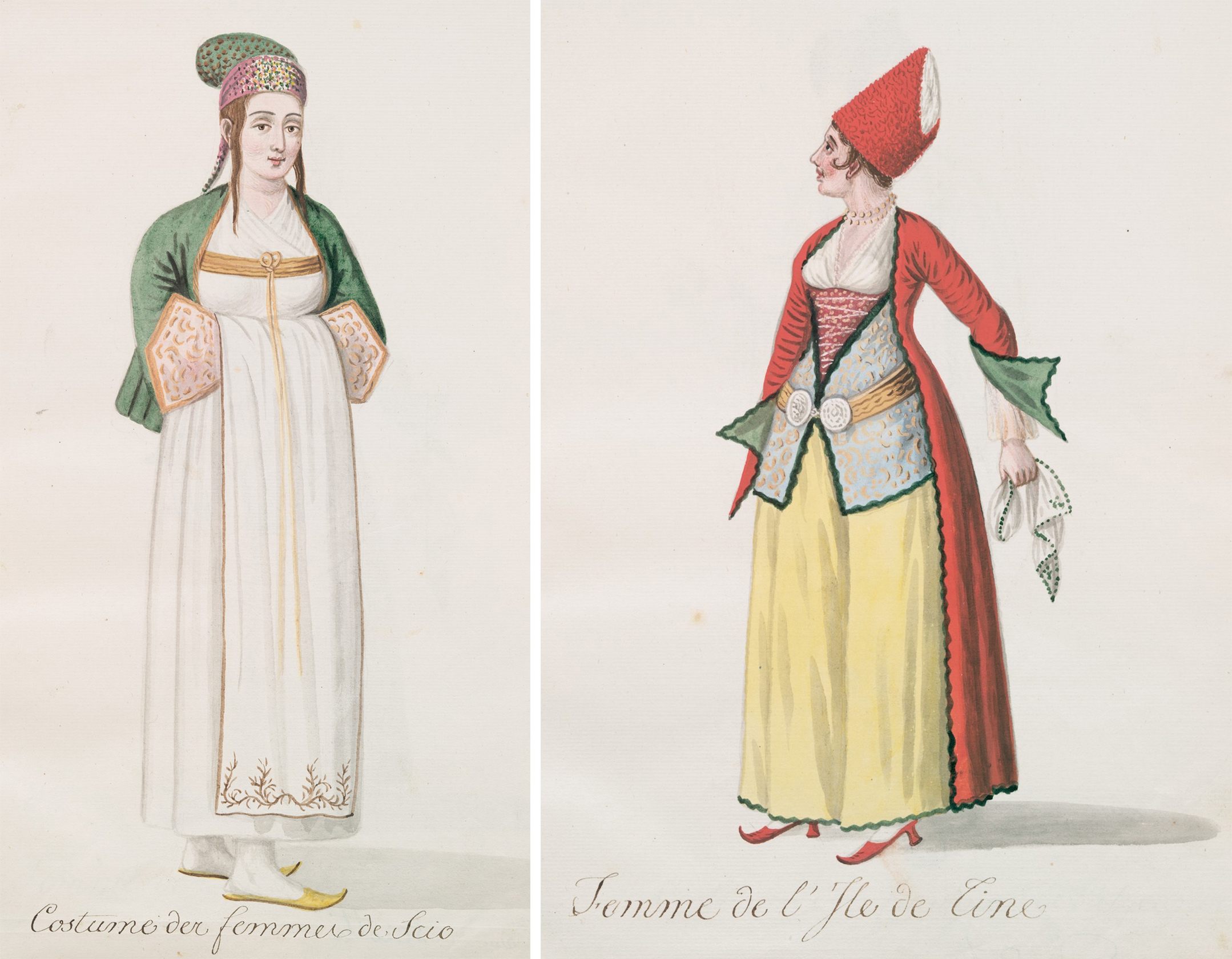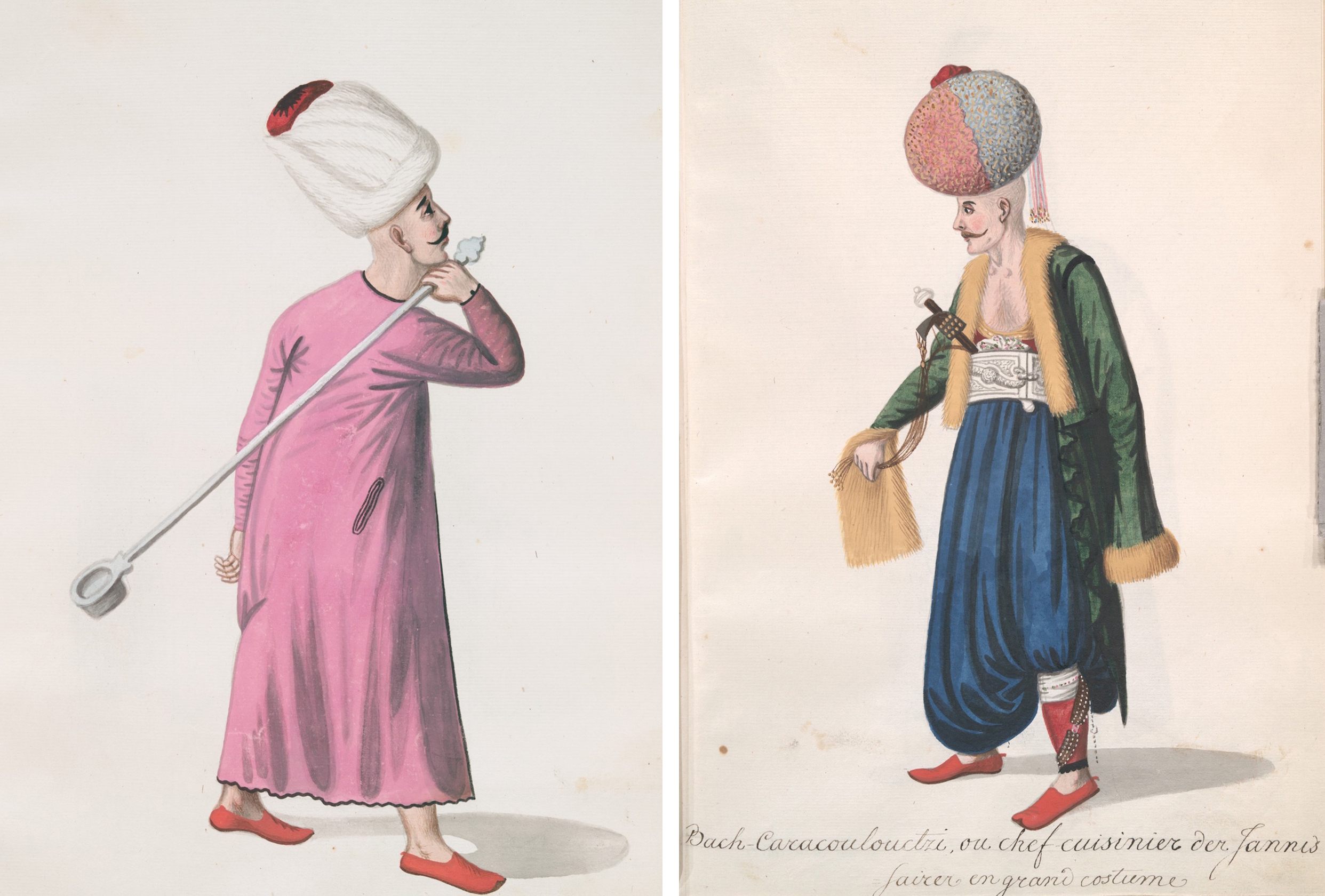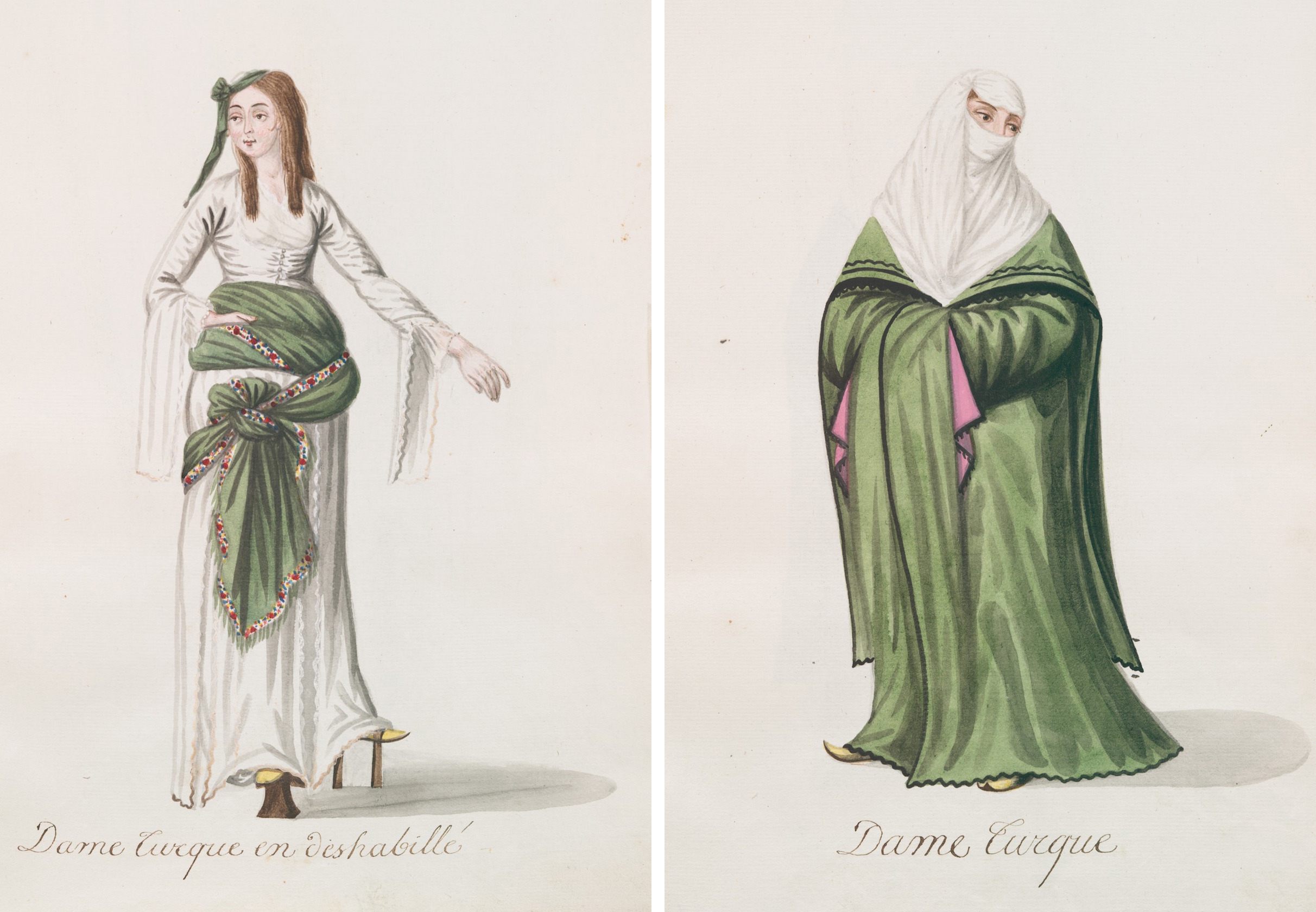 * Correction: This story was updated to clarify that the guide was illustrated between 1808 and 1826 (in the city now called Istanbul), and presented to Alexander III during his reign in the 1880s and 1890s.