In the 1920s, the Now-Forgotten Flood of 'Girl Mayors' Became the Face of Feminism
The political trend was short-lived, but fascinating.
(All Illustrations: Matt Lubchansky)
On February 9, 1922, Mayor Amy Kaukonen sat in her office in the lakeside town of Fairport, Ohio. As she gazed out the window she noticed an unfamiliar wagon, overflowing with potatoes, careening down the street. Kaukonen was puzzled—the city had a bumper crop of potatoes that year, why would out-of-town farmers be coming to sell more?
But three years after the passage of Prohibition, the mayor suspected a more devious motive—the illegal whiskey trade, a potato-fermenting blight on her city.
As Kaukonen approached the automobile, the driver slammed on the gas and hightailed the spud wagon out of Fairport leaving behind a pile of potatoes and six containers of illegal whisky. Kaukonen and the town sheriff pursued the farmers to the edge of town, where they were arrested and fined $3,000. Just another day's work in what the New York Times declared "Mayor Amy's Ruthless War Against Fairport Bootleggers."
---
The Original Girl-Mayor
Before Americans knew Hillary Clinton or even Eleanor Roosevelt, they knew Amy Kaukonen, the so-called "Girl-Mayor," pride of Fairport, Ohio and minor media phenomenon.
Fairport citizens elected Kaukonen mayor in 1922, just two years after women received the right to vote. Reports of Kaukoken's age varied widely, with many exaggerating her youth, but she was likely in her late 20s when she became mayor.
The election of one of the United States' first female mayors—and such a young woman, no less—triggered a flood of national media attention. Newspapers around the country praised her appearance, calling out her "slim figure," "stylish haircut," and "feminine clothing" and contrasting her against the "Amazonian" feminists "the popular imagination conjures up." President Warren G. Harding sent her a note of congratulations along with two dogs for protection. But the media also praised her tenacity in pursuing the goal of a "dry" town; the Atlanta Constitution proclaimed her the "blonde terror of the bootleggers." 
Kaukonen was a remarkably accomplished woman even before her tenure as mayor, graduating with one of the first classes of female physicians from the Women's Medical College at Philadelphia. She had extensive training in chemistry, and reportedly took all the alcohol she seized in raids back to her own laboratories for analysis. However, the media remained obsessed with one central question—how could someone so young, so beautiful, so female, govern a town? As one reporter mused:
"(a) woman mayor in any place is a novelty. But a woman mayor who has never been a suffragette, who has never read law, who has never fought for any pet bill, never made a single soap-box or street-corner speech of any kind, but has danced, played her phonograph, romped about with her dog, shopped for alluring feminine clothes, combed her honey-colored hair according to the latest mode…makes the novelty deepen until everybody within a thousand-mile radius simply has to say, 'How come?' and 'What's up?'"
Mayor Amy was just one of a wave of women elected mayor in towns across the United States in the three years following the passage of the 19th Amendment. While it's difficult to say for certain exactly how many women became mayor—especially considering that many women were running very small, remote towns—newspapers point to at least 21 white female leaders serving in 1921-1923. (The U.S. wouldn't see an African-American woman mayor until the 1970s.) While these women were not the first female mayors to be elected, an honor that belongs to Susanna Mador Salter, elected in 1887 as part of a sexist prank, they marked the first time women candidates would be elected in significant numbers. In many cases, these were the first female political leaders elected into office with the help of women voters.
---
The Unradical Radicals
A lone female mayor was one thing, but at a time when women's leadership roles were constrained to the family or perhaps a local charity group, why did so many citizens vote for women to take the reins of their towns?
Many women initially achieved the mayoralty because the preceding mayor stepped down and the city needed to appoint a replacement. When the mayor of Magnetic Spring, Ohio resigned, the secretary of the town Commerce Club thought that the novelty of a woman mayor might generate publicity and visitors for the town's struggling health resort. Council members decided on 80-year-old Mary McFadden, "the oldest woman in town capable of acting as mayor." McFadden promptly announced her policy agenda: strict enforcement of Prohibition laws, enforcement of the curfew law, and "war on male vamps."
When they did run in elections, women candidates had to walk a fine line of seeking political office while not being perceived as overly ambitious. Instead, women had to reframe their candidacy as decidedly unradical, and instead as a natural extension of women's role in the home. Women had experience cleaning, budgeting, and looking out for the family, and they argued that these skills could be easily transferred to running a town—an idea they referred to as "municipal housekeeping." This argument contained a moral bent, as women candidates suggested their natural purity, piety, and temperance were exactly what a town in the throes of vice and corruption needed.
The media actively promoted the idea of women as a wholesome political alternative. "It's Housecleaning Time in Politics When the Fair Ones Take Over Command," announced the Chicago Daily Tribune. Women's publications conducted interviews with female candidates that focused heavily on their housekeeping skills and ability to furnish a home, assuring women readers that these women shared their values of traditional femininity even as they pursued leadership roles.
"We simply tried to work together," said Mayor Grace Miller, of Jackson, Wyoming, "We put into practice the same thrifty principles we exercise in our homes. We wanted a clean, well-kept progressive town in which to raise our families. What is good government but a breathing place for good citizenship?"
This delicate political calculus led many women to take a more passive role in campaigning. Ella Jacobson became mayor of Waterloo, Nebraska when voters wrote in her name on the ballot—she defeated her own husband. Stena Scorup of Salinas, Utah, defeated her brother. "I did nothing to bring about success for my race for the mayoralty," Scorup declared. "I even campaigned for my brother." Yet not every woman subscribed to the passive approach. Mayme Ousley, who served a remarkable four terms as mayor of St. James, Missouri was a ferocious canvasser. Before her 1921 election, Ousley spent six weeks going door to door asking women for their votes; she catalyzed a record voter turnout. 
In at least two cases, women didn't just become mayors—they took over entire town councils. Grace Miller became mayor of Jackson, Wyoming in 1920, alongside four of her female friends and colleagues who each won a seat on the council. The media declared Jackson the site of a "petticoat government," and Mayor Miller and the council proceeded to appoint women to nearly every local administrative position: town clerk, health officer, and even town marshal.
Pearl Williams, the 22-year-old marshal of Jackson, Wyoming, became a minor media phenomenon in her own right. The local newspaper called Williams "the world's champion wild man tamer," and raved, "Pearl, be it known, is the little lady who, as town marshal at Jackson, Wyo., for the past year has been subduing bad men with smiles." Williams eventually resigned, declaring that the women's administration had done such an effective job in cleaning up the town that there was not enough crime to demand a marshal.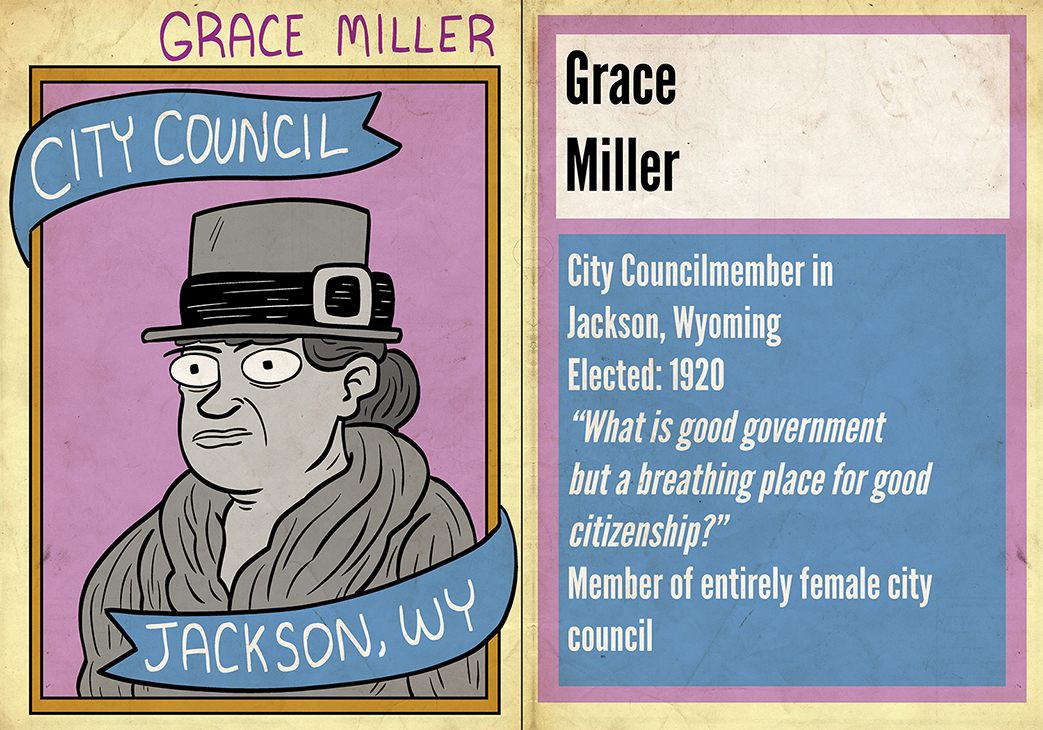 The Wyoming town's petticoat government was reported in the national media as an example of a distinct frontier woman identity—tough, independent, and with a greater flexibility between public and private spheres. Wyoming had been the first state to grant women's suffrage and would become the first to appoint a woman governor; "They do unusual things out in Wyoming," reported a Chicago newspaper. Indeed, the vast majority of early women mayors came from Midwestern and Western states, with none from the Northeast.
---
'I Will Clean Up Duluth and Rid It of Demon Rum'
Prohibition, though often thought of as almost comically misguided today, was critical in enhancing women's role in the public sphere. As American men's consumption of alcohol increased throughout the early 19th century, (peaking in 1830, when historians estimate that the average American consumed 7.1 gallons of alcohol per year) many women perceived booze as a corrupting force that wrecked domestic life. Men spent more time and money in saloons, leaving women to deal with a tighter budget and an oft-drunk spouse—a problem associated with unemployment, neglect of children, and domestic violence. Women took the lead in the fight against alcohol, organizing major temperance organizations like the Women's Christian Temperance Union, which trained women as political organizers and public speakers. These organizations achieved their ultimate objective with the 1919 ratification of the 18th Amendment, prohibiting the production, transport, and sale of alcoholic beverages in the United States.
For many women, the fight for temperance was their first taste of political engagement, as Prohibition created a reform movement associated with feminine ideas of morality and moderation. The campaign slogan of Alice Strickland, Mayor of Duluth, Georgia, neatly summarized the crusading spirit: "I will clean up Duluth and rid it of demon rum."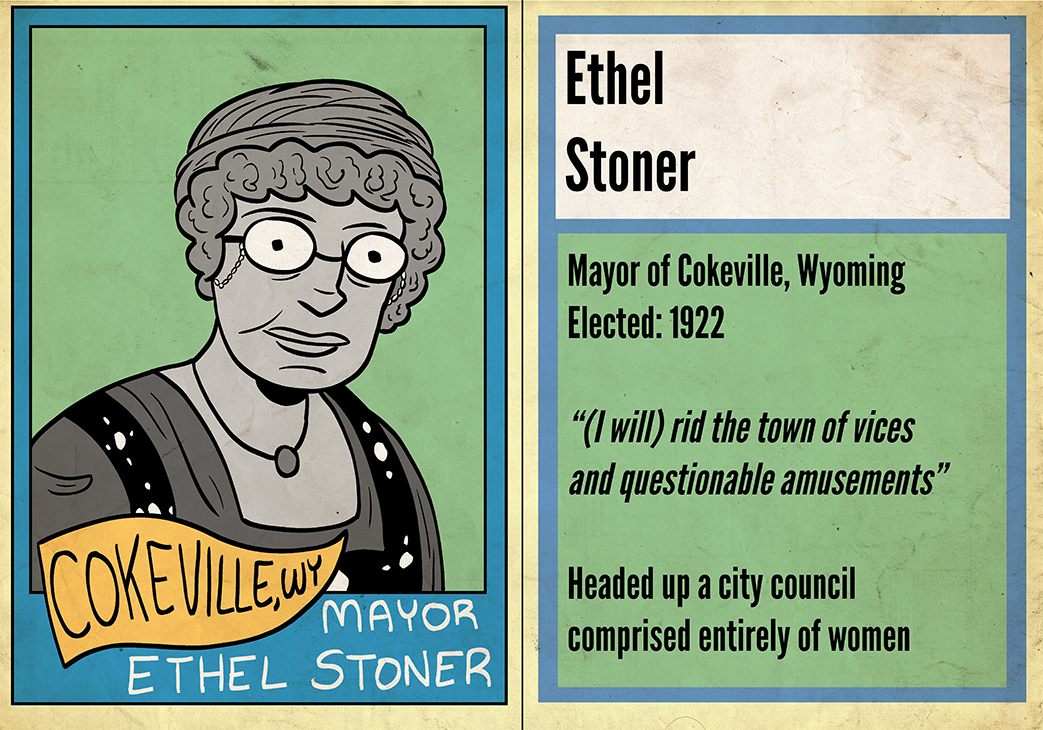 Amy Kaukonen, the "Girl Mayor," had been involved with the fight against the illegal booze traffic throughout her tenure as a physician. After the police confiscated alcohol, they would contact the mayor to determine the illicit substance's composition and origins—Kaukonen became particularly concerned by the advent of "raisin jack," a makeshift moonshine created by fermenting raisins. The fall before the election, a committee approached Kaukoken to consider running for mayor. She "laughed outright at the very idea."
Several nights later, Kaukonen was summoned to a crime scene on the Lake Erie waterfront. Mathew Heltmann, a policeman "crazed by drugged bootleg whisky" shot and killed a fellow police officer before killing himself. Infuriated by the violence sweeping through her community, Kaukonen told reporters, "At that moment I decided to run for Mayor and if elected to drive the bootlegger out of Fairport. No man Mayor had ever succeeded in cleaning up the town, so for a change and an experiment they went ahead and elected me."
---
Fighting Crime as a Kind of Housework
While it's hard to judge the efficacy of early women leaders, many of them did have tangible success in increasing town revenue, revitalizing civic engagement, and indeed, in driving bootleggers out of their streets.
Above all, citizens and the media hailed women mayors skill in managing town finances. In Red Cloud, Nebraska, reckless spending by the previous mayor had left the town $90,000 in debt with no credit to its name—Mayor Mary Arnold managed to pay off the debt in just five years. Since many tax evaders had moved to the edge of town, so as to live just barely out of local jurisdiction, Arnold managed to extend the city limits in a mile each direction to rope the taxpayers back in. 
Safety issues and the protection of families also became a central issue. Mayor Mayme Ousley installed signs in St. James, Missouri that read, "Drive slow and see our beautiful city, drive fast and see our jail." The mayors tended to favor increased funding to police and fire departments, and created bond campaigns to purchase upgraded fire engines for their towns. Many women mayors also expressed interest in prison reform—several insisted on the separation of male and female inmates and established separate facilities for juvenile offenders. Alongside the fight against bootleggers, women mayors made strides in regulating dance halls and "noxious poolrooms," often to the dismay of male councilmembers. Still, the media often focused on accomplishments that fell more squarely within the realm of housekeeping—Mary McFadden insisted on a hot lunch at after council meeting, Abby Howe Forest put new curtains up in city hall, and so forth.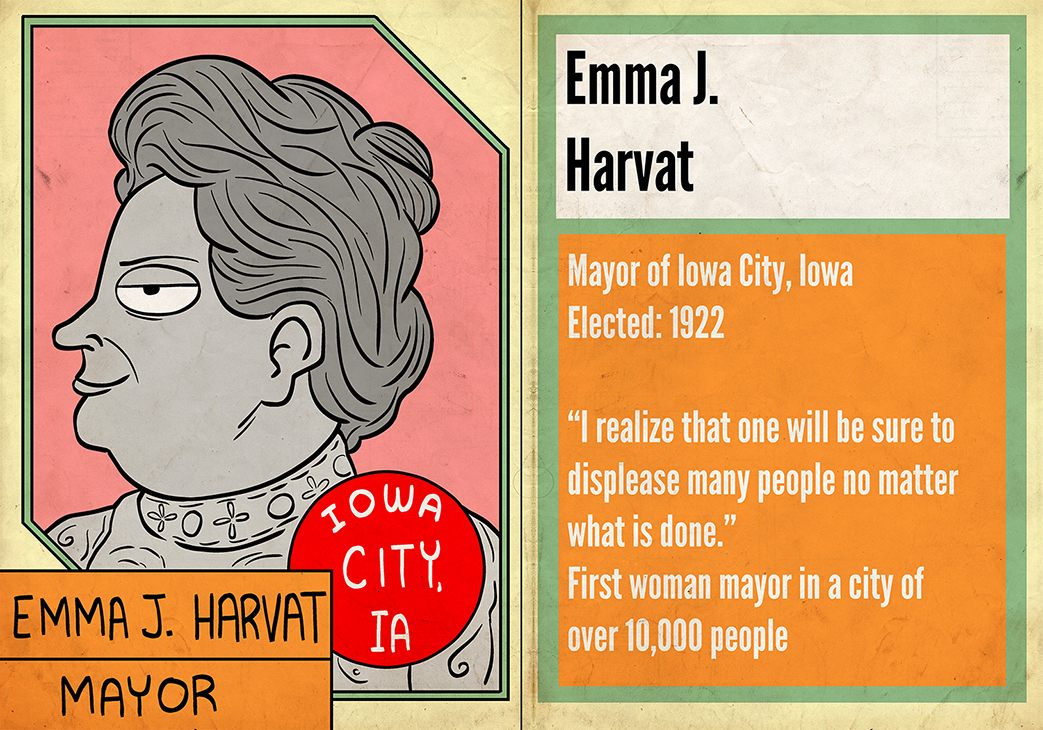 Perhaps most importantly, women mayors broadened the number of citizens who envisioned themselves as part of the political process. "One thing in particular that we are proud of," remarked Mayor Abby Howe Forest, "is that we have created a civic interest on the part of Thayer residents generally that was not apparent heretofore. Persons who did not appear to care whether the town progressed or went to the bow-wows are now actually taking a lead in municipal affairs."
Reporters' reflections on the administrations of early woman mayors addressed their subjects with a mix of unsettling objectification, amusement at their utter novelty, and genuine surprise that this "women in charge" concept was not as big a fiasco as many had anticipated. In Corkville, Wyoming, the newspapers begrudgingly acknowledged that the "women's ticket" had done a fair job running the city. "They are running the town on the 'housewife's budget' system and everyone seems satisfied—even their political enemies whose pre-election predictions saw dire days ahead with women occupying their places at the head of the municipal government." One of the major concerns of their opposition was that with a "Girl Mayor" in charge, "women's issues" would dominate the city. This, too, many reporters later conceded. "The city has a business administration," a newspaper wrote of Mayor Emma Harvat's Iowa City governance, "Women have not swamped the city hall with perfume and political piffle. Neither men nor women grifters have imposed upon the Mayor, and every department is functioning with pleasing efficiency."
---
The Local Glass Ceiling 
What became of this generation of women leaders? For most of the mayors, the answer is unknown—when their tenure as mayor ceased, so did any media record of their activities. Many retired to family life and more domestic roles. In 1926, the Boston Daily Globe ran a piece titled "Woman Mayor Quits Job to Be Bride," which detailed Mayor Mary Arnold's resignation and marriage to a local farmer. "I'm through," Arnold declared, "Never again. No more politics." Others returned to the occupations they had temporarily left; Mayor Josie Rogers of Daytona, Florida returned to her career as a doctor, and by 1946, was Chief of Staff of the Halifax District Hospital.
Women continued to sporadically attain local leadership roles in the years that followed, though their time in office was often plagued with obstacles. In 1933, the Washington Post reported on Mayor Stella Alexander, the "fighting feminine politician" of Issaquah, Washington. The Washington Post headline declared "Woman Mayor Advising Sex to Stay Home" and featured a quote from Mayor Alexander proclaiming, "Men are too smart for women in the political business." But she proceeded to explain the resistance she faced from male councilmembers in trying to accomplish basic goals—three members of the council resigned, decrying her "illegal feminine dictatorship," the town treasurer refused to approve any of her expenses, the fire chief quit and told her she would have to pull the fire truck herself. Getting elected was often not the biggest impediment to women trying to govern.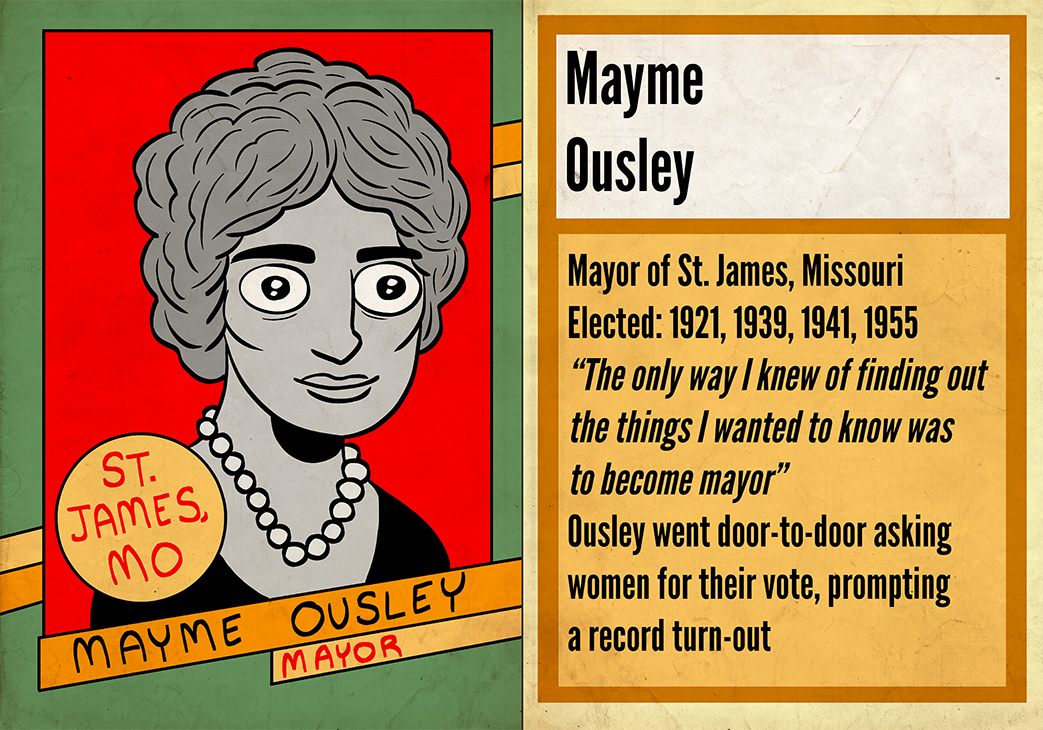 Women also began to make some leeway on the national stage. President Harding appointed Mabel G. Reinecke the first woman collector of internal revenue, and selected Mabel Walker Willebrandt as assistant United States attorney general. By the time Bertha Knight Landes became the first female mayor of a major American city, Seattle, in 1926, the United States had seen the election of a female governor and several female members of Congress.
If formal political opportunities were limited for all women during the first half of the 20th century, they were virtually non-existent for African-American women. Leila Foley Davis became the first female African-American mayor of an American city in 1973, over 50 years after the first white woman mayor, when she won the position in Taft, Oklahoma. A year later, Doris A. Davis would make history when she was elected in Compton, California, becoming the first African-American woman mayor of a metropolitan city in the United States. "I believe the distinction of being the only black woman mayor will be outweighed by the distinction of a community having reversed itself totally…" Davis predicted to the Chicago Tribune as she took office, "I get a kick out of politics; I like to see things happen."
---
The Amazing Amy
And what became of the "Girl Mayor" herself?
Mayor Kaukonen continued to be a source of media fascination throughout her term as mayor. Reporters quizzed her on everything from her feelings on fashion ("Short skirts are fine! I wear 'em myself: They are much better from a health standpoint than the long trains of olden days.") to the status of women in American society. "Young girls of today are better off than their mothers or grandmothers," Kaukonen told the New York Times, "They are farther along in education because of more freedom. The talk about the country's morals being way off is mostly false."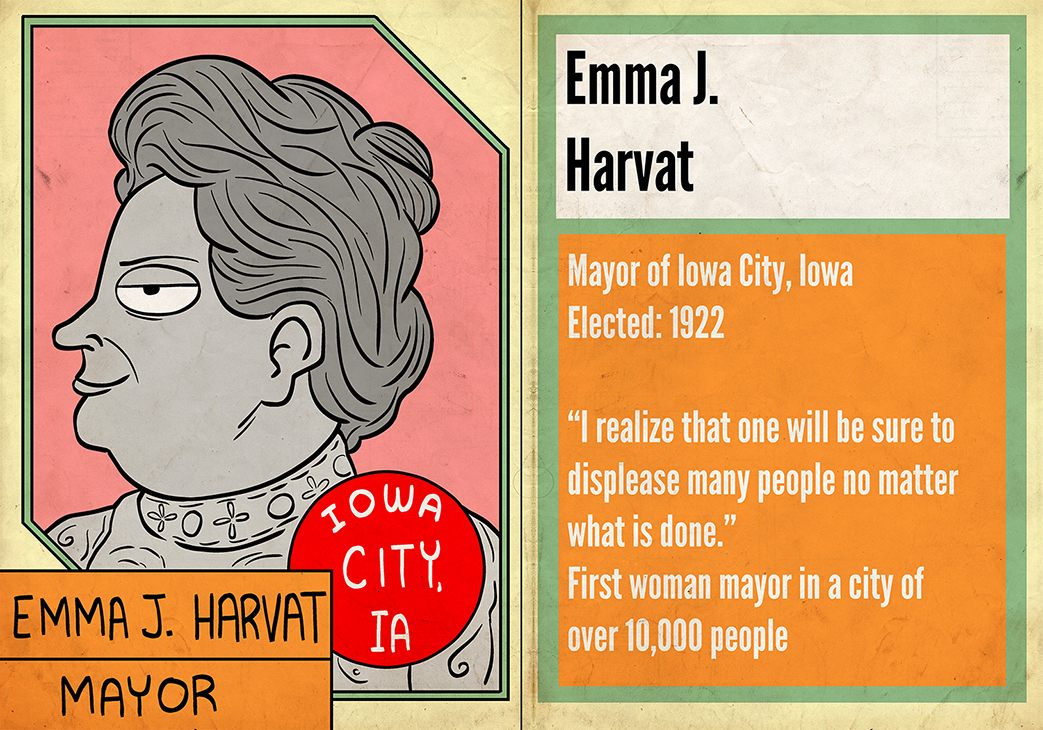 However, Kaukonen also faced her share of strange and threatening behavior. In March 1922, the Chicago Daily Tribune reported that an unidentified man struck the mayor in the face, giving her a black eye. Reporters strongly implied that the perpetrator was involved with the black-market alcohol trade. Her national media presence sparked a series of increasingly demanding marriage proposals from men around the country, which she handled with typical aplomb. As one journalist recalled:
"The recipient of more love letters than even the most popular chorus beauty, she told of one man who telegraphed after writing three desperate letters—'If I fail to get a favorable reply from you by next Tuesday, I shall jump off Brooklyn Bridge.' She wired back–'Why wait until Tuesday?'"
Midway through her term as mayor, Kaukonen resigned and virtually disappeared from the public eye. Census records show that she moved to Seattle and married, but little else is known about her later life. A Seattle newspaper reported that the famed Girl Mayor was moving to town, and speculated that she was coming to help remedy the city's booze problem. However, there is little indication she had any role as a public figure after her move. Some people speculated that bootleggers, who were often closely associated with organized crime, forced her out of town. Kaukonen later returned to Ohio and became a city councilwoman in Cleveland but refused to speak about her time as mayor.
Though the first-generation of woman mayors cracked open the door, executive leadership on the local level remains depressingly male. In 2016, women make up just 18.8 percent of the mayors overseeing cities with a population above 30,000. Numbers are fairly consistent for elected officials at the federal level, with women holding 19.4 percent of seats in Congress. Women of color serve as mayor of six of the nation's 100 largest cities and hold 6.2 percent of the seats in Congress. Many of the early women mayors (correctly) predicted that their towns would return to male leadership once the novelty wore off, leaving their contributions as trailblazers largely forgotten by history.
"We women were only doing our plain duty," Mayor Abby Howe Forest later said about her service, "there was nothing out of the ordinary about it."