5 Recipes From Indigenous Chefs to Add to Your Thanksgiving Spread
From maple-glazed squash to hominy-turkey stew, these dishes celebrate the people and flavors of this land.
The modernized version of the Thanksgiving holiday is a blend of myth and fact. Although Plymouth Pilgrims did celebrate the harvest with members of the local Wampanoag tribe in 1621, a holiday called Thanksgiving wasn't celebrated until the 1830s and wasn't made official until 1863. By that point, European colonizers had committed countless atrocities against Indigenous communities, casting a dark shadow over the cross-cultural bread-breaking associated with the holiday.
Instead of leaning into rosy, revisionist history, why not use Thanksgiving to honor and celebrate Indigenous traditions? Below are five recipes from leading Indigenous chefs across North America. Instead of cranberry sauce, opt for Sean Sherman's recipe for mixed-berry wojapi. Or try another take on Thanksgiving's star bird with a hominy-and-turkey stew from Oklahoma's First Americans Museum.

Along with the incredible stories of Indigenous people, many modern Thanksgiving celebrations also omit another key part of the narrative: the bounty of the harvest. Skip the boxed stuffing or mashed-potato flakes and try one of the recipes below to celebrate the local ingredients, stories, and people of this land.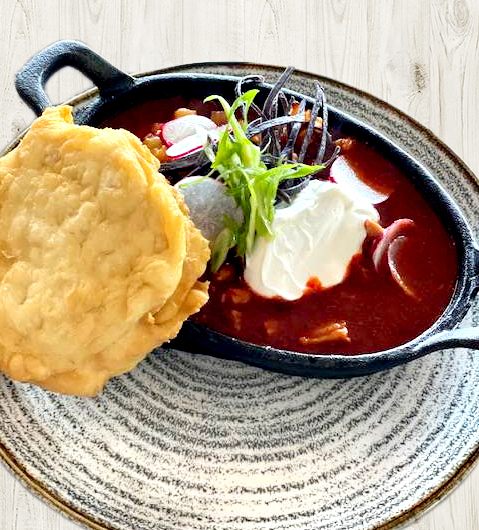 Hominy Stew
Chef Loretta Barrett Oden, Potawatomi Nation
Thirty Nine Restaurant, Oklahoma City, OK
Named in honor of the 39 Indigenous groups that call the state home, Thirty Nine recently opened inside the First Americans Museum in Oklahoma City. Its menu, designed by Indigenous chefs Loretta Barrett Oden (Potawatomi Nation) and Matthew Johnson (Cherokee), highlights regional game and crops. Both are on delicious display in the restaurant's hominy stew, a rich, savory blend of turkey, hominy (corn kernels soaked in a caustic solution), and tomatoes.

Ingredients

2 tablespoons oil or fat of choice
1 pound ground turkey
1 15-ounce can white hominy (drained)
1 10-ounce can tomato sauce
1 14.5-ounce can diced tomatoes (not drained)
1 cup chicken stock or broth (low sodium)
1 cup diced yellow onions
1 tablespoon minced garlic
½ tablespoon Mexican oregano
1 tablespoon dark chili powder
1 teaspoon ground cumin
Salt to taste
¼ teaspoon (cayenne, if heat is desired)

Instructions
In a medium-sized stock pot, brown the onions for five minutes in oil or fat on medium heat. Add the garlic and cook for one minute until aromatic.
Add the ground turkey and brown the meat until it's fully cooked, then break up with a spoon or spatula.
Add both cans of tomatoes (diced and sauce), the chicken stock, and all the dry spices, then bring to a heavy simmer.
Cook for 20–30 minutes, uncovered, on medium-low heat until it reaches desired consistency.
Add salt and cayenne (if desired) to taste.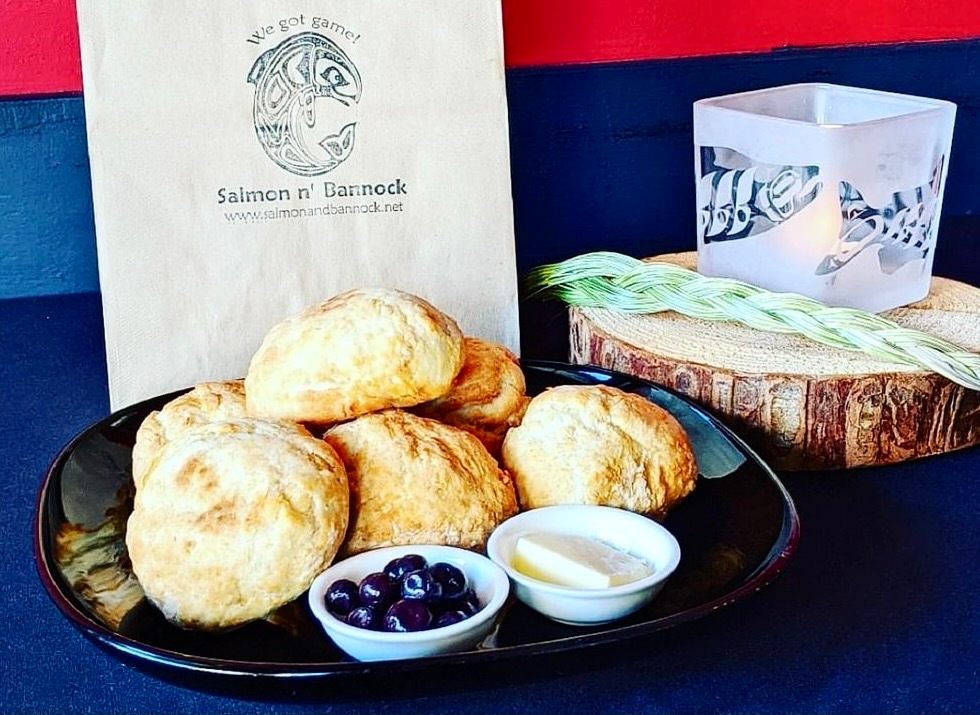 Bannock
Chef Inez Cook, Nuxalk Nation
Salmon n' Bannock, Vancouver, BC
While Scottish fur traders may have introduced bannock bread to North America in the 17th century, a number of ethnobotanists have pointed out that Indigenous people in what is now Canada made similar breads, such as sapli'l, from wild plants prior to the arrival of Europeans. Today, bannock goes by many names. To the Mi'kmaq, it's known as luskinikn, while the Inuit refer to it as palauga. It may be made with or without additional fat, cooked in an oven or in a pan over an open flame, and made strictly with wheat or using a blend of grains.
However you slice it, a warm loaf of bannock is delicious, as diners at Inez Cook's restaurant Salmon n' Bannock will attest. Cook often serves her bannock with pemmican mousse made with smoked, dried bison meat mixed with blueberries and sage, but it needs no accompaniment beyond a smear of salted butter.
Ingredients

3 cups all-purpose flour
1 tablespoon baking powder
1 teaspoon salt
1 ½–2 cups water
Instructions
Preheat the oven to 400˚ F.
Combine flour, baking powder, and salt in a large bowl.
Make a well in the center of the dry ingredients. Slowly pour in the water and gently mix everything by hand, adding additional water until a shaggy dough forms. Be careful not to over-mix, as this will result in a tough, dense bannock.
Divide the dough into six equal pieces and form into round loaves.
Oil a cast iron skillet or a heavy baking sheet and place the loaves on top. Brush the tops of the loaves with additional oil and place them in the oven.
Bake for 10 minutes, then flip the bannock loaves and bake for an additional 10 minutes, or until they're golden brown on each side.
Traditional Indian Donuts
Chef Tawnya Brant, Mohawk
Yawékon by Chef Tawnya Brant, Ohsweken, ON
As a Haudenosaunee chef, Brant seeks to bring attention to both historical and contemporary recipes from her Mohawk people and the Six Nations. Some traditional foods, Brant notes on her blog, are currently experiencing a comeback in the modern day, citing "Indian donuts" as an example. One theory is that these treats date back to when the Dutch and the Haudenosaunee mingled in the 1600s in northeast America, the latter picking up a Dutch New Year tradition and putting their own spin on it.
Today, these donuts are made for occasions year-round, in shapes that reference particular events, writes Brant: diamonds for funerals, and people shapes for the New Year. Since these crisp donuts serve to bring friends and family together, fry some up for a hearty Thanksgiving breakfast (or, if you yourself are fried from cooking, maybe wait until the day after).
Ingredients

3 eggs
1 cup brown sugar
1 teaspoon vanilla
2 teaspoons butter, softened to room temperature
½ teaspoon salt
3 ½ cups flour
1 teaspoon cinnamon
½ teaspoon nutmeg
½ teaspoon ginger
1 tablespoon baking powder
1 cup buttermilk or sour milk (Note: To sour milk, add 1 tablespoon of white vinegar or lemon juice into 1 cup of milk, stir, and let it rest for 10 minutes before using.)
1 cup raisins, dried cranberries, blueberries, nuts, chopped apples, or chocolate chips (optional)
Sunflower oil, for frying
Instructions
Cream together the butter, eggs, brown sugar, and vanilla. This can be done by hand, or with a mixer with a paddle attachment.
In a separate bowl, mix all the dry ingredients.
Add half of the dry ingredients into the butter mixture and blend for 15 seconds. Then, add half of the milk and mix. Add the rest of the dry mixture then the rest of the milk in the same fashion. Keep the mixer on low, to keep flour from getting all over.
Pour in any add-ins at this point, if desired, and mix for another 15 seconds.
Turn the batter out onto a heavily floured surface and knead as little as possible, until the dough is no longer sticky, about five times.
Roll the dough out to about 1/2 inch thick.
With cookie cutters, cut your donuts into your desired shapes.
Heat a deep pan of sunflower oil to 300˚F, and fry the donuts approximately 3 minutes per side, or until brown and cooked throughout.
Carefully place the donuts on paper towels to absorb any excess oil, and allow them to cool.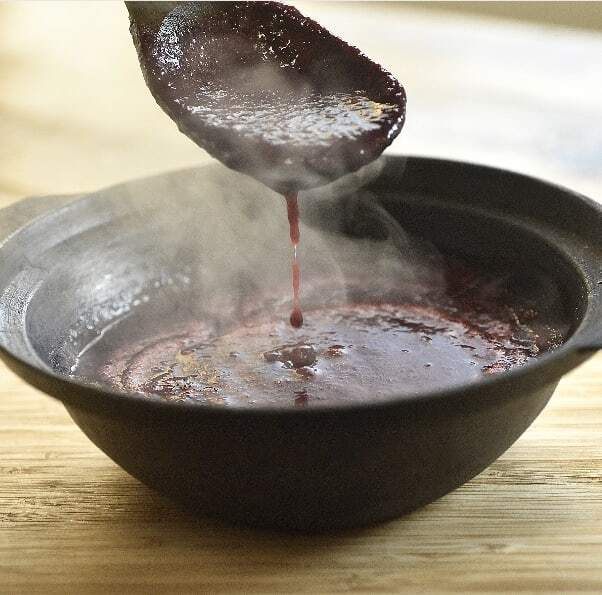 Mixed Berry Wojapi &
Maple-Glazed Acorn Squash With Toasted Pepitas
Chef Sean Sherman, Oglala Lakota Sioux
Owamni Restaurant, Minneapolis, MN
Sean Sherman, the James Beard Award–winning chef and cookbook author, founded The Sioux Chef in 2014. Since then, he's been on a mission to educate everyone about indigenous cuisine at his restaurant, Owamni, through his incubator and training center, The Indigenous Food Lab, and with his cookbook The Sioux Chef's Indigenous Kitchen. In lieu of cranberry sauce, Sherman might serve a sweet, tart, and surprisingly complex berry wojapi alongside turkey or other roasted meats.

Wojapi refers to a rich, jammy compote historically made by the Dakota and Lakota Nations, who often make it with foraged chokecherries. Any berry native to North America, including cranberries, can be simmered into this condiment. As a side dish, Sherman's roasted acorn squash sprinkled with toasted pepitas would be a welcome addition to any table.
Ingredients

1 cup water
1 pinch mineral salt
1 cup blackberries
1 cup blueberries
1 cup raspberries
1 cup strawberries, tops removed
2 tablespoons maple syrup

Instructions
Bring the water and mineral salt to a simmer in a saucepan over medium-high heat.
Add the berries and reduce heat to low. Simmer for 20–30 minutes, stirring regularly, until the berries have broken down.
Once the wojapi has reached the desired consistency, remove from the heat and add maple syrup.
Maple-Glazed Acorn Squash with Toasted Pepitas

Ingredients

1 medium acorn squash, seeded and sliced into wedges, skin on
3 tablespoons sunflower oil
¼ cup maple syrup, warmed
1 teaspoon kosher salt
3 tablespoons fresh sage leaves, chopped
¼ cup pepitas (pumpkin seeds)

Instructions
Preheat the oven to 375˚ F.
Place the squash on a sheet pan and drizzle with the oil and half of the maple syrup. Season with salt and sprinkle with sage, then toss to coat evenly.
Roast the squash for about 35 minutes, turning once and tossing occasionally to avoid sticking.
While the squash is roasting, toast the pumpkin seeds in a dry skillet over medium heat, stirring constantly, for about five minutes. The pepitas should smell intensely toasty, but not burnt. Remove from the heat and set aside.
Brush the squash with the remaining maple syrup. Roast for an additional 7 to 10 minutes, or until deeply caramelized.
Arrange the squash on a serving platter and sprinkle with toasted pepitas.
Gastro Obscura covers the world's most wondrous food and drink.
Sign up for our email, delivered twice a week.