The Friendly Troll That Almost Tore a Colorado Town Apart
The giant wooden sculpture was astonishingly popular.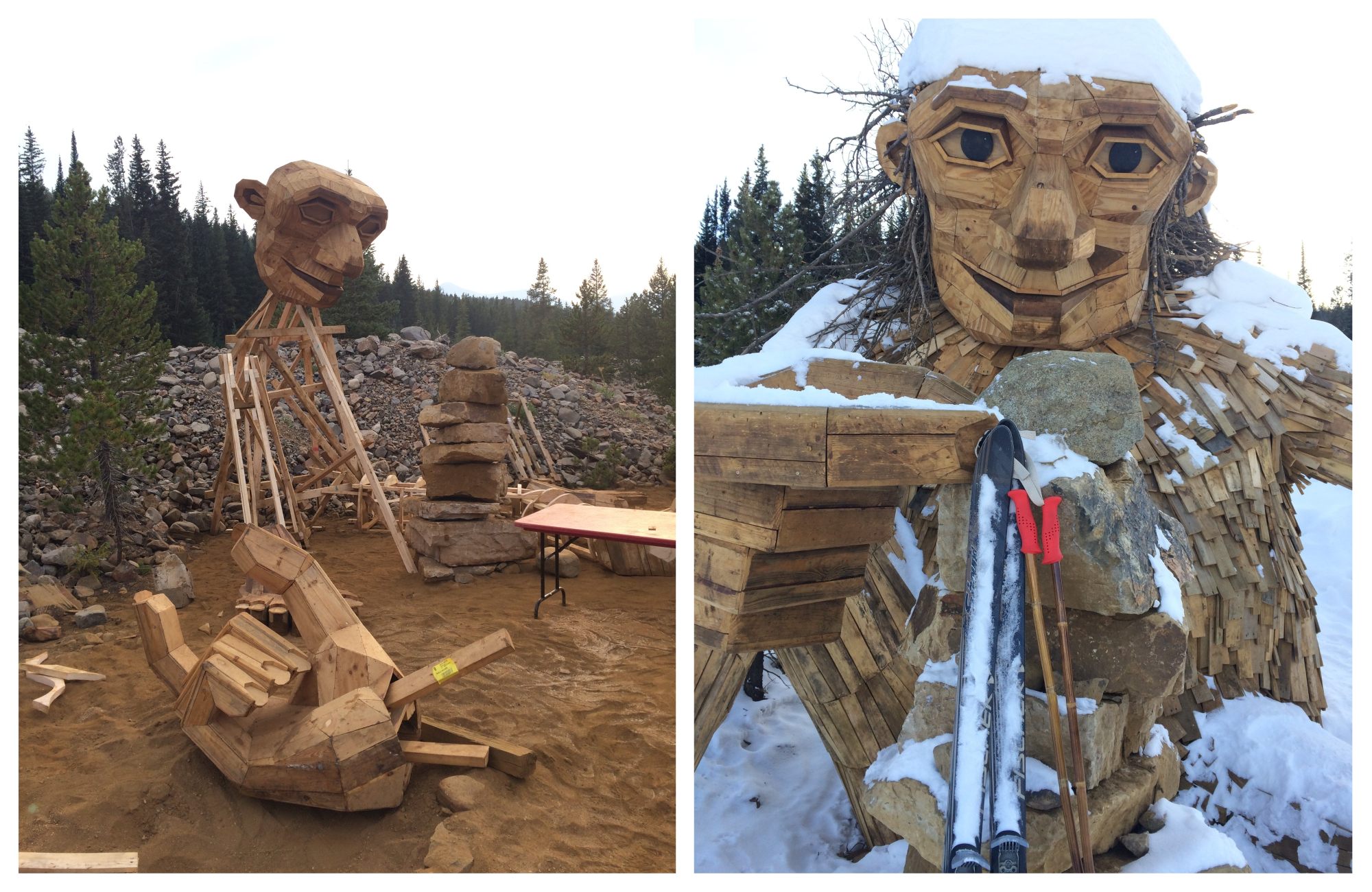 Three months ago, the small Colorado town of Breckenridge commissioned the Danish artist Thomas Dambo to build a larger-than-life wooden troll for its summer arts festival. The artwork was placed along a trail in an abandoned quarry behind a residential neighborhood.
And then, as trolls are wont to do, it almost tore the town apart.
The main problem with the troll was its astonishing popularity. Named Isak Heartstone by the artist, the 15-foot sculpture was masterfully constructed out of pallets and recycled wood. He had soulful eyes and a kindly face. The sculpture rapidly gained a social media following and attracted thousands of visitors to an otherwise quiet corner of Breckenridge.
After months of debate and impassioned online battles, the town decided to remove the troll. But once a town has a troll, it never truly goes away.
Leigh Girvin has lived in Breckenridge for 46 years. She could see the sculpture from her window and visited it every day. "I knew Isak since he was a pile of pallets," she says. "I was absolutely enchanted with him from the second he arrived. It was delightful to see people walking in the woods, open for discovery, excited to find the troll."
But living with Isak had its downsides. The thousands of tourists flocking to catch a glimpse of the wooden creature inundated a neighborhood not set up for their arrival. "Imagine 10,000 people knocking on your door, asking you directions," says Girvin, who is a member of the town's Creative Arts Council, which commissioned the artwork for $40,000.
The town reported that the use of one of their free shuttle buses, called the Purple Route (nicknamed the "Troll Trolley"), exploded after the installation in August, jumping from 7,500 riders in October 2017 to 16,500 riders in the same month of 2018. The increase is entirely attributed to the charismatic creature. "It is really hard to live with a troll," sighs Girvin. "None of us was prepared for this mess."
To deal with the deluge of people, Breckenridge took some measures. The town built a fence around the neighborhood to prevent people from taking shortcuts, closed a trail, installed trash cans, put up signs, and sent police officers to help control the crowds. But for a lot of residents, it wasn't enough.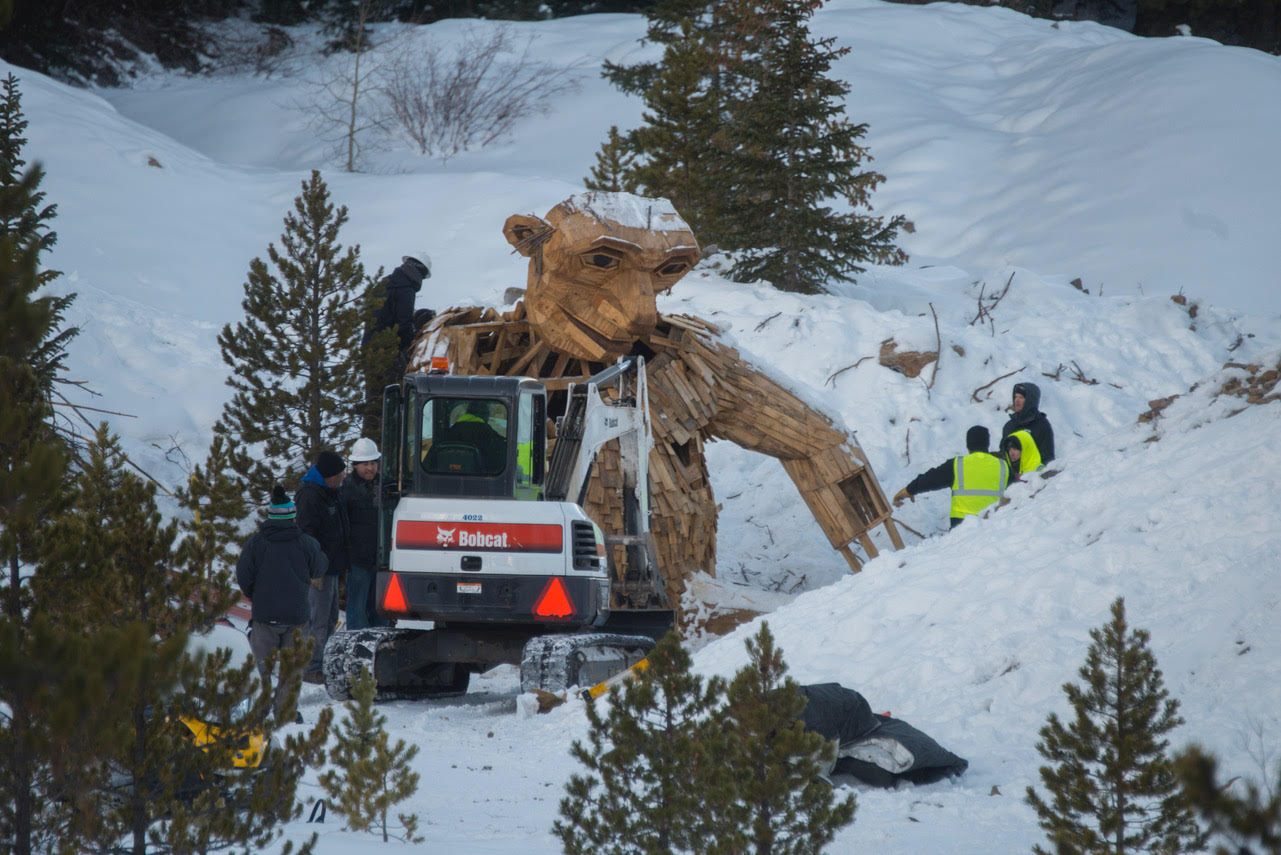 The debates were heated. Girvin says a popular online forum the town uses was full of vitriolic and hateful comments from both Isak supporters and detractors.
"[Isak's] a troll. He's caused us conflict and strife and inflamed emotions," she says. "This has been an incredibly emotional experience for our community."
After a 5-2 vote in the Breckenridge Town Council last week, the town decided to dismantle the artwork. Piece by piece, Isak came down early in the morning on November 15.
Recognizing the obvious magnetism of Isak, the town has said it plans on commissioning Dambo next summer to reinstall the artwork in an area better suited for hordes of visitors. "We are very sensitive to those who were affected by the location of the piece and we're also very sensitive to those who felt so passionately and loved it so much," says the town spokesperson Haley Littleton. "We're really hoping that by having a town committee and working with artists, we can really find the best possible location for Isak to go."
Littleton says the town is astounded by the apparent power of public art. "There's certainly a lot of things to be learned from this situation, but we feel a kind of pride and amazement at what creative arts was able to do," she says.
Isak got his last name in August when a group of neighborhood girls brought Dambo a heart-shaped stone from the quarry to include in the sculpture. Delighted, Dambo built a platform for the stone inside Isak's chest and dubbed him "Isak Heartstone."
"This is what trolls do. They bring out our best and our worst," says Girvin.
In a mournful editorial in her local paper, Girvin wrote that she believes the town has a lot to learn from the experience.
"I think Isak was holding up a mirror to us, causing us to realize our own troll-like behavior," she says. "He was supposed to be a good troll, but he was a troll nonetheless."