From Fine Art to Fishing Poles, the Most Surprising Things Libraries Are Lending Now
Books are so passé.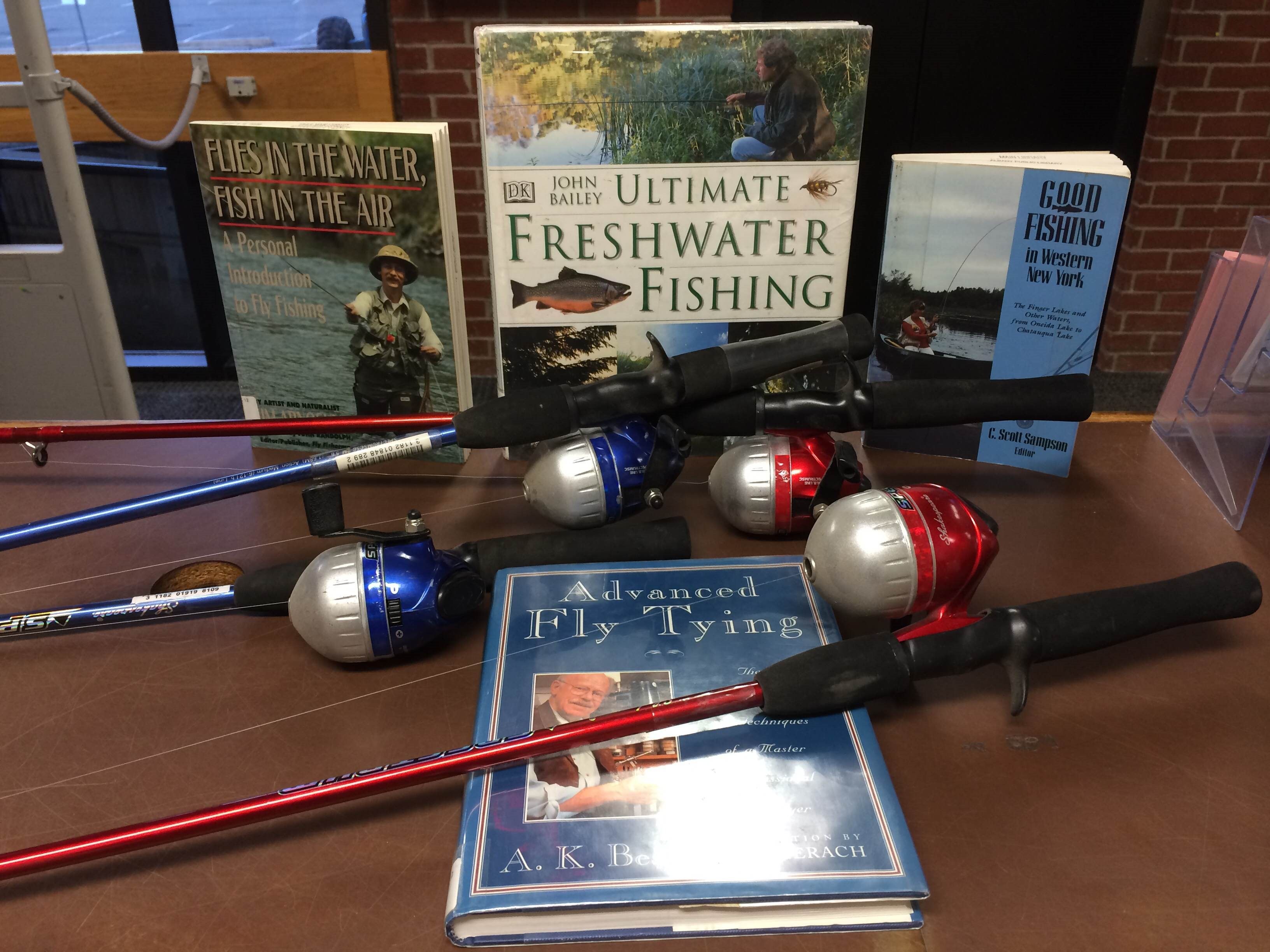 When the writer Deborah Fallows toured smaller and midsize communities in the United States in 2016, she made sure to make the same stop in every city and town: the local public library. Libraries were never just plain old book-lenders, she learned, and they certainly aren't now. Most provide residents with internet access, educational opportunities, and even refuge during times of meteorological or civic crisis. They use their archives to hold onto local history, and their programming and decor to reflect a vision of the future.
A town or city's Main Street or Chamber of Commerce reveals its body politic, writes Fallows, but "the visit to the public library reveal[s] its heart and soul." These days, many of these hearts and souls are full of unexpected stuff—including stuff that, if you want, you can take home with you for a few weeks. In the spirit of civic introspection, here are some of America's most surprising current circulating collections, from art to umbrellas.
Fine Art
The Carnegie Library, Braddock, Pennsylvania
The entrepreneur Andrew Carnegie, who eventually built thousands of libraries in the United States, chose Braddock, Pennsylvania, as the site of his first. He always imagined it as a community space—when it opened, in 1889, it had billiard tables on the first floor and a bathhouse in the basement, and later additions brought in a music hall, a swimming pool, and a two-lane bowling alley.
Although the building has gone through cycles of ruin and repair, over the past two decades, this communal spirit has returned to the forefront. The bathhouse is now a ceramics studio, and in 2013, the library put together an Art Lending Collection, which allows members to check out framed artworks for three weeks. The works, all of which were donated by artists, are hung on hinged walls, which patrons can page through as if they were looking at a large book. "It allows people to live with contemporary art the way that mostly just collectors and museums are able to do," says the collection's curator, Dan Byers, in an explanatory video. Due to the program's success, the Braddock will also soon be lending out puppets. 
St. Clare Seed Library Seed Exchange now open to the public! https://t.co/Cixp00xDt3 #garden #seeds #library pic.twitter.com/mduv6D9Znd

— Franciscan Sisters (@FSLFMN) March 24, 2017
Seeds
Various libraries
If you're ever at the Orono Public Library in Orono, Maine, be sure to pull open one of the card catalog drawers. Once full of Dewey Decimal System cards, the drawers now house a new type of knowledge repository: packets of locally-grown seeds. Green-thumbed patrons "borrow" the seeds, and plant the vegetables or flowers in their own backyards or plots. Then, at harvest time, they bring a new crop of seeds back to the library.
Orono isn't the only library that encourages this particular vegetative state: "Community seed libraries are taking off in Maine," the Bangor Daily News reported in March, listing examples in Portland, Dexter, and Northeast Harbor. Although seed sharing is illegal in some states, more and more are adopting legislation exempting non-commercial ventures. If you're interested in learning more about existing seed library programs in your area, this website is a great resource.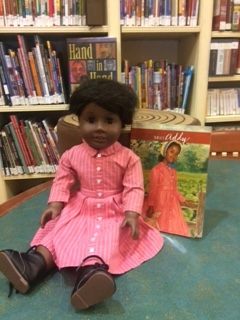 American Girl Dolls
Ottendorfer Library, New York City, New York
Libraries are supposed to serve a variety of constituents, some of which have unique needs. After listening to some of their patrons, one librarian at the Ottendorfer branch of the New York Public Library took it upon herself to provide a scarce resource: American Girl Dolls.
According to Amy Geduldig of the NYPL's Media Relations Office, it all began when Children's Librarian Thea Taube found a Kirsten doll in library storage, a long-ago donation from the American Girl Doll Company. Former employees had left the doll boxed up, considering her too expensive to display. As an experiment, Taube put Kirsten on her desk—and after enough kids inquired after her, the library began lending her out.
Kirsten now leaves the library regularly, and returns with new hairstyles and clothing, and handwritten tales of exciting trips. When Kirsten had to visit the company doll hospital a few years ago—she needed treatment for a variety of adventure-related injuries—repeat customers threw her a get-well-soon party.
After Kirsten received extensive media coverage, people began donating new and used dolls to the library. Geduldig says there are currently three dolls available for checkout, and each typically gets taken home about once per month.
The cake pan section at a local library! pic.twitter.com/OjoibbT7

— Leanne Masters (@theleannem) June 11, 2012
Cake Pans

Various libraries
Even libraries aren't immune to trends, and one that has swept the nation over the past decade or so is that of the cake pan collection. You can check out an unusual cake pan everywhere from Keokuk, Iowa (which has three different rabbit-shaped pans), to Coventry, Rhode Island (which boasts a wide-ranging Disney-themed set) to Albuquerque, New Mexico (which has a new 3D Skull). Many of the pans are donated by older patrons, who give them away when their kids leave for college. Borrowers must wash the pans before returning them.
In a 2012 interview with Library Journal, Cindy Thornley of Maryland's Charles County Public Library explains the appeal. "People still think books," she says. "When we tell people what we are doing it captures their attention." Plus, it makes for some good, nerdy jokes: "When we floated the idea, the catalogers were giddy," she says. "They said, 'How do we categorize them? Is it a ring or is it a bundt?'"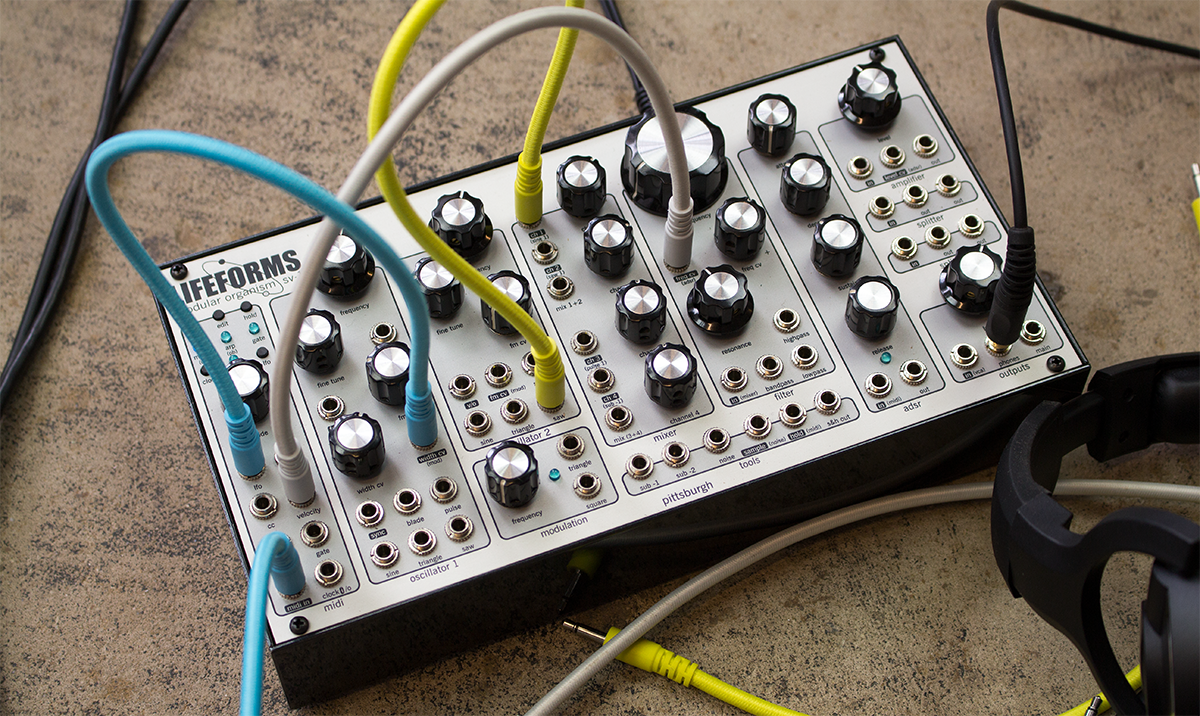 Synthesizers

The Carnegie Library, Pittsburgh, Pennsylvania
Like its cousin in Braddock, the Carnegie Library of Pittsburgh has a rich history of artistic and community endeavors. But one new circulating collection is resolutely contemporary: the library now lends out synthesizers. "Pittsburgh has a creative and diverse electronic and emerging music scene," explains Tara Goe, a librarian with the Music, Film and Audio Department. "It occurred to us that this might be an audience that has traditionally not visited the Music Department."
After polling local musicians about what they would most like to see in a collection, they bought a bunch of Moogs, Korgs, drum machines, and recording gadgets, and started circulating them this past February. They also have a few in-house instruments that Goe says "get a lot of love," including a miniature theremin—so if you're looking for a groovy library experience, you know where to go.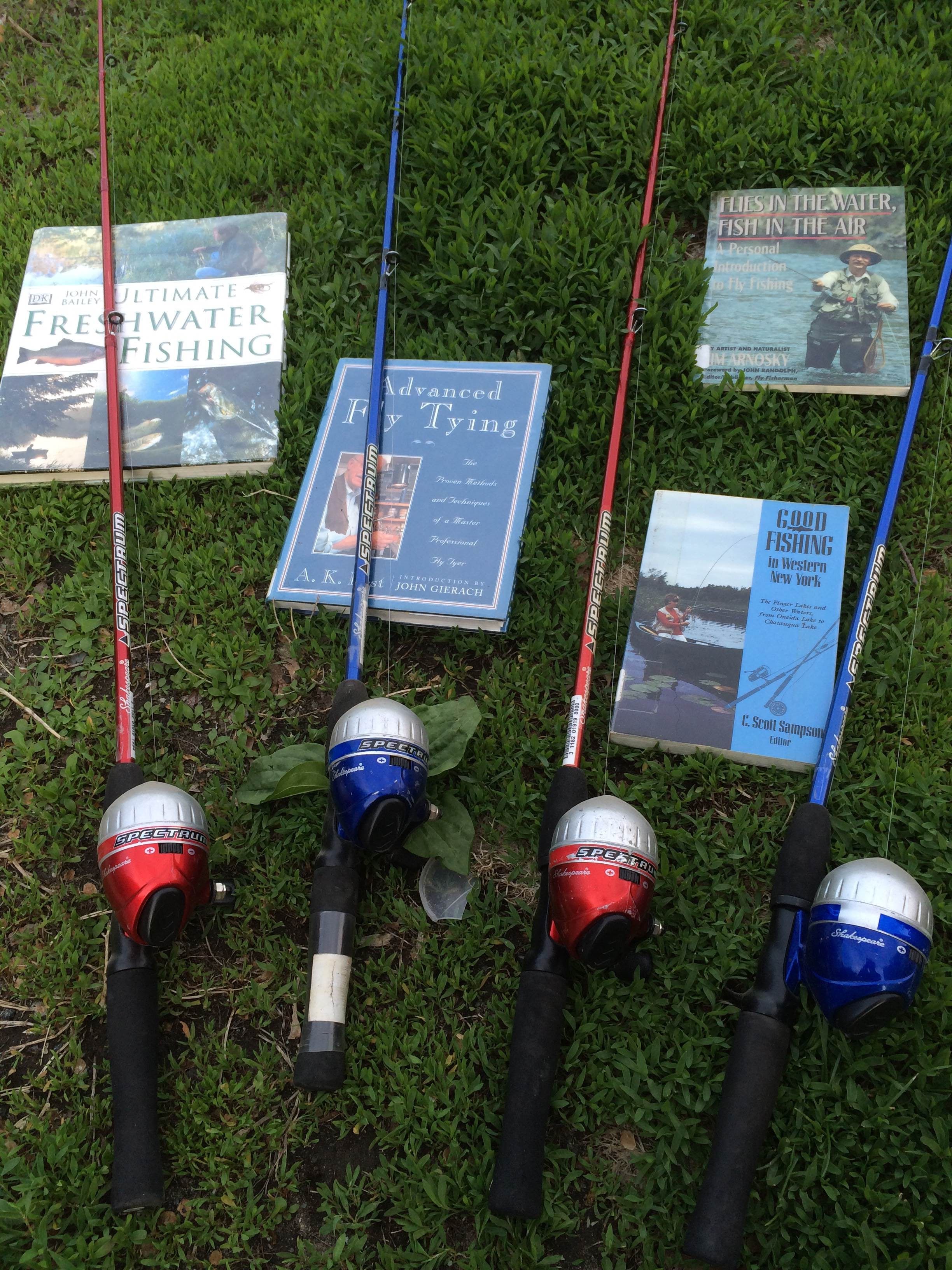 Fishing Poles

Albany Public Library, Albany, New York
Especially in busy cities, libraries can be havens—places to escape all the hustle and bustle and take a moment for yourself. Thanks to circulating collections at two branches of the Albany Public Library, patrons can now find this peace and quiet elsewhere, too. In partnership with the New York State Department of Environmental Conservation, the library has amassed 20 fishing poles, which it lends out along with its books.
"It seemed to be a need in the community," says Bob Resnick, a librarian at the Washington Avenue branch, which has ten poles. "We're in an urban setting, but within that setting are a few lakes and ponds, and we found that some of our patrons did not have the equipment necessary to go fishing." Now, he says, warm-weather weeks see the poles flying off the shelves, and patrons bring in pictures of their catches. (The library, true to the spirit of borrowing, promotes catch-and-release.)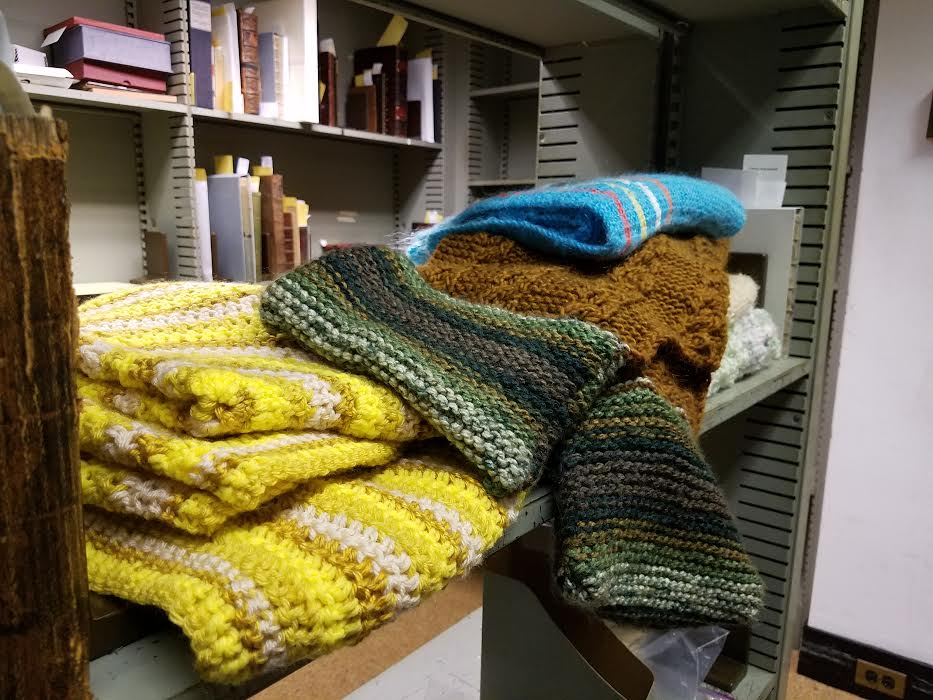 Hand-Knit Shawls

Folger Shakespeare Library, Washington, D.C.
Washington, D.C.'s Folger Shakespeare Library is known for its old, rare books and folios. But as Atlas Obscura's Sarah Laskow reported in March, they also have a younger collection: comfy shawls hand-knitted by Rosalind Larry, the library's head of circulation. There are five of them, each available for use in the reading room—which, with its high ceilings and finicky circulation, can be somewhat chilly.
As Larry explained to Laskow, she started knitting on her lunch break in the 1980s, and never stopped. Although researchers can't take the shawls home, they often develop special relationships with them. One asked for the same shawl every day for a month—a romance that lasted much longer than Romeo and Juliet's.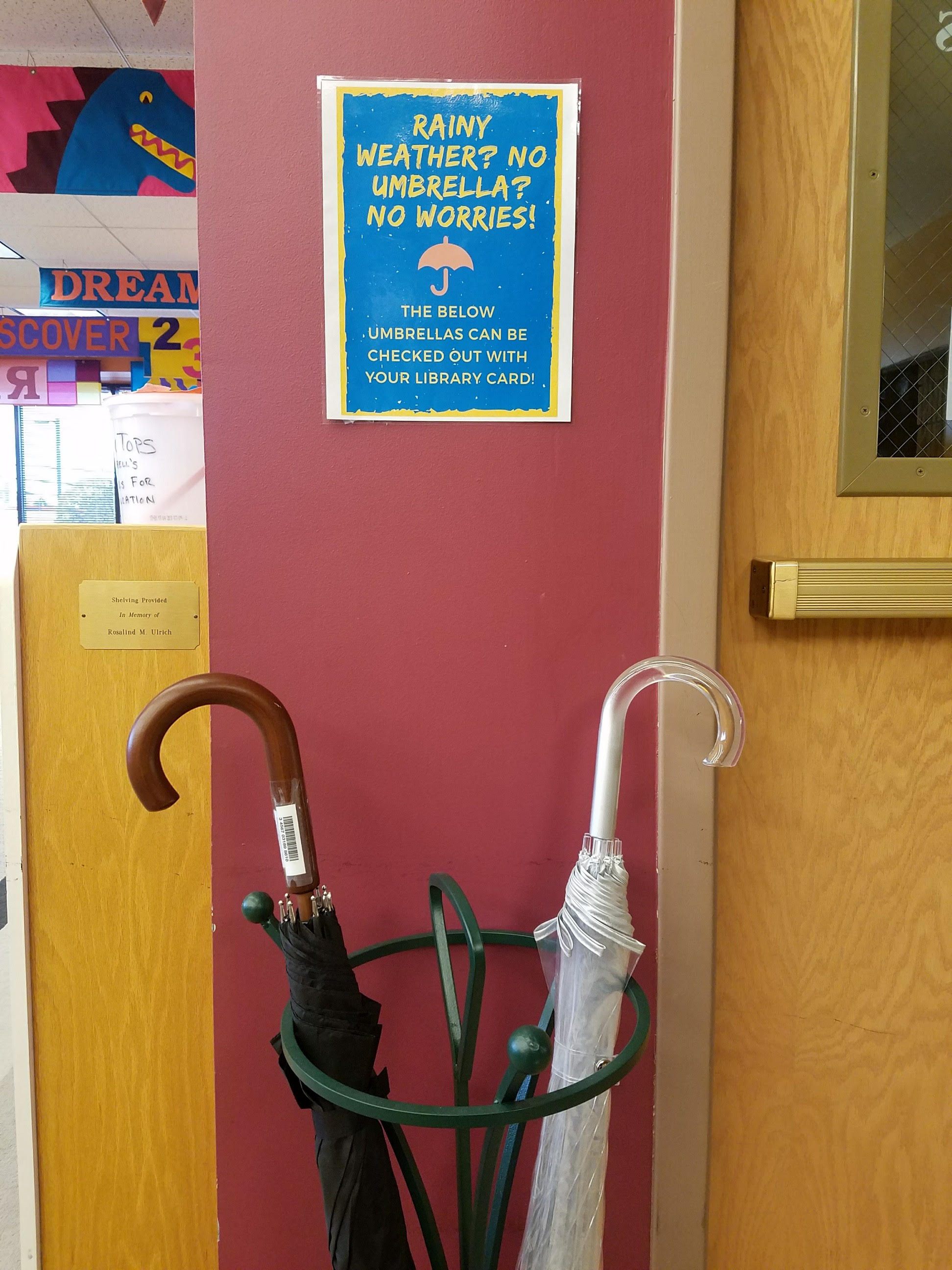 Umbrellas
Green Tree Library, Pittsburgh, Pennsylvania
Pittsburgh's Green Tree Library lends out plenty of fun stuff: wifi hotspots, virtual reality viewers, Kindles. (They, too, have American Girl Dolls.) "We're always interested in small collections—things that are different, and that people might not have readily available at home," says the library's assistant director, Shannon Barron.
But for their newest collection, the library went with something just plain practical: umbrellas. "The weather in Pittsburgh is iffy at best," explains Barron. "Lots of people come in and get stuck here because it's raining. They need to get to their cars or walk home, and they would ask us if we had umbrellas."
As of April 4, 2017, they do: one white and one black, propped up in a handy stand. It's been sunny for the past few days, Barron says, so they haven't gotten much use: "Right now they're just sitting by the door waiting for someone," says Barron. With April digging in its heels, that someone will surely pick one up soon, and inaugurate America's latest unusual library collection.