Centuries of Crap and Some Historical Treasures in an Old London Cesspit
An art museum found a very old toilet—right under where its new bathroom was being built.
In the 15th and 16th centuries, London was not a pleasant place to poop. The city was bustling with people and light on sewers, which means it was just teeming with excrement. Many, many residents had no choice but to squat over communal cesspits—deep openings in the ground often covered with wood planks cut with butt-sized holes. When the pits reached capacity, people either closed them up and dug fresh ones or called for a "gong farmer," a poor sod who scooped them out and carted the mess away, often to the nearby Thames or Fleet River, waterways that often seemed to be more waste than water. In the sorry Fleet, the 16th-century poet Ben Jonson once wrote, "arses were heard to croak, instead of frogs."
Most of London's stinking cesspits have thankfully disappeared, but one recently resurfaced near the Thames. It was buried beneath present-day Somerset House, a sprawling neoclassical complex that contains the Courtauld Gallery, renowned for its collection of Impressionist and Postimpressionist paintings. And no one was more surprised to find it there than the people who know the place best.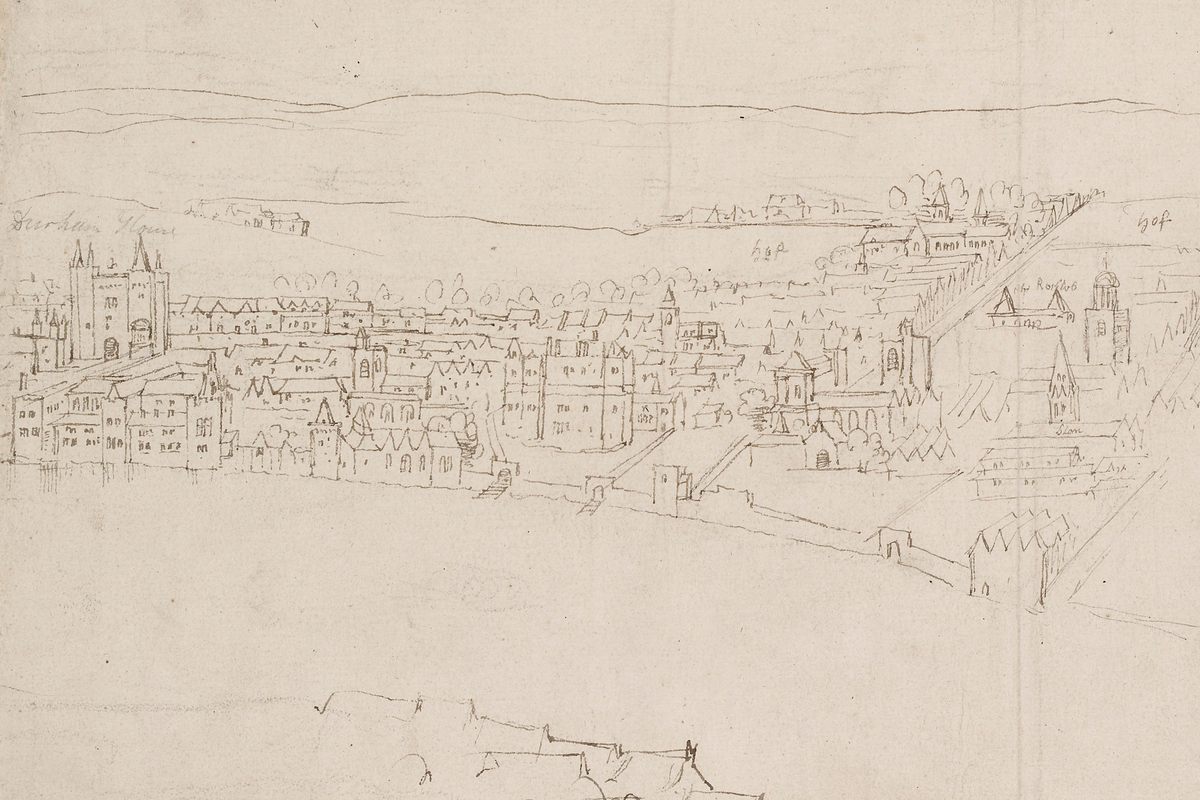 Archaeologists regularly find old surprises waiting when new roads go down or new buildings go up—even in the densest, most developed urban areas. In some places, the input of archaeologists is mandated by law, to ensure that the march of progress doesn't destroy significant historical artifacts. When these experts start poking around, they're sometimes surprised by what they find—maybe the remains of a vast kiln, maybe a 2,000-year-old Native American site, maybe a bomb from World War II.
The Courtauld Gallery is undergoing extensive renovations in preparation for a reopening in 2021. Before crews broke ground, researchers dug into the history of the site to get a handle on what they might encounter. "We had no idea," says Stephanie Hall, the Courtauld's project director overseeing the revamp.
The gallery sits along the Strand—a busy, bus-choked thoroughfare lined with glitzy hotels, theaters, churches, and plenty of eateries. The team knew that back in the 16th century, the area was home to handsome mansions that abutted the Thames. Somerset House stands on the old footprint of the Bishop of Chester's Inn, a cushy London lodging, Hall says, but researchers don't know much about that long-gone building. (It was eventually replaced by a Tudor-era dwelling, where Elizabeth I lived before her reign as queen. That structure was demolished, and the current building was completed in 1801.) The neighborhood is depicted in a sketch from the 1540s, but it's not entirely clear which building is which. Based on their research, the team thought they might encounter bits of a Tudor-era wall. "We didn't expect to come across anything other than that," Hall says.
In October 2019, crews came across the remains of a stone structure—but it didn't look quite like Hall, a medievalist, thought it would. It looked to be deep, and it was flanked by a smattering of Saxon-era refuse pits, which held things such as bone combs used to brush out lice. "We said, 'Just keep going,'" Hall recalls.
As they kept digging, specialists from Museum of London Archaeology found that the chalk blocks did not make up a wall, but lined a pit 15 feet deep. The team initially thought they had struck part of a bell tower from an old priory. "We looked through old plans and were trying to work out what structure it could have been," Hall says. They realized it wasn't holy ground, exactly: "It's just an old toilet."
Hall and the rest of the crew were fascinated. The archaeologists spent about a month in the muck, and the deeper they went, the slicker and smellier it got. The mud was vaguely greenish: "I think the word 'slime' has been bandied about," Hall says. The feces itself had returned to earth, but it was still foul, "like a big gaping maw that emitted a slightly fetid breath."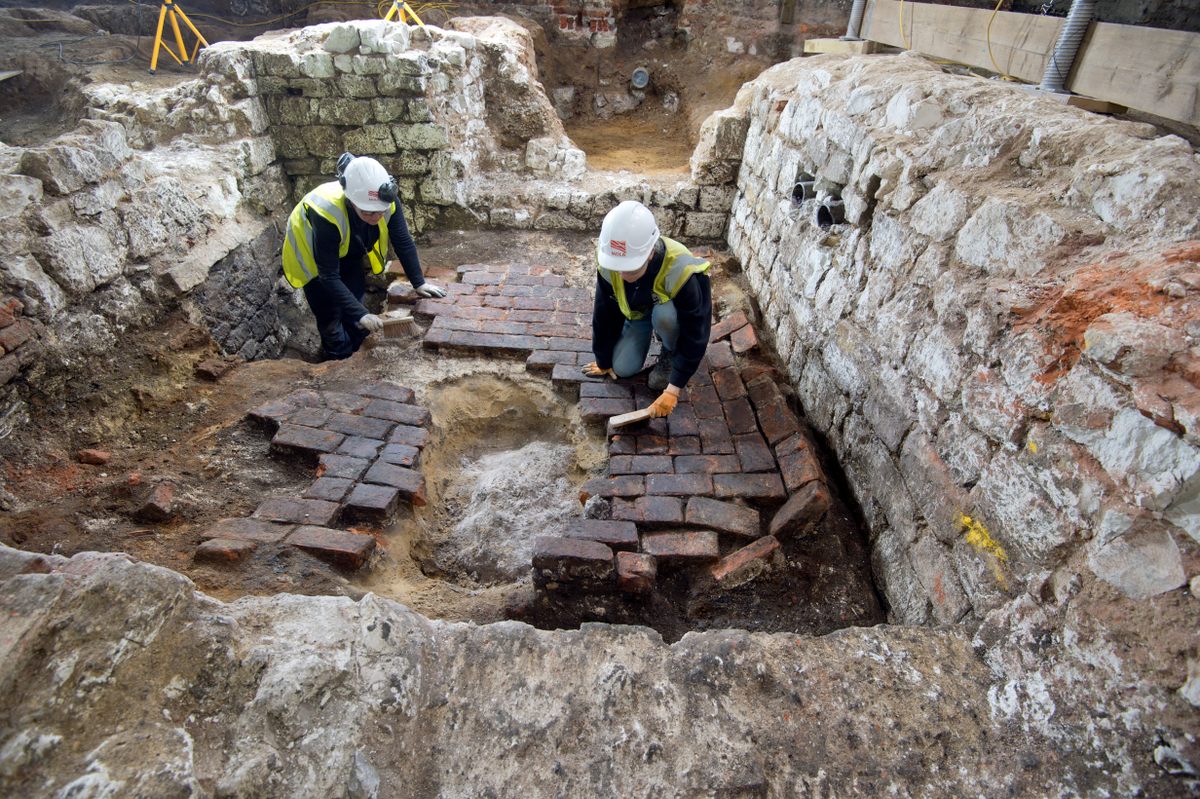 The scientists found that the structure had walls up to three feet thick and a gravel base. A latrine was built in one corner in the 18th century, after the rest of the pit had been filled in, meaning that, from the Saxon era to the 18th century, people had been pooping on the same site for hundreds of years.
Such old pits—any old toilets, really—are rich grounds for archaeologists. Latrines can hold clues to historic diets and health, including seeds and very old parasite eggs. They also serve as time capsules, since they were sometimes used as local trash dumps. A cesspit was "a convenient place to discard unwanted or broken objects," Museum of London Archaeology senior archaeologist Antonietta Lerz told The Guardian—and if anything accidentally fell in, well, no one was climbing down to retrieve it.
The team found roughly 100 objects dating from the 14th to 16th centuries, including an iron boot spur, a condiment dish and a bone-handled fork they believe was once used to spear sweetmeats, and a delicate, gold-plated ring with a stone that might be a garnet. They found some grislier things, too—a crushed horse head, the entire skeleton of a little dog. The researchers suspect that the rest of the horse may have been carved up for meat and that the dog either tumbled in or was tossed in after death, Hall says.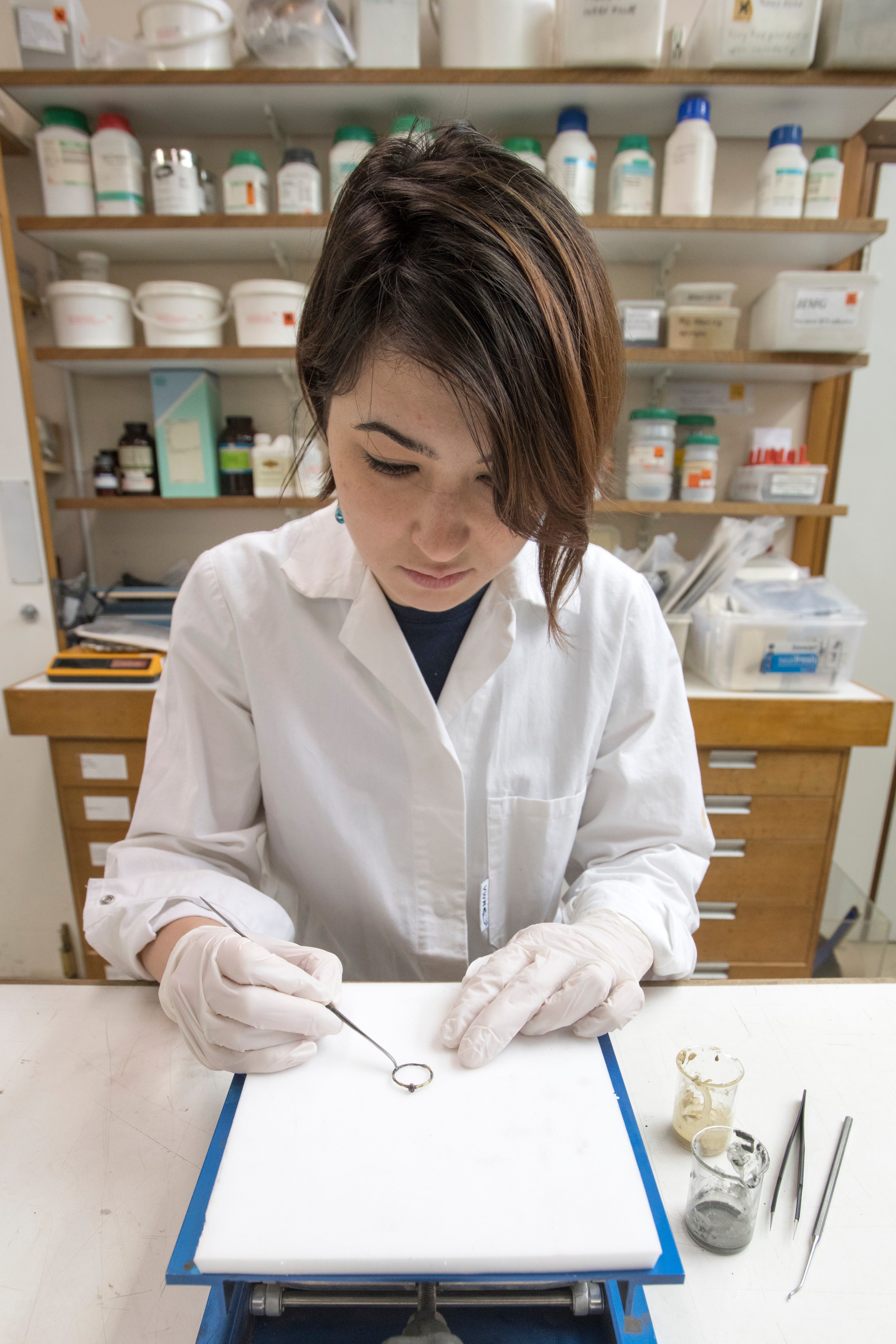 Now empty, the pit will be stuffed with polystyrene, to make it possible for researchers to have another look in the future. (Conservators are moving away from the practice of putting a pane of glass over old sites to make them visible to visitors, Hall says, because the glass can trap moisture that can fuel bacterial growth.) Later on, Hall says, if researchers want to revisit the pit, "they can take up the floor and re-excavate it."
In the meantime, the Courtauld is satisfying public curiosity with an interactive 3-D model of the cesspit. Come 2021, some of the cleaned-up artifacts will be on view in the new galleries, and anyone who feels the call of nature while there might feel a connection with the people who had the same urge hundreds of years ago: The gallery's new bathroom, just like its last one, will be right on top of the hole. It's all pure coincidence, but Hall is gleeful about it. It has a kind of poetry, she says. "It just feels right."
You can join the conversation about this and other stories in the Atlas Obscura Community Forums.