Meat Raffles are the Juiciest Bar Trend
Meet the meat raffle, a British bar tradition transported to the U.S.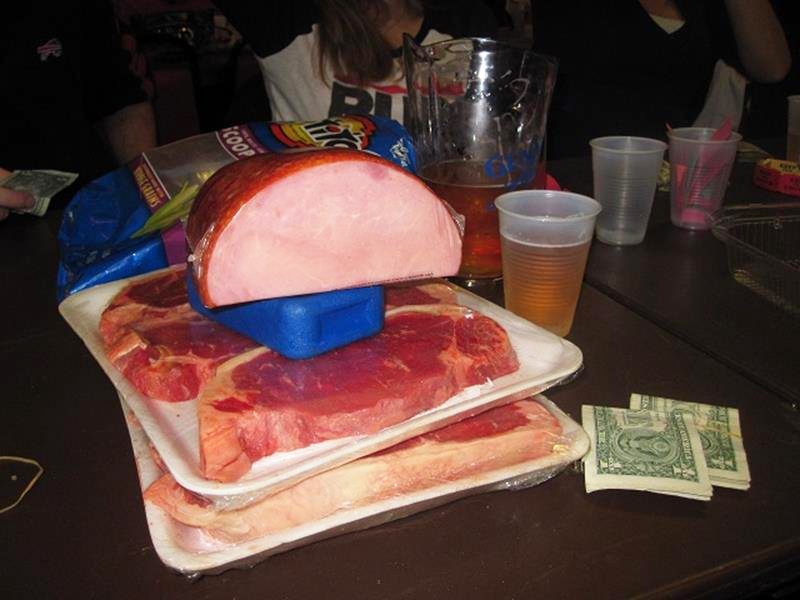 Meat prizes on display at a meat raffle. (Photo: Erick Hansen)
If you're from Minnesota, Wisconsin, or western New York, you'd likely recognize a carnivorous event known as the meat raffle, where locals gamble for the chance to win a package of raw meat for just a dollar. With a spin of a wheel, the holder of the correct numbered ticket can walk away with pounds of fresh bratwurst, ham, turkey, or T-bone steak.
Meat raffles first originated in Britain during World War II and spread to the U.S. and other English-speaking countries after the war. Though its exact origins in the U.S. are not certain, some posit that meat raffles were a response to food rationing in both Europe and America; several families would put their meat ration into the pool, allowing the winner to benefit from a full family meal, eventually turning into a fun event.
Since the 1940s, they have mainly attracted older generations. But now, there's a youthful meat raffle resurgence in churches, dive bars, and veterans' clubs across America.
Bartender Nuni Castaneda of Milwaukee, Wisconsin, feels that in his area, it's less of a trend, and more of a handed-down semi-secret ritual. "You'd have a lot of older guys that knew about it. You wouldn't get some 22-year-old at the meat raffle, you'd get his father, his grandfather," Castaneda says. "The younger crowd that shows up, they heard about it and wanted to check it out. You almost have to be told about it by someone who's older."
While his workplace Dale Z's doesn't hold a traditional meat raffle, the regular raffles they hold during football season feature meat as a matter of course; Castaneda mentions a one-pound bag of Polish sausage as common prize. But as integral as meat raffles are to the Milwaukee area, they weren't historically advertised, or very well-known outsides of veteran's circles.
Erick Hansen of Buffalo, who started the website meatraffles.com to keep track of local meaty events, agrees. Hansen discovered meat raffles 10 years ago, when he was in his mid-twenties, and began participating on a weekly basis. "When I first started going to these, my group was most certainly the youngest group there," he says. The rest of the crowd was middle-aged or older, and very devoted. "You saw many familiar faces raffle to raffle, town to town," says Hansen.
Meat raffles in Buffalo, where the median age of attendees is now around 40 years old, tend to take place in VFW (Veterans of Foreign Wars) halls or American Legion clubs, while Midwestern meat raffles are more likely to occur in bars, as well. These days, some feature karaoke, or prop up a regular happy hour. "I can see how and why the bar raffle would be trendy, appealing and catching fire in other areas," says Hansen. "They are short, usually loud—a good loud."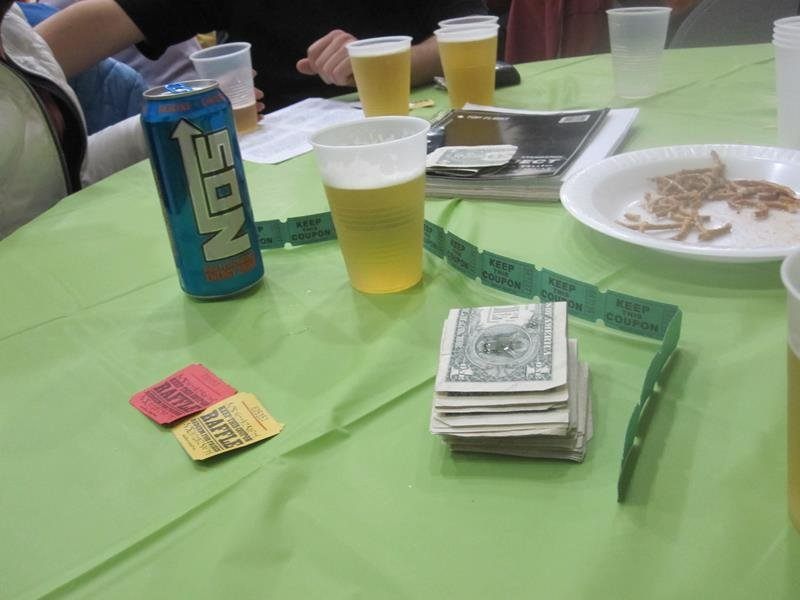 Raffle tickets waiting to be drawn. (Photo: Erick Hansen)
The best ones, he says, have a gambling wheel, which displays the ticket numbers (typically 30 in total). The wheel spins, and when it lands, the winner with the right number walks up to a table display of various packaged meats straight from a local butcher. The meats on offer vary in size, and can include poultry, red meat and fish. Typically, the prize selection depends on the season; hamburgers and hotdogs in summer, whole turkeys in November, ham for Christmas and Easter. Some raffles even stack the meat into a tree or tower configuration for display.
When they run out of meat, many raffle venues move on to gift certificates, either from area businesses or the featured butcher shop.  Whether it's at a VFW hall or a bar, a meat raffle always goes hand in hand with a charity event, in part because gambling is regulated in many states. The charity benefit status allows meat raffles to happen outside of approved gambling venues like casinos or racetracks. Youth groups, hockey teams, and even roller derby teams organize them. After expenses, all the proceeds of the raffles go to charity.
But the draw of a meat raffle can still be lucrative. Troy Olsen, the owner of 1029 Bar in Minneapolis, estimates that bars in his area with meat raffles have seen a 25-percent increase in sales. 1029 Bar has hosted meat raffles since it opened 15 years ago. "It costs a dollar to buy a ticket, and you can win a little over $20 worth of meat. It's fun," says Olsen. As in Buffalo, a younger crowd began to frequent the meat raffles in the Nordeast neighborhood of Minneapolis, traditionally a Polish neighborhood.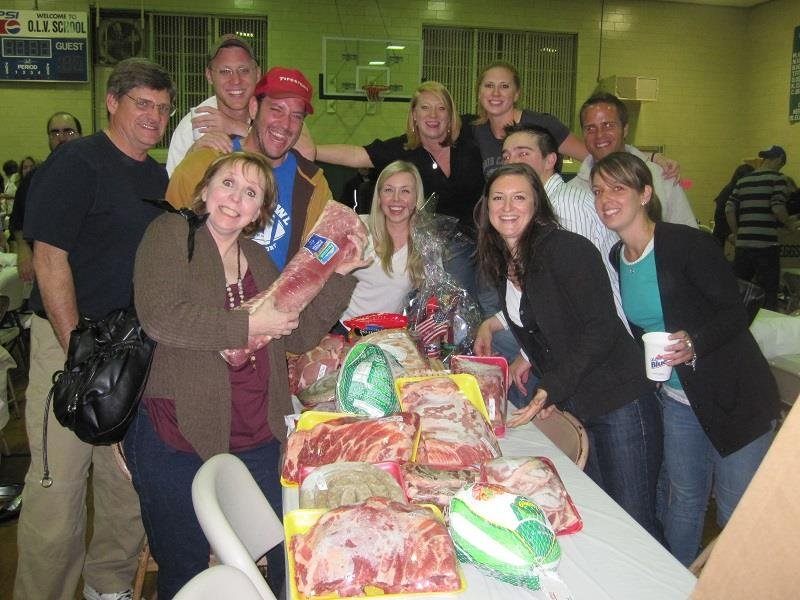 Meat raffle participants with prizes. (Photo: Erick Hansen)
His bar manager, Rick Hruby, agrees. "It's kind of a trendy thing that's going on right now over here," says Hruby; while meat raffles were always popular with older people and veterans, they could be hard to find. Now, there are often multiple rounds per night; 60 to 90 people might show up at 1029 Bar to buy those coveted tickets, and at two events per week, that adds up to a lot of meat. "It supports the camaraderie of the neighborhood," Hruby says.
The Knight Cap, also in Minneapolis, has hosted meat raffles for 25 years—though before Dick Ponath owned the bar, it'd held meat raffles prior. "The young kids come in. They call ahead to reserve a table of 12, you know. Some people have birthday parties," Ponath says. His average event attracts between 30 to 50 raffle-goers, about half of whom are repeat attendees. The biggest meat raffle Ponath remembers is when 58 winners took home prizes. "It's just a spin of the wheel, sometimes you get lucky—it's just like going to Vegas," says Ponath.
"Nobody gets out of control, they're just having fun," he assures, though throughout the U.S., if someone wins more meat than others, they're sometimes called a "meat hog." Hansen, who's won as much as two turkeys, one spiral cut ham, one package of hot dogs, and two packages of bacon in one night, has never seen a real fight or argument at a meat raffle, but he has run into trouble. "Have I been cussed out by someone's grandmother walking out to pick up my meat from the table? Yep! A handful of times," he says. "But that's been the worst case scenario."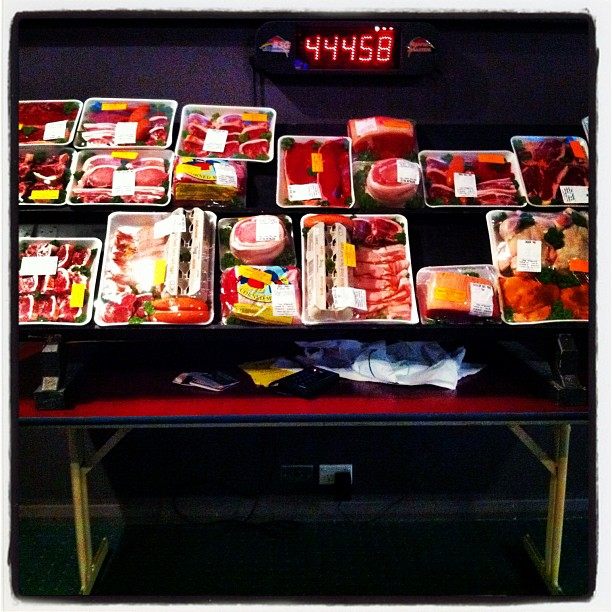 Large quantities of meat at the Hardys Bay RSL meat raffle in New South Wales, Australia. (Photo: Brian Giesen/CC BY 2.0)
There are some meat raffle outliers outside of Minnesota, Wisconsin, and upstate New York, too: Illinois has them as fundraisers, and in New Hampshire, the intriguingly-named Pumpkin Organization of Rindge has used them to bolster their annual pumpkin-centered event. Meat raffles have also made a jump to Massachusetts gun clubs—Jim Finnerty, Vice President of the Shirley Rod and Gun Club, says his club has hosted public meat raffles for 10 years, with prizes based on the season; their next raffle is this fall. They remain popular in England and Australia.
Whether they'll spread much further beyond the few locations that love them, meat raffles tend to stick around after people experience the thrill. It's not just about the meat, of course. "Being able to spend time with friends and family, having a few bowls of loud-mouth soup (beer), scratching the gambling itch, providing money to a cause are all terrific things about attending a raffle," says Hansen.
"I don't think people are so much concerned about coming home and saying 'oh I won a 30-ounce steak,' Castaneda concurs. "It's 'I had a good time.' That's what I went for, not for the meat." 
Gastro Obscura covers the world's most wondrous food and drink.
Sign up for our email, delivered twice a week.