Media Round-up: Winter Wooskie Bibliophile Edition
Sometimes, when it's really cold outside as it has been this week here in Minneapolis, books provide my salvation. In them, I retreat to the balmy seas of the South Pacific, even if their waters are bloodied from whaling, or use them to ponder other worlds and languages unknown. 
Thankfully, this week the gods of the Internetz have supported me in providing such complimentary salves as those linked to below. 
Take, for instance, this gem from the New York Times that touches on Melville's true-life inspiration for Moby-Dick! Poor, poor Captain George Pollard was double-dead in the water… only… Both times he survived, though not unscathed, mind you: He and his crew bobbed atop the seas for three months, resorting to cannibalism, before being scooped up by a ship ("Two Brothers") of which he'd later be named captain… only to sink her too!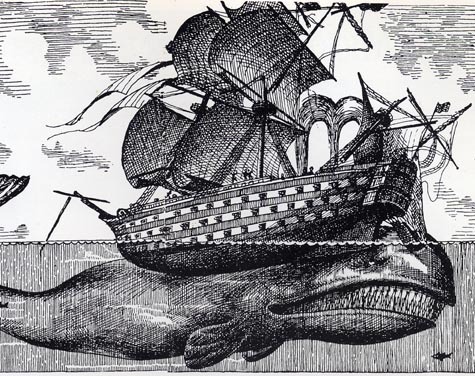 A depiction of the whaleship Essex's doomed battle with Moby Dick's real-life counterpart. (source) 
This second ship's wreckage and remnants have been found, a feat which is truly rare in maritime archaeology. 
It should be said aloud, dear reader, that the Atlas is run by a bunch of people who freak out whenever new stuff pertaining to Moby-Dick surfaces. I like the tome enough that I have it's oft-misunderstood whale literally carved into my flesh. Then I find out that Dylan, Atlas co-founder, wrote the AWESOME piece "Of White Whales and Dark Energies; Featuring Cannibalism, Whale Attacks, Mustaches, Physics Jokes, Doughnuts, Sperm Jokes, Shrinking Space Men, the Weird History of the Ether, and Exploding Stars." Yeah. Whereas Pollard was double-doomed, you are double-lucky to have two such tantalizing pieces at your disposal! 
Then, this past Tuesday marked the 183rd birthday of Jules Verne.  National Geographic was so kind as to make a list of eight inventions conjured by Verne, only to be made real by scientists, inventors, and geeks in the decades since his death.
[Dir: …At which point Sarah realizes she's simply recounting the things that interest her enough to be tattooed onto her body. First, Moby Dick himself. Now, Jules Verne's rocketship to the moon.]
Verne's imagined lunar space craft, as demonstrated by Méliès. (source)
As we blast our way into a Jules Verne-fuelled future, books still haven't become totally antiquated… or so I liked to repeat to myself, until I found Maria Fischer's Thoughts On Dreams, which so conveniently proved my point.  
This amazing book was hand-crafted by the German designer, featuring text that is 'hyperlinked' throughout, weaving a guide for readers between important passages and central themes using nothing other than ink, paper, and colored string. She has created a hybrid form that caters to all the things I love about real, physical books, while acknowledging the piece I love/hate about the World Wide Web: the never-ending rabbit holes one get lost in when a particular item sparks our interest (Wikipedia, I'm looking at you).
After all that reading, I would like to present an opportunity for you to rest your eyes. Behold, holophonic sounds! Follow the instructions. Close your eyes. Relax. Get a little freaked-out. 
It's all going to be okay. You'll make it through the winter.