Found: A Giant Metal Die in an Idaho Lake
Floodwaters cast it on the shore.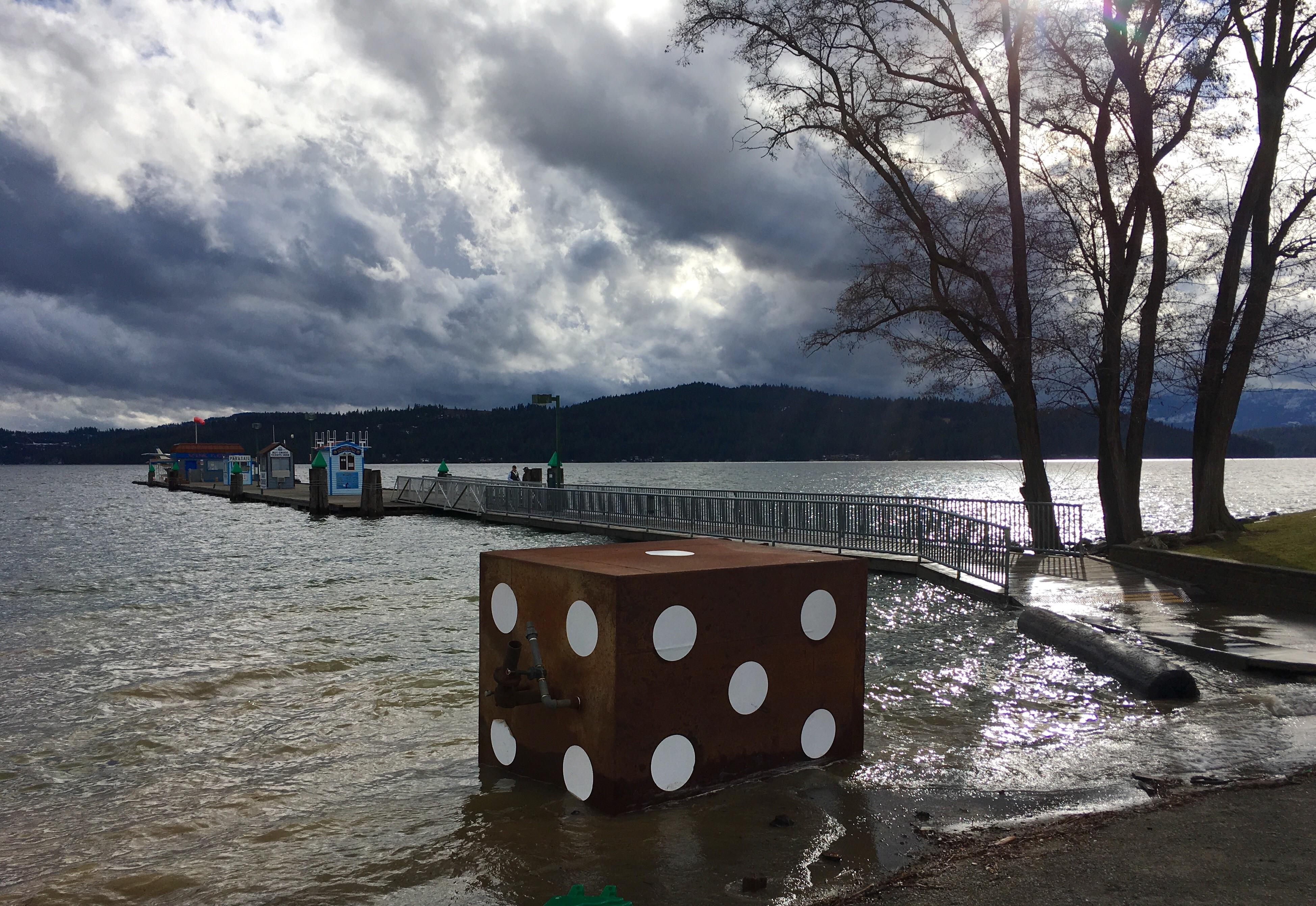 In Coeur d'Alene, Idaho, a giant, rusty-looking die washed up on the lake shore this week.
One side of the die has some pipes coming out of it, and the dots on each side are surprisingly white. It's about six feet by six feet, and not long after it appeared, city workers came through to remove it.
Locals speculated about the origins of the mysterious die: it seemed clear that someone had added the white decals to an otherwise unremarkable box.
The Coeur d'Alene Press heard one possible origin story:
This wasn't the first time Sam Gridley, a man who splits his time between Hawaii and Coeur d'Alene, has seen the sizable object.

Gridley says it's an old storage tank that washed up near his Driftwood Bay property in 2008 and stuck around.

One year, he said, someone put circles on the tank to give it the appearance of a die. He believes the recent flooding was enough to wash it back into the lake.
Because of rainfall and snowmelt in the area, Lake Coeur d'Alene is at unusually high levels for this time of year; there's currently a flood warning in the area. There's no telling what else might turn up—possibly another die to make a pair?
Update: KREM found the family who put the dots on the die:
The tank washed ashore Driftwood Point in 2008. It was stuck on Michele Gridley's mother's neighbor's beach, they said, and they got tired of looking at it....

"My husband…made some large vinyl circles to place on the tank to look like a die," explained Michele Lytle Gridley. 

The Gridleys own a sign shop in Spokane. Chris Gridley made the dots to create the die, and his in-law's house became affectionately known to some locals as "Dice Beach."
Apparently the die/tank stayed on Dice Beach for a good five years, until the rising waters swept it away last week.
This is my favorite. A neighbor shared some time-lapse security vid w/Gridley. It shows the die drifting away last week! pic.twitter.com/0uiMe5a9gs

— Taylor Viydo (@KREMTaylor) March 21, 2017
KREM reports that "the die now lives off Northwest Boulevard, by the skatepark."