What Would It Take to Make Nepal the Next Great Ski Destination?
High hopes and high slopes, but few skiers.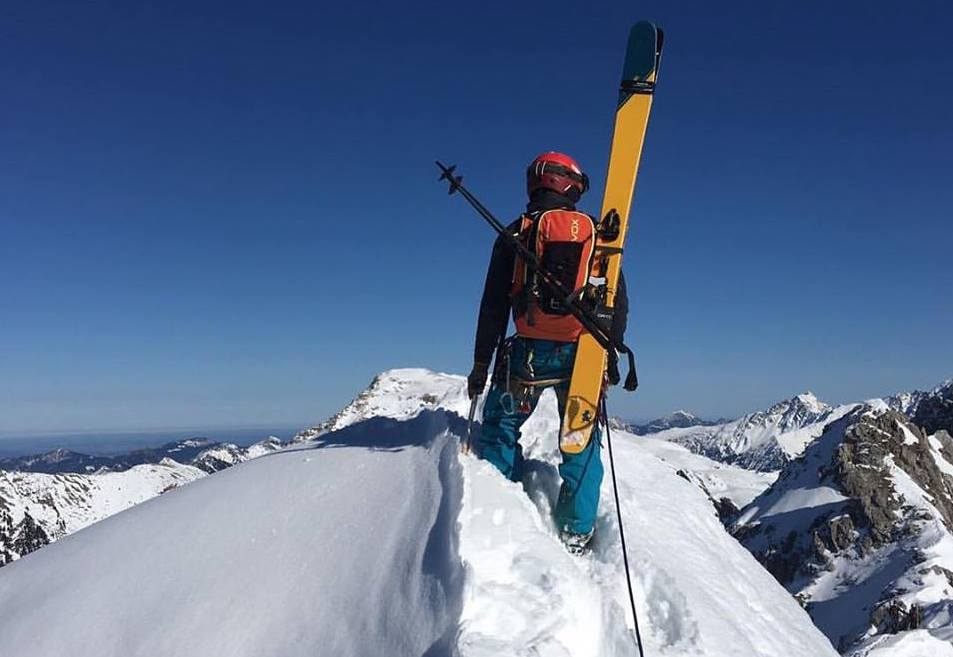 In 2014, Dachhiri Sherpa placed 86th out of 87 athletes who completed the 15-kilometer cross-country skiing race at the Sochi Winter Olympics. He didn't go to Russia with any illusions about winning gold, or even placing in the top 50. As Nepal's only Winter Olympian, Dachhiri just wanted to represent his country. In an interview with NBC Sports, he said "the placing is not important if I can teach young people in Nepal about the Olympic spirit. This spirit is in my heart."
Sochi was Dachhiri's third and final Olympics and, for now, the end to Nepal's participation in the quadrennial event (another skier competed in 2002 as well). The country that holds eight of the 10 tallest mountains in the world doesn't have anyone competing in PyeongChang. So why, when winter sports such as skiing and snowboarding are developing in places such as Kashmir or Kazakhstan, doesn't Nepal have a growing winter sports industry?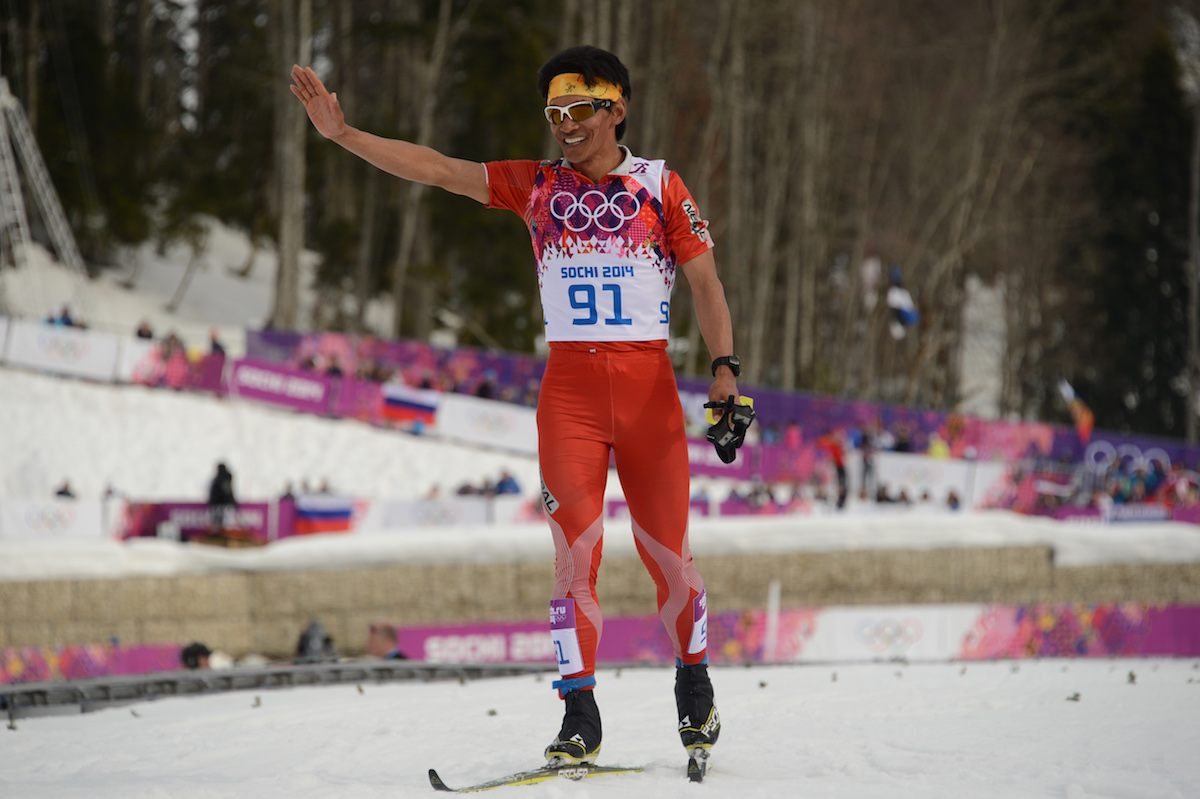 Craig Calonica first went to Nepal 37 years ago, and to say he isn't afraid of heights would be an understatement. He has helicopter skied—dropped down onto untouched slopes from a hovering whirlybird—across the Annapurna region in the east and Humla region to the west. In 2001, he helped found Himalayan Heliski Guides with an eye toward building the industry there. Seventeen years later, Calonica cautiously holds on to this hope.
"It's a little better now, but the government is very stuck on an old, outdated system on how they do business," he says. Calonica cites inefficiencies in the conservation park permit process, corruption, and expensive maintenance costs as obstacles preventing things from really taking off. Plus helicopter skiing runs at least $2,500 an hour.
Besides the political and economic challenges, Nepal's main tourist attraction—its mountains—present another hurdle. Interested skiers need to trek at least 12,000 feet up valley passes and hills to reach areas with sufficient snow. And they need to do this in particularly remote areas—even popular trekking regions such as Annapurna are not easy to get to—during a short season, from mid-January and late March. They also must be fearless and experienced, and they need cash—lots of it.
"To really do it [skiing] right you need a chairlift and a gondola, and then a place for the people to stay," says Calonica. "Right now, the only place to do that is Humla." Snow consistency is key and Humla, Calonica says, can get up to 12 feet a season, which makes it a dependable location. However, the lack of infrastructure and direct flights means it is difficult and expensive to reach.
Calonica sees a challenge as big as a mountain, but he thinks that it can be climbed. "You really need to have a nation that has skiers, you can't depend on skiers from all over the world going there to fill up ski areas," he says. There are few Nepali skiers and he estimates that it would take 10 to 15 years to build that community, at least $80 million to develop ski resorts with lifts, and more time for those resorts to break even. "You could probably do it in Nepal, but it's going to take a lot of effort and money," he adds. Winter sports are also expensive and equipment-intensive, which puts them out of reach for many Nepalis.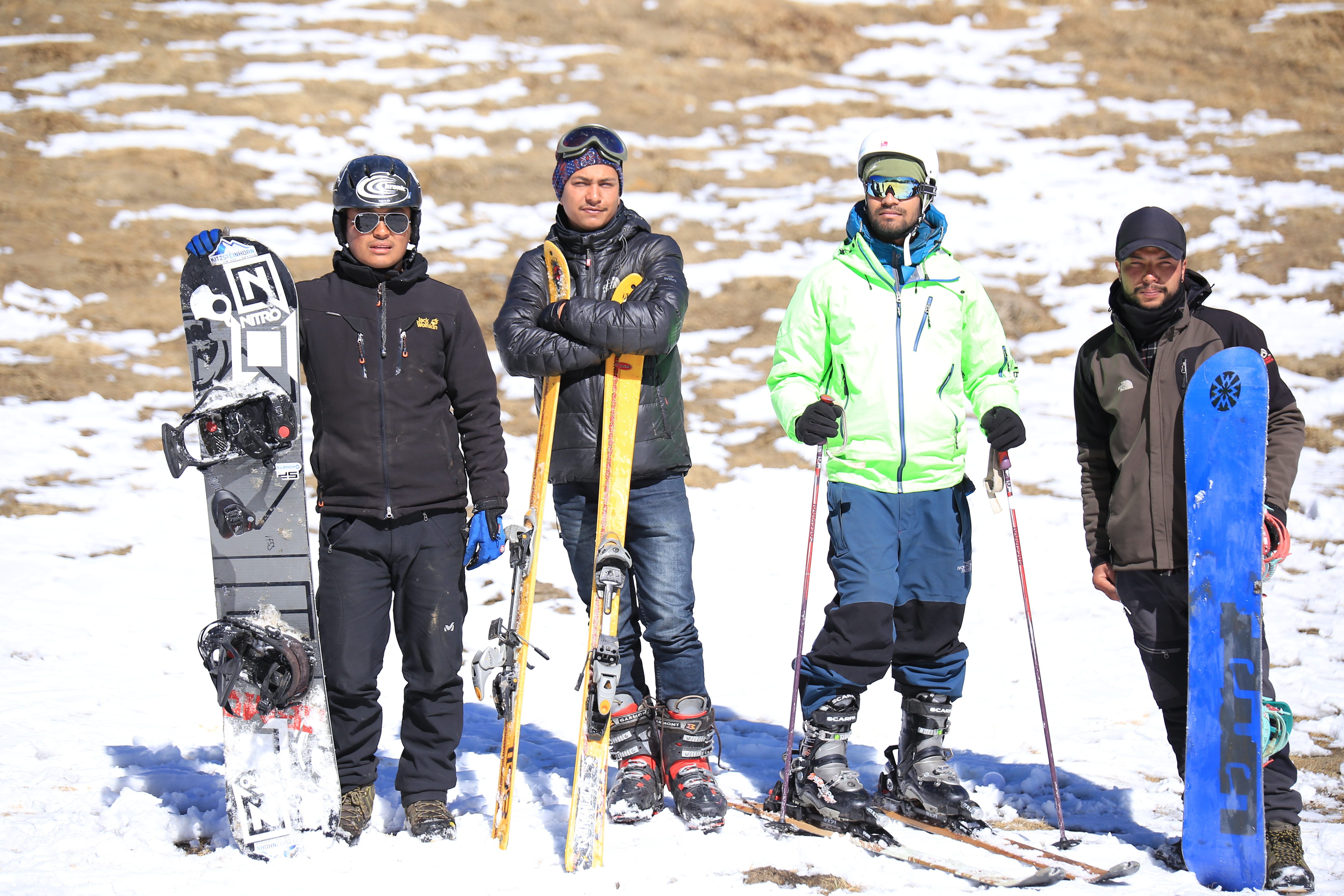 To achieve these results will require an increase in sports education, development, tourism, local business involvement, and a solution to the long-standing issues related to governance and investment. It seems, to Calonica, like a never-ending cycle.
That isn't stopping Utsav Pathak from trying. In 2016, he founded the Ski and Snowboarding Foundation Nepal (NFSS) to develop a ski culture. He encountered initial skepticism from friends. "Everyone was afraid," he says. "They told me skiing is a very dangerous game." But Pathak, a student at the Nepal Academy of Tourism and Hotel Management University, still believes it is possible, and with the help of German skier Jalle Seidenader, he began to organize group events.
In February 2016, NFSS held its first "Ski for Nepal" event on 15-degree slopes in Na village, in Rolwaling, near the Tibetan border. Seidenader taught 45 Nepalis, including two women, with 12 pairs of skis total. It was the first time for many, including Pathak. The next year, Red Bull sponsored NFSS's training and produced a highlight reel, which garnered some local interest on social media. NFSS also trained Nepali army officials in ski emergency rescue, and on January 25, 2018, held its first ski festival in Kalinchowk, in northeastern Nepal.
As a model, Pathak has studied the success of Nepal's biggest tourism sector, the trekking industry, as well as its pitfalls. One of the most glaring issues in that business is the lack of women at all levels of the industry (with the exception of a few female-owned trekking companies, such as 3 Sisters). So he is courting women specifically with his skiing and snowboarding effort. "Last February, there is an increasingly number of girls participating," he says. "In 2016, there was only two girls, but in 2017 there was eight girls."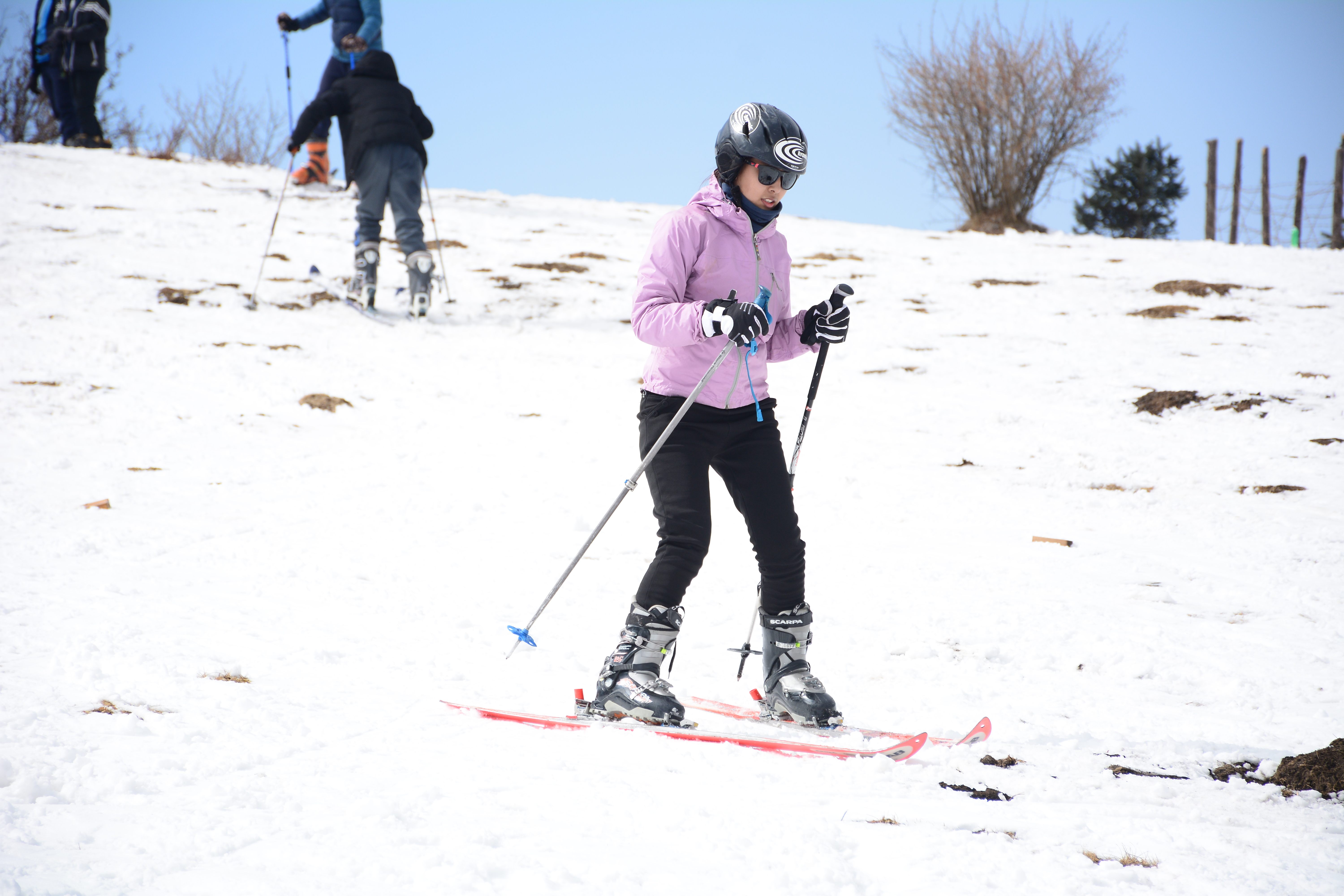 Fenchoke Chuttin Sherpa is one of those women who joined Pathak from the beginning. "My family owns a mountaineering business and father summited Everest. From a childhood, I had interest in hilly areas" and traveling, she says. Despite adventure sports being in her blood, her parents were against this new adventure, especially after the deadly earthquake on April 25, 2015. It took some time for her to convince her family, but they saw her passion and now fully support her. Today she helps NFSS with programming, local outreach, and ski rescue awareness.
"Last time when the earthquake hit Himalayan areas, many people died in avalanches and it was very hard to find people, as helicopters are very expensive, and many people lost their lives," she says. That's why NFSS's training with the Nepali army is important. It could help boost rescue efforts in areas that are largely inaccessible. In addition, she wants to make sure that women like her can feel comfortable and empowered in this new arena. With world-renowned Nepali runners such as Mira Rai and mountaineers such as Pasang Lhamu Sherpa Akita, Sherpa sees the possibility for female skiers with Olympic dreams to break through. "We can't think backward with this kind of sport for women," she says, "if you push yourself everything is possible."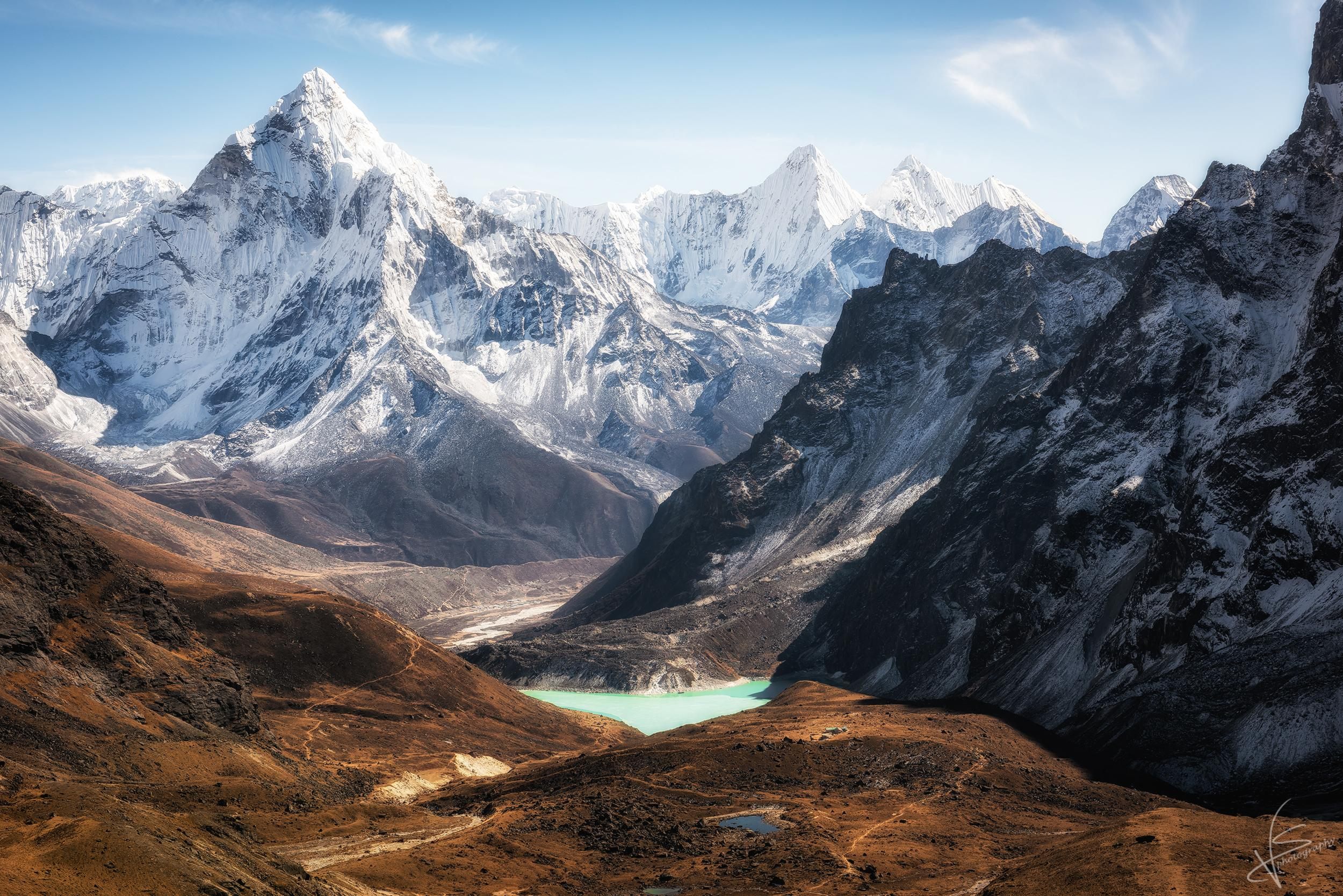 Like Calonica, Pathak and Sherpa are fully aware of the challenges they face. But they also see in advantages in Nepal that Sochi, PyeongChang, or the Alps don't have—such as trekking, unique mountain views, Nepali culture, and, perhaps one day, the bragging rights of shredding on the roof of the world.
Himalayan Ski Trek, another young company offering ski trips for the adventurous, recently held its fifth annual international ski competition in Muktinath, Mustang, and plans to hold more competitions. The company's founder, Krishna Thapa Magar, is also planning a new indoor ski facility, and is working to incorporate sports education into Nepal's school curricula. Magar and NFSS look with hope to skiers such as Safal Ram Shrestha, who has qualified for international races in the slalom and giant slalom, as a candidate for the 2022 Beijing Winter Olympics. Perhaps Dachhiri Sherpa's aspirations are inching closer.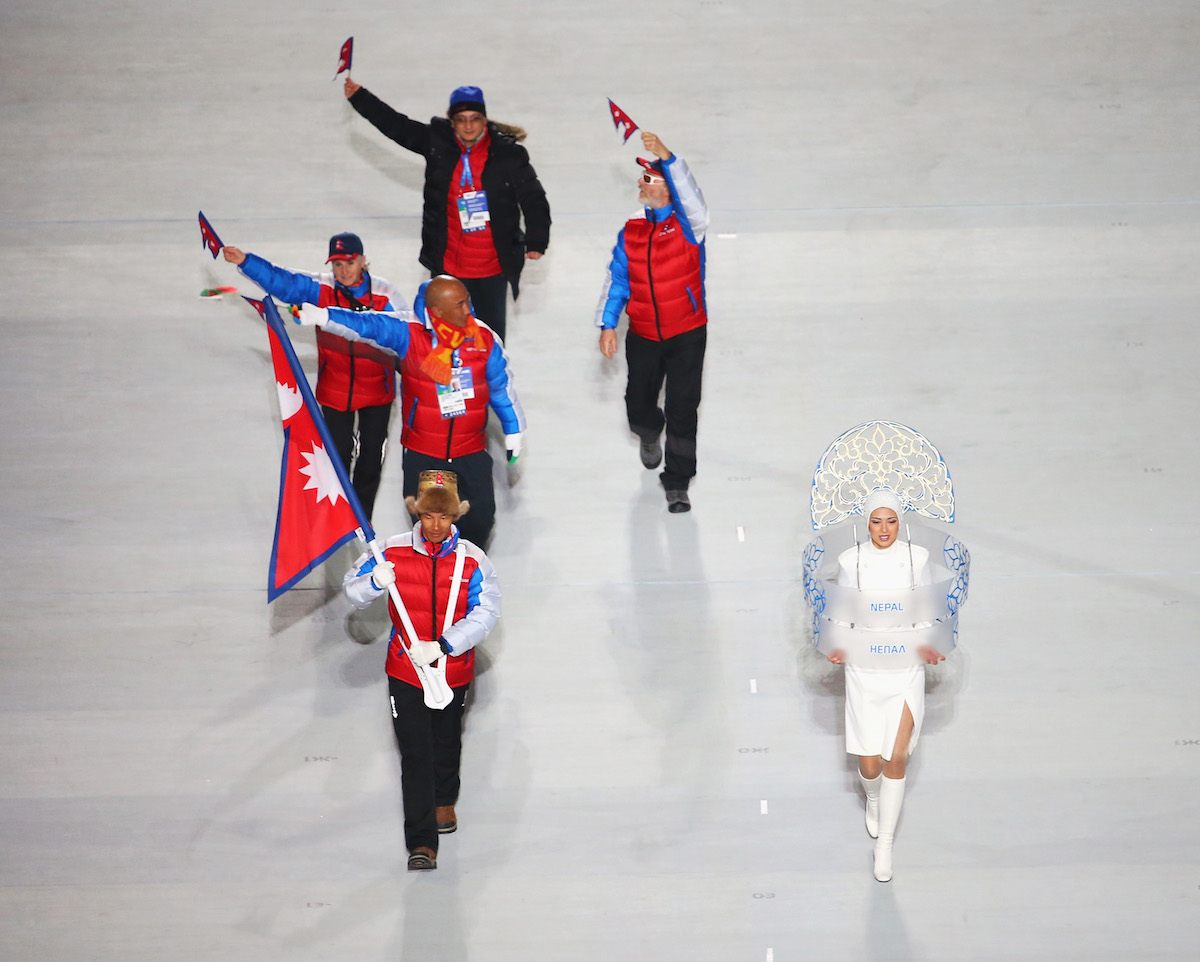 But there will need to be changes for that to happen. Sherpa, Nepal's last Winter Olympian, lives in France full-time and visits Nepal every so often. When asked about his quest to find Nepali winter sports talent, he sighs. The Nepal Olympic Committee asked him several times to be a coach, but he had trouble when he tried to follow-up with them in person. One time he met with them, they brought two professional boxers and told him to coach them. Sherpa was flabbergasted.
"I am hopeless because the people in the Committee have never put their feet in the snow," he says. Though he's seen the push from Himalayan Ski Trek, NFSS, and others, he says he's grown weary of false promises and lack of support. "I had a lot of dreams, but it's difficult in Nepal."