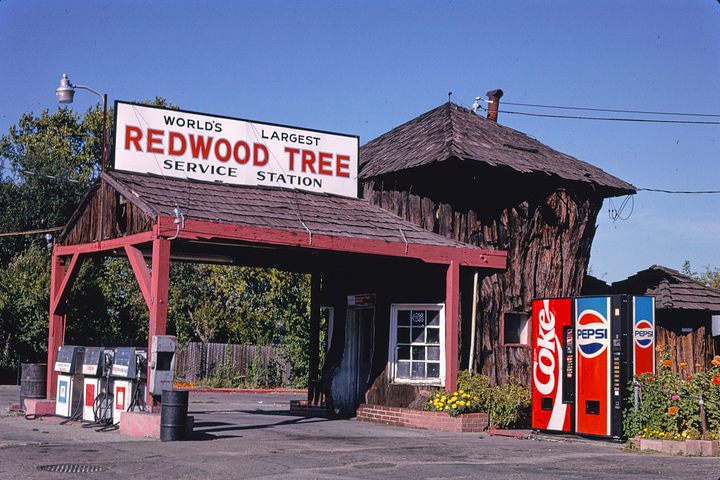 Fuel Your Imagination With Glorious Photos of Odd Gas Stations
This isn't a good time for cross-country car rides. Good thing John Margolies took a camera on his many road trips.
In 1936, a strange and eye-popping structure came to the Northern California town of Ukiah. The Redwood Tree Service Station was fashioned from wizened, gargantuan trunks, which were chopped down, hauled 17 miles, and outfitted with toilets and other cash registers. The station was hewed from a tree 17.5 feet in diameter, the Ukiah Daily Journal reported; the adjacent bathrooms were made from a different giant. The station was quite a sight for travelers with dwindling gasoline or brimming bladders.
John Margolies showed up with his camera 55 years later. The photographer and architecture critic was a dutiful and enthusiastic chronicler of roadside buildings, particularly playful or outré outposts where travelers replenished their supplies and ensured their vessels were ready to keep sailing along ribboning rivers of asphalt. In the late 1960s, American roadsides were dotted with some 236,000 such gasoline or service stations, according to the researchers John Jakle and Keith Sculle. Many of Margolies's portraits of these structures were rounded up into a 1995 book, Pump and Circumstance: Glory Days of the Gas Station; more than 11,700 of his photographs are now in the collection of the Library of Congress.
The vast trove of images evokes a time when roadtrips reigned, and travelers watched summertime landscapes blur past with the windows down and maps spread across their laps. In a season when the coronavirus pandemic is keeping millions of people close to home, dreaming of open vistas and less-heavy hearts, Margolies's pitstop photographs offer a minute of escape just as refreshing as standing in front of a blasting air conditioner. Atlas Obscura rounded up a few from the Library of Congress collection.