Inside the Dangerous, 'Wild West' World of Guyana's Pork-Knockers
Deep in the country's interior, the global gold and diamond trade begins with back-breaking labor, environmental destruction, and uncertain profits.
Guyana's port city of Bartica sits where the Cuyuni, Essequibo and Mazaruni rivers meet. It has long served as a launching point for gold and diamond miners—known as pork-knockers—on their dangerous journey into the wilderness in search of fortune. Nicknamed after the pickled peccary, or wild hog, they often eat, the pork-knockers scatter throughout the dense jungle in small mining outfits of a dozen or so people. Countless pieces of jewelry gleaming in shop windows around the world have their origins here, in the back-breaking labor of the pork-knockers and other unsung participants in the global gold and diamond trades. This is their story.
Seasoned diamond miner Clinton St. Louis has agreed to take me deep into the highlands of nearby Kurupung to see his operation at work. Our small, shared boat speeds past jagged rocks and gut-churning rapids, its captain relying on memory and a basic GPS in the near-darkness of early morning. The other passengers are hardened miners of Guyanese descent, Brazilians, Venezuelans, and an Indigenous Akawaio family. Other boats zip past carrying cases of beer and mining machinery, dwarfed by larger dredging boats that suck up the riverbed in search of diamonds and gold, creating mountainous sand banks. The jungle's impenetrable green walls tower over us on either side of the river, hiding from view the camp St. Louis runs.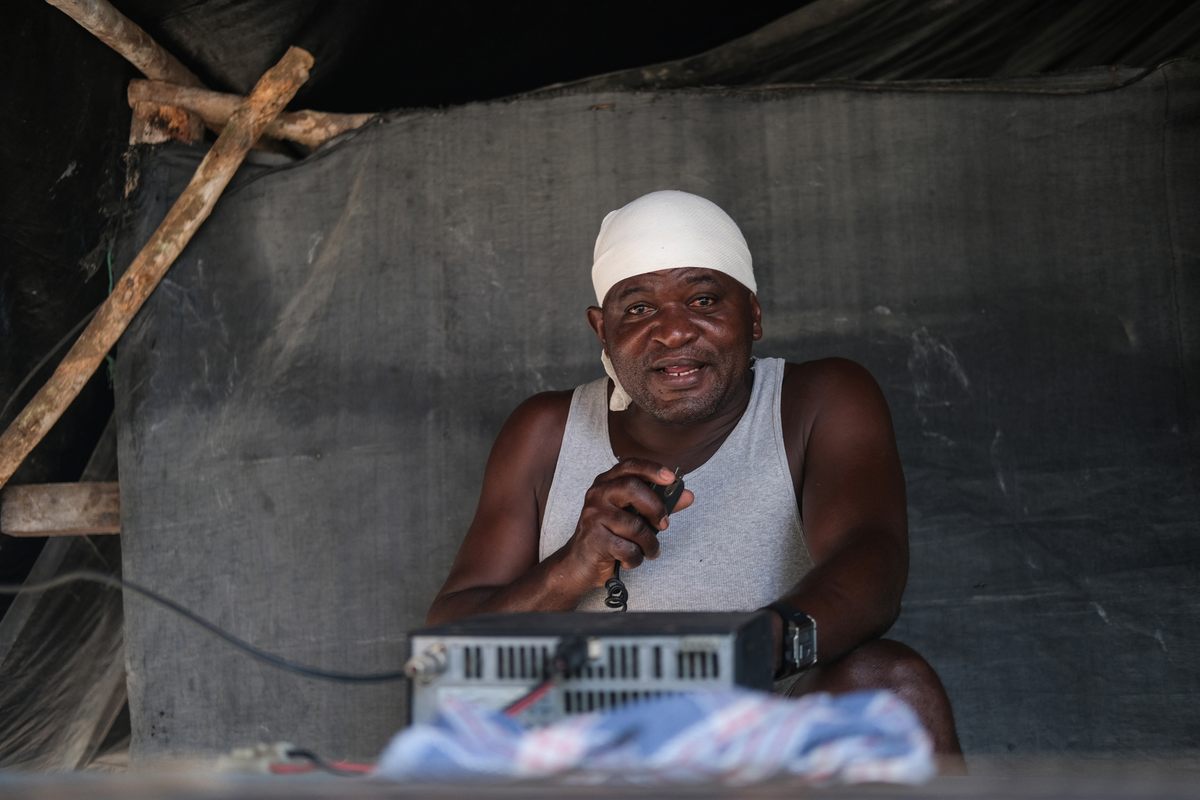 "This is my bush family," he says, introducing me to a dozen men and Daiane, the camp cook. Vishal Jagarnauth, in his late 20s and second in charge, provides a tour. The jungle surrounding the camp has been carved up, trees bulldozed and large ponds marking where the men have dug into the red earth for diamonds. "Clint pays for the camp so he gets 70 percent, and we divide the rest," Jagarnauth says. "Many of us are orphans or don't have support back home, so we find our family here," he adds. Half a dozen men are deep in a pit washing out sediment with high pressure hoses, while others pump the mud through a series of grates designed to catch diamonds.
We are not at the camp for long; St. Louis has some business with other pork-knockers upriver. Noah Beaton, at 18 the youngest member of the crew, joins us on the boat, carrying a thimble-sized container of raw gold. "He can spend it on rum or women, or if he's smart, he'll save it," St. Louis says.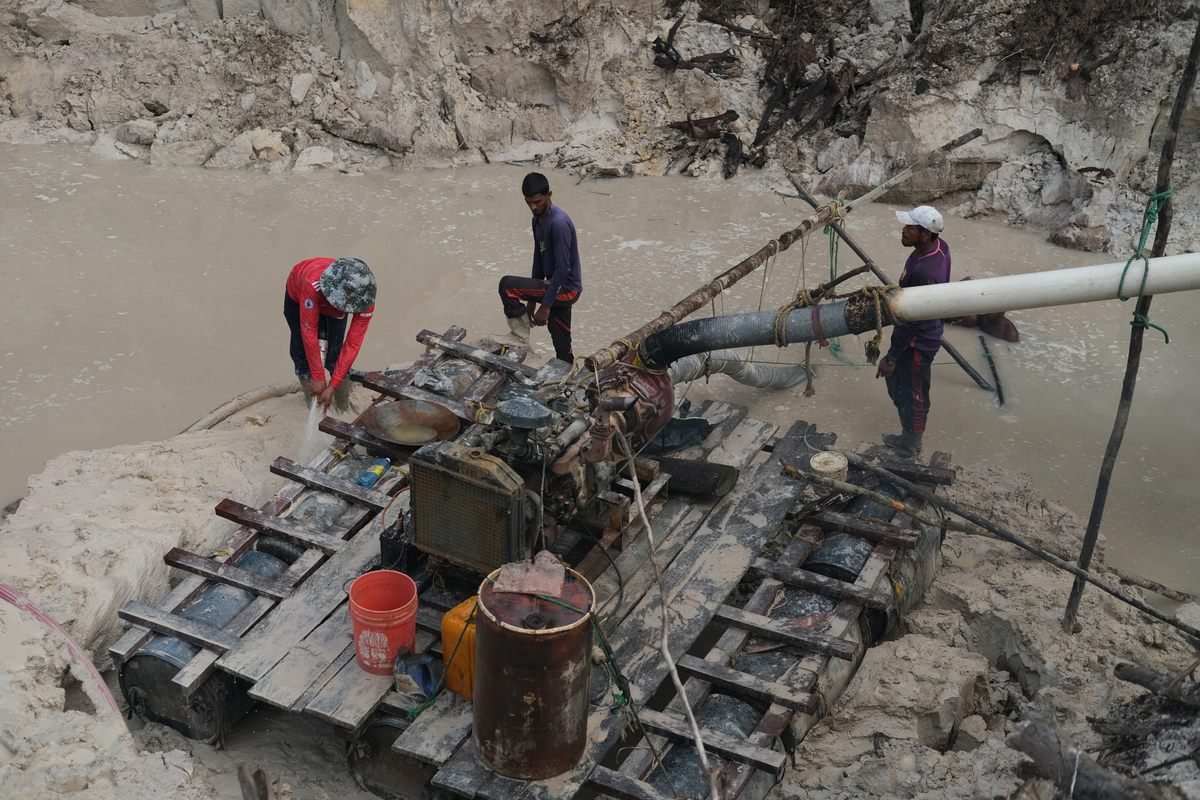 We land in Papy Show, a village where miners come to trade goods and services—and to party at several rum bars, a brothel, and a gambling house. St. Louis buys a couple of gallons of diesel, the real currency of the bush, he says. Without diesel, you are stuck in the jungle and all the mining machinery grinds to a halt. Beaton decides to trade his gold for cash, which he says he will use to catch the next boat out of the jungle and visit his mother. "Bush life is free, he is free to go and come as he likes. We are all free here," St. Louis says as we part ways.
My next destination is Kamarang, one of the area's larger Indigenous communities and popular with pork-knockers who want to get out of the jungle quickly: There's a daily flight on a single-prop bush plane. Unlike Papy Show, Kamarang is quiet. You can find standard miners' fare, such as canned sardines and Guinness here, as well as more traditional dishes: curried tapir, grilled capybara, and wild deer stew.
Jerome Frederick, a local pork-knocker in his 40s, talks business as he pours parakari, a viscous fermented beverage made from cassava and served with a plate of pickled peccary. Frederick and his uncle Benford Amos are diamond divers. They scour the river bottom while hooked up to an oxygen tank on a nearby boat, a dangerous endeavor. "The truth is, most of us Akawaio in Kamarang are uneducated, so we don't know the real value of diamonds," Frederick says. "I think we are being taken advantage of," he adds.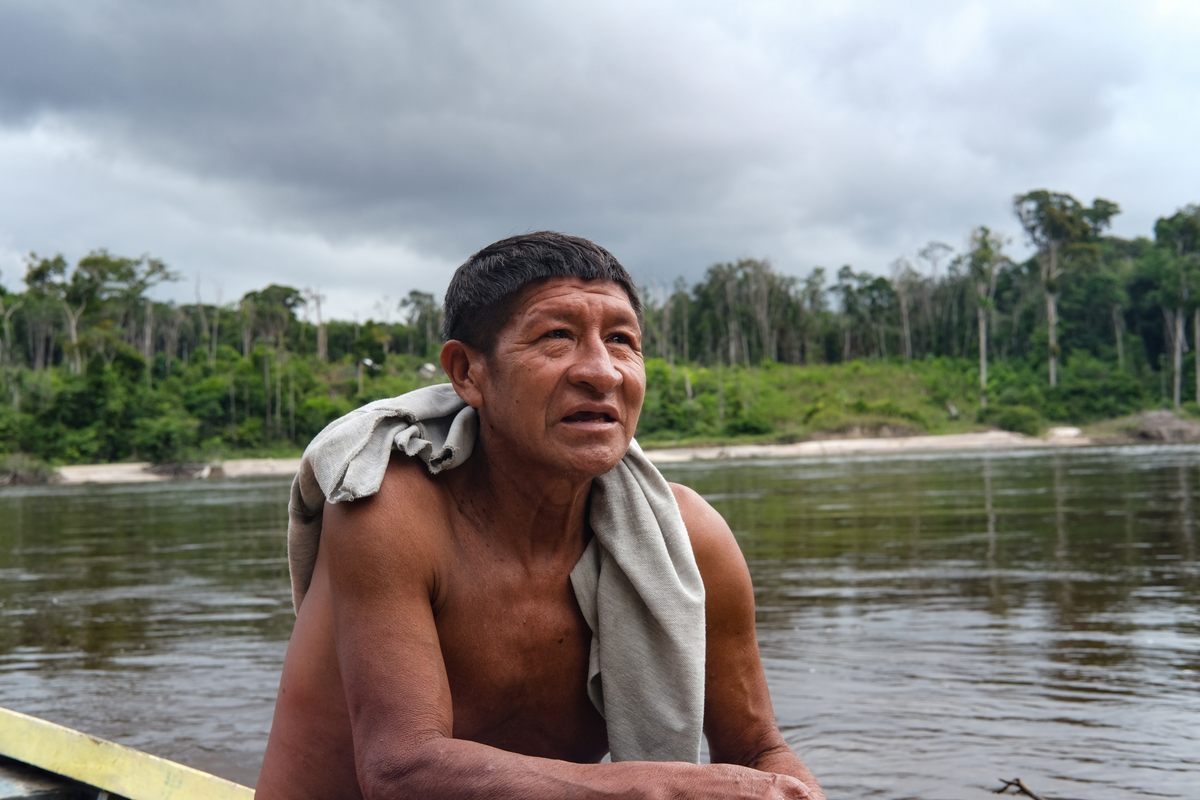 Chris Joseph, one of Frederick's younger cousins, gulps down a gourd's worth of parakari and says the only real way to make money in Kamarang is through the diamond and gold trade. "We are an Amerindian reservation, the government has given us a certain part of the forest, and as a community we can rent out parcels to pork-knockers and to the Brazilians," he says. But the rent is cheap, he adds, and there is no way to ensure that renters pay the community the additional 10 percent owed from any gold or diamond finds. The men say that many in their community worry that a lack of government oversight and corporate corruption is damaging the environment while also depriving the people who rely on it of any financial benefit.
"The times are changing," Amos says. "The Brazillians are changing the river." He says many Brazilian outfits are bringing dredge boats and other larger equipment that's both more efficient and more destructive.
Diamonds and gold found in this area often end up in Georgetown, Guyana's capital. On the flight there from Kamarang, mining operations are visible throughout the jungle below, scars of turned red earth and stagnant pools of milky blue water.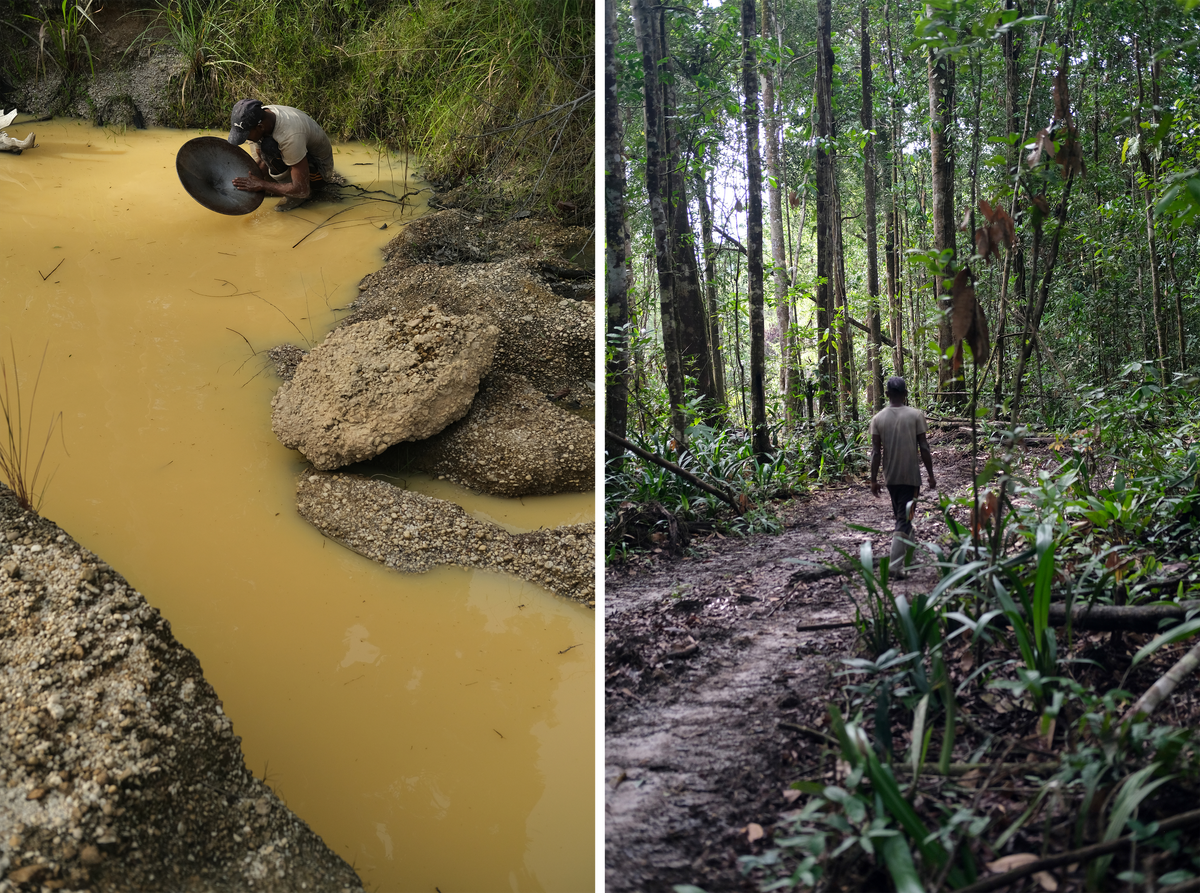 St. Louis has arranged a meeting for me in Georgetown with one of his diamond dealers. "I am sorry, brother, but it is a very dangerous trade here," says the dealer, who asks not to be named or photographed. "Last year we were assaulted and they looted hundreds of diamonds." An armed guard stands outside his office. The dealer was born in Belgium, where diamonds are a family trade. "Diamonds are an artform, and learning how to value them, by color, shape, judging imperfections, and understanding how they will be cut, takes years of training," he says as he pours raw diamonds on the table.
The dealer says that several buyers compete to purchase from pork-knockers, so the idea that the miners are being taken advantage of is not true. "Not only do I have to provide a competitive price but I also take all of the risk," he adds. If he misjudges the value or misses an imperfection, he might not turn a profit. The guard brings in a pork-knocker who has some diamonds to sell. The dealer spreads them out on a white sheet. Using a loupe, he picks out a few, weighs them, and offers cash. The whole transaction takes a couple of minutes.
"It's all a bit of a gamble," the dealer says. "I gave him more money than the diamonds are worth in the hope that he'll find something big and come to me first." The diamonds will be taken to the airport, certified, and shipped to Antwerp. There they will be sorted and sent off to Mumbai for cutting and polishing. Eventually, they will most likely end up in Dubai or New York City, the world's diamond capitals.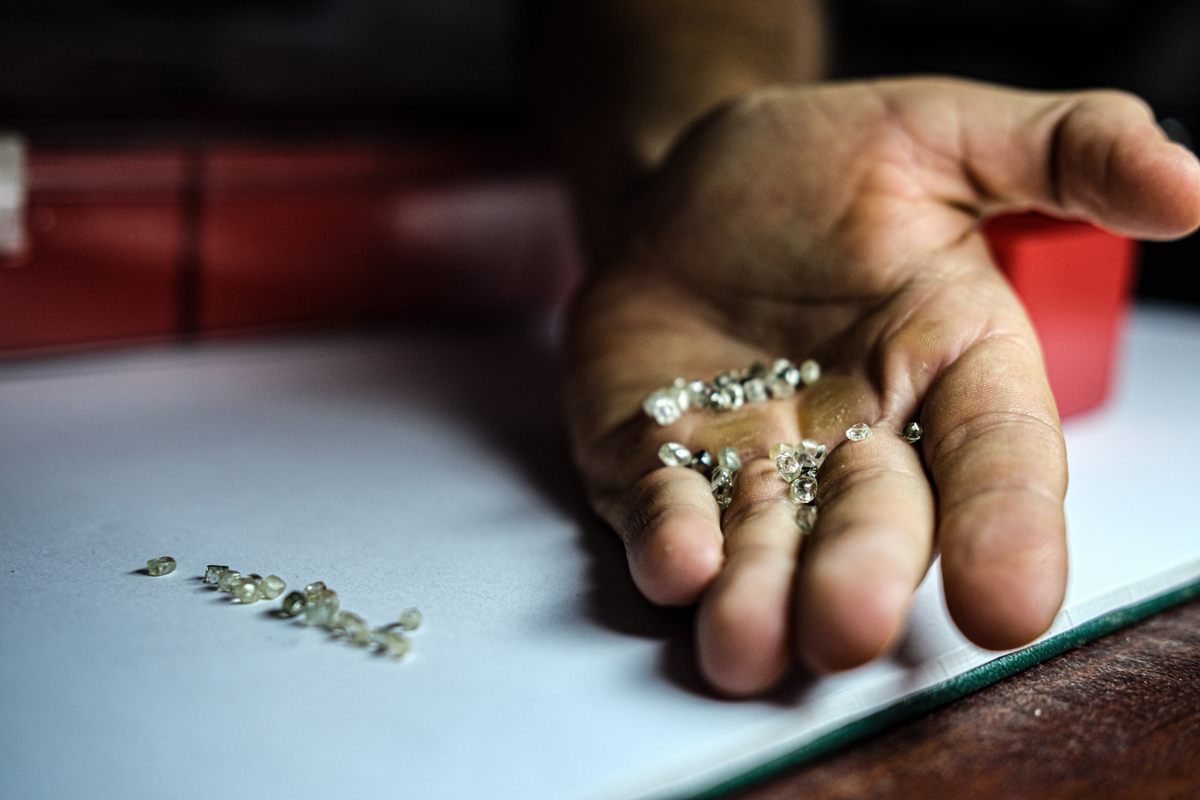 Back in Guyana, however, "It's like the wild west," says biologist Wally Prince over a meal of arepas at a local Venezuelan restaurant. The collapse of the Venezuelan economy has forced many of its citizens to Guyana, and Venezuelan cuisine is the new craze here in Georgetown.
Prince carries out biodiversity surveys in Guyana's interior for the nonprofit Global Wildlife Conservation. He believes the thundering noise of the dredges, pumps, and motors used for mining and transportation are driving wildlife away, but there are few studies to quantify this. Deforestation and changes to water clarity, which affects fish spawning, are other challenges. "The real danger is the bioaccumulation of mercury," Prince adds. The metal is still used here in the gold-extraction process, even though there are widely available methods that don't require it. Better government oversight could curb the damage wrought by mining, Prince says.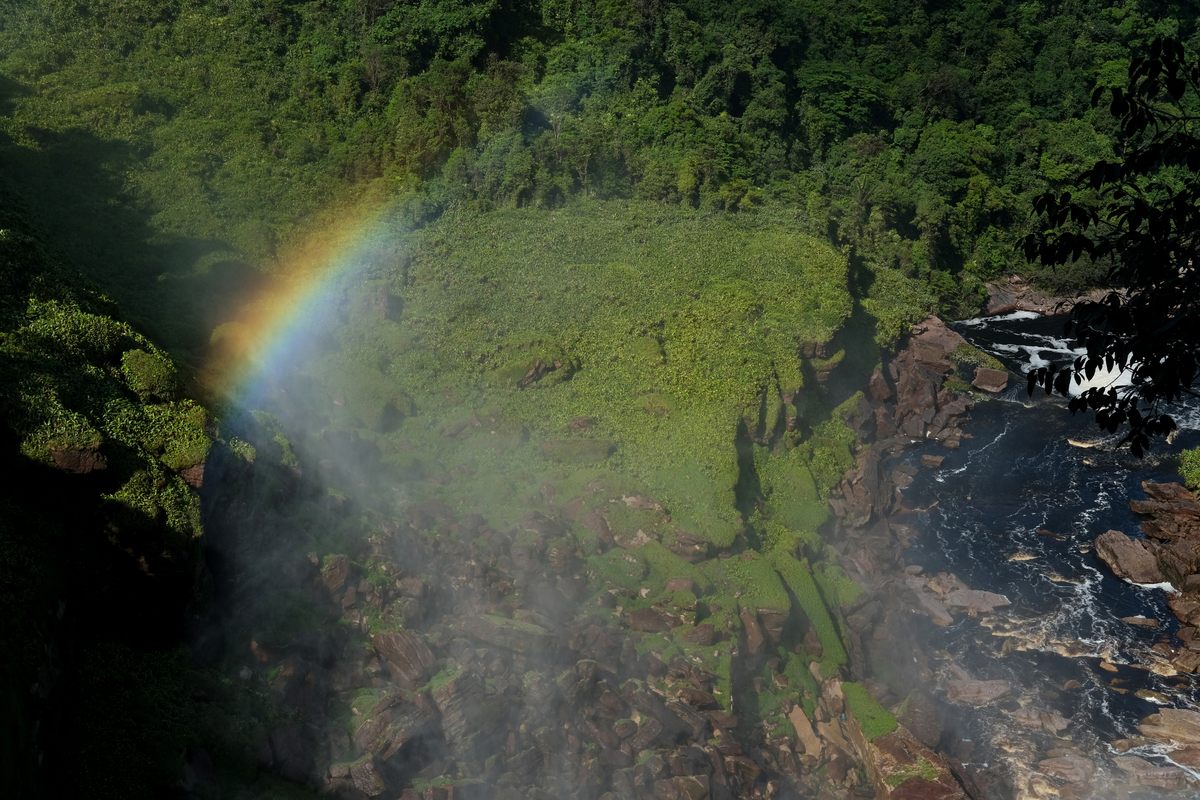 For at least some who know the trade, a broader appreciation for the region's most vulnerable ecosystems has brought transformation. "The further into the interior I went in search of gold and diamonds, the more I began to realize its rare beauty," says Frank Singh, a former pork-knocker who now runs an ecotourism company. "I now know that our greatest resources are our rivers and the jungle."
Prince, walking beside Singh along Georgetown's seawall, is not optimistic. "The problem is that some pork-knockers have no other skills," says the biologist.
Singh looks past the wall to where a cargo ship is heading out to sea, perhaps with diamonds and gold from Guyana's interior stowed securely in its hull, another step in the global trade that shows little signs of change. Singh thinks of the pork-knockers still laboring in the open pits and along murky riverbeds and says, hopefully: "Unless, of course, they are given an alternative."