Photographing the New York City Subway Cars That Retired as Artificial Reefs
How Stephen Mallon captured this unusual voyage to the bottom of the ocean.
The photographer Stephen Mallon specializes in documenting man's industrial-scale creations. During his career, he's focused his lens on the recycling industry, the largest floating structure ever built, and the transportation and installation of a new bridge in New York City. So it wasn't surprising when, in 2008, he was drawn to an unusual program spearheaded by the MTA New York City Transit system: a multi-phased artificial reefing project that saw the shells of 2,580 decommissioned subway train cars repurposed and dropped into coastal waters off New Jersey, Delaware, Maryland, Virginia, South Carolina, and Georgia, between 2001 and 2010.
Mallon arranged to follow the outdated subway cars as they were prepared and cleaned, loaded onto barges, and finally plopped into the sea. As he traveled with a crew in a tugboat to get his shots, the photographer developed his sea legs.
"I was never underwater, so just needed to keep myself steady on the back of the boat. It's kind of like surfing or skiing—just keep your balance, keep the horizon line straight, bend your knees, and don't fall overboard," Mallon says.
With his Canon camera, Mallon shot more than 6,000 frames (only a tiny fraction of which are shown in a new exhibit, Sea Train: Subway Reef Photos by Stephen Mallon, currently on display at the New York Transit Museum) over the course of three years.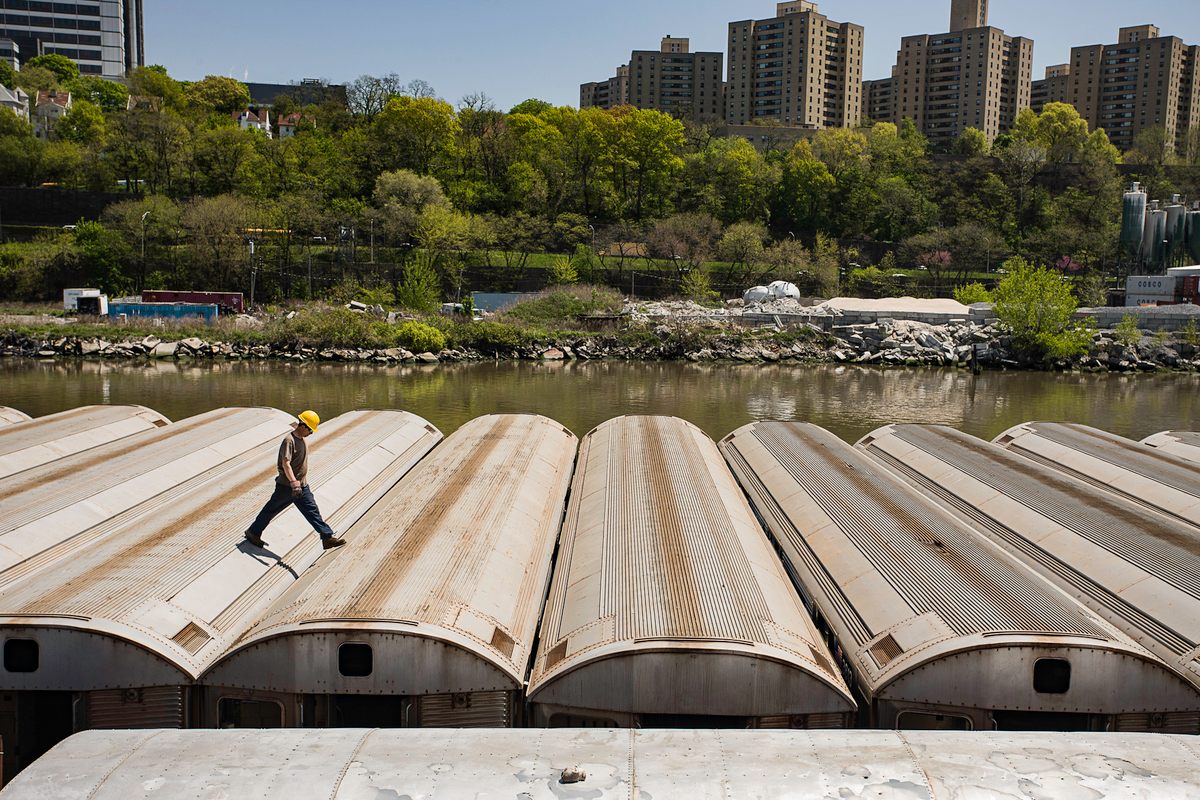 Though the subway car reefing project came to a close in 2010, its effects are evident today. "The subway car reefs have created almost 2 million cubic feet of new habitat for fish and invertebrates off South Carolina," says Robert Martore, artificial reef coordinator with the South Carolina Department of Natural Resources.
Not all of the repurposed subway cars have performed as well as hoped, however. The "Redbird" models have held up well in deep waters ("about 90 percent of them remained intact and upright after 15 years," Martore says), but the "Brightliner" cars have been a disappointment, with many collapsing after less than a year. Regardless, all of the subway car reefs have attracted attention from fishermen and divers, including Martore himself.
"The subway cars have always been some of my favorite diving off South Carolina. The variety of fish life is usually outstanding," he says. "Occasionally we see pods of dolphin coming to feed on the tremendous schools of baitfish above the cars, and sea turtles are often found sleeping in and under the cars."
Coordinates for the artificial reefs in South Carolina are available to the public, so anyone with access to a boat can visit them. For those who can't make it in person, Mallon's hard-earned, large-format photos provide an intimate view of how machines that once transported people in the city found new life as homes to sea creatures in nature.
Sea Train: Subway Reef Photos by Stephen Mallon is on exhibit at the New York Transit Museum through June 16, 2019.