The Story Behind the 'Space Window' at D.C.'s National Cathedral
Embedded inside it is a 3 billion year-old moon rock.
Fifty years ago this month, Apollo 11 left Earth, traveled through space and landed on the moon. A souvenir from that mission is embedded in a stained glass window at the National Cathedral in Washington, D.C.
The Scientists and Technicians Window—better known as the Space Window—was installed in 1974 and is located about halfway through the cathedral's nave. It exists in large part due to Francis B. Sayre Jr., who served as the cathedral's dean in the early 1970s. He had already made a reputation for himself as a progressive-minded clergyman by loudly opposing Joseph McCarthy and marching with Martin Luther King, Jr., at Selma. His hope was to give the cathedral a uniquely American work of art that would separate it from other great churches around the world. Sayre teamed up with former NASA administrator Thomas O. Paine, who largely financed the window, to commission the St. Louis-based artist Rodney Winfield to commemorate the United States's greatest scientific achievement: Apollo 11's mission to the moon.
Winfield, who had created works for churches and synagogues across the country, was well-versed in creating religious-inspired stained glass, but this was a collaboration of art, science, and religion. The project wasn't without its hurdles. In his journals, the artist described the process as arduous. NASA had its requirements, providing Winfield with detailed instructions and unclassified photos of space and rocketships. The cathedral also had specific "dos" and "don'ts" to ensure the window fit into the architecture as a whole. And, of course, the artist had his own vision. Winfield proposed 11 different designs, but all were rejected.
Winfield wrote in his journal that he got discouraged and was close to giving up. But he kept working. Winfield died in December 2017, but his daughter Robin Winfield, an artist herself, says her dad was one of those who never settled.
"My dad constantly kept working until he got it to that right moment," says Winfield. "He always reworked, no matter what he was being paid or how much time it took him. He was really a perfectionist."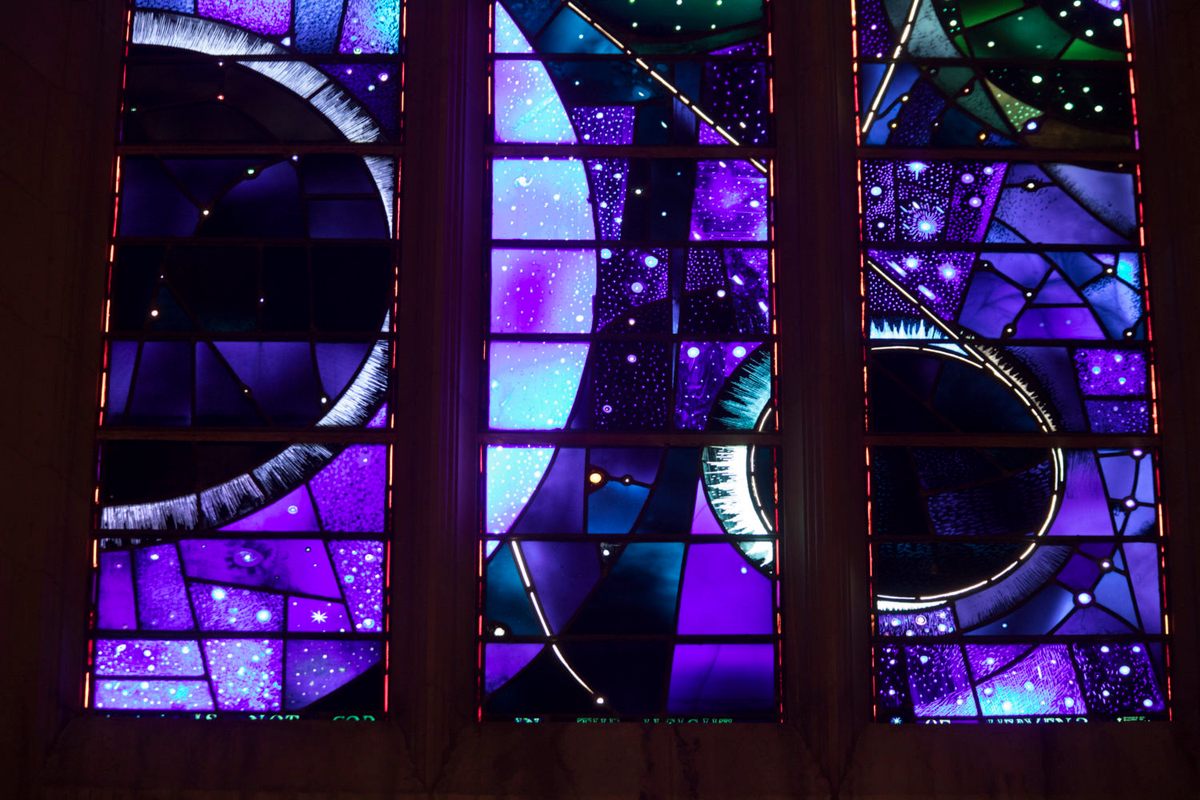 It was when he threw out the rulebook that he had his breakthrough. In his journal, Winfield describes the artistic process that lead him to create the design that ultimately was accepted.
"That was when I decided to forget all the limitations of the visual elements provided me by NASA," he wrote, "And simply do a window that would show the immensity of the universe." His 12th, and final, proposal was a boldly-colored, geometric design with dark spheres and tiny stars. It's what we see today at the National Cathedral.
On July 21, 1974, on the fifth anniversary of the Apollo 11 mission, the window was officially dedicated in a ceremony at the cathedral. Sayre, Paine, Winfield, and all three Apollo 11 astronauts were attendance (in 2011, Winfield said getting the astronaut's autographs was like "getting Columbus's autograph"). Of the astronauts, it was Michael Collins who had the most personal connection to the setting. Collins spent part of his childhood in D.C. and had graduated from St. Albans School, located next door to the cathedral.
Decades later, from his home in South Florida, Collins said that what he loves most about the window is how it fits in."Everything else at the cathedral commemorates the old. Here's something that commemorates the new," says Collins. "I like that juxtaposition of the incongruous. The old and the new side-by-side." He calls Winfield's work of art a "masterpiece."
When the window was unveiled in 1974, it was missing an important component: the moon rock. It actually wasn't installed until 1977, due to a fear of vandals. So, for three years, in its stead was a black paper circle. When the moon rock was finally embedded, it was a silver-dollar-sized sliver of a 3.5 billion-year-old-basalt rock that was picked up by Neil Armstrong at the Sea of Tranquility. It's the only moon rock that was given to a non-governmental agency. Winfield said the first time he got to handle it, he noticed how slim it was. "It was very, very thin. You could see through it," said Winfield in 2011. "It was translucent."