This Halloween, Step Into a Mannequin Graveyard
You can even take these unnerving, almost-human figures home with you.
In Lincolnshire, England, Roz Edwards is known as the "Mannequin Lady." Over the past fifteen years, Edwards has built an impressive a collection of some 15,000 human-like forms. She regularly rents them to shows like "X Factor" and "Top Gear," but she has amassed so many that the majority now form a mountain. The 20-foot-tall mound that stretches for 150 feet was originally christened Dollywood, but is now called Mannakin Hall—to sound more posh, Edwards jokes. Photography, film and music video shoots have used the mannequins as creepy backdrop.
And Edwards now offers what might be the world's most unique souvenir: For about $70, you have 15 minutes to fill your car trunk with as many mannequins as you like; she calls it the "Body Part Heist." Atlas Obscura chatted with Edwards about — literally — building her unique business and the unexpected appeal of mannequins.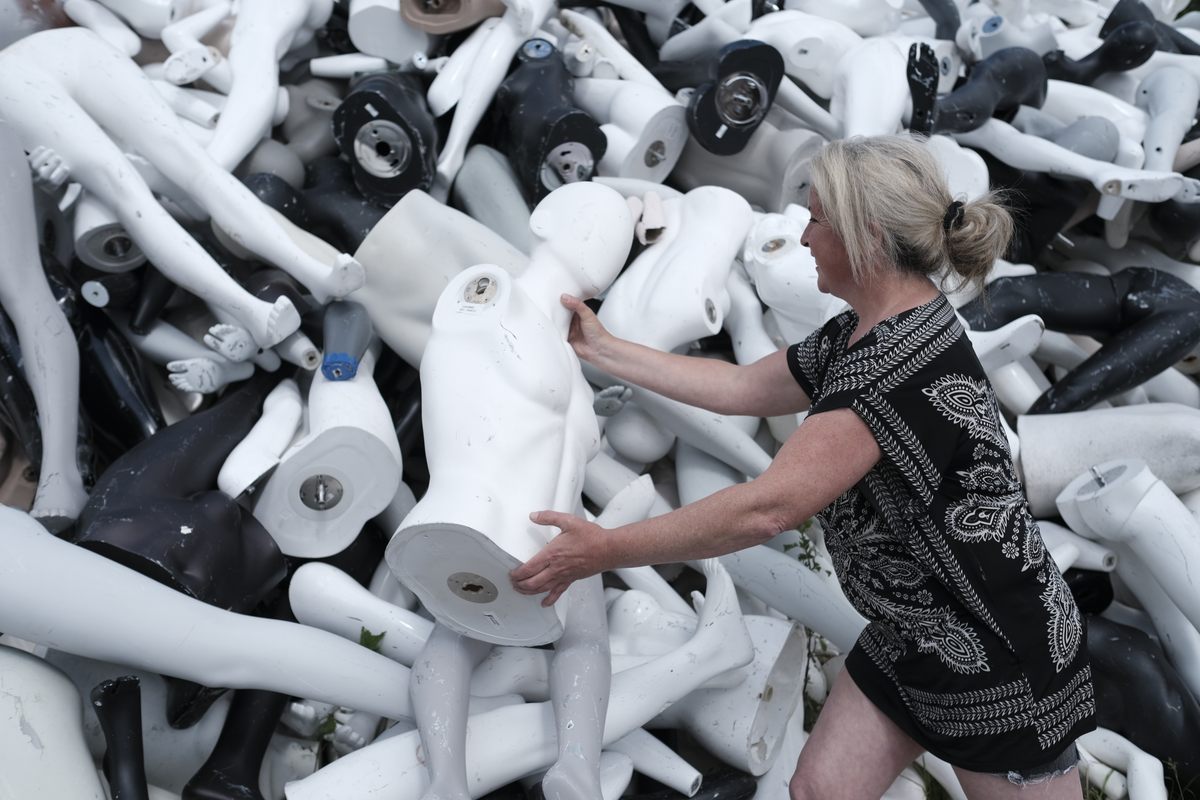 What inspired you to start Mannakin Hall?
I lived in Malawi for 10 years, went through a relationship breakdown, and returned to England with literally nothing. I was determined to get a business going. I used to have an African art shop, so I thought I'd be a retail consultant. Whilst I was building the website, I thought "What else can I write about retail?" So I wrote down everything I knew. Then I thought, "I don't know anything about mannequins." I got pictures off the internet and wrote, "These mannequins are for hire and here's my phone number." Within 24 hours my phone started ringing with people asking for them. But I didn't have any mannequins, so I said, "Oh, terribly sorry, they're all out on hire at the moment."
How did you go from zero mannequins to a mountain?
This was about the time the credit crunch started in 2007. A lot of shops were closing, especially people who had clothing businesses for years and had all these old mannequins. I drove around the countryside picking them up. They take up a lot of space. I had mannequins in the house, then I moved them into a shipping container, and then I rented a warehouse. The business was doing well, so I bought a property. When the trucks first started coming, we said, "Well put the men there, the women there, the children there, the legs there, the bums there." Then we'd have four big trucks a day. It was a case of " just empty them there." That's how the mountain grew. We've got about 3,000 for rent. In the mountain, I'm not sure of the number because when you start counting, it's like herding cats.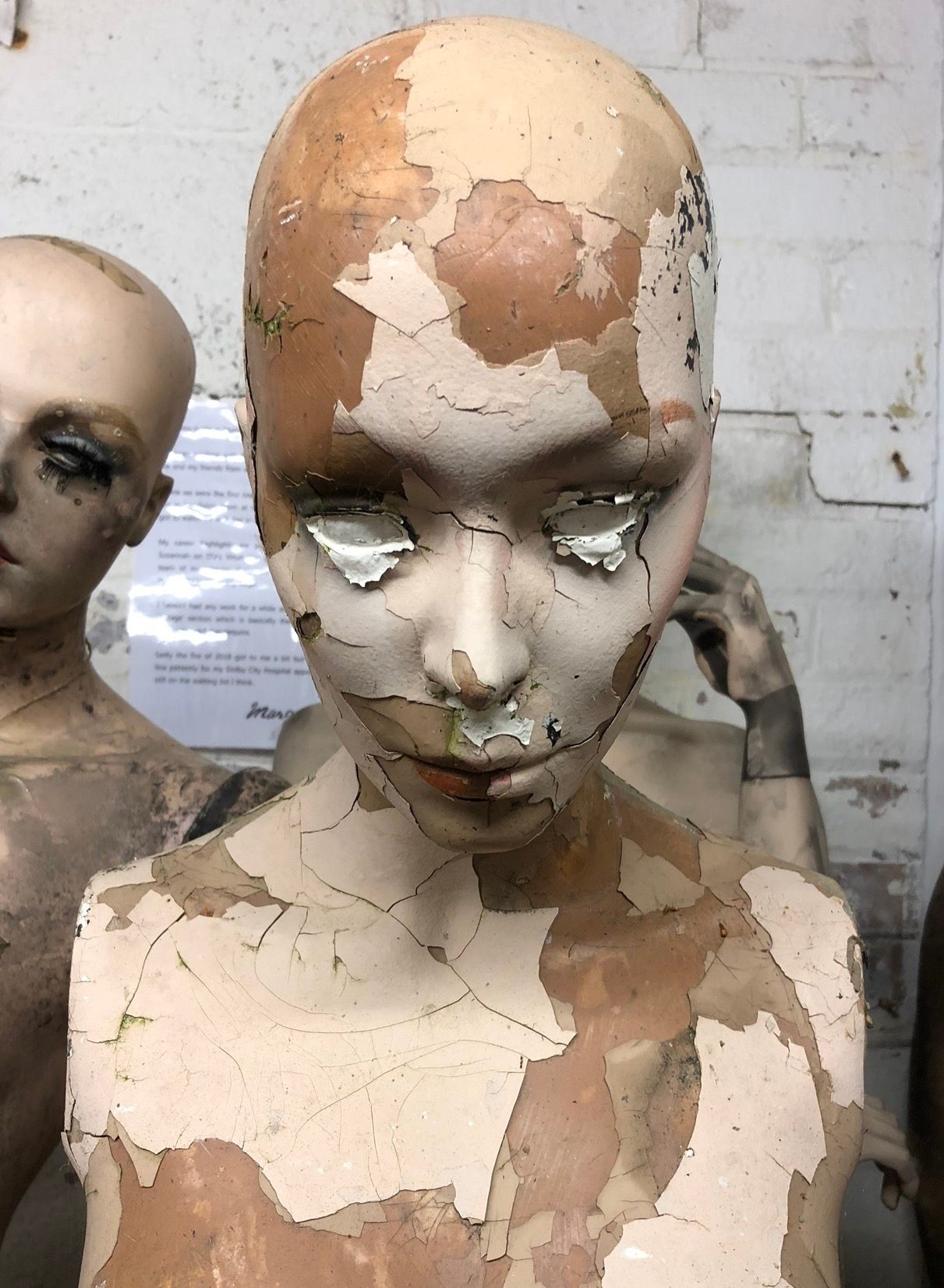 What makes mannequins appealing?
First of all, they're very unusual things to look at. We're geared up as human beings to respond to the human form. Mannequins attract our attention because if we see the shape of a human out of the corner of our eye, our survival instincts are geared to turn the head and look. They're so unusual, visually, when they're bought into creative environments. For a Halloween-inspired performance, "X Factor" rented about 10 mannequins to go along with 10 dancers. The mannequins were all white with plain faces and the dancers wore white body suits. Obviously they moved but the mannequins didn't. It looked amazing.
You also specialize in obscure mannequins; what are some of the most interesting ones?
We have one we named Audrey after Audrey Hepburn. Christie's is one of my clients and they were auctioning all of Hepburn's clothes, so they needed the right-sized mannequin, with a 21-inch waist. I also have a full-sized artist's mannequin called Bertie. Artist mannequins are articulated; you compose them for what you're drawing. He's very rare. Also sizing: Most mannequins are between sizes 8 and 10. We have bigger ones that are 16 to 18 for plus-sized fashion, but they're quite rare.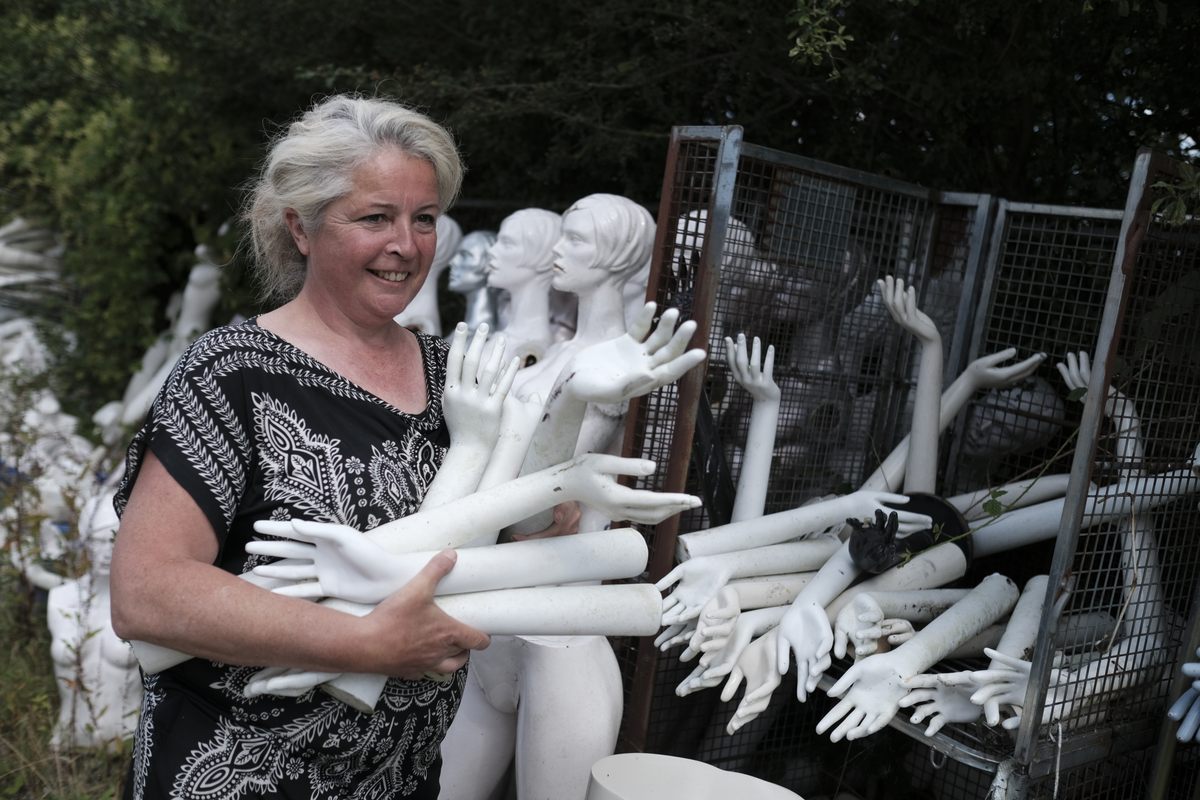 Who participates in the "Body Part Heist"?
We just had somebody who's building a Halloween set in their garden for which they'll probably put a bucket outside and raise money for charity. We had a university fine art tutor who collected bits for his students to work on as blank canvases. We've had people making props for films. One person was building a robot, which is so cute. Then we get lots of people who've got a small business or side hustle. They make lamps or planters with the body parts and then decorate and sell them, usually somewhere like Etsy. I mean it really caters to everybody.
What would happen to these mannequins if they weren't a part of the mountain?
Normally they get crushed and go into landfill. I've seen it with the roller crusher; it's heartbreaking. The new ones are made of hard plastic resin, but old ones are made of fiberglass, which you can't recycle. When you look at mannequins being thrown away, there's nothing wrong with them. They need a bit of repair here and there.
This interview has been edited for length and clarity.