This Restaurant Has Wed Six Couples in Pools of Chocolate
Desserted at the altar.
Cleo Gakshteyn had not planned to get married in a kiddie pool whose contents reached her shins. But thanks to one restaurant's penchant for pageantry, her wedding, literally dipped in chocolate, became the prelude to a 20-year union made all the sweeter for its unique backstory.
In 1999, Gakshteyn (née Londoño) was running a tiny two-room spa in Manhattan with her boyfriend, David. One chilly February day, Joe Calderone came in for a facial. On the spa table, Calderone mentioned a wedding he was planning in order to promote Serendipity 3, the Upper East Side restaurant where he worked as creative chef and public relations manager. He was looking for a couple, he said, who'd get a free, Valentine's Day wedding as long as they agreed to marry in front of New York press in a tub of the restaurant's iconic Frrrozen Hot Chocolate.
"You don't feel like getting married?" Calderone asked Gakshteyn. "Hold on, let me ask David," she replied, half-seriously. As Calderone lay waiting for his facial mask to dry, Gakshteyn proposed marriage to her boyfriend. David said yes. (He actually said, "Okay," recalls Gakshteyn.)
Within two weeks, Cleo and David Gakshteyn were wed. "The thing that I remember the most is the flashing lights," Cleo Gakshteyn says, of the many photographers present. The house of Vera Wang made her a chocolate-colored wedding dress. The groom wore a top hat and a jacket previously seen on Mick Jagger. The jeweler, Harry Winston, loaned a two-million dollar, chocolate-brown solitaire diamond pendant that came with two accompanying bodyguards. There was champagne, a wedding cake, and a chocolate-inspired menu featuring chocolate pancakes and chicken breasts in mole sauce. The pornographic model Robin Byrd walked the future Mrs. Gakshteyn down the aisle. (The original choice, Fabio, the romance-novel cover model, was in an accident involving a goose and a roller coaster.) A judge officiated, and the wading pool of chocolate was mercifully not frozen.
The restaurant industry is a tough business, and according a 2016 New York Times article, it's harder for an independent restaurant to thrive in New York City than, say, Los Angeles or San Francisco. In 2018, the city lost 6,000 restaurant jobs as restaurateurs cut labor costs to stay afloat. That Serendipity 3 has survived since 1954, steadily seating Frrrozen Hot Chocolate fans under its canopy of Tiffany lamps, is a witchcraft as preternatural as its larger-than-life desserts. In a cutthroat industry, where not even excellent reviews and Michelin Stars will keep you in business, Serendipity's operating model prioritizes conspicuous consumption. Its management has collected Guinness Book records for the world's most expensive sandwich, sundae, burger, and milkshake. They've also organized other stunts, such as hosting a couple who got married (to each other) 109 times, including once at the restaurant. It's a novel way to remain in public memory, and given the establishment's longevity, an effective one.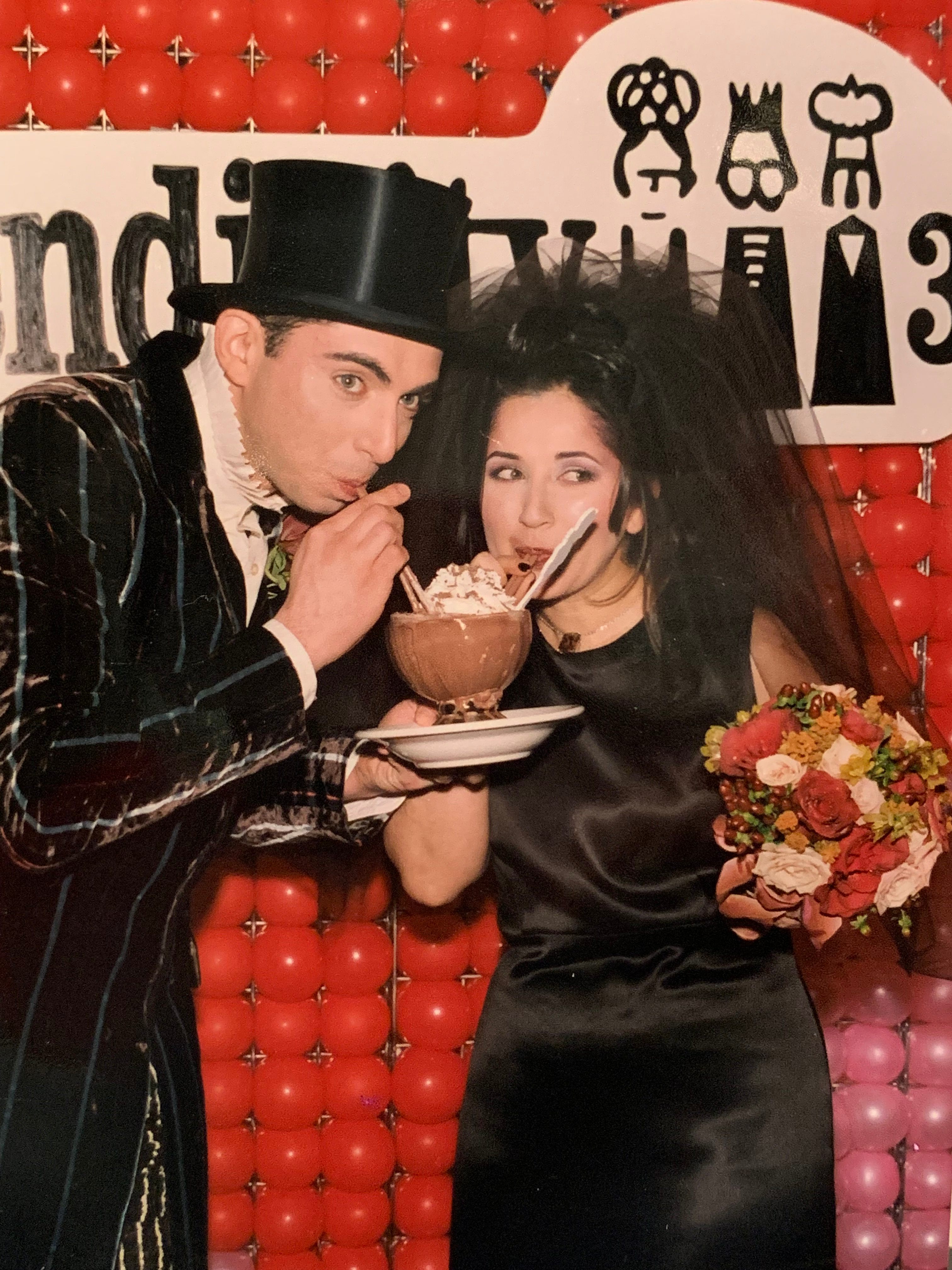 If Serendipity 3 is a church of spectacle, then Joe Calderone is its presiding god of excess. The chocolate-pool nuptials were his idea. "The weddings were crazy, fascinating, and very opulent at the time," he says. He's responsible for the restaurant's most outlandish publicity stunts, including the Golden Opulence Sundae: scoops of vanilla ice cream with edible gold leaf and dots of Madagascar vanilla straight from the bean, topped with a gold-plated sugar flower and sauce from the world's most expensive chocolate, all served in a Baccarat crystal goblet. A Saudi royal, Calderone says, once ordered Golden Opulence Sundaes for his table. "He had his servant pay in cash for six $1,000 sundaes."
Today, Serendipity 3 may have lost the limelight, but it continues to enjoy a following among the rich and famous, locals, and tourists alike. In its heyday, Andy Warhol was a regular, paying his tab in drawings, before he'd achieved celebrity. Jacqueline Kennedy visited, as did Marilyn Monroe. The Rockettes have swung shapely legs over the table, enjoying dessert in crystal coupes. The Kardashian-Wests sometimes walk in. Parents and grandparents bring their children for indulgent milkshakes and a moment of nostalgia.
There's still occasionally a line for a table. Servers, balancing trays full of Frrrozen Hot Chocolate, maneuver their way past selfie-takers admiring the décor. There's a fuchsia wall bedazzled with circular convex mirrors of various sizes. A disco ball radiates light from an explosion of Tiffany lamps blooming from the ceiling. There's no escaping your reflection, there are mirrors everywhere—vintage, beveled, golden-edged, antique wooden. The vibe is a bit like walking into a posh funhouse. This is New York as the Empire State: sybaritic showiness masquerading as quirky and fun.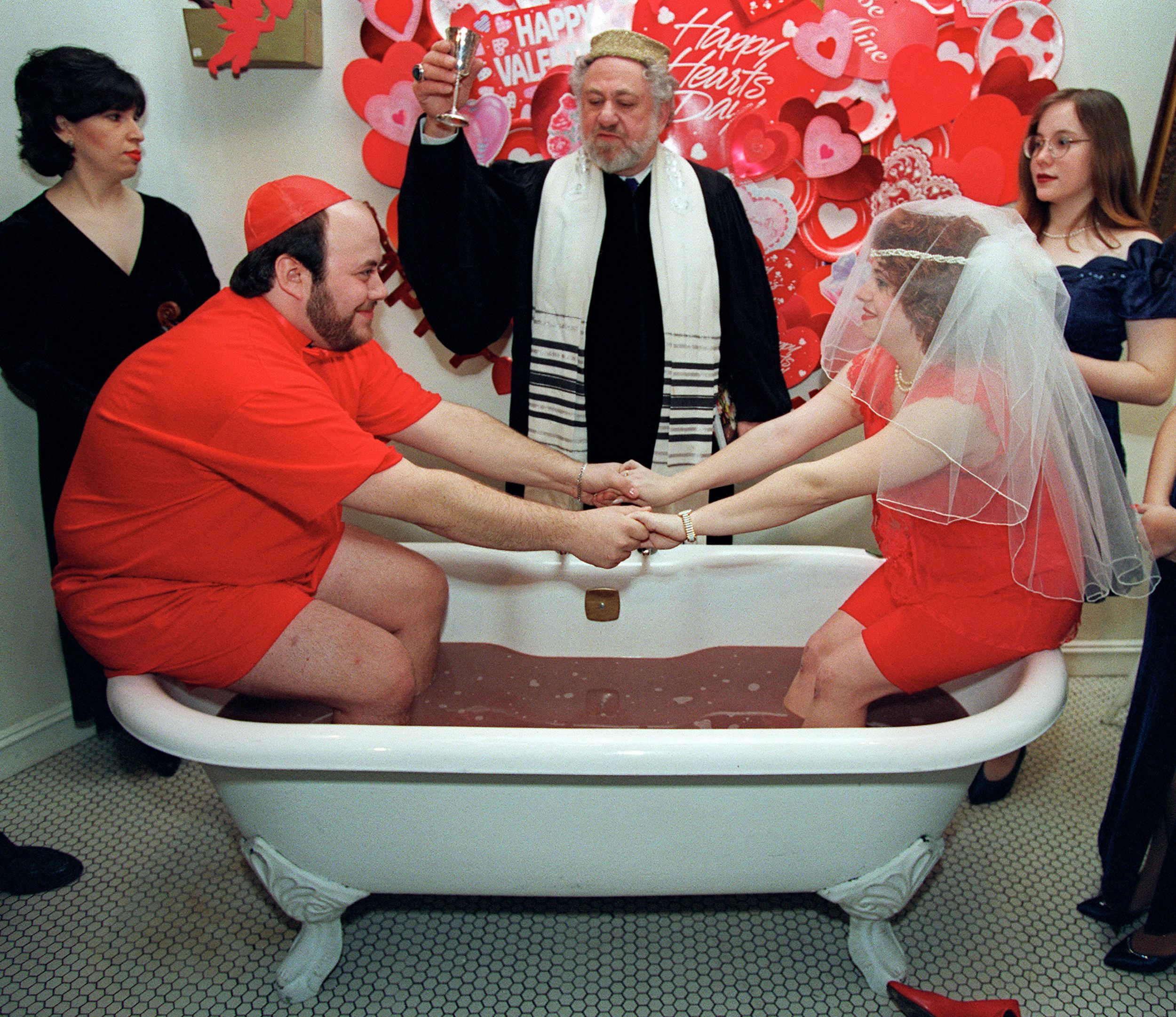 Over the years, six couples have married in a tub or pool of frozen hot chocolate at Serendipity 3. Only the Gakshteyns have done so twice. In 2014, the couple celebrated their 15th anniversary by renewing their vows in a slightly muted, but similar ceremony at Serendipity 3. The tub of chocolate was there, but the couple chose their own attire. No pornstars this time, just some family and friends, including the couple's two sons.
Serendipity, a word that means happy accident, has defined the Gakshteyns' lives. A chance encounter with Calderone sparked the decision to get married, leading to a lifelong union. "I had no expectations, because I wasn't expecting to get married when I did," says Cleo Gakshteyn. Although the couple had a traditional wedding in a synagogue a month later, she has no regrets about getting married for a publicity stunt. "It was so gorgeous and beautiful," she says.
Gastro Obscura covers the world's most wondrous food and drink.
Sign up for our email, delivered twice a week.