The Rude, Cruel, and Insulting 'Vinegar Valentines' of the Victorian Era
Nothing like getting surprise hate mail from a would-be lover on February 14.
In the 1840s, hopeful American and British lovers sent lacy valentines with cursive flourishes and lofty poems by the thousands. But what to do if you didn't love the person who had set their eyes on you?
In the Victorian era, there was no better way to let someone know they were unwanted than with the ultimate insult: the vinegar valentine. Also called "comic valentines," these unwelcome notes were sometimes crass and always a bit emotionally damaging in the anti-spirit of Valentine's Day.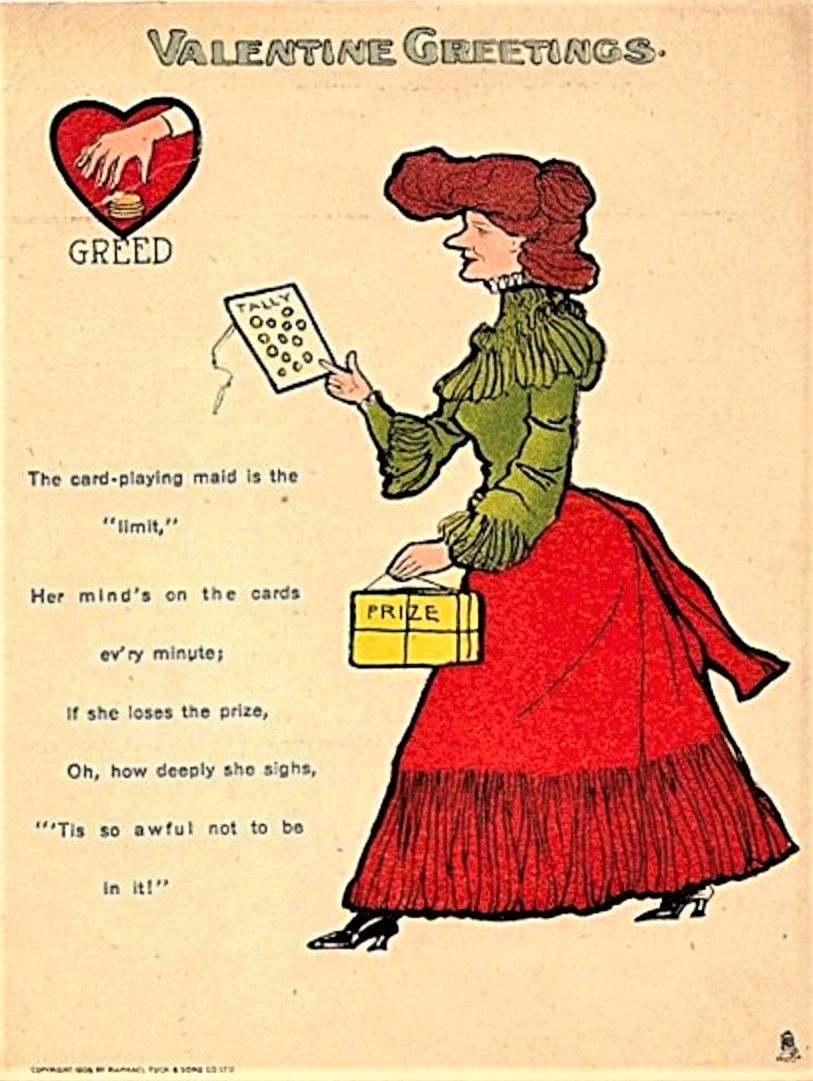 Vinegar valentines were commercially bought postcards that were less beautiful than their love-filled counterparts, and contained an insulting poem and illustration. They were sent anonymously, so the receiver had to guess who hated him or her; as if this weren't bruising enough, the recipient paid the postage on delivery. In Civil War Humor, Cameron C. Nickels wrote that vinegar valentines were "tasteless, even vulgar," and were sent to "drunks, shrews, bachelors, old maids, dandies, flirts, and penny pinchers, and the like." He added that in 1847, sales between love-minded valentines and these sour notes were split at a major New York valentine publisher.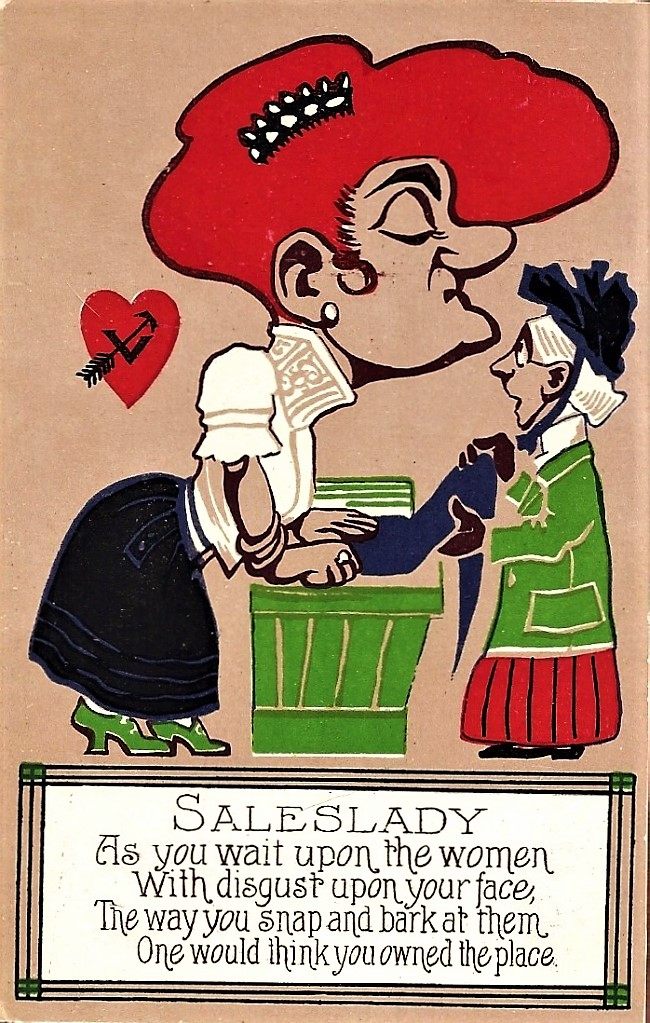 Some vinegar valentines were playful or sarcastic, and sold as comic valentines to soldiers—but many could really sting. "Lady Shoppers" and salesmen were sent or handed vinegar valentines admonishing their values; some vinegar valentines called physicians names like "Doctor Sure-Death" (a character who ran expensive bills), and others chided the "stupid postman" who was sending the note. One vinegar valentine titled "Old Maid" and reprinted by Orange Coast magazine in 1984, is more than a little harsh: "'Tis all in vain your simpering looks, / You never can incline, / With all your bustles, stays and curls, / To find a Valentine."
The women's suffrage movement of the late 19th and early 20th century brought another class of vinegar valentines, targeting women who fought for the right to vote. While only a small percentage of mean-spirited cards were devoted to suffragists, Kenneth Florey argues in American Woman Suffrage Postcards that "it is clear from their context that an interest in women's rights was an inherent part of one's distorted personality." These cards depicted such women as ugly abusers. It isn't known whether these were sent directly to troll women's rights activists or if they were sent to like-minded friends who disagreed with the movement.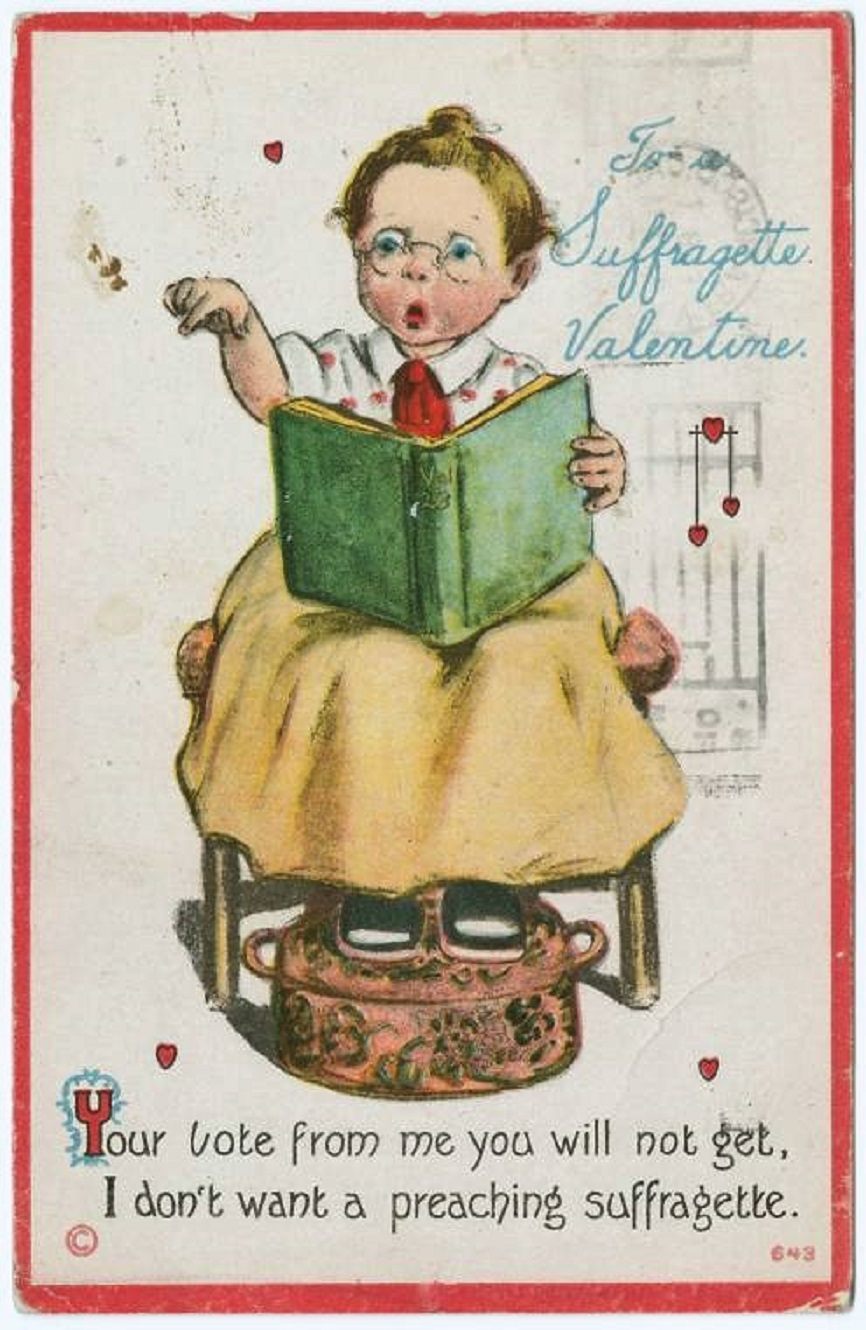 Suffragists did have their own pro-women's rights valentines to pass around on February 14. Florey wrote that one threw shade on anti-suffragists with the phrase "no vote, no kiss." But, in light of the supposed unattractiveness of suffragists (according to men), many 19th-century women enticed their would-be lovers by sending cards that denied support of the women's rights cause. One of these cards, quoted by Florey, depicted a pretty woman surrounded by hearts, with a plain appeal: "In these wild days of suffragette drays, I'm sure you'd ne'er overlook a girl who can't be militant, but simply loves to cook."
Many vinegar valentines from the late 19th century were drawn by Charles Howard, who put ridiculous caricatures of the sorry recipient in full color. An issue of Kindergarten Primary Magazine from 1895 worried about the moral implications of these cards for children; a teacher from Iowa wrote that she staved off the "desire to send vulgar valentines" by telling students stories from St. Valentine's treacherous life. The magazine said that teachers must do what they could to help "make it a day for kind remembrance rather than a day for wrecking revenge."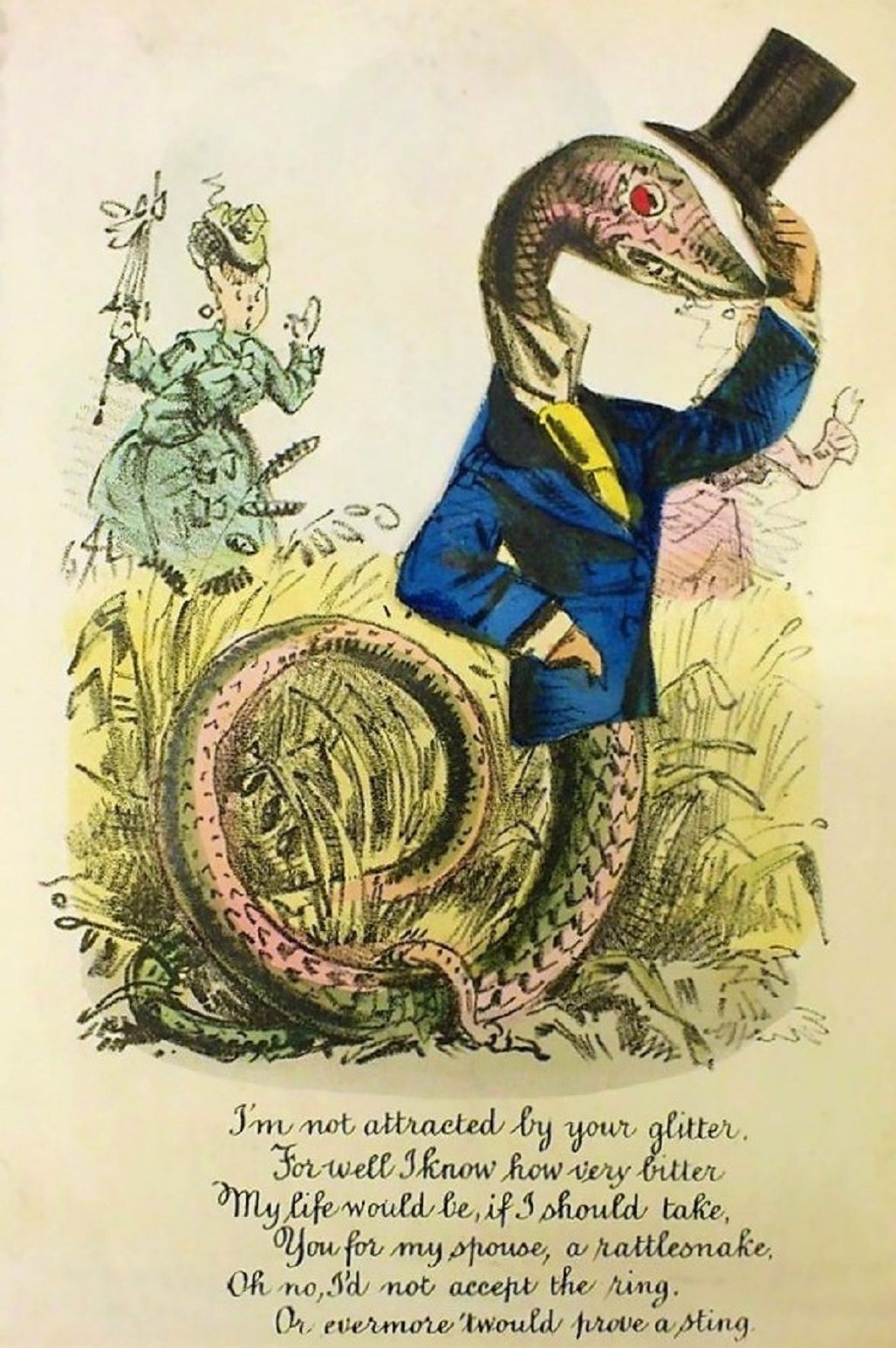 Valentines and vinegar valentines alike were once a booming business; in 1905 San Francisco, 25,000 valentines were delayed because of overworked clerks. The more surly cards weren't always welcomed by postmasters, however—another 25,000 valentines were held in a Chicago post office for being unfit to send, due to the many rude and vinegar valentines in the haul.
As valentines declined in lieu of expensive dinners or gifts, the vinegar valentine became less popular, though in some locations in the 1970s, they were still selling well. While some might mourn the romantic February 14 of the past with its long poems and declarations of love, it's also much less likely we'll get a nasty note in the mail as a Valentine's surprise.
This story originally ran in 2017; it has been updated for 2023.