Want to Make America More Inclusive? Start With Stamps
A group of black philatelists is making stamp collecting less stuffy.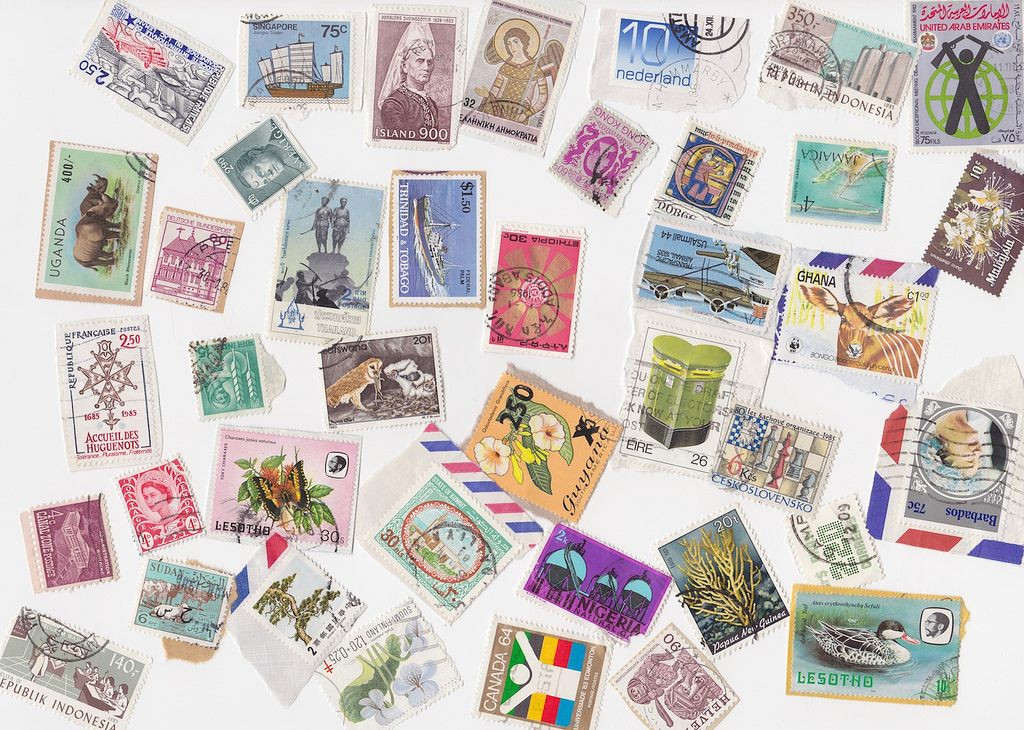 Stamps from around the world. (Photo: Simon Davies/CC BY-SA 2.0) 
When attendees walk into the World Stamp Show, a collectors convention held somewhere in the U.S. every 10 years, they're greeted by a massive sign that reads, "The whole world is here!"
This isn't an exaggeration: from May 28 to June 4 this year, collectors, traders, dealers, and stamp societies from as far as Egypt and Thailand convened at the sprawling Javits Center in midtown Manhattan. But despite the World Stamp Show's global aspirations, walking around the space, the homogeneity of most of the attendees stood out.
"The stamp collecting community basically is synonymous with old white guys," says Don Neal, the newsletter Editor in Chief at ESPER (Ebony Society of Philatelic Events and Reflections). ESPER, founded in 1988 and named after its creator, Esper G. Hayes, set out to change that limiting definition. Hayes, a stamp collector, met the black Olympian Jesse Owens a stamp show in the '70s, where she waited in line for his autograph. They were the only two black people at that show. After a solemn handshake, she pledged to Owens that she would do something to help African-Americans in the philatelic community.
In reaction to Owen's death in 1980, Hayes made good on that promise: ESPER's global society is now 28 years old and 300 members strong. It hosts booths at stamp conventions around the country, supports youth organizations, convenes social events and provides a network for African Americans in philately.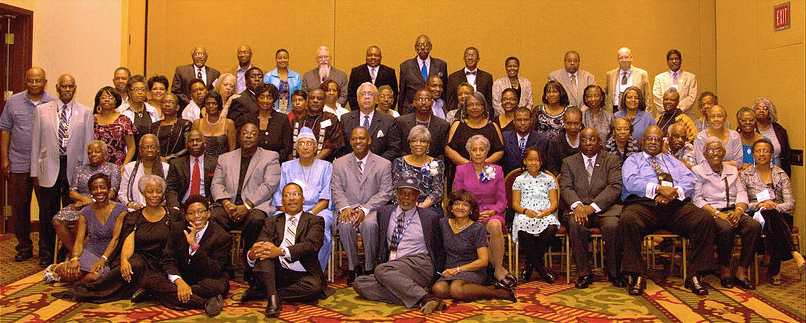 ESPER members at a 25th anniversary event in 2013. (Photo courtesy of Don Neal)
Though today ESPER is thriving, its existence was only made possible in the late '70s. The first African-American to appear on a stamp was Booker T. Washington, in 1940, nearly 150 years after the first US postage was issued. It would be 16 years before another black person appeared on a stamp. Finally, in 1978, the United States Postal Service launched the African American Heritage Stamp program, an effort to place one important African-American figure on a stamp every year, something they've continued to this day. Those featured include everyone from political figures like Malcolm X and Martin Luther King, Jr. to artists like Louis Armstrong and Langston Hughes.
The initiative drew many African-Americans into the philatelic community, but it's also alienated some white stamp collectors. The influential stamp collecting magazine Linns conducts a poll every year, asking subscribers to vote on their favorite and least favorite stamps issued that year. "[Typically,] the stamp voted 'Most Unnecessary Stamp' may not be the Black Heritage stamp, but it's going to be a stamp of an African American that year," says ESPER president Walter Faison. In 2015, the stamps featuring Maya Angelou and the black architect Robert Robinson Taylor both ranked highly in the "Least Necessary" and "Worst Designed" categories.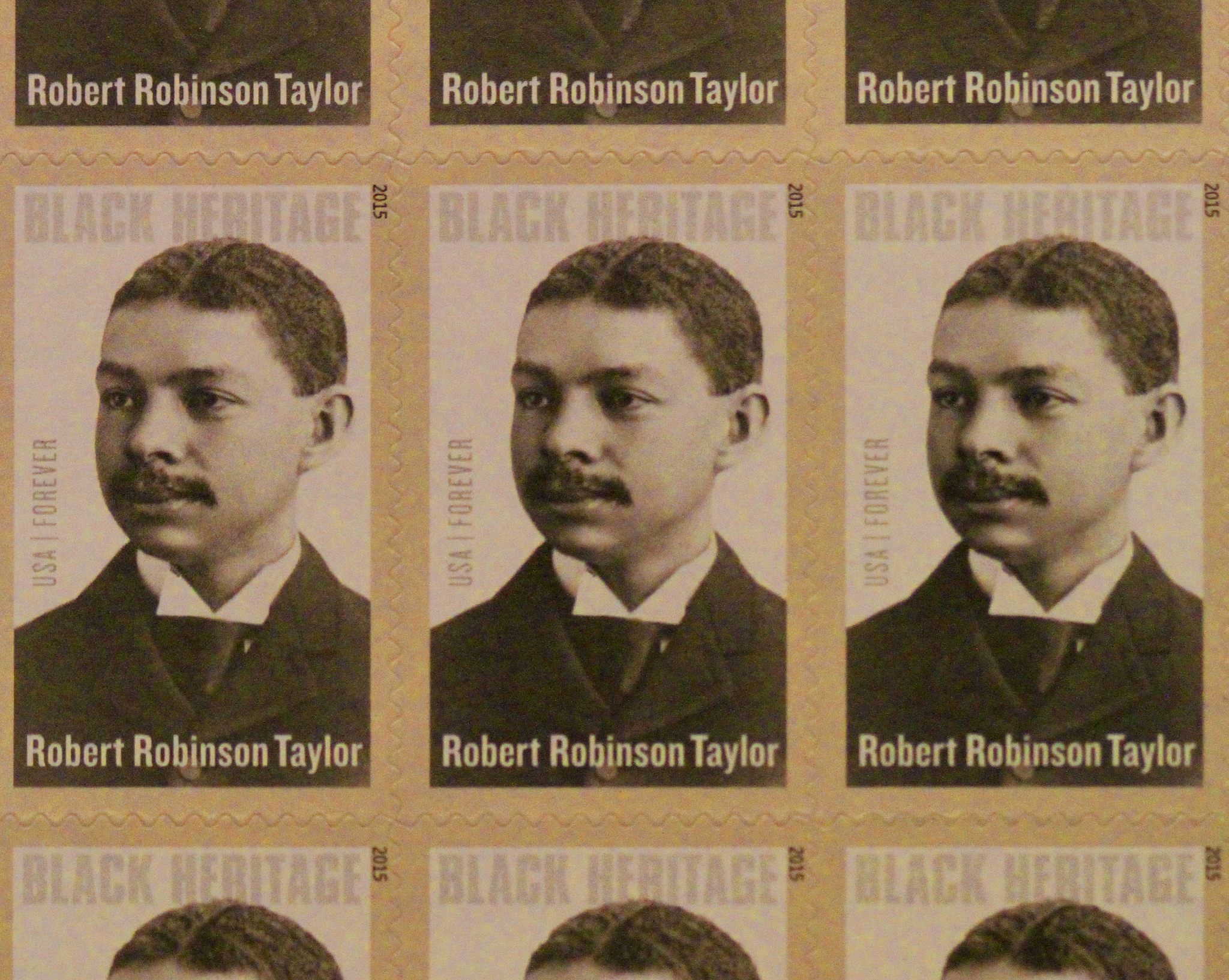 The Robert Robinson Taylor stamp, issued in 2015. (Photo: John Flannery/CC BY-SA 2.0)
An event like the World Stamp Show, which by nature brings people from all over the world together, can be a more welcoming environment for ESPER than the shows that only allow US-based societies. "You have a lot of people here from different countries who recognize that, at least while they're here, they are a minority. Who do they connect with? A lot of times they gravitate to us," Faison says.
"Canada has started its own Black Heritage series, where they recognize people of African descent that have made contributions to Canadian history. Israel has stamps out with African Americans on them, Poland, Norway, Sweden," Neal says. "It's not just about America, it's a global thing. It makes the world a little smaller and shows that we have more in common, perhaps, than we have in terms of differences."
Internationally, stamps are generally treated with a little less gravitas than they're granted in the U.S. Here, living people can not appear on stamps. The rule used to be that a figure must be dead for 10 years before they could be put on a stamp. That was later changed to five years, and now people can appear on stamps immediately after their death (except for presidents, who traditionally appear on the anniversary of their first birthday after their death).
For black stamp collectors, that means the pool to draw from is limited. Due to slavery and post-slavery discrimination, most African-American figures regarded as important to US history lived in the 20th century, and many are still alive today. As collectors, many ESPER members look outside the U.S. to find stamps that suit their interests, including the many honoring Barack Obama which have been issued by countries around the world.