The Luckiest People of 2017
Wins and windfalls of all different varieties.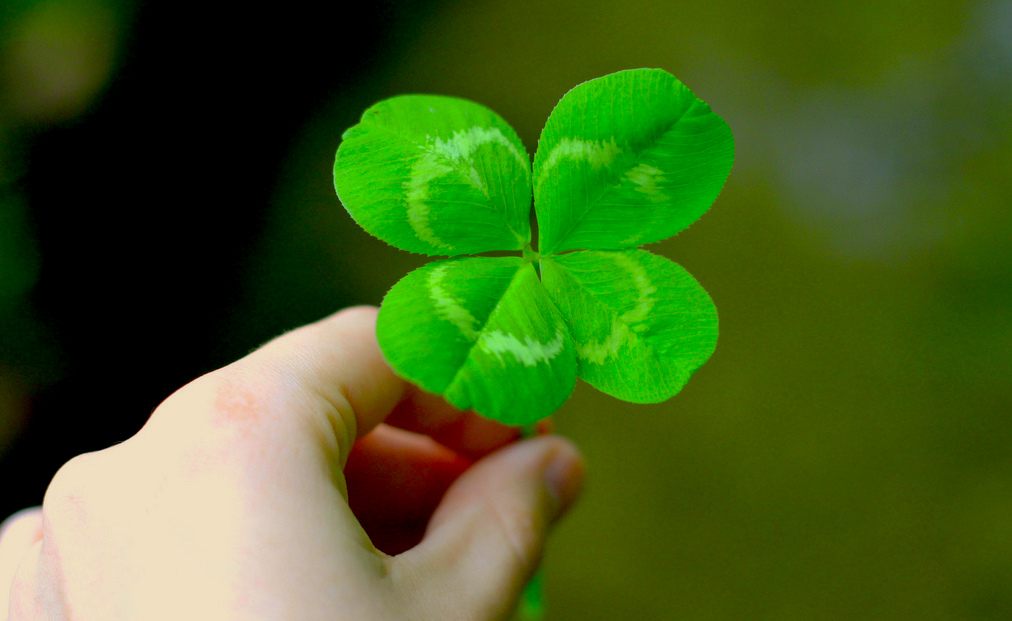 There are hundreds of millions of people who might reasonably be said to have had an unlucky 2017. People caught in natural disasters, like floods or hurricanes, or in tragedies brought about by other people; people living under terrifying political regimes; people who feared for their lives and livelihoods.
The lucky ones, therefore, were often those who somehow slipped through the net—those who, whether by divine intervention or being born under some fortunate star, managed to escape. On the other side of the coin, luck sometimes manifested itself in more traditional senses—big, unexpected windfalls, lost pets found, pennies or manna from heaven. Here are some of the 2017's most fortunate people. Precisely which one was the luckiest, however, we leave up to you.
Lucky Escapes
In Puerto Rico, 61-year-old Miguel Talavera had been living with kidney disease for decades. After nine months on a liver and kidney transplant waiting list, in September, he finally got the call. The organs were ready in Dallas, Texas—but if he didn't get there by midnight, they would go to someone else. Already, this might be a big ask, but Hurricane Maria, a category-4 storm that would go on to devastate Puerto Rico, was waiting in the wings, and people were desperate to get out while they still could.
By the time Talavera arrived at San Juan airport with his wife, it was mayhem. Every airline was booked up, every seat taken, every plea unheard. "I need to go there today. They have a donor. Two organs are going to be transplanted today. Can you help me?" Talavera told employees. "They said, 'We can do nothing.'" Then, a Delta Airline employee found him a flight for that afternoon. His wife was booked onto one for the following morning. "He said, 'Don't worry, I'm going to help you. Here we are,'" Talavera recalled. "He got a ticket for me."
From an inauspicious start of failing kidneys, a swirling storm and the ticking of the clock, a near-perfect outcome. Talavera and his wife got out in good time and the surgery was a success. Had the organs been available just a day later, the hospital would not have been able to reach him. "And he wouldn't have gotten this transplant," a representative from the hospital said. "It would've gone to someone else."
Two months later, on the other side of the planet, 25-year-old Oh Cheong Seong made a lucky escape of a different sort. Oh is the son of a high-ranking North Korean military police official, who dreamed of a life beyond the border, featuring chocolate snacks, a law degree and, one presumes, no totalitarian regime. In November, he successfully crossed the demarcation line in the highly guarded Joint Security Area into South Korea. As he ran, he was chased by armed "comrades," who shot him repeatedly.
When he woke up from surgery, the 25-year-old North Korea defector said he wanted to eat a choco pie https://t.co/7dU3KOMP2w pic.twitter.com/XPJ48lZ804

— Newsweek (@Newsweek) December 16, 2017
Oh made it across and, thanks to the combined efforts of South Korean doctors and U.S. medics, survived and regained consciousness. He had a parasitic infection and hepatitis B, but is otherwise well on the path to recovery. There's a strange, chocolatey twist to this story: A local radio show reported that Oh had told his medical team of a desire to eat Choco Pie, a South Korean snack, when he was able to eat solid food once again. For some time, Choco Pies were handed out to workers in North Korea, until the regime came to see the snack's popularity as a threat, banned it outright, and replaced it with low-quality local imitations. When Choco Pie heard of Oh's request, the company sent him 100 boxes of the snack, and promised him a supply of the treats for life. "We sent the Choco Pies as a welcoming present to Oh, who came to Korea after going through hardship. It was not an act for publicity," an Orion spokesman told the Korea Herald.
Lost Things, Found Against All Odds
Three years ago, a cat called Raja didn't come home. He didn't come home the next night, or the one after that, or the one after that—until his family, the Tuttles, who lived in Florida, eventually gave up hope. Then, three years later, Raja turned up at an SPCA shelter in Georgetown, Delaware. A microchip helped identify him, sparking a multi-state search for his family, which had since moved to Virginia. A week ago, finally, they were reunited with their pet. The cat, Delaware Online reported, had little to say about his dramatic journey—beyond a throaty, enthusiastic purr.
When Matt Stone, a World War II memorabilia collector, found a woolen soldier's jacket in a local thrift store on sale for $4.99, he wondered whether there had been some mistake. The jacket was decorated with ribbons and insignia, and on its inside was a name: Martin Makkyla. With the help of his local news station, Stone found Makkyla's family—with the intention of giving them back this found jacket. Makkyla had not had children, but his nieces remembered the jacket well. It had apparently been stolen many years ago, and they had given it up for lost. In October, Stone helped to get the jacket back to where it should have been all along.
And in Hawaii, a man found the brother he never knew he had, closer than he could have possibly imagined, Hawaiian broadcaster Khon2 reported. Alan Robinson was adopted as a small child. His friend, Walter Macfarlane, never knew his father. The two men, now retired, became friends in the sixth grade and say they have had a special bond stretching over six decades. While they met playing football, they now play cribbage. After Macfarlane used the online DNA information service Ancestry.com to find out more information about his heritage, he found himself "matching" with a user who went by robi737, with whom he shared identical X chromosomes.
After 60 years of friendship, the two men from Hawaii just found out they have the same mom. https://t.co/x52RqiIWpP

— KCRG (@KCRG) December 26, 2017
Robi737 was his old friend, Robinson, who often goes by Robi as a nickname and flew Boeing 737s for Aloha Airlines. Their friendship, it turns out, may run deep—but nowhere near as deep as either had imagined. Both men have the same birth mother. "It was an overwhelming experience, it's still overwhelming," Robinson told the network. "I don't know how long it's going to take for me to get over this feeling." The brothers plan to travel and enjoy their retirement together. "This is the best Christmas present I could ever imagine having," Robinson said.
Unexpected Wins
For 32 years, Mavis Wanczyk worked in a clerical job in the nursing department at Mercy Medical Center in Springfield, Massachusetts. In August of this year, however, she rang her supervisor and told them she would not be coming back. She had bought five lottery tickets earlier that month: two with random computer-generated numbers, and three with numbers she chose herself. One of these three had numbers taken from family birthdays, and a final Powerball digit of four, chosen for regular Friday Keno games with her friend, mother and stepfather.
Gave away about $20,000 keep on spreading the word by liking and retweeting everything. Have faith and god bless ! 💵 pic.twitter.com/WNXaRIwW87

— Mavis Wanczyk (@TheRealmavisW) September 8, 2017
That ticket was worth significantly more than its weight in gold, winning her the largest single-ticket prize in U.S. lottery history, a $758.7 million Powerball jackpot. Even after tax and other charges, Wanczyk is left with a lump sum of $336 million, more than the GDP of many small nations. After her win, she told reporters that she had no immediate plans for her fortune: "The first thing I want to do is just sit back and relax."
While there were many 2o17 sports upsets, tennis's 117th player, Denis Istomin from Uzbekistan, surely deserves a special mention. Novak Djokovic, the world's number two, has played the Australian Open some 13 times. On six occasions, he's walked away with the title; on the other seven, he has beaten anyone ranked lower than No. 68 in the world. But in January, Djokovic lost 7-6, 5-7, 2-6, 7-6, 6-4 to Istomin in the second round, who was in as a wildcard. In the subsequent press conference, reporters asked Djokovic what he took from the loss. "My bags," he said. "And I go home." Istomin, for his part, thanked his team, his mom, and (probably) his lucky star. "It's the biggest win of my career."