These Powerful Pins Honored Suffragists Who Were 'Jailed for Freedom'
A century ago, women picketing the White House were beaten and imprisoned for demanding their right to vote.
The first-ever White House picket was led by women, lasted for more than a year, and was met with violence from both counter-protesters and law enforcement. In November 1917, after 10 months of picketing, the government's crackdown on protestors reached a new intensity. Dozens of protesters were arrested and incarcerated at the infamous Occoquan Workhouse, where they faced brutality. One night, later dubbed the "Night of Terror," a guard threw a protester on an iron bed, striking her head; another protester was denied medical care for a heart attack. On another occasion, activists went on hunger strike demanding to be classified as political prisoners; guards force-fed them with tubes, causing long-term internal damage.
The demonstrators were fighting for their right to vote, and even after that brutal November, the suffragists continued to picket the White House for months. "These women couldn't be frightened," says Lisa Kathleen Graddy, a curator in the Division of Political and Military History at the National Museum of American History. "They were not going to back down."
The picket helped secure the passage of the 19th Amendment, which recently celebrated its 100th birthday. On paper, the 19th Amendment granted all American women the right to vote; in practice, racist polling practices kept many Black women and other people of color from voting until well into the 1960s.
In recognition of the suffragists' courage, the National Woman's Party, which had organized the protest, awarded activists who had been incarcerated with a unique medal of honor: pendants in the shape of a prison cell door. The pendants are 1.5-inch-square metal lattice, decorated with hinges on the sides and a miniature bolt and chain on the front, meant to mimic the cages of Occoquan. Around 170 suffragists, including Luciel Angiel Calmes, Amelia Himes Walker, and Alice Paul, received one.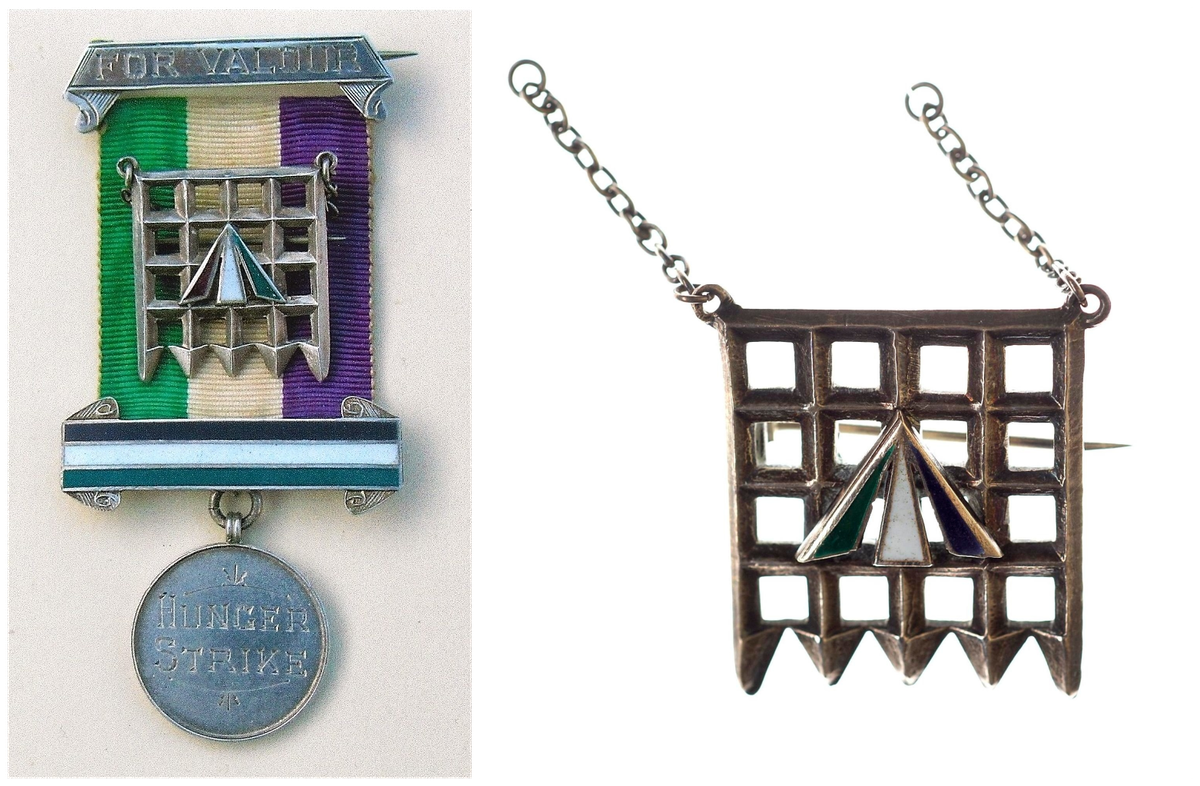 Known as the "Jailed for Freedom" pins, the pendants were one of several pieces of jewelry suffragists created to symbolize their struggle. Another one, the "Silent Sentinel" pin, a metal scroll bearing the words "Without Extinction is Liberty," was awarded to women who stood on the White House picket line. Mary Church Terrell, founding President of the National Association of Colored Women, wrote about receiving a "picket pin" in February 1918. The pendants were inspired by similar brooches sported by British Suffragettes, who had braved brutality in London's infamous Holloway prison. "They wore those pins as badges of honor," says Graddy.
Today, National Woman's Party founder Alice Paul's Jailed for Freedom and Silent Sentinel pins sit in the National Museum of American History. Earlier this year, Graddy and fellow curators included them in Creating Icons: How We Remember Woman Suffrage, an exhibition celebrating the 19th amendment's centennial. The exhibition challenges conventional histories of suffrage movements, which tend to center on less-progressive, white leaders such as Susan B. Anthony and Elizabeth Cady Stanton. Included among photos, posters, and pamphlets from a century of struggle, the pendants are a potent reminder of the suffragists' fierce fight for the vote—and of the varied tactics that helped American activists win the complex, sometimes acrimonious, struggle for universal suffrage.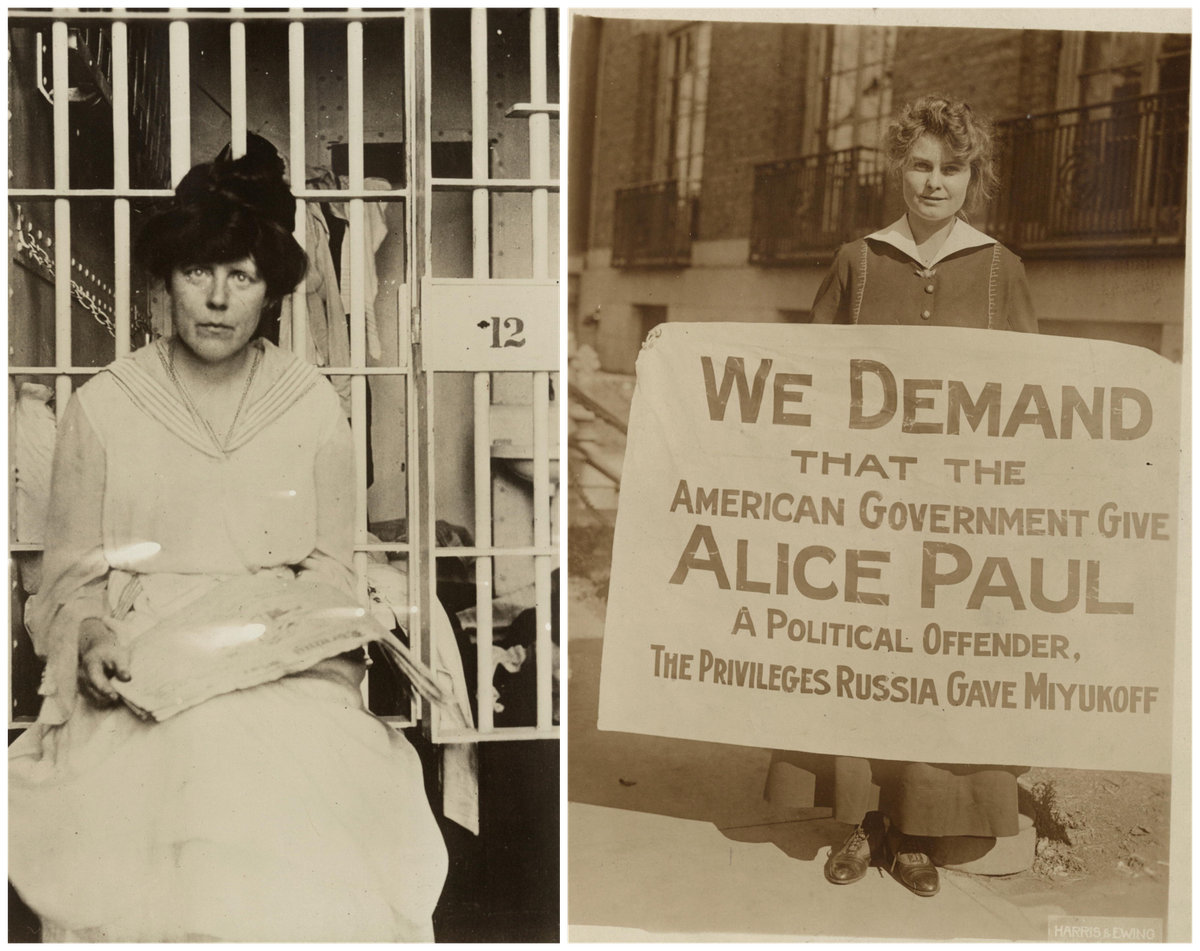 The suffrage movement had its roots in the movement to abolish slavery, and in the multiracial American Equal Rights Association. But after the Civil War, the AERA splintered over questions of race and gender. Many white activists, such as Anthony and Stanton, argued that white women should get the vote before Black men. They pulled away from the AERA and formed the National American Woman Suffrage Organization, whose so-called Southern Strategy appealed to racist white fears of Black men, in order to secure the vote for white women. NAWSA primarily relied on lobbying and media campaigns, rather than protest.
By the 1910s, a younger NAWSA contingent, led by Alice Paul, began calling for more direct action. Paul had been radicalized by the confrontational tactics of the British Suffragettes, including protest and property destruction. In 1913, the day before Woodrow Wilson's inauguration, she organized a NAWSA women's march in Washington, D.C.. Counter-protesters, shocked to see women in the street, heckled and assaulted the marchers. "It turned into a riot," says Graddy. The protests attracted such a crowd, legend goes, that when Woodrow Wilson showed up in Union Station in advance of his inauguration, the place was deserted—everyone had gone to see the suffragists.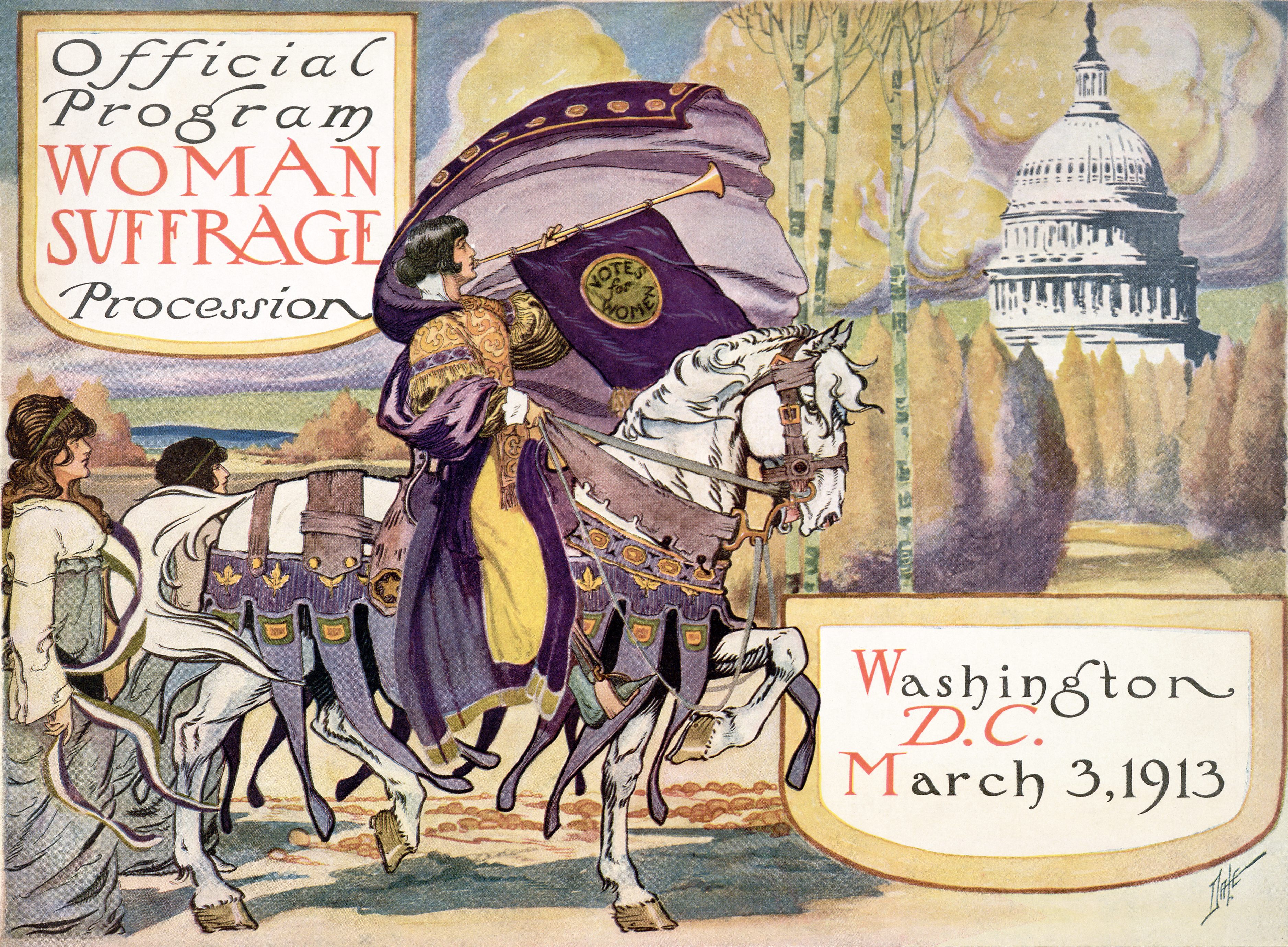 Paul's radical tactics so offended the old guard that she broke off from NAWSA in 1916 to form the National Woman's Party. In 1917, the Party began their series of White House protests. "They were out there every day, for more than eight hours a day, in rain, snow, sleet, and hail, for more than a year," says Angela P. Dodson, who wrote a history of the suffrage movement. The pickets caused an even bigger sensation than the 1913 march. "For many people, it was shocking to see women protesting, women in the streets, women speaking loudly, women agitating," says Graddy.
Yet as scandalous as the public found the protesting women, the police repression was even worse. It turned public opinion against President Woodrow Wilson, pressuring him to embrace the 19th Amendment. "Having all these women—and many of them were prominent, well-to-do women—locked up in jail for months at a time was not very good publicity," says Dodson.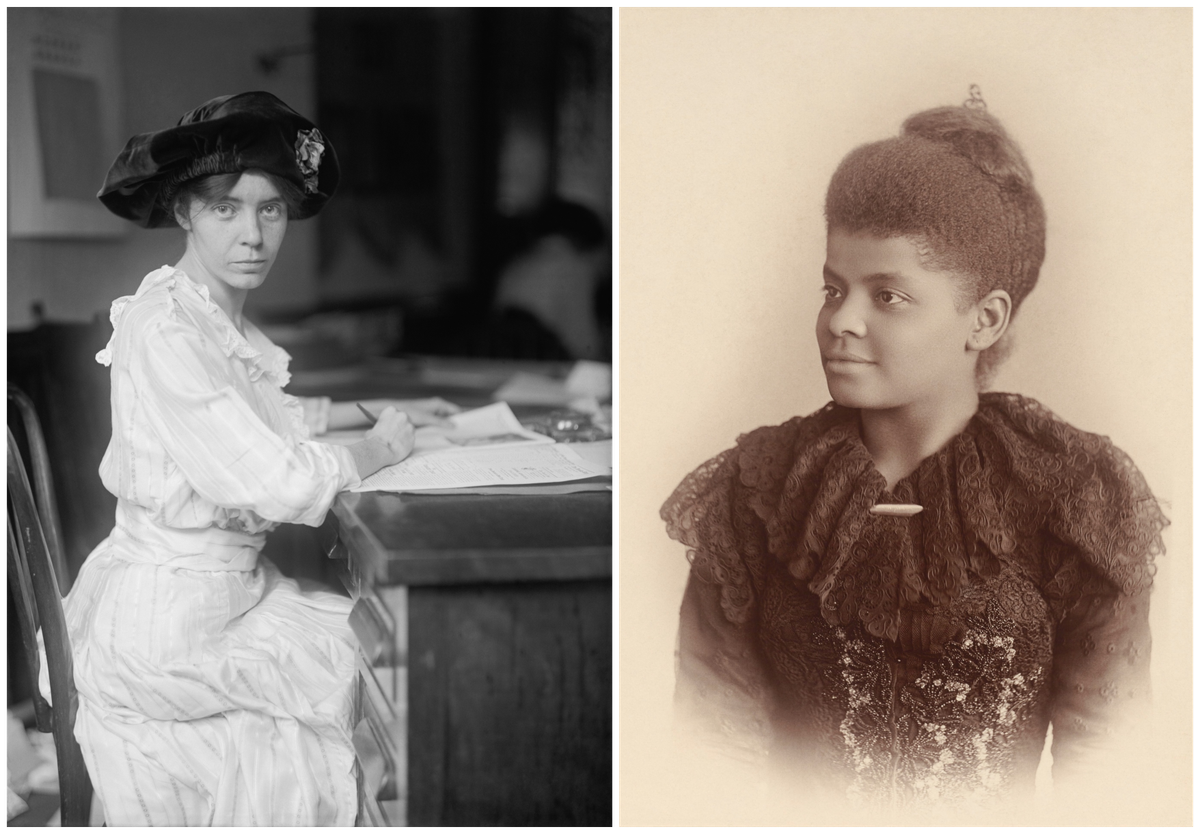 Despite the National Woman's Party's confrontational tactics, it shared NAWSA's legacy of racism. Paul, like Stanton and Anthony, is remembered not only for radical action but also for asking Black activists to stay at the back of her 1913 march, arguing that their participation would hinder the Southern Strategy. (Ida B. Wells marched with the main delegation anyway.) "When you use these kinds of tactics, they will be remembered," says Graddy. "They will cause damage."
Indeed, as the Creating Icons exhibition shows, both the courage of the National Woman's Party and its racism carried forward into the second-wave feminist movement. So did the suffrage movement's most potent symbols—including their pendants. At the 1977 National Women's Freedom Conference, feminists sported reproduction Jailed for Freedom pins.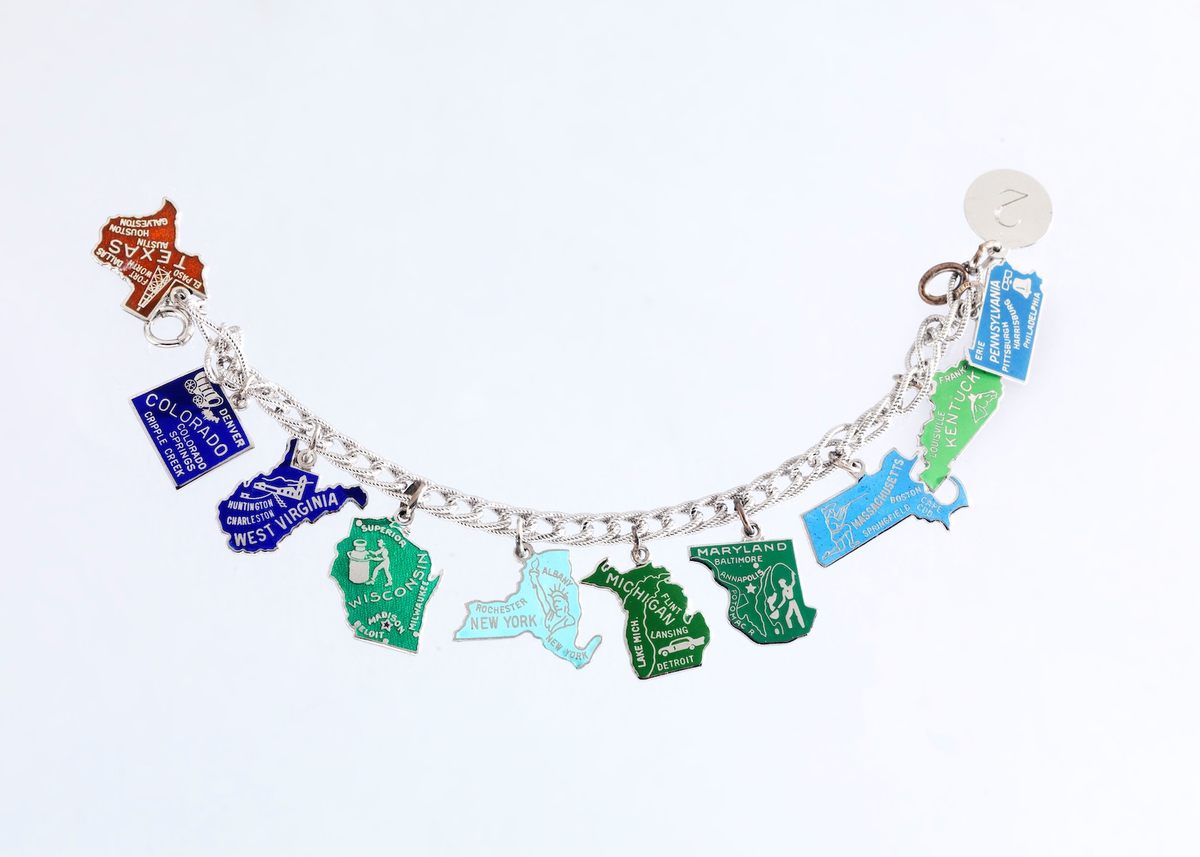 Alice Paul, meanwhile, continued making political jewelry. In the last years of her life, she worked on four silver bracelets that featured one charm for every state that ratified the Equal Rights Amendment, which she had helped write. Paul died just a few months before the 1977 Women's Conference, when it seemed to many feminists that the passing of the ERA was imminent. The ERA remains in legal limbo to this day: Though the required 38 states have ratified it, many failed to meet a congressional deadline, and some later revoked their support.
Today, Dodson and Graddy both hope that the image of the pendants will inspire a younger generation to learn about the suffragists's history of direct action—and from the movement's mistakes. "Who decides what story is going to be told?" asks Graddy. "We all, not just historians, have a hand in that. We all decide who we'll remember."