What We'll Do
Explore the flavors of Holi by crafting delicious Indian dishes with celebrated chef, Aarthi Sampath!
Holi is an annual Hindu festival that will be observed this year on March 18th. Rooted in Indian mythology, the festival marks the beginning of Spring and is famously celebrated worldwide by large crowds of people ecstatically throwing colored powder (gulal) into the air. After the rainbow dust has settled, the celebrations continue with festive gatherings of food, family, and friends. 
Over the course of this 1.5 hour virtual cooking workshop, Chef Aarthi Sampath (Food Network's Chopped and Beat Bobby Flay) will share her own Holi traditions, and guide us through the preparation of three Holi recipes: thandai, pakora, and chutney. Pakora is a savory vegetable fritter that we'll top with an easy-to-make chutney. We'll pair that snack with a cup of thandai, a cold milk-based drink made with a variety of seeds and spices. Join us for this festive feast!
Attendees will receive an ingredients list and preparation instructions via email in the weeks leading up to the live experience.
About Your Host
Chef Aarthi Sampath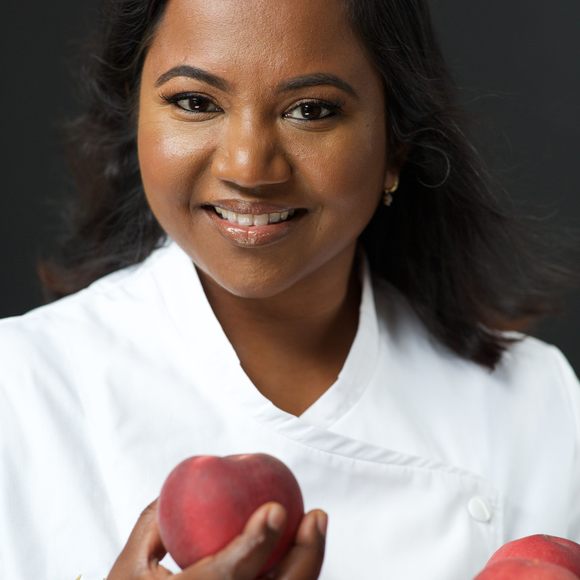 Chef Aarthi Sampath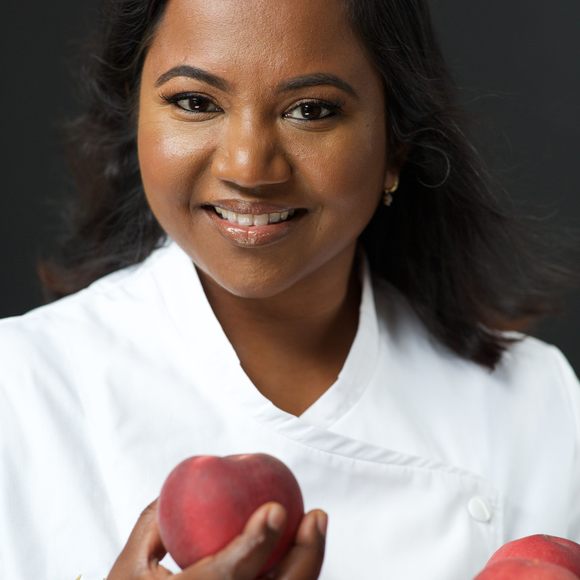 Chef Aarthi Sampath's foray into the culinary world began with an exploration of flavors found in the diverse kitchens of Taj hotels and interning in different restaurants in Mumbai, New Delhi, Chennai, and Hyderabad for 5 years. Her passion for cooking started in her parent's kitchen as she perused through cookbooks of figures that seemed to be in a place she could never reach.
Her curiosity for learning and exploring global cuisine brought her across the globe to America .
She specialized in Baking and Pastry and Food Service Management at the prestigious Johnson & Wales Culinary School in Rhode Island and started on her internship at the Michelin star Junoon in New York City. Rising up the ranks quickly, she was Executive Chef at American Gymkhana, an upscale Indian restaurant in Orlando. She came back as Chef De Cuisine for Junoon. Chef Sampath's control over her vision and passion for Indian cooking has brought her into a number of unique spaces. In addition to leading the kitchen for one of Junoon's expansion projects, Aarthi was honored to work with Chef Vikas Khanna on The "Billionaire's Club Dinner" hosted by Prime Minister Modi at the Waldorf Astoria in NYC. She has also worked with chefs at the James Beard Foundation, events at Huffington Post, and a number of exclusive cooking festivals.
Chef Sampath went on to win Chopped, A Food Network-based culinary cooking competition and competed again on Chopped Masters. She Beat Iron Chef Bobby Flay on his Food Network game show, Beat Bobby Flay, the winning dish being the biryani. She also was on Fire Masters, a Canadian-based show.
She really pushed the envelope at the iconic Breslin under Chef April Bloomfield who mentored her with a deeper understanding of ingredients and techniques. She also ran a healthy food truck in Seattle that reached massive success.
Sampath is scheduled to make prominent television appearances globally in the upcoming year. She was also a chef at the prestigious Rainbow Room at the Rockefeller Plaza in New York City. She was Head Chef at Chinese Tuxedo, a modern high profile Asian restaurant in New York City. She is also a very successful Chef consultant for Bombay Sandwich Company, Baazi NYC, and Sigri NJ.
What Else You Should Know
Access to this online experience is free for Atlas Obscura Members. Unlock more wonder by becoming a member today!

Once registered, you can access the Zoom room for this experience through your confirmation email or Eventbrite account. Atlas Obscura online experiences are recommended for attendees age 13+.

This online experience will be recorded. A temporary link to the recording will be provided in a follow-up email to all ticket holders within 72 hours after the event. Access to this recording will be available for seven days.

We provide closed captioning for all of our online Member Experiences, as well as transcripts upon request. Please reach out to us at membership@atlasobscura.com if you have any questions, requests, or access needs.

This event is one of Atlas Obscura's Membership Experiences. At Atlas Obscura, our mission has always been to inspire wonder and curiosity about the incredible world we all share. Now, more than ever, there's a need to stay connected—not only to our sense of wonder, but to each other.

We encourage you to follow and share the hashtag #AOExperiences for more incredible online experiences and courses with Atlas Obscura and our friends. And check out AtlasObscura.com, the definitive guide to the world's hidden wonders, to keep virtually exploring the world through the website's atlas of amazing places, unique stories, and videos.
Dates and Availability
Atlas Obscura Members get free access to this and other exciting online experiences!
Become a Member