Unfinished Obelisk
The largest known Ancient Egyptian obelisk.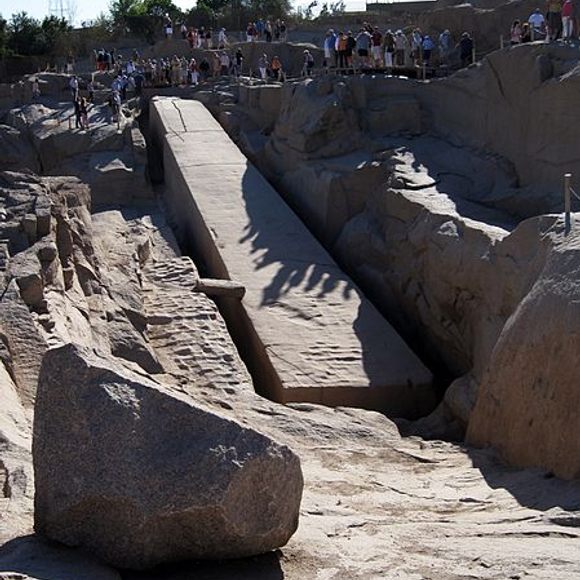 View all photos
Partially uncovered obelisk
Around the Upper Egyptian city of Aswan are several ancient stone quarries, which were the source of Ancient Egypt's finest granite. The Northern Quarries of Aswan holds the remains of the Unfinished Obelisk.
Had it have ever been erected, this obelisk would have been the largest one of Ancient Egypt and would have reached a stunning height of 42 meters. The largest finished obelisk, the Lateran Obelisk is 10 meters shorter than the Unfinished Obelisk, and today stands in Rome, Italy. Although not the largest obelisk, it is nevertheless the largest known monolith of Ancient Egypt, and one of the largest in the world, with an estimated weight of 1,200 tons.
The work on the Unfinished Obelisk had been abandoned due to clearly visible cracks that appeared in the granite. The huge structure, which is partly connected to the parent rock, has been left in situ. The obelisk, together with several worker's marks and rock carvings, provides a rare insight into the working techniques of Ancient Egypt. Virtually nothing is known about which pharaoh ordered the Obelisk and where it was supposed to be erected.
Community Contributors
Added by
Edited by
---
Published
October 10, 2011
---
Edit this listing
---
In partnership with KAYAK
Plan Your Trip
No purchase necessary. Winner will be selected at random on 01/01/2024. Offer available only in the U.S. (including Puerto Rico). Offer subject to change without notice. See
contest rules
for full details.