Mark Twain's Grave
The little-known final resting place of one of America's greatest writers.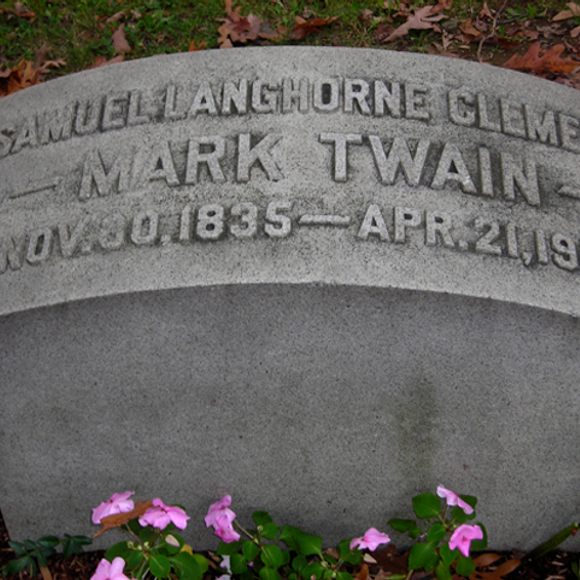 View all photos
Mark Twain's headstone.
When you're traveling Route 86 across the state of New York, take a few minutes to stop at Woodlawn Cemetery in Elmira. There, you'll see the final resting place of one of America's finest writers, Samuel Langhorne Clemens.
Under the pen name Mark Twain, Clemens used his experiences growing up along the Mississippi River to give us such memorable characters as Tom Sawyer and Huckleberry Finn. Abolitionist, journalist, miner, and riverboat pilot, Twain did it all, and he shared those experiences with his avid readers in packed lecture halls across the country.
He was born and died with the passing of Halley's Comet, from 1835 to 1910. Upon his death, he was buried in Elmira, the hometown of his wife, Olivia Langdon, where the family spent many summers. His wife and children are buried next to him at Woodlawn Cemetery. Mark Twain's grave is marked with a memorial obelisk in the family plot bearing the writer's image.
Know Before You Go
When visiting cemeteries and other sacred sites, please be respectful. Woodlawn is also home to the gravesite of college football great and first African-American Heisman Trophy winner Ernie Davis.
Use 1200 Walnut St, Elmira, NY 14905 to access Mark Twain's gravesite within Woodlawn Cemetary as from that address the way is clearly marked. There is no vehicular access from the nearby Woodlawn National Cemetary (1825 Davis St).
Community Contributors
Added by
Edited by
---
Published
October 3, 2018
---
Edit this listing
In partnership with KAYAK
Plan Your Trip
No purchase necessary. Winner will be selected at random on 01/01/2024. Offer available only in the U.S. (including Puerto Rico). Offer subject to change without notice. See
contest rules
for full details.