All
United States
California
Santa Monica
The Atlas Obscura Guide To
Santa Monica
18 Cool, Hidden, and Unusual Things to Do in Santa Monica, California
Updated October 28, 2022
Unusual Attractions in Santa Monica
In partnership with KAYAK
Plan Your Trip
In partnership with GetYourGuide
Unforgettable Experiences Nearby
Atlas Obscura Itineraries
On the Run: Los Angeles
Originally named "Venice of America," Venice, California, owes its existence to a wealthy developer's dream of a canal-laden resort town west of Los Angeles. The dream didn't last long: After opening in 1905, the city went broke before joining Los Angeles in 1926. The decades of neglect that followed earned Venice the nickname "the slum by the sea," but its affordability also attracted artists, beginning with the Beats in the late '50s. Venice's identity as a rough-around-the-edges artist haven endures more than 60 years later, though its affordability less so. If you're looking to plot a trek across Los Angeles pavement and beaches, zero in on Venice with a run that oscillates between fast-and-furious and slow-and-curious. Take on this 5.2-mile run in one go, break it up into multiple runs, or do it in reverse. With the right running shoes, you'll be ready to navigate Venice's storied past and its eternally eccentric personality.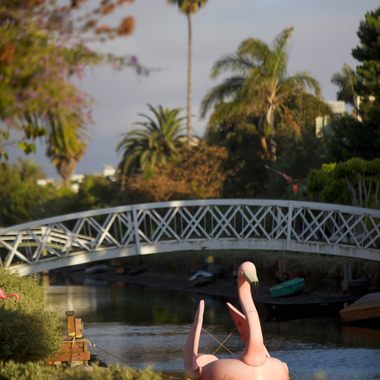 Explore Santa Monica, California
Santa Monica Leaderboard
Places Added
Places Edited
Places Visited
Recent Santa Monica Activity
See Fewer Ads
Become an Atlas Obscura member and experience far fewer ads and no pop-ups.
Learn More