Pushkar Brahma Temple
There are millions of temples in India, but only one prominent temple dedicated to the Hindu creator god.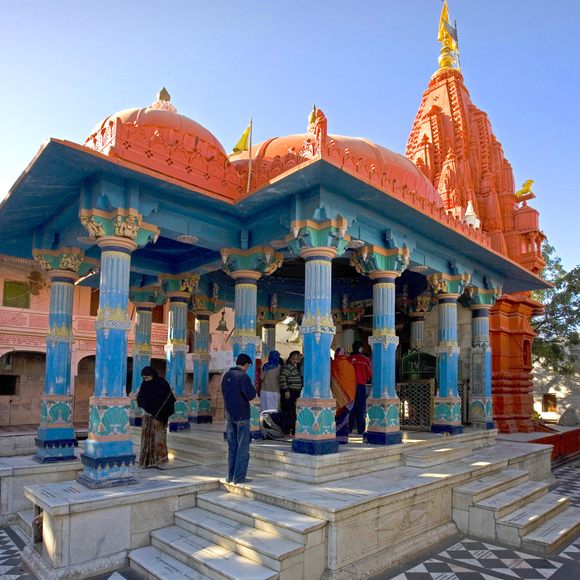 View all photos
Brahma Temple in Pushkar.
Pushkar is a small, serene town in Rajasthan that attracts pilgrims, tourists, and hippies in equal measure. They come for the sacred lake, the chill vibe, and the Brahma Temple. Though Brahma is one of the three main gods of India, this is the only one prominent temple dedicated to him in all of India. Of course, there are many stories as to why.
Though Hinduism can boast upwards of 30 million gods, there are three that are considered the Trimurti, the three main gods: Brahma the Creator, Vishnu the Preserver, and Shiva the Destroyer. Throughout the land, there are an uncountable number of temples to Vishnu and Shiva, and other gods; there are 500 temples in tiny Pushkar alone! Yet there are only a couple dedicated to Brahma, and the one in Pushkar is the most prominent.
The Pushkar Brahma Temple dates from the 14th century. The colorful structure is made of marble and stone, decorated with silver coins and a hamsa bird (goose or swan) motif, and topped by a distinctive red spire.
There are numerous legends to account for the strange fact that the creator god gets so little real estate. Some of them refer to an incident in which Brahma lied about an accomplishment. He was trying to find the head of a pillar of light, and Vishnu was trying to find the foot. They both grew tired and gave up, but while Vishnu admitted his defeat, Brahma lied. He brought back a flower as evidence of reaching the top, but his lie was discovered by Shiva who cursed Brahma that he would have no temple dedicated to his worship as he was undeserving.
In another story, Brahma created a beautiful female deity, known as Shatapura, and immediately became infatuated with her. However, Shiva decided this was wrong and punished Brahma by directing that no one on Earth should worship him.
But in Puskhar, they say that it was Brahma's wife, Savitri, who cursed him. In this legend, it is said that a great fire sacrifice was organized and Brahma sent for his wife Savitri to accompany him. She was unavailable, so he married a beautiful young local girl, Gayatri, as he needed a consort for the puja (ritual). When Savitri got wind of this, she rushed to the scene and cursed her husband Brahma by saying that Pushkar would be the site of the only temple dedicated to his worship.
Today, there two hills on opposite ends of Pushkar, each with a temple on top. The higher hill is dedicated to Savitri and the smaller one to Gayatri. In Pushkar, they believe that Savitri is still sitting in her shrine, feeling enraged, while Gayatri cowers in fear on the other side of the lake. Whether or not you believe this, it is very pleasant to walk up to the top of either hill in the morning to watch the sunrise over the lovely lake.
Community Contributors
Added by
---
Published
February 1, 2018
---
Edit this listing
---
In partnership with KAYAK
Plan Your Trip
No purchase necessary. Winner will be selected at random on 01/01/2024. Offer available only in the U.S. (including Puerto Rico). Offer subject to change without notice. See
contest rules
for full details.