A Unique Bric-a-Brac Market Sells Salvaged Goods From Broken Ships
At Alang on the western coast of India, you may find second-hand doors, lifebuoys, and light bulbs.
Rajubhai Kanubhai Baraiya settles into a dark blue leather chair at his furniture store in Alang town on India's western coast. It's almost lunchtime on a 40-degree day—104 in Fahrenheit—and the air is thick with heat. There are barely any cars or people on the road that leads to the water's edge, where past a security checkpost lies the world's largest shipbreaking yard.
Surrounded by wooden doors, soft sofas, and tall stools, Baraiya points to some of his wares. "That," he says, gesturing at a deep brown settee then cocking his head as his appraises it. "I could maybe sell that for Rs 6,000 [$86]."
The settee he points to isn't new. Neither are most of the other items in Baraiya's Sahajanand Enterprises, a furniture store specializing in second-hand items sourced from old ships after they are ripped up and dismantled in the adjacent graveyard. This is one of dozens of second-hand shops that line the 6-mile market stacked with goods large and small, old and very old, everyday and extraordinary; from doors and tea sets to mattresses, soft-serve ice cream machines, and lifebuoys. To pore through some of these stores is to encounter a bric-a-brac from the banal to the esoteric; light bulbs, speakers, and analog television sets brushing up against world maps, espresso machines, dart boards, and models of ships.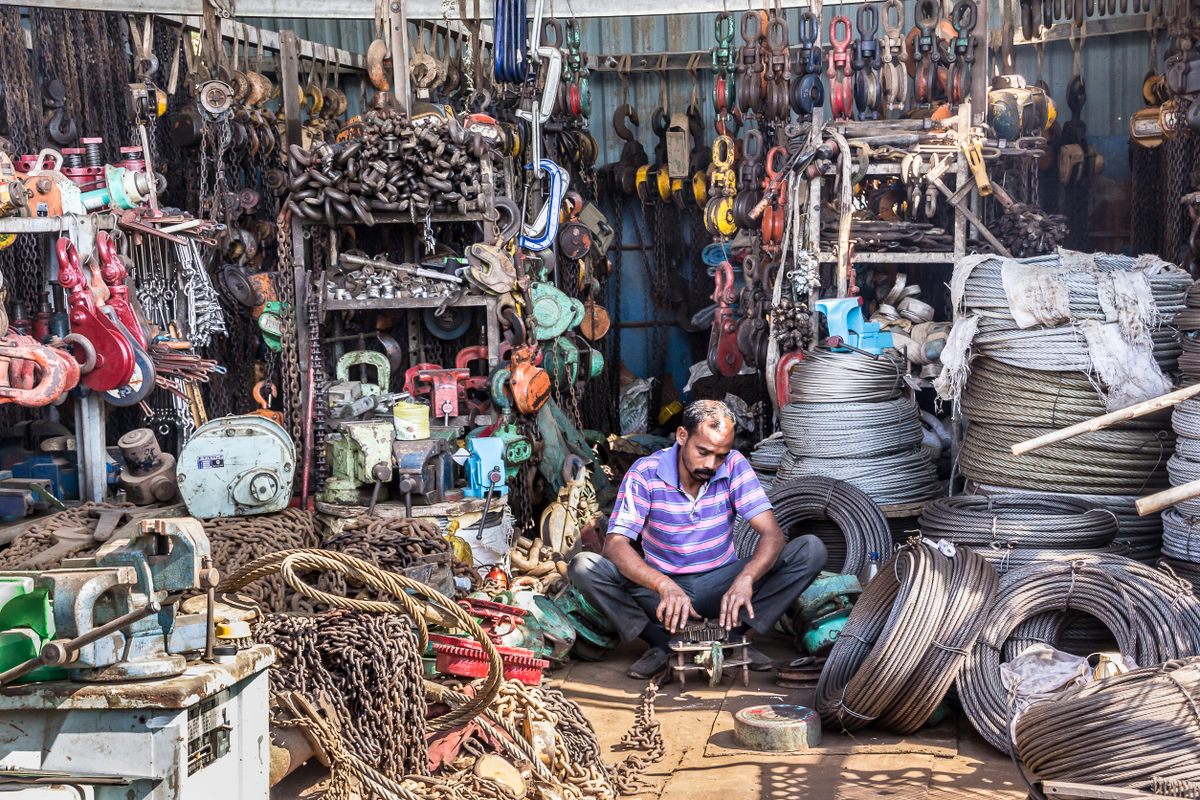 Gujarat's 1,000-mile coastline is the longest of any Indian state, and Alang's high tide and gently sloping approach make it perfect for shipbreaking activities. The yard is the resting place for 200 or more ships annually, even as it has faced criticism over hazardous working conditions, accidents, and environmentally damaging practices. This came about after the shipbreaking industry moved out of the United States and Europe in the late '70s due to high labor costs and more stringent environmental regulations. Shipyards moved to India, Pakistan, and Bangladesh, where looser oversight has prevailed.
When a ship arrives to be broken, workers take every bit apart using blowtorches, gas cutters, and hammers. Steel and iron is recycled, and some of the ship's parts, including furniture, bedding, and kitchenware from the living quarters, are sold off in bulk. Dealers in the yard who specialize in cabins buy them in their entirety from the breaking companies. Then they call market storekeepers like Baraiya, who take a look at what's on offer, weaving in and out of the cabin, touching and testing furniture, doors, utensils, and conjuring up a reasonable price. At a silent auction the storekeepers write on a piece of paper how much they are willing to pay. The highest bidder wins. If it's a smaller ship, with fewer rooms and amenities, the auction could be over in a few hours. If it's a cruise liner with hundreds of rooms, it might take days.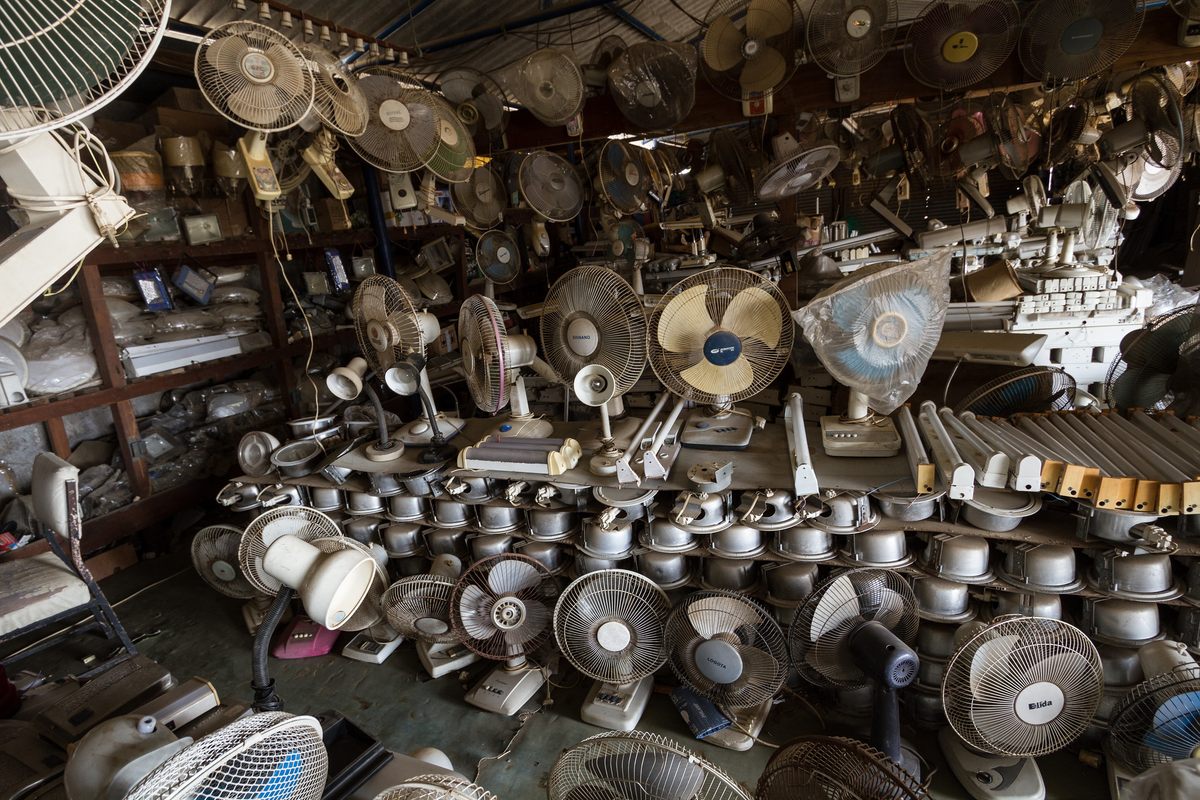 "Ship stuff lasts longer [since it's waterproof and foreign-manufactured] so people like to buy it," says Baraiya. "The local stuff might be cheaper, but those who know prefer to buy from Alang's ships." Set up in 1983, the shipyard has scrapped nearly 8,000 ships, including cargo ships, containers, oil tankers, and cruise liners. The yard has scrapped ships from Japan, Korea, the United Kingdom, United States, Norway, and Singapore, foreign vessels with the patina of glamour, vessels bearing usable and much-coveted foreign-manufactured interiors.
No one is quite clear when the market beside Alang's shipyard sprung up, but it was likely in the mid- to late-'80s. Everyone agrees on one thing: What was once a small bunch of shops has burgeoned into a miles-long shopping boulevard. "The market became well-established by 2000," says Nitin Kanakiya, honorary secretary of the Ships Recycling Industry Association, which has 140 members. "It has been constantly growing and people come from all over to shop here. It is unique."
Most shops in Alang's market have their own niche: furniture, bedding, scrap metal, kitchen equipment, laundry devices. Shopping is an act of serendipity—you may show up not knowing exactly what is available, or find something quirky and unusual.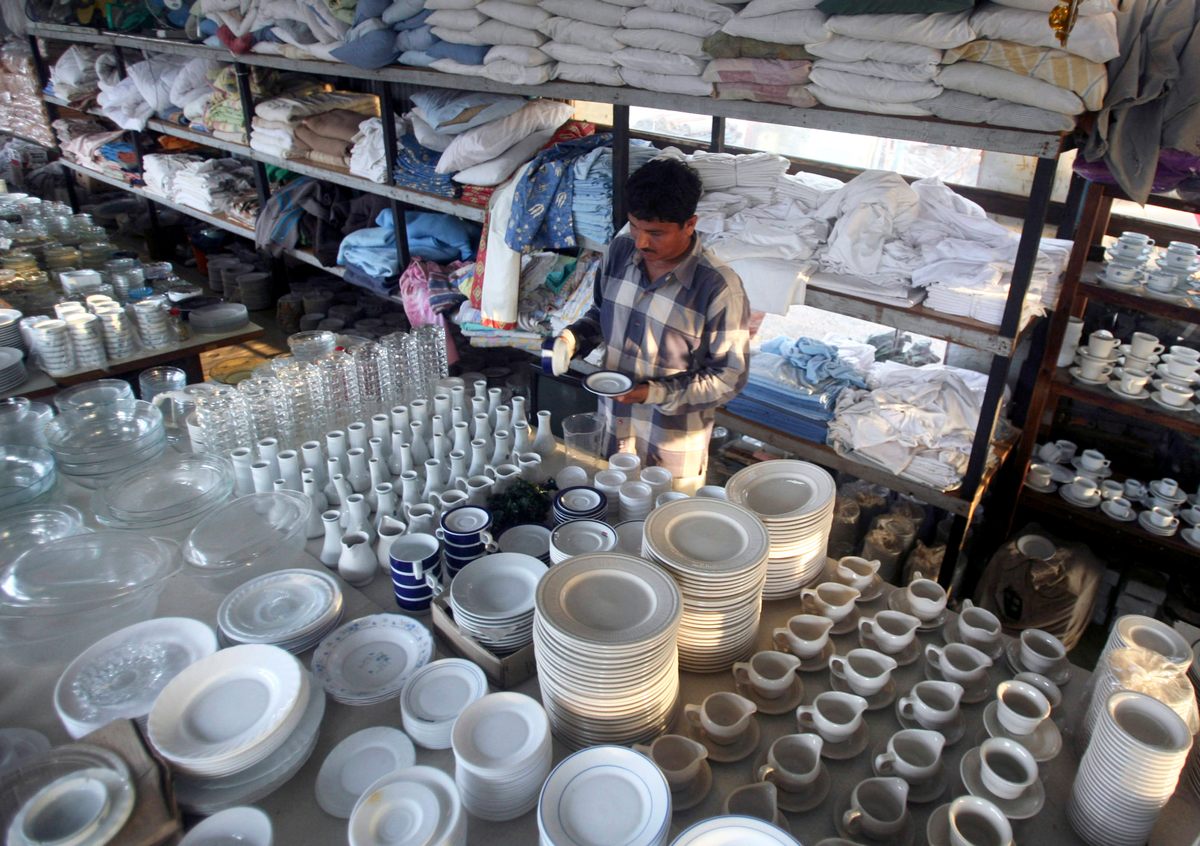 Ramesh Joshi is one of the market's elders. His store opened in 1990, and when he arrived, the market spanned a mile or so. Now it's over 6 miles long. "In the first few years we sold different things," says Joshi. "Then we studied and understood the market and decided to specialize." A smorgasbord of tools hangs behind him: ropes and devices of all colors and girths, lifebuoys blanketing the entrance, and heavy chains dangling from the roof.
Many of these storekeepers are locals from nearby villages who sensed an opportunity and dived in. Now the market is so well-known that even outsiders come to sell goods here.
"The brands are all different, it depends on the country of the ship," says Arvind Baraiya, who has been in the business for about 26 years. His warehouse stretches deep inside, packed with a jumble of dryers, washing machines, and other laundry equipment. "Of course there is bargaining," he says. "That is natural. This is not a fixed-price showroom." Here, prices start as low as Rs 5,000 ($72) and may approach $1,500.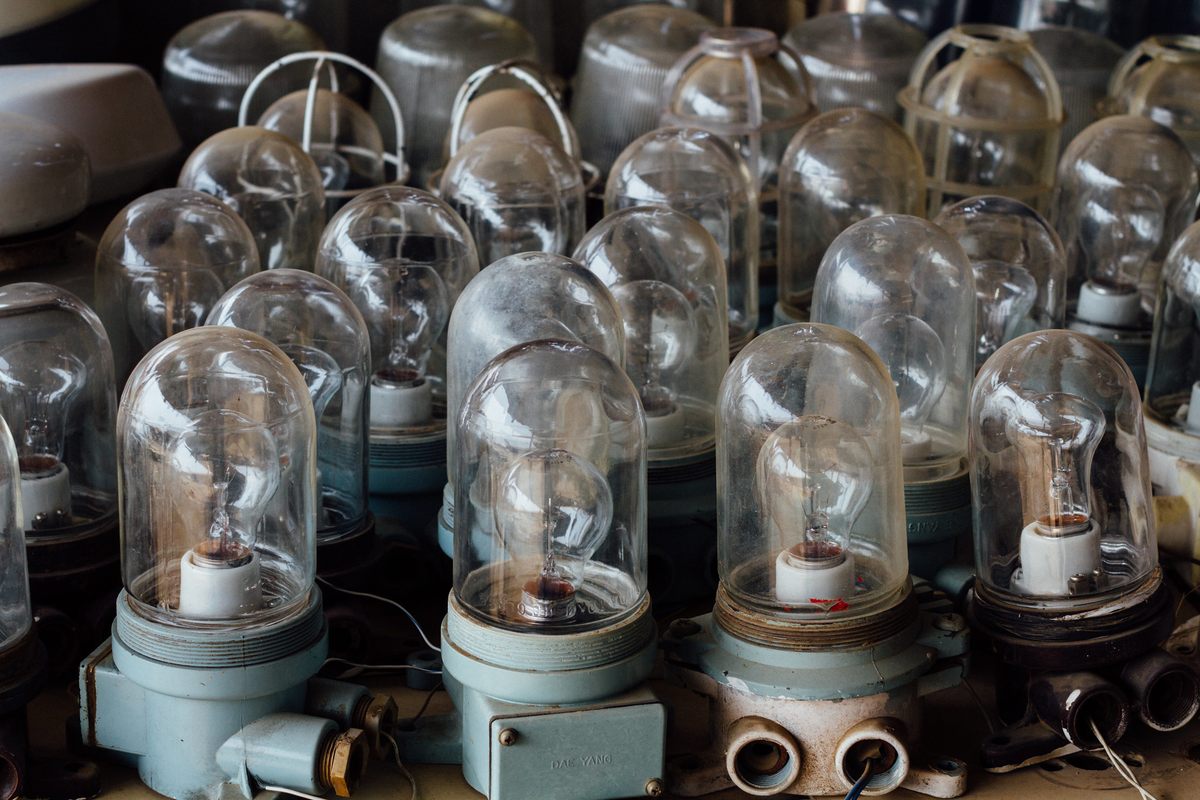 Down the road, Kapil Pandya is stretched out on the ground, hammering away at a wooden door, working on the rough edges and trying to get it into shape for sale. "You have to renovate the stuff before you can sell it," he says. "People love original ship stuff. New material you can get anywhere." Toward the front of the store lie dusty signs that say "STAIRWAY," "SMOKING ROOM," and "SAFETY FIRST." There are whiteboards with ballast water calculations, a first aid cabinet, and large framed photographs. Their resale value is unclear but they add heaps of character to an otherwise unremarkable warehouse.
The last time Pandya was successful at an auction was two months ago, when he bought about seven metric tons of furniture for Rs 20,000 to Rs 30,000 ($288 to $432) including transport costs. "It's not the case that you get something each time at an auction, it depends," he says.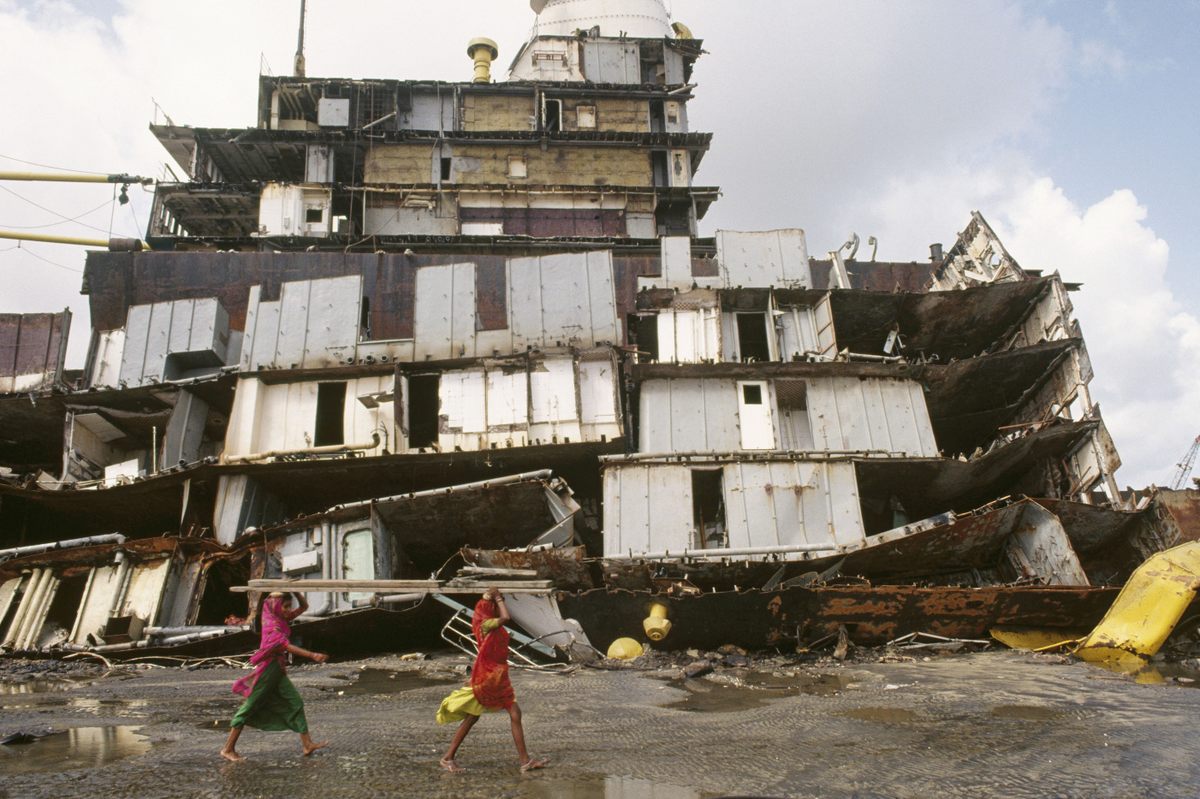 Many of those who shop here regularly are dealers or business owners who need specialty equipment in bulk. Six months ago, Kamlesh Parmar came on an elaborate shopping expedition to furnish his nearby restaurant and returned a happy customer. He bought 25 tables and chairs for approximately Rs 35,000 ($500)—a bargain, he claims. "It's not new," he concedes. "But it seems new. Besides, even if it comes into contact with water, the goods don't get damaged."
Beyond the bustle of the market, deep in the yard, Jignesh Dave sits behind his sturdy second-hand desk and unspools his business plan. Thin, bespectacled Dave has been in the computer business here for 10 years, and now hopes to take the ad-hoc, unorganized market online, a kind of Flipkart or Amazon, but just for Alang. "Outside, even a small shop has an app and website," he says. "This is such a big market but nothing is digital."
In early April, along with his cousin Chintan Dave, he launched Alang SGold, an app that aims to help buyers and sellers find each other online. Over several months he went about the task of speaking to shopkeepers and trying to convince them of the benefits of going digital. "Most people here are rural," he says. "They don't understand these things. It's difficult to explain." The app saw 267 downloads in the first 10 days, and showcases about 525 products from stores across the market. It's still in "start-up" mode but they hope to expand slowly.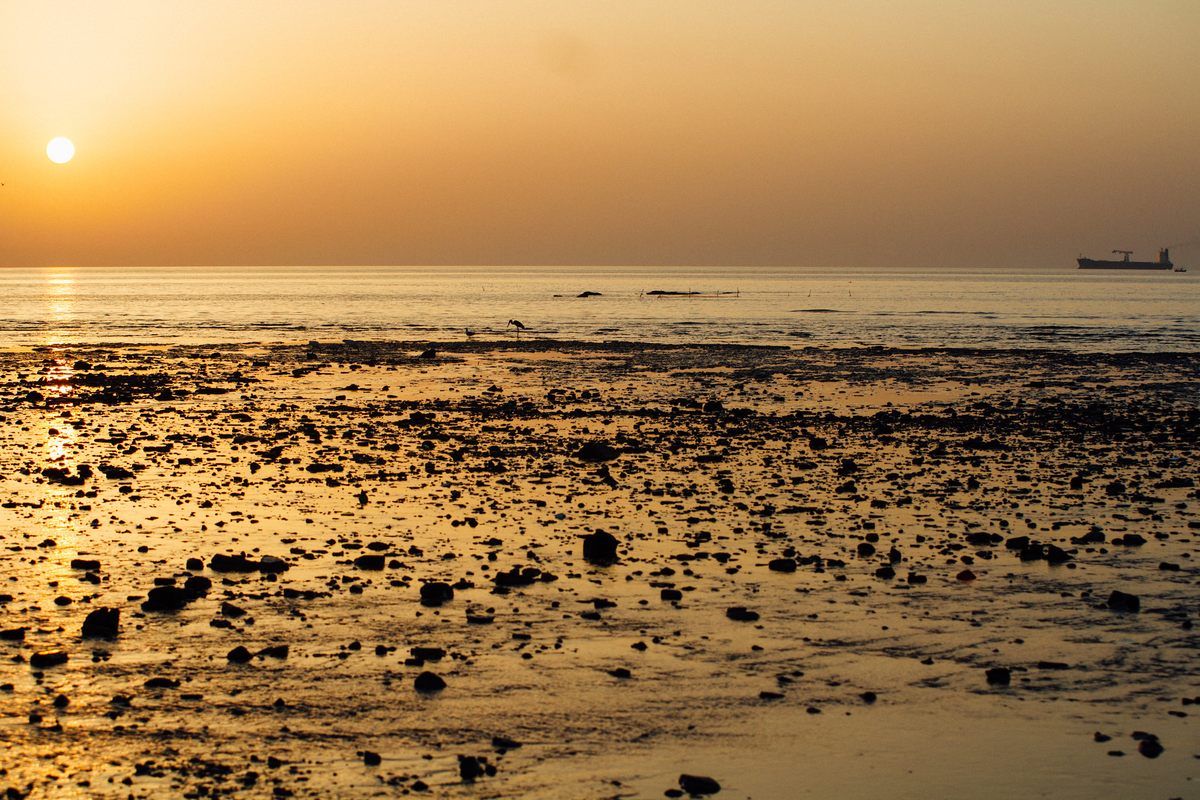 Meanwhile, overall business at the market has been slow lately, most shop owners say, attributing this to a jumble of factors: the continuing after-effects of demonetization in 2016 when the government withdrew and later reissued high-value banknotes, the introduction of a new goods and services tax, and the decline in the number of ships being broken. (The number of ships scrapped peaked in 2011—12 at 414, compared to 253 in 2017—18.)
Some stores have resorted to selling new goods in addition to ship-sourced goods, or in the local parlance, "Indian" or "Chinese" as opposed to "ship goods." "There is more competition now," says Pareshbhai Baraiya, a furniture dealer who only sells new goods. "There are more shops, things are expensive, so not everyone can buy ship goods."
Given all the vagaries, even Sahajanand's Baraiya stocks some local goods. This morning, he could not get anything for his furniture shop at the auction. But in the evening, there is likely to be another auction. He can only hope that the second run will be better.