All
United States
Washington, D.C.
The Atlas Obscura Guide To
Washington, D.C.
265 Cool, Hidden, and Unusual Things to Do in Washington, D.C.
Updated September 8, 2023
There's no better way to experience the history of the United States than through the hidden wonders of the capital. From the more unusual inclusions in the Smithsonian's collection to America's very own catacombs, we can help you get beneath the American project.
Unusual Attractions in Washington, D.C.
Cool Places to Eat & Drink in Washington, D.C.
In partnership with KAYAK
Plan Your Trip
In partnership with GetYourGuide
Unforgettable Experiences Nearby
Atlas Obscura Itineraries
The Explorer's Guide to U Street Corridor
The U Street Corridor is an epicenter of art and African American heritage in Washington, DC. Once known as "Black Broadway," U Street was the center of Black culture in America. (It's where Duke Ellington was born!) Though the neighborhood struggled in the years following the 1968 riots, it's as vibrant as ever today. Start your day on U Street at a mural honoring Black Americans from Harriet Tubman to Dave Chapelle, and end at a beloved Ethiopian restaurant where you might be lucky enough to catch some live music and dancing. Along the way you'll grab a drink, uncover forgotten history, and stand inside theaters where everyone from Ella Fitzgerald to Nirvana have performed.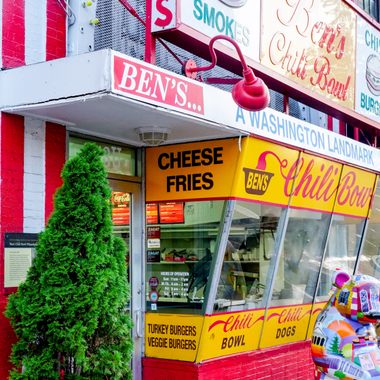 Explore Washington, D.C.
Recent Washington, D.C. Activity
Stories About Washington, D.C.
Lists Featuring Washington, D.C.
See Fewer Ads
Become an Atlas Obscura member and experience far fewer ads and no pop-ups.
Learn More