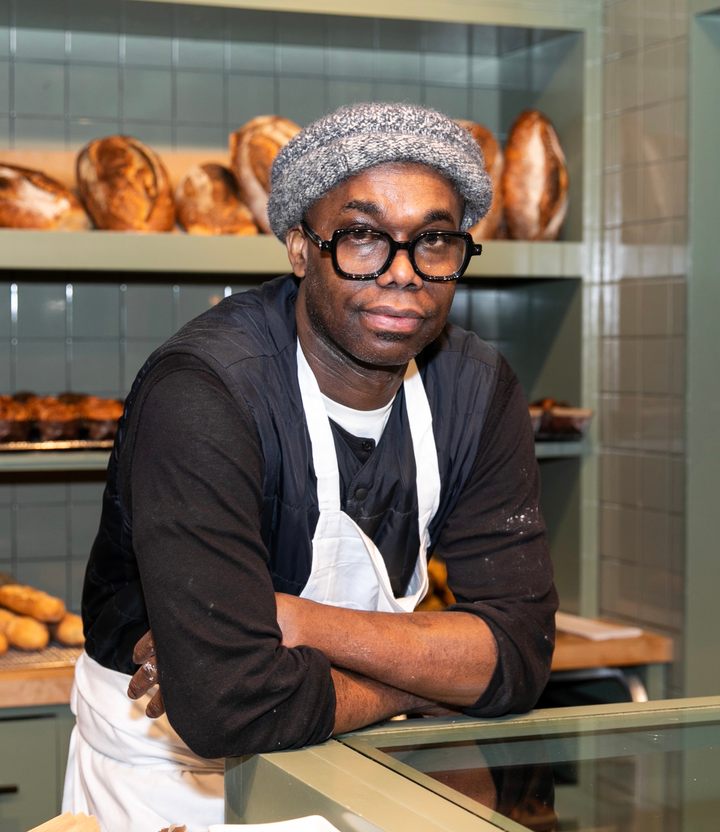 Meet the West African Baker Reshaping French Pastry
Amadou Ly is working wonders in laminated dough.
There are days when Amadou Ly barely sees the sun. ALF Bakery, located on the subterranean level of Manhattan's Chelsea Market, opens at 9:00 a.m., but Ly's day starts hours earlier, in the dark, in his glass-walled work station in front of a piano-sized machine called a dough sheeter.
Lamination, the practice of incorporating layers upon layers of whisper-thin butter into dough, is at the core of much of what Ly does—and it is not a process that can be rushed. Invented in Austria as early as the 13th century, laminated dough took Paris by storm in 1839, when a Viennese artillery officer by the name of August Zang set up a bakery in France. The slightest fluctuations in temperature, humidity, or timing can ruin a batch of croissants in an instant.
"Most humans, we like to cut corners," Ly says. "So that's why people are intimidated by lamination, because [if you rush], it's going to show. The butter will have totally broken into the dough. You'll look at it and think, This is what I get after two days of work. I'm impatient in nature, but when it comes to this, I'm very patient."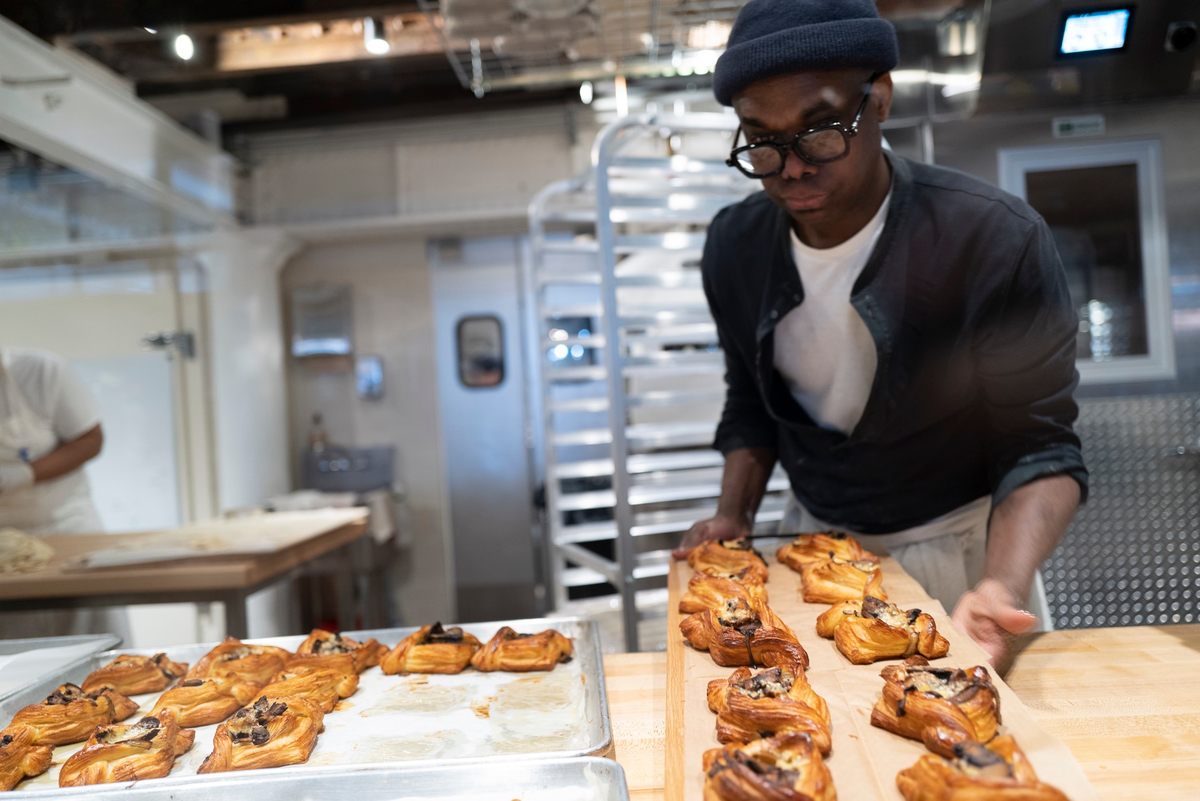 By the time customers arrive, the pastry case is lined with rows of savory mushroom danishes, apple chaussons, and coils of babka cradling the darkest chocolate. Most coveted of all are Ly's laminated brioches and laminated baguettes, hybrid loaves with the toothsome interiors of a yeasted loaf and the crackly, flaky exterior of a croissant. The baguette in particular is a tightrope walk of a bake, one that demands that two technically precise, utterly different doughs finish baking at the same time.
The results are extraordinary, but it's not hard to see why Ly is currently one of the few bakers in New York City—or the world, for that matter—who makes them. "A lot of bakers think, 'I don't want to touch this. It's just too much work. I already have to struggle to make my croissants,'" Ly says.
Roger Gural—a friend and collaborator of Ly's and the former head of New York's celebrated Arcade Bakery—developed a laminated baguette in 2012 that drew throngs of customers. The unusual loaf was inspired by a recipe from the 2002 work Tours de main, pains spéciaux et recettes régionales by Christian Vabret. As Ly is quick to point out, neither he nor Gural truly invented the laminated baguette; rather, they brought new life to a concept that had been largely forgotten.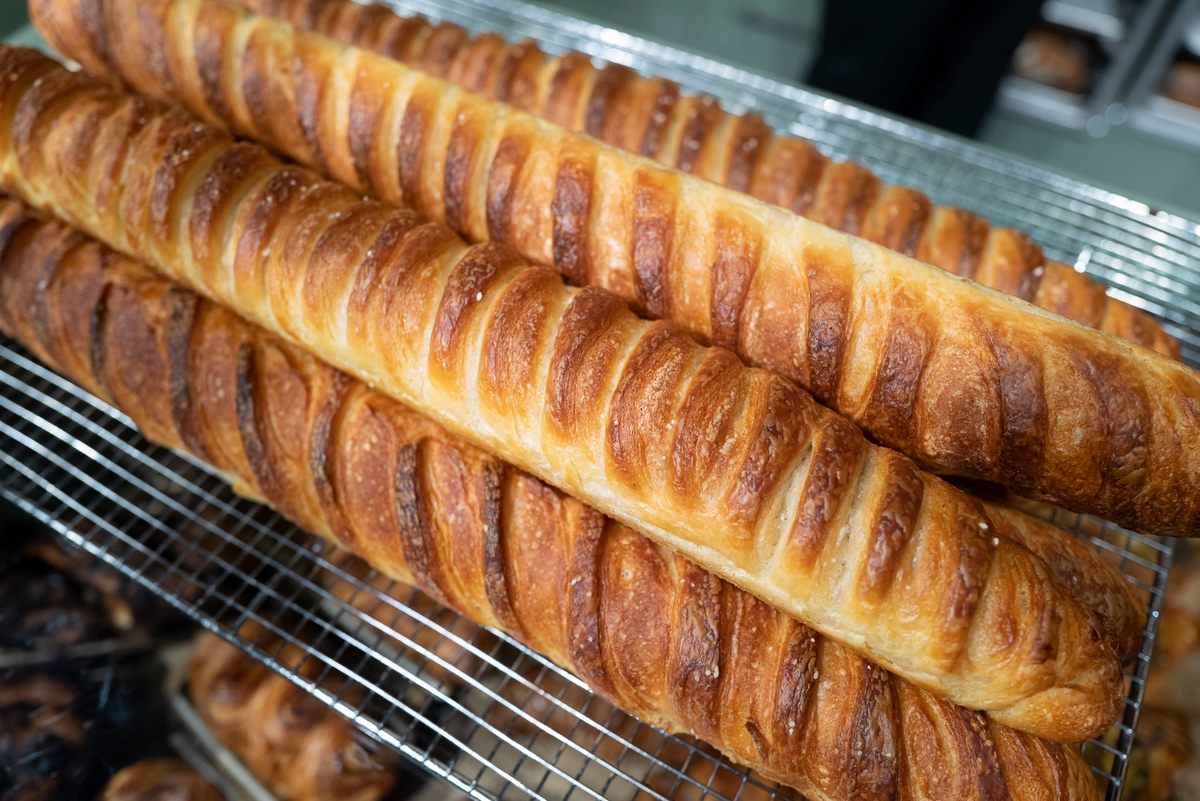 "Everything that I'm doing here comes from a tradition," Ly says. "I'm trying to bring back the classics. I have a large collection of literature, of old books of pastries. I'm doing it because I have the techniques and I have the passion."
ALF Bakery, or "Amadou Ly Fancy Bakery," which opened in April 2023, is his first solo venture after an extensive career at some of New York's most sought-after bakeries and fine-dining establishments. After growing up between Senegal and Togo, Ly came to the U.S. for academics, but found himself drawn instead to the culinary world. For the better part of two decades, he worked his way through the kitchens of Jean-Georges, Insieme, Mas, and others. Throughout it all, Ly prioritized honing his skills above all else, journeying to Barcelona to learn about chocolate from a master and Paris to dive deeper into pastry.
Then, rather than stay in his comfort zone, Ly reached out to Gural at Arcade Bakery and told him that he wanted to master the art of baking bread—no matter what it took. When Gural cautioned that he had only an entry-level position and that Ly would effectively be starting his career from scratch, Ly persisted, telling him, "You can pay me whatever you want."
During the five years Ly worked at Arcade, the bakery developed a reputation for some of the most innovative creations in New York, including those laminated baguettes. When Gural closed the business, plenty of people approached Ly with job offers. He refused them all. "I always dreamed about owning my own [place] in New York," he says. "I came here 18 years ago from Africa and I love the city. For me, New York is my home."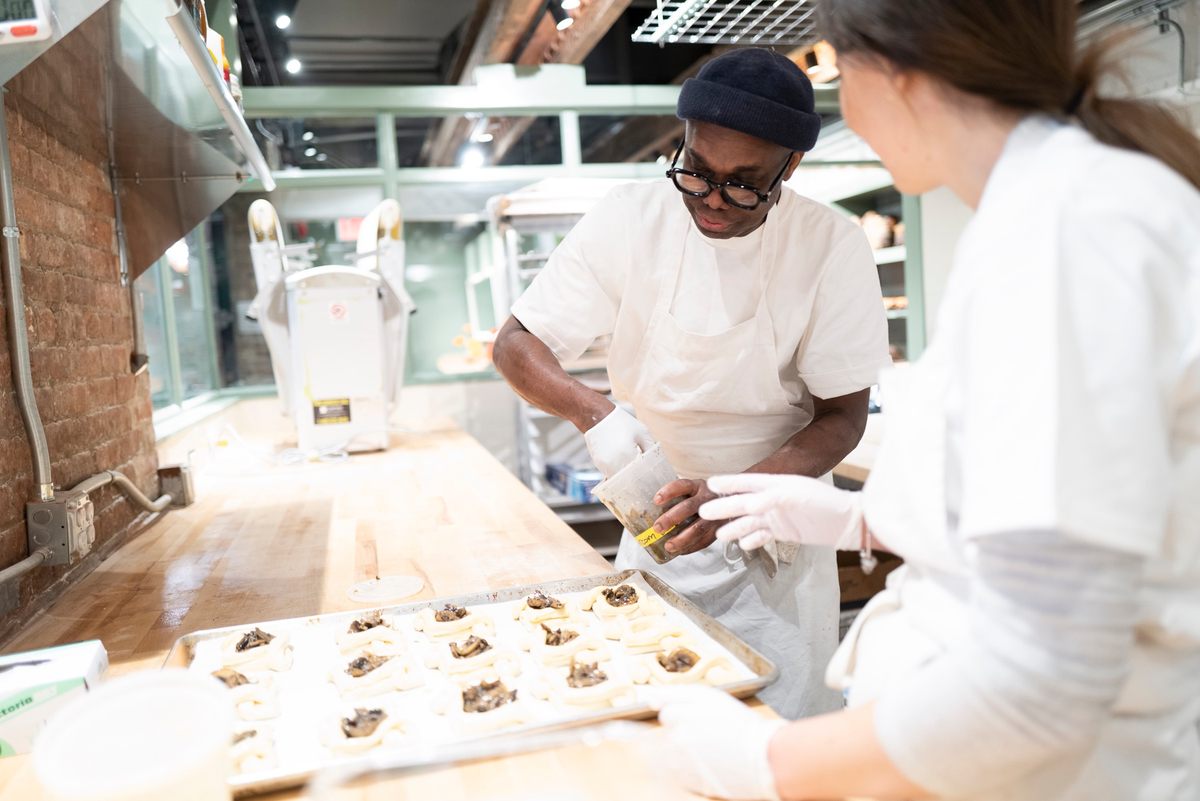 While Ly holds an immense reverence for the history behind his pastries, he feels no qualms about making them in his own way. Because Ly's palate errs on the savory side, he often uses laminated dough as a foil for seasonal produce, be it asparagus or mushrooms.
And when the mood strikes, he feels free to experiment with specials, such as a shatteringly flaky dough topped with a lush, salty panna cotta and rhubarb. "I want someone to come in and see something they can't have anywhere else," he says. "Panna cotta with laminated dough? It's wild, but it's tasty."
Few bakers are willing to add an additional complication into their already daunting daily schedules. Some of the baked goods in ALF's display case take three days to make, meaning the kitchen needs to operate with Swiss-watch precision. "Baking is all about fermentation and timing, staggering things," Ly says. "It's challenging, but it's beautiful. So for me, I care about the result. If it takes 24 hours, it takes 24 hours."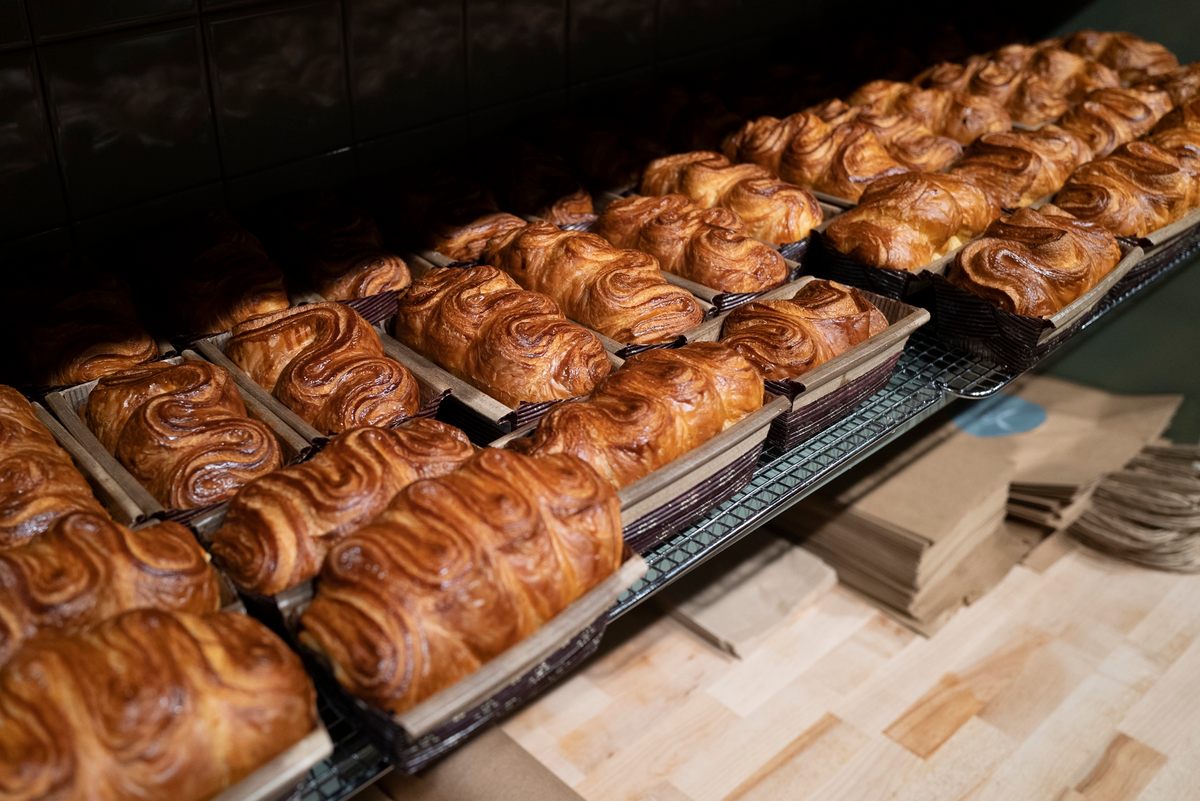 For some, baking bread is a career; for others, it is an obsession. And while the path for most small bakeries in New York is to ultimately sell out and scale up, Ly says he intends to stay small. So far, his decidedly hands-on approach is working. Most mornings, lines start forming by the time ALF Bakery opens and batches of laminated baguettes fly off the shelves while still warm.
"A lot of French tourists were here the other day," Ly says, bemused. "They were like, 'Are you Parisian?' I'm like, 'No.' They couldn't believe it."
Both Togo and Senegal still bear the vestiges of French colonization and Ly has spent considerable time in bakeries in Paris. For him, the art of viennoiserie, of laminated doughs that splinter between teeth into a thousand buttery shards, has transcended its national origins. Like the French language, it now has history and significance that spans continents and cultures.
"You can hate the fucking French if you want," he says with a laugh. He doesn't, however, and he feels no need to adhere to traditional French dogma when it comes to baking. "They have kept something that goes beyond them now. It's for the world."
Gastro Obscura covers the world's most wondrous food and drink.
Sign up for our email, delivered twice a week.