Alfred Hitchcock's Contentious Relationship With Dinner Parties
Sometimes the food was all blue.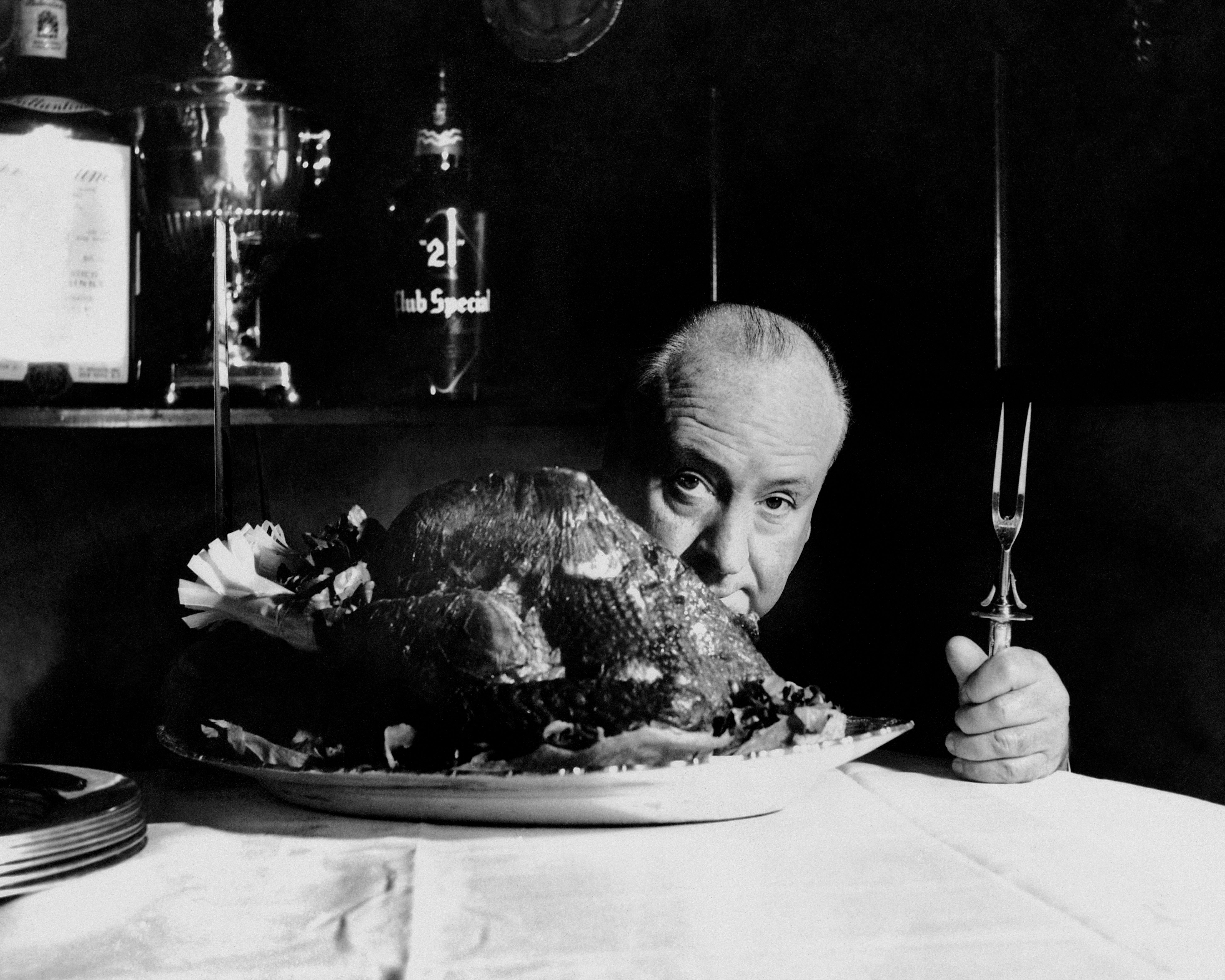 For decades, Alfred Hitchcock was a cinematic giant. Decades of making films such as The Birds and Dial M for Murder established his reputation as "The Master of Suspense." It was a reputation Hitchcock played up off-set as well, even at dinnertime. At two of Hitchcock's dinner parties, every single item of food was blue. At another, every dish was death-themed.
Hitchcock's culinary quirks stemmed from his love-hate relationship with food. He had an uneasy childhood as the son of an English grocer. Once, when his parents stepped out at night while he slept, young Hitchcock woke up unexpectedly. His parents found him eating cold meat and crying. As an adult, he couldn't stand cold meat, and he loathed eggs (their shape unnerved him) and cheese. Food took on meaningful quality in many of his films as well, from the sinister sandwiches in Psycho to Grace Kelly's coy offer of "a leg or a breast" of chicken in To Catch a Thief.
Hitchcock's wife, Alma Reville, also a director and screenwriter, was a fantastic cook. But she didn't enjoy Hitchcock's practical jokes, which could be downright cruel: He locked one actress, who was afraid of fire, into a phone booth and filled it with smoke. (Tippi Hedren, the leading lady in The Birds, has accused Hitchcock of sexual assault, suggesting an even darker side to his callousness.)
Some of Hitchcock's pranks took the form of dinner parties. Hitchcock himself said he didn't enjoy entertaining much, but he held many perfectly normal dinners, which were often attended by leading actors and celebrities. Other times, though, Hitchcock let his showmanship take over.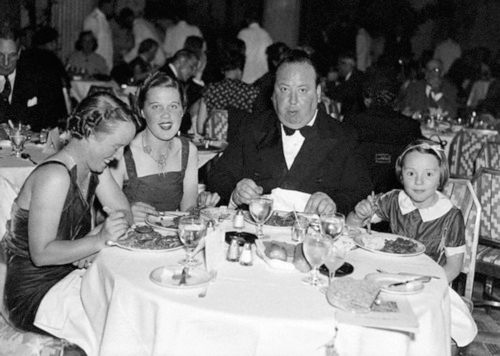 One such party was more of a practical joke than a soiree. He held his blue dinner in the upstairs room of a London restaurant called the Trocadero, on a date Hitchcock fails to mention (and his famous guests kept quiet, perhaps out of embarrassment). Speaking about the dinner in a 1970 interview, Hitchcock was unable to keep himself from chortling. "And all the food I had made up was blue! Even when you broke your roll. It looked like a brown roll, but when you broke it open it was blue. Blue soup, thick blue soup. Blue trout. Blue chicken. Blue ice cream." Even the insides of the peaches were blue.
Hitchcock's guests included actor Sir Gerald du Maurier (father to author Daphne du Maurier) and Gertie Lawrence, a Broadway star, both famous in the 1920s. Not content with just dyeing the food, Hitchcock also put a whoopie cushion on Lawrence's chair. Later, Hitchcock repeated the dinner. According to actor Jimmy Stewart, who was a guest, the food, flowers, and silverware were all blue.
In the same interview, Hitchcock described another memorable meal, which he held at his house in Bel-Air. Instead of using large tables, he rented 45 TV-dinner tables and 45 chairs, and set them in a large circle. That would be esoteric enough, but the filmmaker also put name cards on each table. None of the names corresponded to any of the guests, which sent attendees on a spinning gauntlet around the tables looking for their seats. (Jimmy Stewart was a victim this time around too.)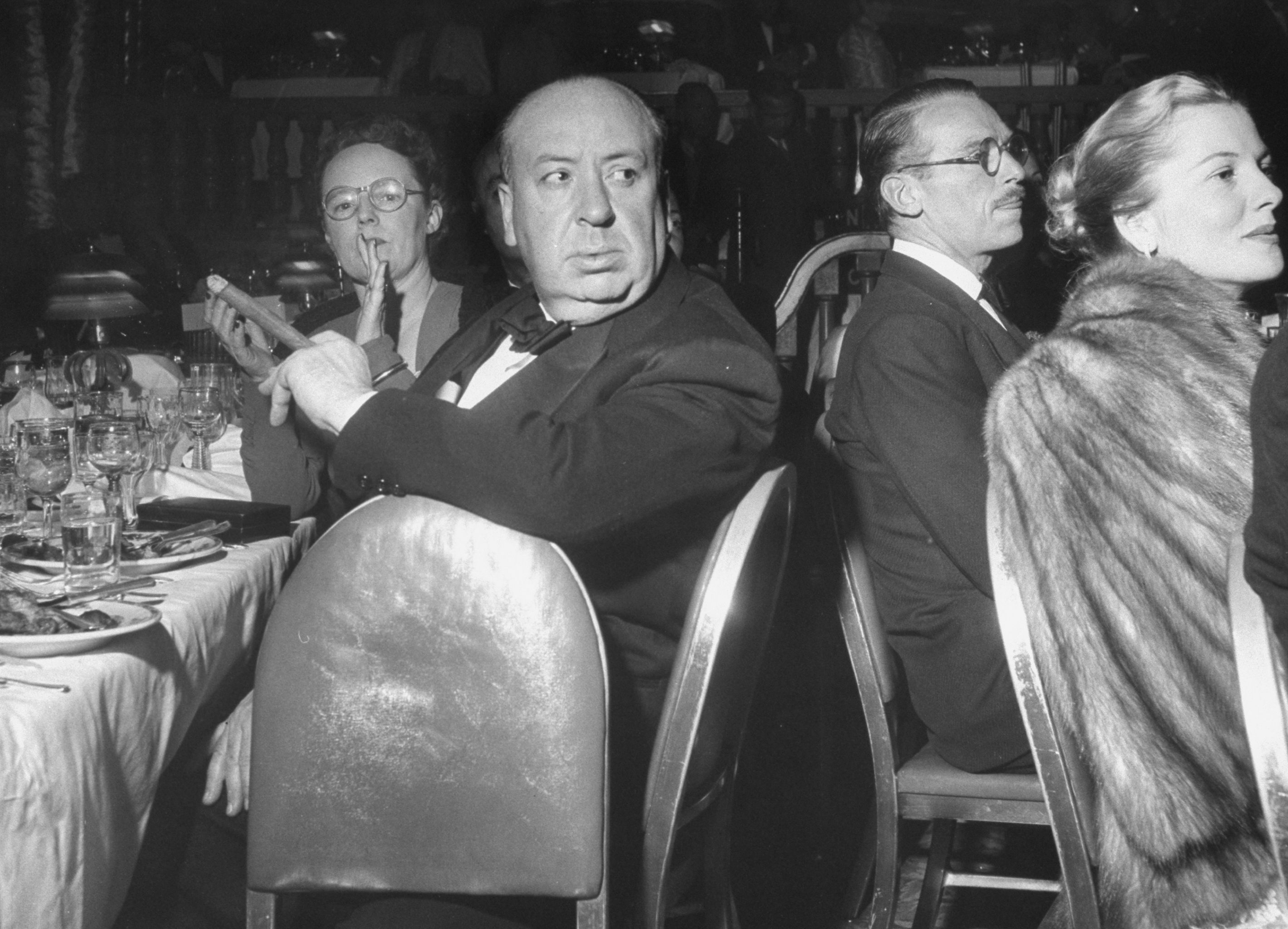 In 1956, Hitchcock threw a morbid haunted house party that perfectly fit his spooky reputation. He invited Warner Brothers executives and members of the press to a rented house in New York, and each guest received an invitation that doubled as a menu. The meal consisted of a whole list of horror tropes: "Morgue mussels, suicide suzettes, consommé de cobra, vicious-soise, home-made fried homicide, [and] ragout of reptile." He also served a cake made to look like a decrepit church and graveyard.
Life magazine photographed the event, and photos show attendees dressed to the horror-movie nines wandering through cobwebby halls. While it was the strangest of Hitchcock's parties, it was one of the few where guests were forewarned.
There was one dinner party that Hitchcock never got to have. Hollywood star Carole Lombard was the Hitchcock family's landlady, renting her home to them starting in 1939. But while still living at the house, Lombard, disgusted by a shrunken head that her husband Clark Gable owned, buried it in the house's garden. Hitchcock proposed that a party should be arranged to dig it up. But in a twist worthy of one of Hitchcock's movies, Lombard died in a plane crash, putting an end to any festive feelings.
Gastro Obscura covers the world's most wondrous food and drink.
Sign up for our email, delivered twice a week.