Astronauts Are Getting Better and Better at Farming in Space
Dinner in orbit is getting a whole lot fresher.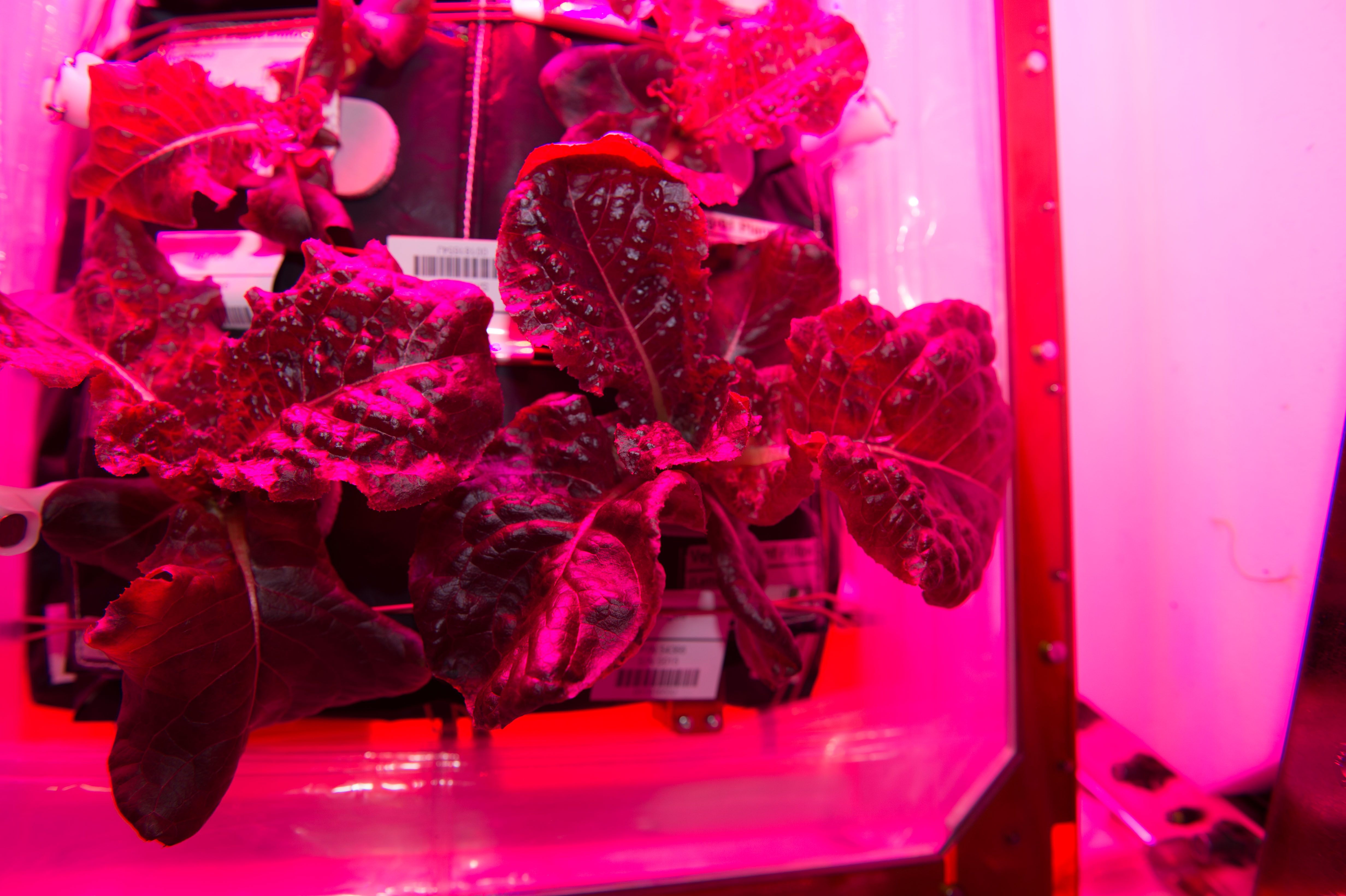 Space farming is now officially a thing. After proving that lettuce grown entirely in space was safe to eat back in 2015, NASA has announced that the first crop of orbital veggies has now been cultivated exclusively for consumption by the crew.
This latest crop of "Outredgeous" red romaine lettuce grown entirely on the International Space Station, operation name, Veg-03 and spearheaded by NASA astronaut Shane Kimbrough, is the newest step in NASA's ongoing efforts to create a sustainable, renewable food source aboard their spacecraft. The first space lettuce eaten by American astronauts (Veg-01) was produced back in 2015, and was sampled both plain, and with balsamic vinegar by the ISS crew. Astronaut hero Scott Kelly said at the time that it tasted like arugula.
Having proven that a safe form of produce could grow in orbit, testing continued, trying to develop the best method to keep the modest crop producing in the station's microgravity, facing challenges such as how to get the plants the right amount of water and light. The plants, which are rooted in a specialized grid of "pillows" that hold the seeds in place, receive the necessary amount of light from a mix of red, blue, and green LEDs, and are fed water from a secondary system. Although according to NASA's press release on the Veg-03 harvest, they almost overwatered the plants, before coming up with the idea to dry them out using a fan. Space is the mother of invention.
With the basics seemingly in hand, the lettuce on the ISS is now being carefully harvested using a "cut-and-come-again" technique which leaves some of the leaves and the core of the plant intact, so that it can quickly regrow, to be harvested repeatedly. This type of sustainable food production is the first step in solving one of the major problems with manned deep space travel.
For the first time, there are now six Outredgeous lettuce plants now in full growth aboard the station, and the small harvest that took place last week will be used entirely for crew consumption. The astronauts on the ISS plan on getting three more harvests out of the plants before having to grow new samples.