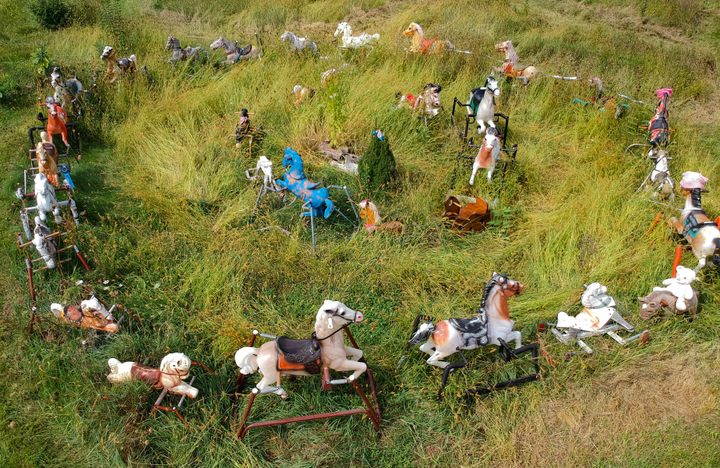 25 Places to Celebrate 25,000 Places
To celebrate our landmark 25,000th place, here are some favorite deep cuts from Atlas Obscura staffers.
Over the years, the Atlas Obscura community has scoured the globe to bring you the most fascinating, unique, and unusual places—some in plain sight, others way off the beaten path. Last week we hit a big milestone when we added our 25,000th place to that database: The medieval ruins of Songo Mnara on an island off the coast of Tanzania.
Atlas Obscura began with the Atlas itself, and this collection of wonder continues to be a central part of what we do—helping people plan trips, explore the world, and learn about all the amazing places out there. If you've been with us for a while, you're probably familiar with some of our all-time favorites: the Gates of Hell in Turkmenistan, London's sprawling Highgate Cemetery, or the Root Bridges of Cherrapunji in India. To celebrate this milestone, we asked members of our staff to tell us about their favorite Atlas Obscura Places, with a focus on the hidden wonders of the Atlas itself, deep cuts that we love and want to share with all of you!
Lincoln, Massachusetts
On a small slice of wide-open pasture in the town of Lincoln, Massachusetts, broken-down rocking horses, plastic ponies, and other assorted horse toys hold court. As if by magic, ponies have been proliferating along this winding country road for years, resulting in the peculiar "Ponyhenge."
"This delightfully creepy Stonehenge made of old rocking horses is about a 15-minute drive from where I grew up. My brother showed it to me for the first time and visiting has become something of a tradition around Thanksgiving each year."
—Diana Hubbell, Associate Editor, Places
Xiulin Township, Taiwan
Made up of towering walls of marble and limestone, covered in abundant sub-tropical greenery, dotted with shrines, riddled with tunnels, and spanned by hanging bridges, this extraordinary and dramatic landscape is a must-visit when in Taiwan.
"A tour of Taroko Gorge offers surprises around every corner: a canyon that frames the shape of Taiwan against the sky, house-size boulders of gleaming white marble sitting in a riverbed, cascading ribbons of waterfalls. It's just a stunning daytrip from the action of Taipei."
—Samir S. Patel, Editor in Chief
Altivole, Italy
The Brion Tomb, built by visionary Italian architect Carlo Scarpa, draws fans of Modernist architecture from around the world. Scarpa began working on the tomb in 1969 at the request of Onorina Tomasi Brion, the wealthy widow of the founder of an electronics company.
"I felt like a space explorer who landed in an elegant and alien portal, though a very sacred one, when I entered Brion Tomb on a very overcast day. This modern design, primarily lines and concrete, feels cold, but I love how it's full of symbolism (the shape of eternity rings as an entry way), meticulous attention to harmonious architectural details, and the sci-fi looking font on Giuseppe Brion's tomb. It's a very complex and meditative space to navigate, which feels fitting in a place honoring death and the dead."
—Winnie Lee, Visuals Editor
Wellington, New Zealand
Quasi is many things—public art, rooftop decoration, New Zealand native—but, primarily, Quasi is a face and a hand. Rather, Quasi is a face on a hand. Standing at a little over 16 feet tall, the sculpture is the brainchild of New Zealand artist Ronnie van Hout. It is sort of a self-portrait; van Hout scanned his hand and his face and then smashed them together in polystyrene and resin.
"I've been a fan of Quasi since I first laid eyes on him. He's a little bit creepy, a little bit mysterious, and definitely polarizing. But he's also a perfect encapsulation of the kind of Atlas Obscura place that I love most—something that you look at and just know that there's a story behind it."
—Michelle Cassidy, Senior Editor, Places
Petersburg, Virginia
Though it may look like a typical stone house, its foundation has macabre origins. The building was constructed in 1934 from the bottom half of government-issued marble tombstones that previously topped the graves of Union soldiers in Poplar Lawn Cemetery.
"I grew up just a few miles from the tombstone house, and passed it often as a kid. I had heard stories that it was built from old graves but never knew its history. When I began working at Atlas Obscura I stumbled across this entry and finally learned the entire story. It felt like a full-circle moment."
—Jonathan Carey, Senior Associate Editor, Places
Nunavut, Canada
Eerily standing on Beechey Island, a peninsula off Devon Island in the Canadian Arctic, are four lonely graves: three members of an ill-fated expedition to the Northwest Passage, and one of the men who went looking for them. You can listen to the story of the Franklin Expedition—and its mysterious ending—in a two-part episode of the Atlas Obscura Podcast.
Ithaca, New York
Each year at Cornell University, fall heralds the return of a most unusual vending machine outside of Mann Library, near the Department of Horticulture. In lieu of the usual assortment of snacks, the popular fixture features nine apple varieties, all grown at Cornell Orchards' two locations.
"I'm slightly obsessed with the high-stakes, oddly competitive arms race to develop new apple varieties. Students at Cornell get to taste a wide selection of ones grown—and in many cases developed—right there. And we love our unusual vending machines here at Atlas Obscura."
—Diana Hubbell, Associate Editor, Places
Rome, Italy
For more than 250 years, the ancient Romans methodically piled up broken terracotta amphorae at this site, near a bustling ancient marketplace, which resulted in an ancient garbage heap—a hill, visible for miles around, made entirely of broken pottery. Today it's a park, surrounded by bustling nightlife, and also a treasure trove for archaeologists.
"Exploring the usual sites of Rome is a great experience, but away from the crowds, out in the neighborhoods, there are yet more wonders. Pottery sherds are among the most common Roman artifacts, but to see a veritable mountain made of them? It gives a sense of how long-lasting and influential ancient Rome was, in a way that's strangely down to earth, compared to the Colosseum or Forum."
—Samir S. Patel, Editor in Chief
Orick, California
In Northern California's Prairie Creek Redwoods State Park, there is a narrow canyon with walls that stand over 30 feet high. The walls are shrouded in lush ferns and a variety of other plants and mosses. Five different types of ferns line the canyon's walls, some of which are species that date back more than 300 million years.
"I have a very soft spot for the Fern Canyon in California—a canyon just covered in green. It's also where part of Jurassic Park was filmed!"
—Samantha Chong, Associate Director, Audience Development
Hatsukaichi, Japan
In 806, Kobo Daishi began meditating on Mount Misen, the tallest mountain on the Japanese island of Itsukushima. The Buddhist monk lit this holy fire, which has been kept burning for the past 1,200 years.
New York, New York
The Greenwich Village movie house Film Forum is a great place to see international and art house cinema, and also happens to serve a killer banana bread—that once delighted legendary French philosopher Jacques Derrida.
"Technically, when Derrida visited Film Forum, he told a journalist that he likes banana bread—he didn't say that this was his favorite version. Still, the story about the late, great French philosopher endorsing it is a great little piece of New York lore. And the banana bread there slaps."
—Diana Hubbell, Associate Editor, Places
Yucca Valley, California
The Crystal Cave was almost a very short-lived project. Creator Bob Carr destroyed this unusual, immersive art project with most of the Sky Village Swap Meet in 2008, when it looked like the City of Yucca Valley was going to claim the land it occupied under eminent domain. Local sentiment prevented the seizure, but the cave itself was a ruin until 2010, when two Danish art students helped Carr rebuild the meditative space made of foam, running water, and thousands of crystals.
Clare, Ireland
A 19th-century survey stated that Ireland has no fewer than 3,000 holy wells and at least 15 of them are dedicated to St. Brigid. But few compare to the one located between Liscannor and the Cliffs of Moher in County Clare.
"Visiting Brigid's Well was like stepping into one of my favorite fantasy novels. I even ended up doing an Atlas Obscura podcast episode about the site, St. Brigid, and her ties to the pagan Celtic goddess, also named Brigid."
—Sarah Durn, Associate Editor
El Peñol, Colombia
This massive stone rises more than 650 feet out of flat ground. It was once worshiped by the Tahamies Indians, but by the 1900s, the 10-million-ton rock was seen as a nuisance by local farmers. It is almost entirely smooth, except for one long crack, into which a 649-step staircase has been wedged.
"I found God after climbing the 649 steps to the top of El Peñon de Guatape. It's a workout, but one of the most breathtaking places in the Atlas I've ever been to."
—Evan Bonham, Senior Manager, Social Strategy, Brand Partnerships
Kashan, Iran
The historic bazaar in Kashan is full of winding passageways, concealed yards, tombs, and small mosques, all interspersed among stores selling a vibrant selection of goods. The marketplace and its network of passageways contain historic treasures, such as an 800-year-old mosque, historic bathhouses, and workshops for modern artists.
"Enjoying a fragrant cup of tea under its intricate domes, wandering through passageways and stumbling on a modern art show, shopping for the Persian rugs that live up to their reputation—the Bazaar of Kashan is a feast. And like many places in Iran—from Persepolis to Naqsh-e Jahan Square in Isfahan, it's little visited by international tourists."
—Samir S. Patel, Editor in Chief
Madrid, Spain
In the Plaza del Conde de Miranda, a simple set of double doors lead to a place where visitors can buy cookies directly from cloistered nuns. Since the nuns of Monasterio del Corpus Christi are strictly forbidden from contact with the outside world, they designed a rather ingenious system for selling their baked goods that involves a doorbell and a series of signs.
"Honestly, I am tempted to book a trip to Madrid just to buy a bag of cookies baked by cloistered nuns. It's like the sweet equivalent of a speakeasy."
—Diana Hubbell, Associate Editor, Places
Rwanda
As many as 50,000 straw-colored fruit bats make their home on Nyamunini Island, the largest colony of its kind in Rwanda. Located on the eastern side of Lake Kiva, the island is jokingly referred to as "Napoleon's Hat" for the similarities between its shape and the one-time French emperor's headgear.
"The scale of biodiversity on this small island is amazing on its own, and I can't wait to visit someday and experience these bats in person. But it also tickles me that it's so widely known for its resemblance to a piece of 19th-century headwear. I've done a side-by-side comparison and the similarities are just uncanny."
—Michelle Cassidy, Senior Editor, Places
Aquinnah, Massachusetts
On the southern coast of Martha's Vineyard, in the heart of Wampanoag country, the town of Aquinnah is known for its dramatic clay cliffs rising up from the coast, a bizarre landscape not generally seen on your typical New England beach.
"Not only is it an awesome, naturally beautiful location, I love the origin story of the cliffs. The legend goes that Moshup, a benevolent supernatural being, would wade into the ocean, pick up a whale, fling it against the cliffs to kill it, and then cook it over the fire that burned continuously. The blood from these whales stained the clay banks of the cliffs dark red. The coals of the largest trees (which Moshup plucked up by the roots), the bones of whales, shark's teeth, and petrified quahogs—all still around today in the cliffs—are the refuse from Moshup's table. The Aquinnah Cliffs are still a sacred place to the Wampanoag tribe"
—Zak Martelluci, Operations Manager, Experiences
Oakland, California
In the heart of West Oakland, at the intersection of Center and 9th Streets, stands a striking mural of a group of women—one clutches a rifle, another raises her fist in protest. At the bottom left corner of this beautiful art display, a woman smiles at a young boy, his black beret slightly tilted to the right. These are the women of the Black Panther Party.
"I love the artwork of this entry and the story of the neighborhood and house. It also celebrates a lesser-known but important piece of the history of the Black Panther Party. It is finally getting more recognition."
—Jonathan Carey, Senior Associate Editor, Places
Singapore
Instead of cash, this machine in Singapore's Wisteria shopping mall dispenses 200-gram fillets of frozen salmon from the fjords of Norway. It first opened in January 2019, and today it is one of the dozens of salmon ATMs dotting the island city-state.
Brooklyn, New York
Traces of the Brooklyn Navy Yard's industrial past are evident in its dry docks, factories, and storehouses. But the area also housed a naval hospital with own cemetery, where as many as 2,000 men were laid to rest. Today, that site is now a vast garden full of native plants, nesting birds, and pollinating bees.
"I love this surprisingly meditative space, often filled with wildflowers, just off a street full of traffic, next to a highway. It's simple, open, and modern in design, and a great place to rest, think, and watch people leapfrog over large, sculptural stone blocks in a meadow. And in New York City, you have to treasure every little bit of green space. Especially ones imbued with history that was lost and found again."
—Winnie Lee, Visuals Editor
Patan, India
From the plain, as you approach, Rani ki vav descends suddenly. Designed as an inverted temple with four pavilions on various levels, it highlights the sanctity of water. As you descend through its seven levels, you pass sculptural panels of the highest artistic quality, comprised of 500 principal sculptures and 1,000 minor ones.
"India is dotted with stepwells, which turned the act of retrieving and managing groundwater into a spiritual act that brought community members together. The country is also full of temples covered in remarkable sculpture. Rani ki vav is both—a massive architectural masterpiece all but invisible from ground level."
—Samir S. Patel, Editor in Chief
Astana, Kazakhstan
This giant glass and granite structure in Kazakhstan's capital city is among the world's most impressive pyramids—second, maybe, to the best Egypt has to offer. Fanatics of modern architecture and lovers of the ancient world, please discuss.
"It's a trippy pyramid representing unity."
—Matt Sawh, Account Director
Washington, D.C.
The Kenilworth Aquatic Gardens is an 8.5-acre collection of lily ponds just off the eastern branch of the Anacostia River in Washington, D.C. Before the National Park Service acquired the gardens in 1938, they were a booming private business that exported lotus flowers across the nation.
"This garden has been a favorite place of mine for a long time. Every summer its ponds fill up with these glorious lilies and lotuses, and if you duck down you can usually see frogs and turtles swimming through the stems and leaves of the aquatic plants. But it wasn't until I started working at Atlas Obscura that I got to learn the story behind Kenilworth, and the one-armed Civil War veteran who built the gardens largely by himself."
—Michelle Cassidy, Senior Editor, Places
Waimea, Hawaiʻi
This ruined fort, and an accompanying statue, are testaments to the last king of Kauaʻi and his savvy diplomacy skills, which briefly brought Russians to the Pacific island chain.
"My friend and I were driving around Kauaʻi when I saw this sign that said, 'Russian Fort Elisabeth.' Russians? In Hawaiʻi? I was so intrigued that I had my friend turn around so we could check it out. Almost a year later, I wrote a longform story for Atlas Obscura delving into the fort's complicated Indigenous and colonial history. The story is really about the politics of how we remember—and misremember—the past."
—Sarah Durn, Associate Editor