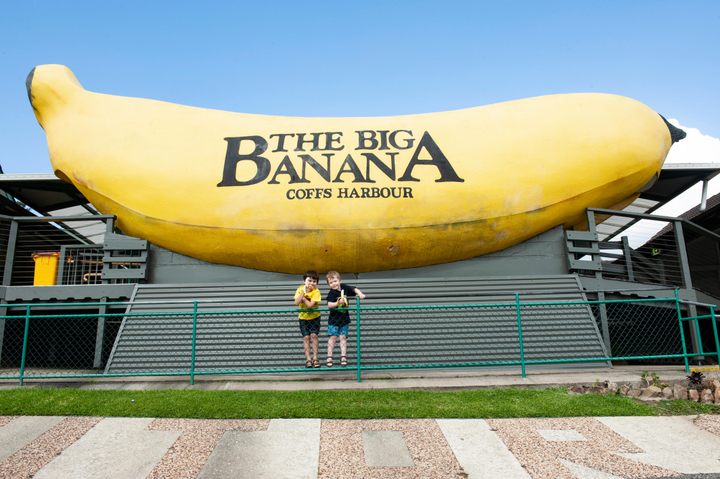 What's the Big Deal With Australia's 'Big Things'?
From pineapples to poisonous toads, Aussies love their enormous roadside attractions.
The Big Cane Toad sits in the middle of a median strip separating Australia's Bruce Highway in the east coast town of Sarina. It's crouched as if poised to jump and its mouth hangs ajar. This, combined with its protruding black eyes, warty back, and the fact that it's big enough to gobble up an entire human being give it an unsettling air. Sarina residents, however, are fond of the toad, nicknamed "Buffy," who is a nod to the town's sugarcane-farming history.
Visitors might wonder why there's a statue of a poisonous amphibian in the middle of the highway, especially considering the cane toad is not only unattractive but is also considered a huge pest in Australia. They'll quickly find, however, that the Big Cane Toad is not an anomaly. Drive along any highway or stop by a small town in Australia and chances are you'll come across a giant roadside statue of something unexpected. Part tourist attraction, part cultural treasure, and more than a little bit kitsch, these "big things" are a quirky national obsession that have become a mainstay of the Aussie road trip. But despite being cherished by many, these aging behemoths are now in danger of becoming a thing of the past.
Among the most iconic big things are the Big Banana in the southeastern city of Coffs Harbour, the Big Merino in Goulburn, an inland city southwest of Sydney, and the Big Lobster in the town of Kingston, South Australia. There are at least 200 other lesser-known ones from the Big Boxing Croc in the far-north town of Humpty Doo to the Big Root in Nowa Nowa, a country town in Victoria.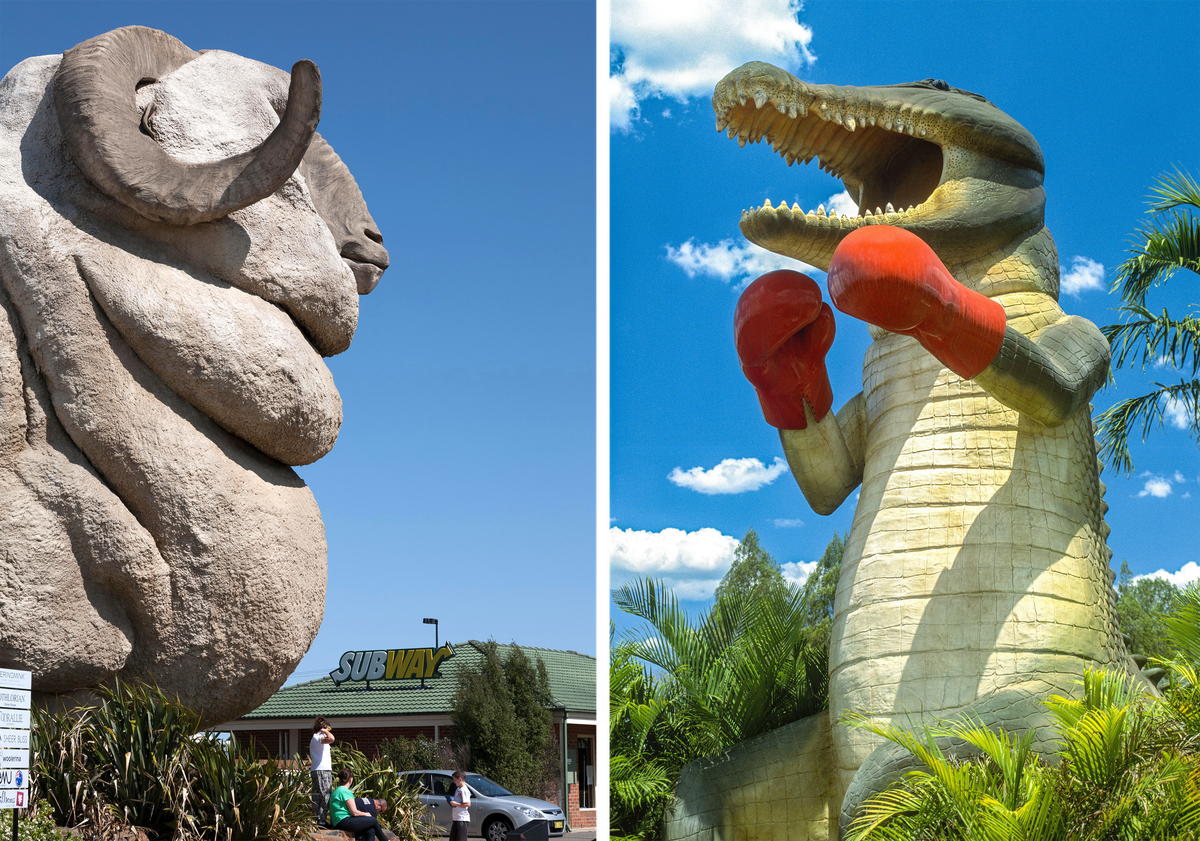 Lyn White and her husband, retirees from Liverpool, New South Wales, are traveling around Australia in a motorhome and have dedicated their golden years to discovering all the big things. "We arrange our itinerary around big things," White says. "It's the best way to travel! It's taken us to places we probably wouldn't have gone." After traveling for just over a year, the intrepid couple have clocked over 4000 miles in their hunt for big things.
Among the first and certainly the most iconic of the big things is the Big Pineapple, a massive 50-foot-tall fiberglass replica of the fruit built in Woombye in 1971. It was the brainchild of Bill and Lyn Taylor, who were inspired by the local agricultural industries and the success of the Big Banana in Coffs Harbour. They purchased a pineapple farm with the intention of turning it into a tourist attraction. It worked. Tourists to the Big Pineapple loved climbing up to the top and taking photos. They toured the plantations, learned about growing tropical produce, and rode the small train. Many stayed to eat at the onsite restaurant, which became famous for its pineapple parfaits.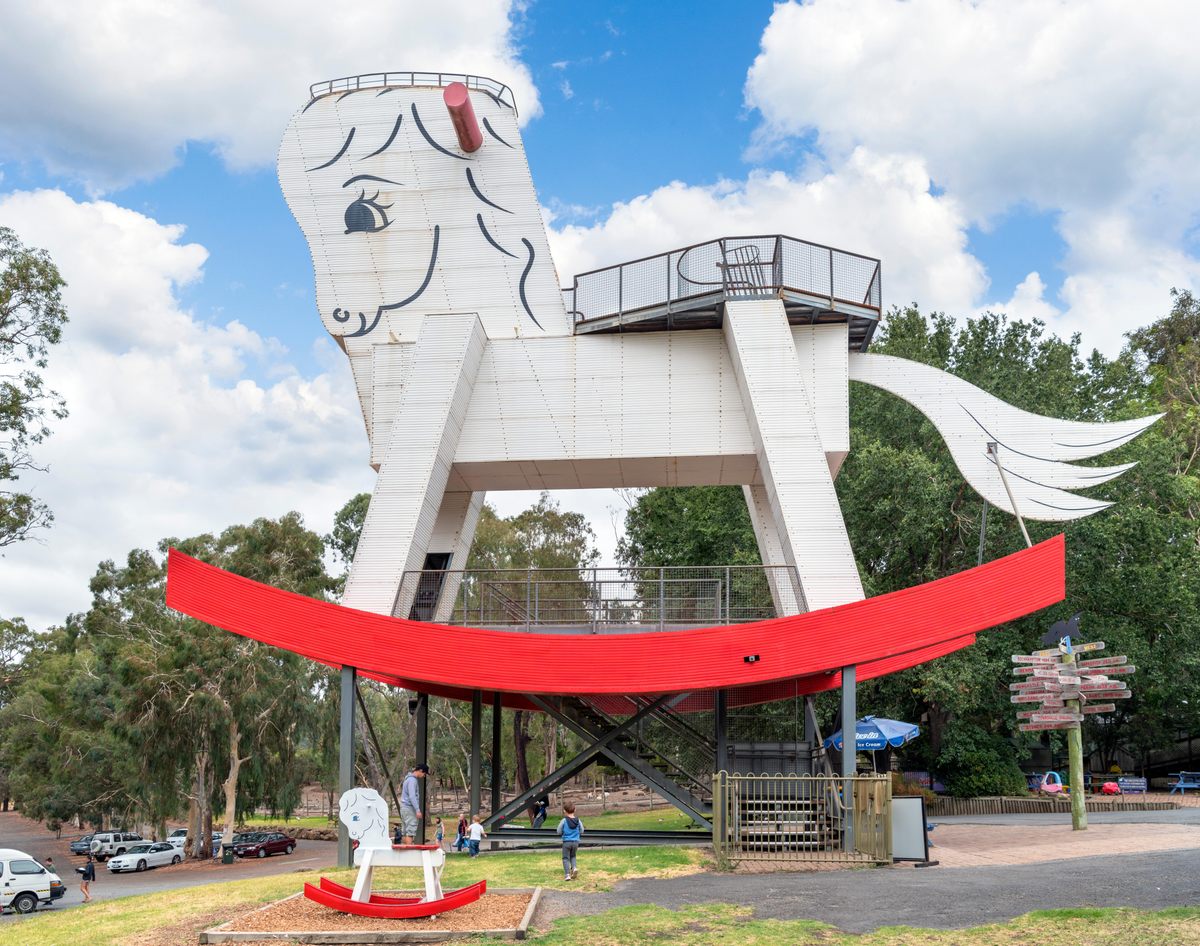 The Big Pineapple's success spawned more enormous objects in towns across the country. Examples include the Big Bulls in the central Queensland town of Rockhampton. They were dreamed up by then-mayor Rex Pilbeam to put his town on the map and funded by the cattle industry. Another was the Big Trout in Adaminaby in country New South Wales, built by a local artist named Adam Lomnici as an icon for the town. These big things became tourist hotspots, a place to take a break on a long road trip.
The 1970s to early 1990s was the golden era of big things. At the peak of its popularity, the Big Pineapple drew in a million tourists a year and was even visited by Prince Charles and Princess Diana on their Australian tour in 1983.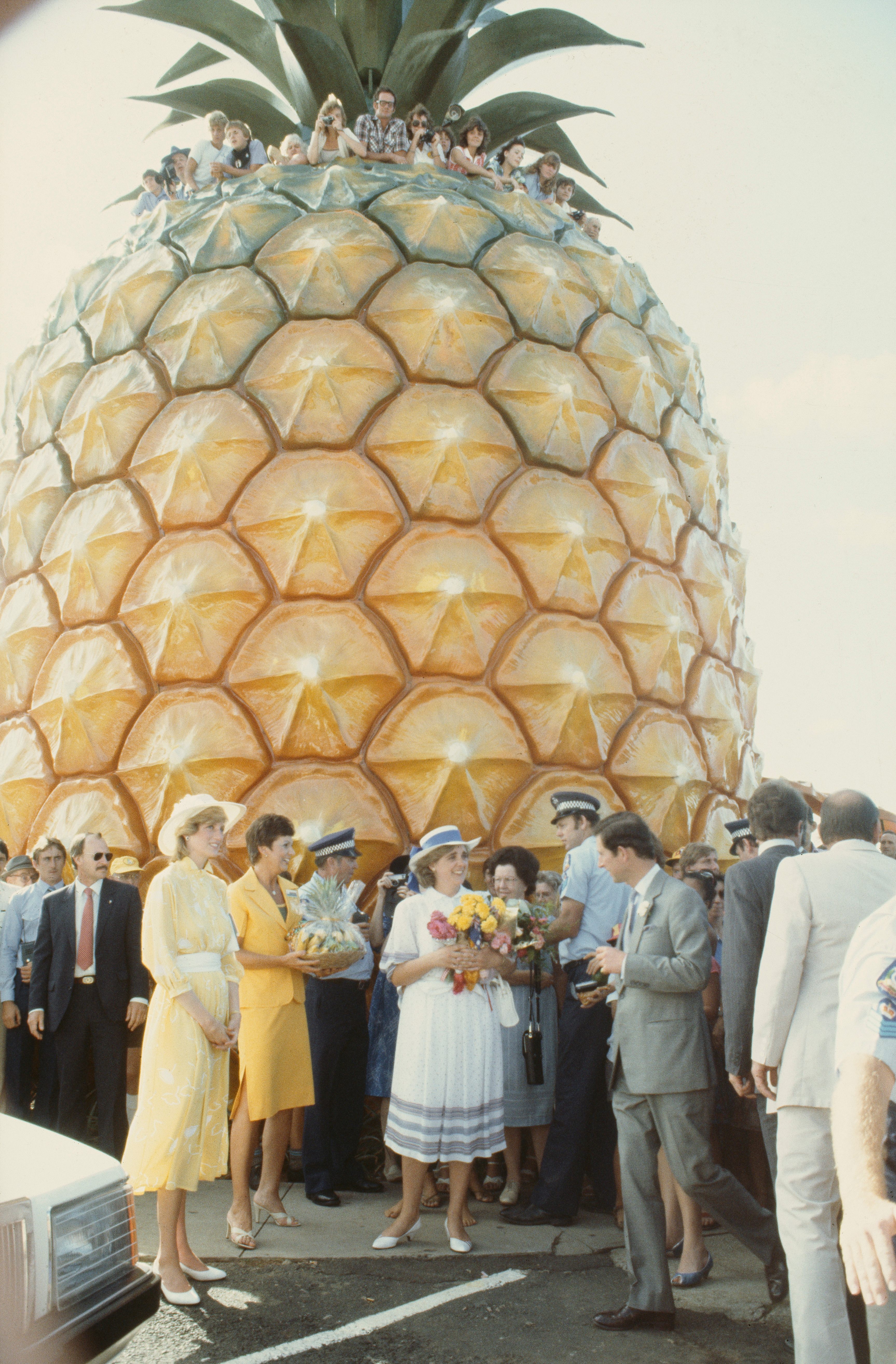 Today, the Big Pineapple retains its status as a tourist attraction and one of Australia's favorite big things. In 2009, it was heritage-listed in the state of Queensland, meaning it has "cultural heritage significance"' and will be preserved into the future. "Nothing says 'welcome to the Sunshine Coast' like a giant pineapple," says Visit Sunshine Coast CEO Matt Stoeckel. "It represents the Sunshine Coast's golden beaches, our lush subtropical hinterland, holidays spent in the region, and quality time with family and friends."
These kinds of memories are perhaps one reason why Australians have maintained so many massive concrete and fiberglass figures, David Nichols, associate professor in urban planning at the University of Melbourne, says. "These things could be slightly ridiculous or ludicrous. But it's a photo opportunity and it's a family story," he says.
"Ludicrous" is an apt word for many big things including the Big Dead Fish, which flops lifelessly on the roof of the Fish Creek Hotel in Victoria, and the Big Potato in the rural town of Robertson, New South Wales, which looks more like a gigantic cement poo. But the bizarre and even cringey nature are just part of their appeal.
"I think the first one I ever saw was the Big Koala," says Shani May, a BP fuel worker from Blackwood, Victoria. "And I just loved the weirdness of it." Others describe the Big Koala, a 45-foot giant guarding the entrance to a tourist shop in Dadswells Bridge, Victoria, as "creepy" and "intimidating" while simultaneously expressing their affection for the creature. Nichols, the urban planning academic, understands this sentiment. "If they're made really badly, and they look terrible. I love them more," he says.
Cristina Garduño Freeman, a lecturer in architectural history at the University of New South Wales, believes this attitude comes from the Aussie identity. "I think that it relates back to a particular kind of Australian larrikin culture that is double edged," she says. Larrikin culture is a mix of irreverence, anti-authoritarianism, and humorous irony which is entrenched in the national psyche. "On one hand, there is a kind of reverence for the high art, but at the same time, it's a very Australian trait to make fun of that," says Garduño Freeman.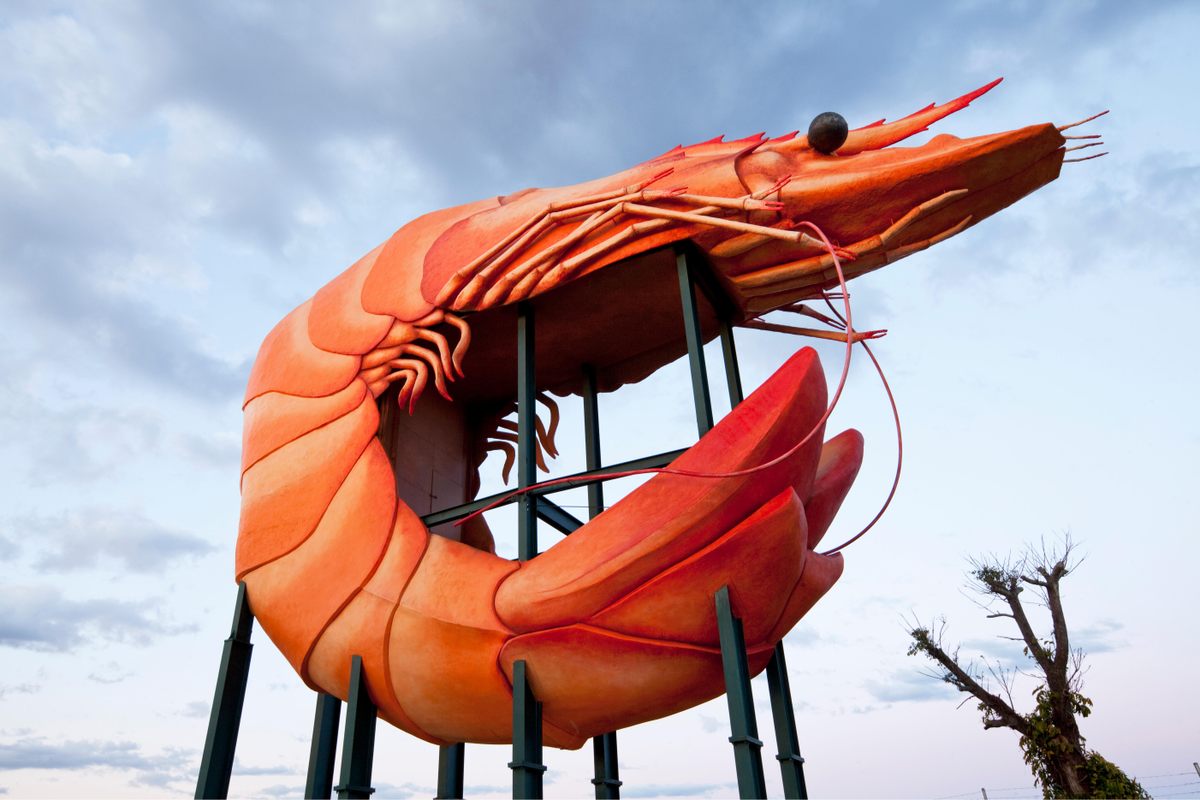 But as the years pass many of these kitschy monuments are reaching their expiration date. Town councils in possession of aging big things face a difficult decision: maintaining them is often a costly endeavor, while tearing them down can spark outrage. In the regional town of Ballina in New South Wales, residents became furious when the local council revealed plans to destroy their beloved Big Prawn in 2009. (Happily, the Big Prawn was saved and now lives next to the local hardware store.) The Big Potato is currently on sale for close to $750,000, but there haven't yet been any takers. Meanwhile, other landmarks such as the Big Orange in the rural South Australian town of Berri and the Big Macadamia Nut, in the east coast town of Nambour, lay abandoned, falling into disrepair.
Still some small Australian towns continue to build new big things. In recent years the coastal town of Tully in North Queensland, one of the wettest towns in the country, added the Big Gumboot. It's a 26-foot-high, 20-foot-long bronze boot with a green tree frog climbing up the side. Unveiled in 2003, the gumboot cost $22,000 to build. In 2015, Nyngan, an outback town in New South Wales, built a Big Bogan, a 20-foot-tall steel man sporting a mullet and wearing a tank top, shorts, and flip-flops. He's holding an oversized fishing rod and has a tattoo of the Southern Cross, the star constellation featured on the Australian flag, on his left bicep.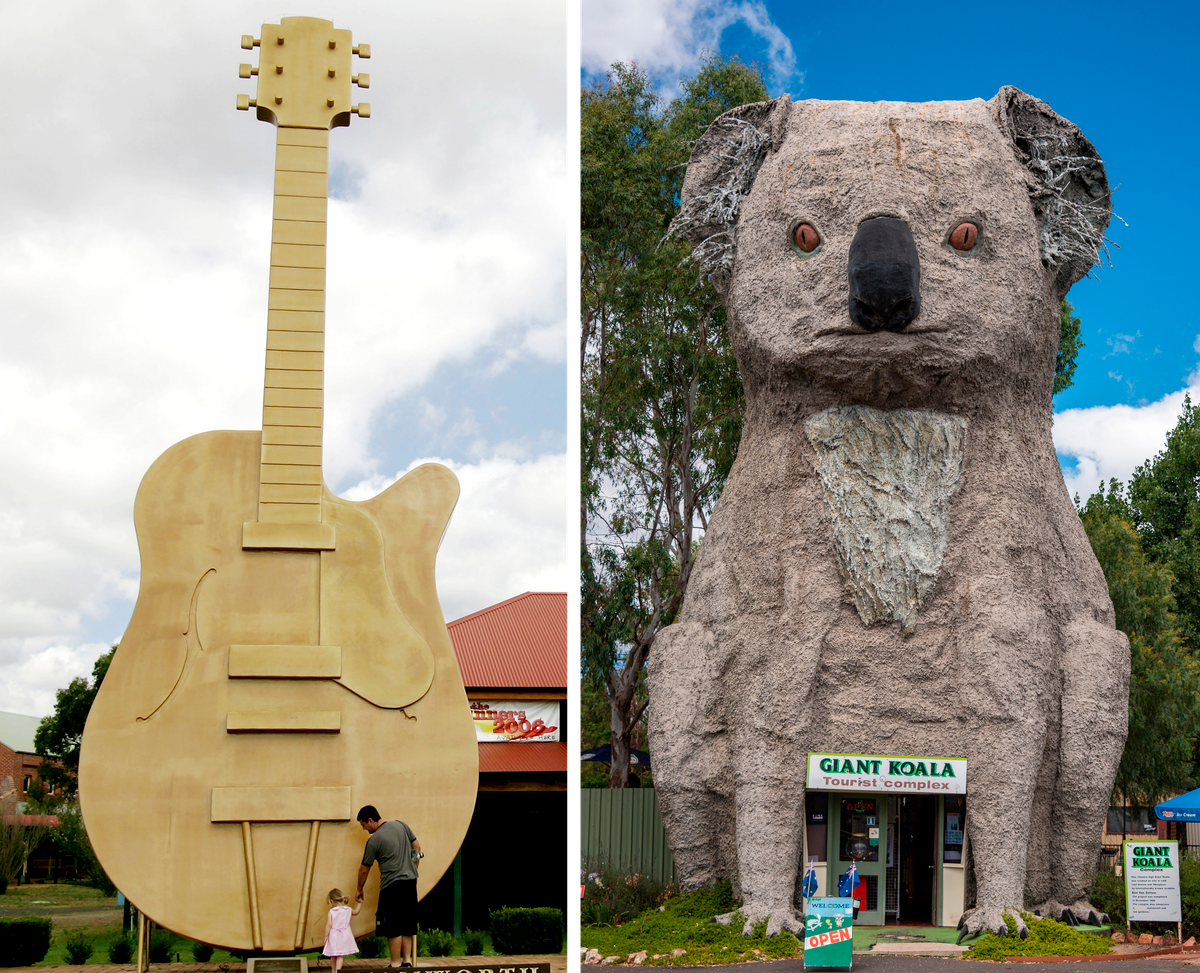 The newest big thing, the Big Platypus, was built in March 2021 in Eungella National Park, a rainforest park in Central Queensland. The local community raised $4,000 to have the structure built and placed at Broken River, the best place in the world to spot a wild platypus. The true-to-life replica has already proved to be hit with locals and tourists. Oskar Krobath, who works at the Broken River Information Center, says that people love taking pictures with the Big Platypus, named Pindi. Oskar doesn't think that the Australian obsession with quirky big things is going anywhere. "There will always be people doing something else or creating something else unique to entice people to come visit their region," he says. "And there's always a lot of people in Australia who have the big things on their to-do list."