For Sale: An Eternity With Eleanor Rigby
Just how did she, and other characters from Beatles songs, get their names?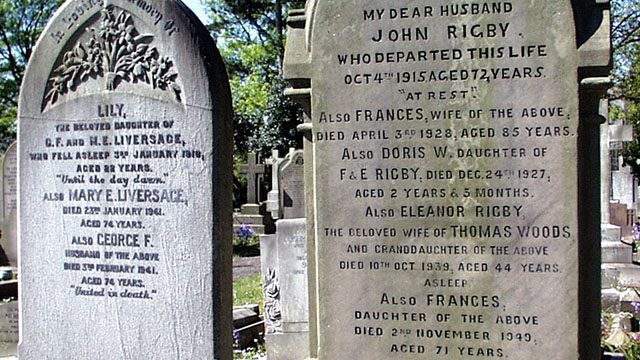 Nobody came to Eleanor Rigby's funeral, but the right person may be able to spend forever by her side. The woman who may have been the inspiration for the famous Beatles song is buried in St Peter's churchyard in Woolton, Liverpool, where John Lennon and Paul McCartney first met at a church fete. In an auction next month, The Guardian reports, deeds for her family grave space will go under the hammer, alongside an 1899 miniature Bible inscribed with her name, and, in a separate lot, the original handwritten score for the song.
In the United Kingdom, grave spaces are sold with a 99-year "exclusive right of burial." After that expires, another person may purchase the plot and be buried there, but only after 75 years have passed since the last full burial in the plot. The last person in Rigby's family grave was buried there in 1949. Seventy-five years, then, is only six years off.
But Eleanor Rigby was very nearly lost in the fog of time altogether. McCartney originally chose Miss Daisy Hawkins for the name of the song's protagonist, but it didn't scan as well as he'd hoped. Rigby, he said in 1984, he found on a storefront (despite the presence of the grave in such a pivotal place in Beatles lore). "I was wandering round Bristol one day and saw a shop called Rigby. And I think Eleanor was from Eleanor Bron, the actress we worked with in the film Help! But I just liked the name. I was looking for a name that sounded natural. Eleanor Rigby sounded natural." He came across Father McKenzie, the song's other character, in the telephone book, he said.
Rigby and McKenzie are just two of a whole cast of named characters in Beatles songs with borrowed or invented names. Many are women identified only by first names–Sexy Sadie, Lovely Rita, Michelle, Martha, Miss Lizzy. Others sound more like Clue characters: Mean Mr. Mustard in the dining room, or Sgt. Pepper in the library. Only a handful have both first and last names: Desmond and Molly Jones, Loretta Martin, Dennis O'Dell, Billy Shears.
There's no record of the inspiration for the name Molly Jones (of "Ob-La-Di, Ob-La-Da" fame), though her husband, with his barrow in the marketplace, was allegedly named after Jamaican ska artist Desmond Dekker. Dennis O'Dell (from "You Know My Name (Look Up the Number)," the B-side to "Let It Be") was the associate producer on their film A Hard Day's Night. Many of the others inspire fierce, unresolved debate and speculation among Beatles superfans. Loretta Martin, says one fan, is named for comedian Marty Feldman's wife. Another swears that it was McCartney's nickname for Lennon's wife, Yoko Ono.
Billy Shears is the leader of the fictional Sgt. Pepper's Lonely Hearts Club Band. A popular fan theory posits that McCartney died in a car accident in 1966, and that Billy Shears is the alter-ego of journalist William Campbell, who they believe replaced McCartney in the band. "When The Beatles found out about his death," the theory goes, "they instantly planned a lookalike contest where they found William Campbell Shears. Paul's best friend at the time, Mal Evans, took Billy on a trip to Africa, where they stayed for several months. While they were there, Billy had multiple surgeries done to his face, such as reconstruction of the nose, in order to transform into Paul McCartney." By contrast, Eleanor Rigby's tale seems positively straightforward.
The song, which spent eight weeks on the charts, seems to have caught and retained the public imagination. Loneliness never goes out of style. Omega Auctions is hoping these items will inspire "fierce bidding from across the globe," auctioneer Paul Fairweather told The Guardian. "To have both to come up for auction at the same time is an incredible coincidence and it will be exciting to see how they perform." He hopes the score might fetch nearly $26,000, and the grave space and Bible up to $5,200. The sale takes place on September 11 in Warrington, Great Britain.