The Master Baker Giving San Francisco Sourdough a New Shape
For 40 years, Fernando Padilla has sculpted with dough.
Fernando Padilla has lived, breathed, and shaped sourdough for the last 40 years. But he didn't prove immune to the recent pandemic baking trend.
The master baker at San Francisco's Boudin Bakery found himself in his garage covered in flour, baking continuously over a handful of days he had off earlier this year. "I was lucky to have a sack of flour in the house that I use for tests and stuff," he laughs. "It was hard to buy flour, even at the supermarket!"
Padilla is back at work and cheerful when I call him early one weekday. Even in the midst of the pandemic, he hasn't slowed down. His usual duties include training bakers, serving as the company's public face, and overseeing the baking at Boudin's various outposts. But it was the midst of graduation season. Padilla was busy launching a new loaf for new grads: four baguettes of sourdough looped around each other and baked to spell out "2020."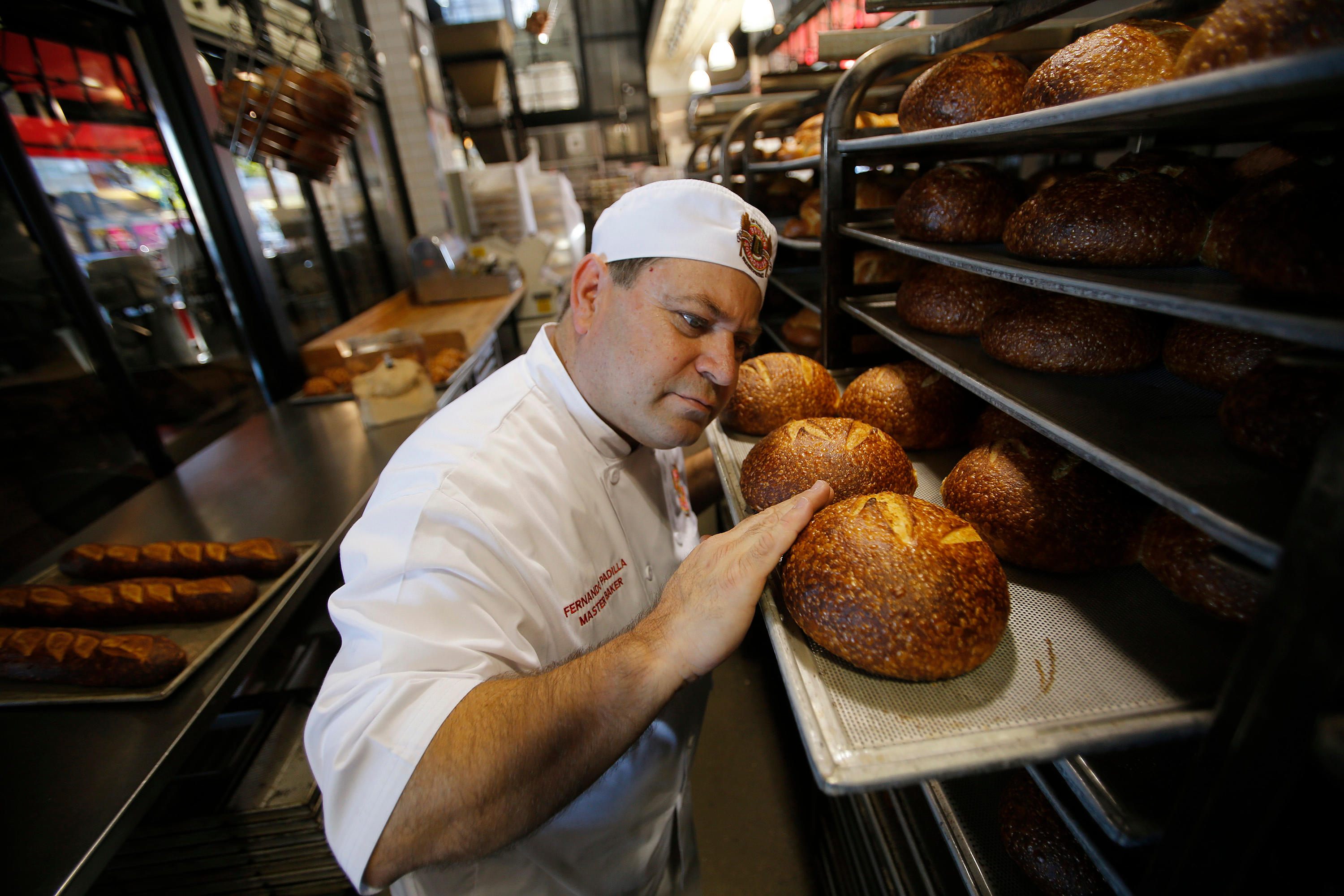 It was Padilla who first came up with the idea of forming the bakery chain's famous sourdough into decorative shapes. As a child, he loved to draw, and he was still a teenager when he started at Boudin. Since then, he has baked bread saxophones for former President Bill Clinton and bread trophies for racecar drivers. In better years, crowds of tourists come to gawp at the glossy bread menagerie on display at the bakery's shelves at Fisherman's Wharf. Each one was designed by Padilla.
Padilla compares unbaked sourdough to Play-Doh, and what he makes with it is equally fun. Only a few months into his baking career, which he embarked on in 1980, he created Dungeness crab-shaped loaves for a local seafood festival. They've stayed a standard on Fisherman's Wharf, along with loaves shaped like sea turtles and teddy bears. He's designed breads for every holiday, including hearts for Valentine's Day and bulbous Thanksgiving turkeys fashioned out of dinner rolls. Designed last year, the turkey emerged from iterations of variously shaped and sized birds, until Padilla found the perfect ugly-cute combination. "It became so popular that, my God, we couldn't make enough," he says.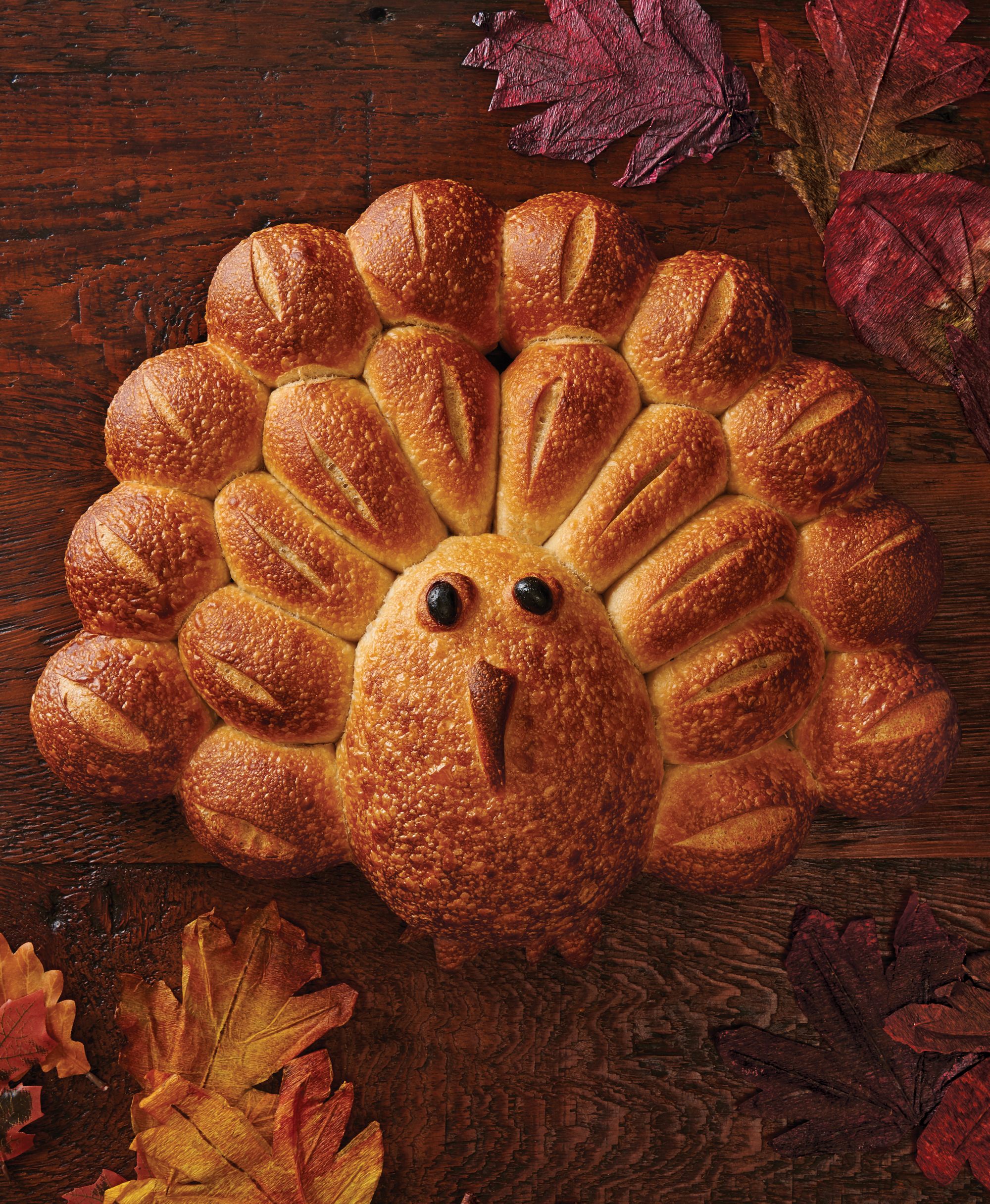 Shaped bread was a big change for the 171-year-old company, which for most of its existence sold standard round, baguette, and long loaves. But those simple loaves were still a success for the Boudin family, whose patriarch, Isidore Boudin, supposedly picked up a sourdough starter from a gold miner and parlayed it into what is now the city's oldest company.
Padilla still remembers his first taste of San Francisco sourdough. After his first day at Boudin, 40 years ago, his boss packed him a bag full of loaves. Hungry, he tried eating some on the way home.
"Oh my God," he remembers thinking. "Something's wrong with this bread." The next day, another baker showed him where they kept the 55-gallon drum of mother dough. The bakers also explained that they used no commercial yeast, and that it was the bacteria and wild yeasts in the mother dough that gave the bread its rise and flavor.
While he found San Francisco's signature bread pretty puckery, Padilla was already familiar with sourdough. He was born in Mexico, just outside Guadalajara, and he notes that many people in the region make a type of sourdough as well, often baked in the form of smallish birote loaves.
As a child, his family moved to the Bay Area. Padilla started work as a teenager to help support his parents and eight siblings. Most of his family worked for local scavenger companies. As for Padilla, he took a job as a gardener. But that didn't last long. His boss soon took him along when he got a job as a night-production manager at Boudin.
It was hard to adjust, at first. "I was a little boy!" Padilla exclaims. He remembers how dark his workspace was, at the century-old Boudin plant at 10th and Geary, and how he worked long hours surrounded by bakers from all over the world. But soon, he started to bond with his co-workers, who told him stories and challenged him to work faster.
Padilla was hooked, and he received a lot of encouragement. "Papa Steve, he took me by the hand," Padilla says softly. Stefano Giraudo, better known as "Papa Steve," had bought the business from the Boudin family in 1945. Padilla still remembers when Giruado took him aside and told him, "'You take care of the bread, and the bread will take care of you.'" Before he passed away in 1997, says Padilla, Giruado passed on the baton of master baker to him.
Over the years, Padilla has found many ways to take care of the bread. He pushed for a longer, colder proofing of the dough, for a better flavor. He's experimented with ingredients, looking for "flour the mother dough likes to eat." He also tinkered with flavors, so these days you can even order chocolate-raisin sourdough, or the aptly named, cheese-covered Garlic Volcano.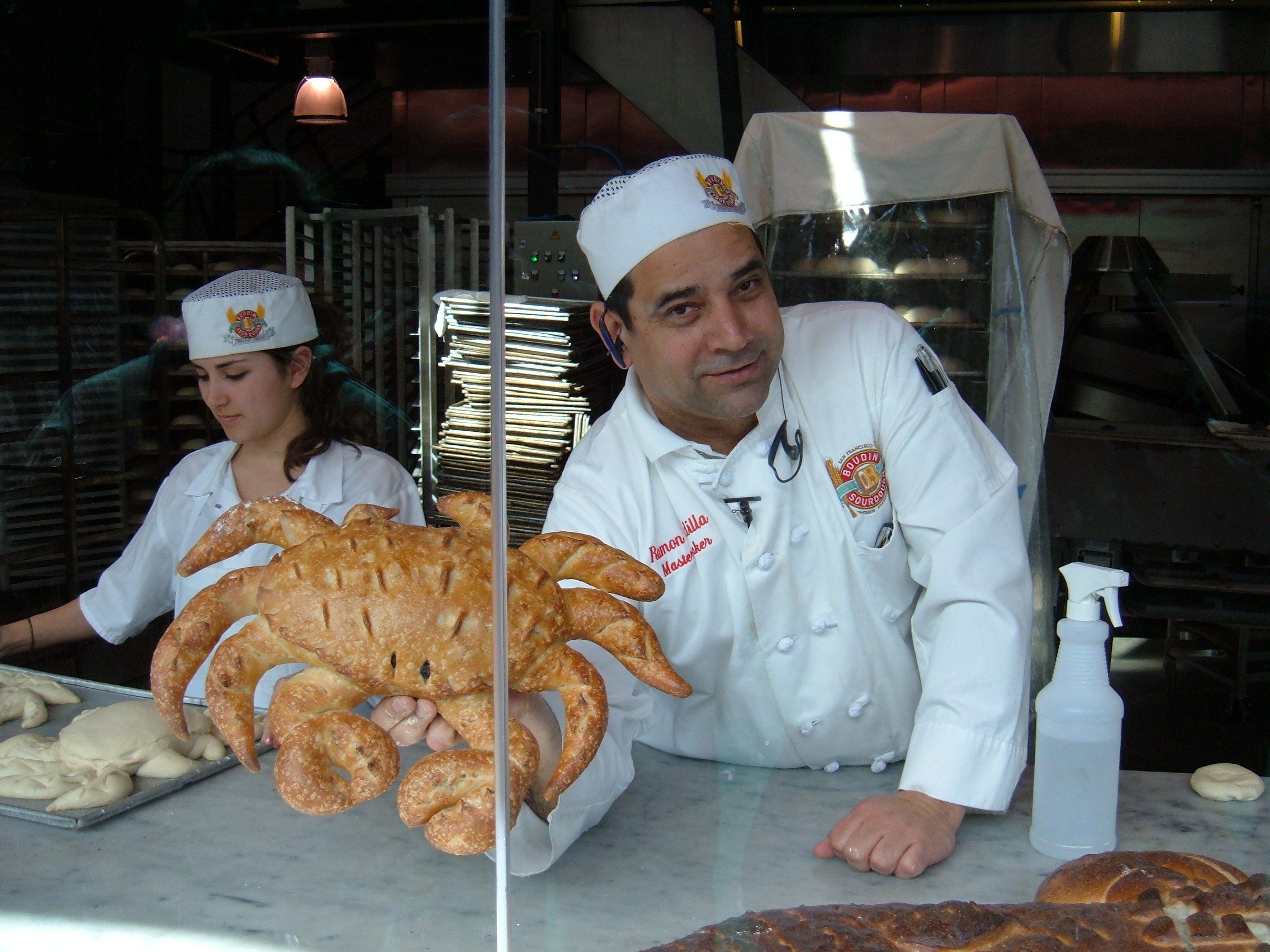 Even as COVID-19 spread, Boudin's bakeries kept churning out bread. In contrast, many of their cafes "pretty much shut it down," Padilla says. Like many people in the restaurant industry, he thinks some of the changes induced by a public sheltering in place may prove long-term. He isn't all that discouraged, though. Even the current delivery-heavy culinary climate isn't totally foreign to Boudin, as the bakery used to send horse-drawn wagons to homes around San Francisco and pin baguettes to special nails attached to customer's houses.
A few weeks ago, Boudin's marketing department asked Padilla to develop a bread for graduating students, resulting in his 2020-shaped loaves. Recently, he took some of the looped loaves to his nieces, who had just graduated from college, and had them pose with the bread for pictures. "Oh my God, they're adorable," he gushes. (It's unclear whether he's referring to the bread or his nieces.) But then, he sobers a little. "We can't have the celebration that we wanted," he sighs. "But we at least wanted to make it a little bit better."
Gastro Obscura covers the world's most wondrous food and drink.
Sign up for our email, delivered twice a week.