To Save India's Camel Culture, a New Dairy Is Selling Milk and Cream Cheese
The ungulate population has dropped precipitously.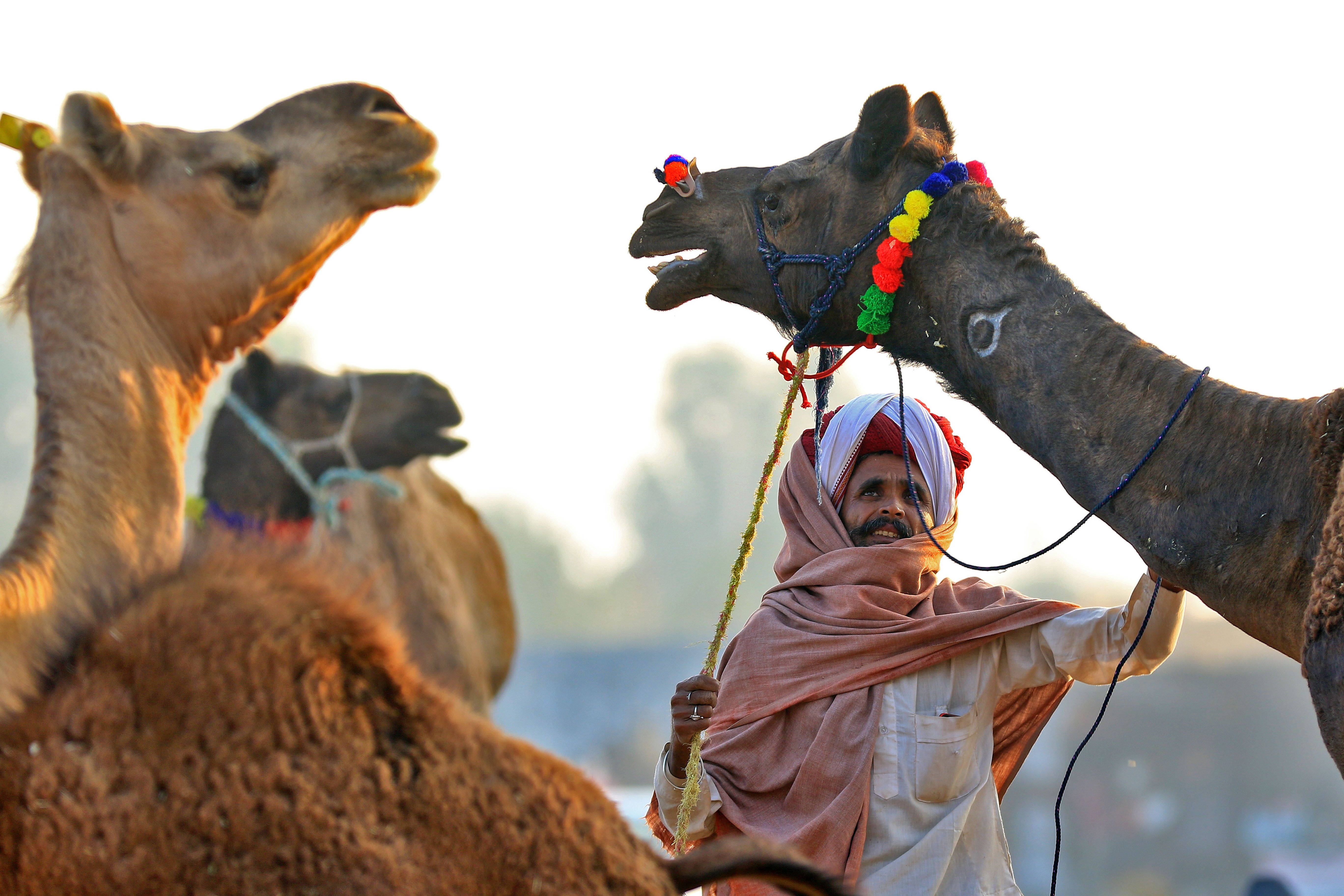 You can see by the way they've been dressed that the camels at the Pushkar Fair are well-loved. Festooned in tassels, beads, and brightly colored shawls, they emerge from the Thar Desert with their handlers each November, converging on the town of Pushkar in India's western state of Rajasthan for a week of celebrations, religious observances, and livestock trading. All told, more than 200,000 visitors flock to Pushkar each year for the country's (and some claim the world's) largest camel trading event. But despite the eye-catching ensembles and the festival's popularity, the number of camel sales has plunged in recent years. So, too, have the number of camels.
Believed to be home to 80 percent of India's total camel population, Rajasthan had well over one million of them for much of the 20th century. Nomadic and pastoral minorities such as the Bishnoi, Gujjar, and Raika owned most, caring for them as if they were their children.
"The Raika actually believe they were created by God Shiva to take care of the camels," said Dr. Ilse Köhler-Rollefson, a veterinarian who first came to Rajasthan in 1991 to study camel socioeconomics, and who works with the Raika and their camels.
This belief contributes to cultural practices such as not eating their meat, giving away the milk for free, and not selling female camels to anyone outside of the community to ensure the herd's continued growth. But the Raika will sell male camels to be draft animals that can help with farm work or transport. They were once in high demand at the Pushkar Fair, making camel herding a profitable business for the Raika. Endearingly, the Raika's camels are known for their friendly natures; even a stranger can expect to be greeted and nuzzled by female camels.
While camels are treasured by nomadic groups, they also benefit the entire region's ecology. For much of the year, the Raika guide their herds on migration routes through an area of Rajasthan called Kumbhalgarh. The camels graze on vegetation overlooked by other livestock, and farmers allow the herds to cross through their land, believing that the dung can increase crop yields by 50 percent. The Food and Agriculture Organisation of the United Nation also considers camels an important species for future food security in arid zones.
Over the past several decades, though, the Raika have lost the ability to support themselves and their water-storing friends through camel herding. In the 1990s, greater availability of roads and cars in Rajasthan made transport by camel less popular. An outbreak of Trypanosomiasis further endangered the herds. Jodhpur native Hanwant Singh Rathore, whose grandfather had been a famous camel rider and trader, founded Lokhit Pashu-Palak Sansthan (LPPS) with Köhler-Rollefson to help the Raika manage the disease. Hindi for "welfare organization for livestock keepers," LPPS would continue to play a crucial role in the Raika community even after they brought Trypanosomiasis under control.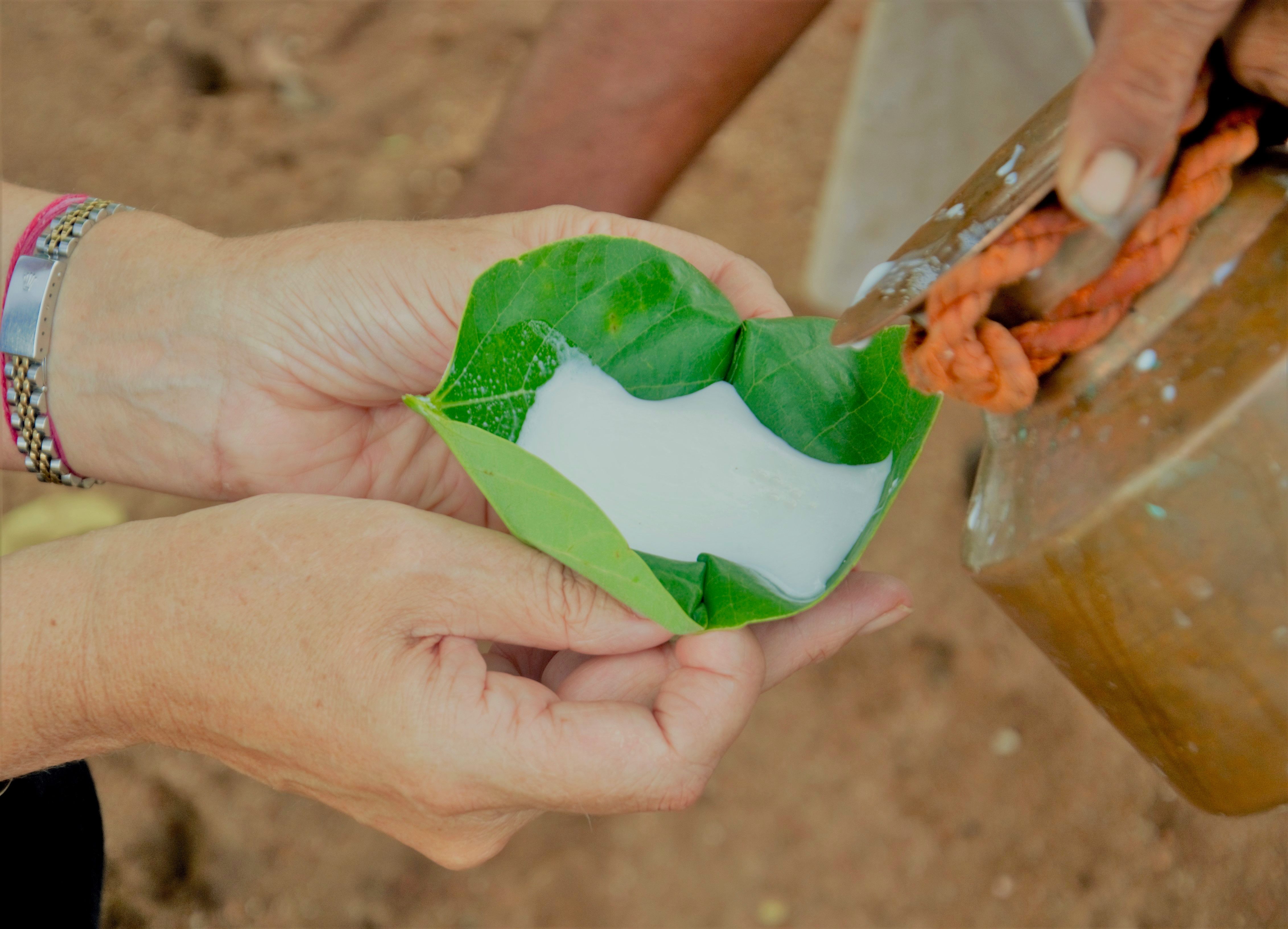 The straw that broke the camel's back, however, was the discovery in the early 2000s that some camels being sold at the Pushkar Fair were being taken out of Rajasthan and slaughtered for meat. The Raika appealed for help with the support of LPPS. The government took action, but not in the way they hoped. Legislation passed in 2015 banned the slaughter and transport of camels out of Rajasthan. This made it impossible for the Raika to sell to anyone from outside the state, thus eliminating their last source of income.
Drought and the loss of grazing lands to canal expansions and private wildlife sanctuaries have exacerbated the issue, making it just as difficult to keep camels as it is to sell them. Breeding has lessened, and families are giving up herds they've had for generations. Where there were once over one million camels, there are now fewer than 200,000.
"Nobody is buying camels, so nobody is keeping camels," Rathore said in an interview with GlobalPost.
The loss of camels doesn't just create a hole in Rajasthan's biodiversity, but in India's cultural diversity, too. With the central tenet of their caste disappearing, the Raika are abandoning their nomadic way of life for opportunities in the cities.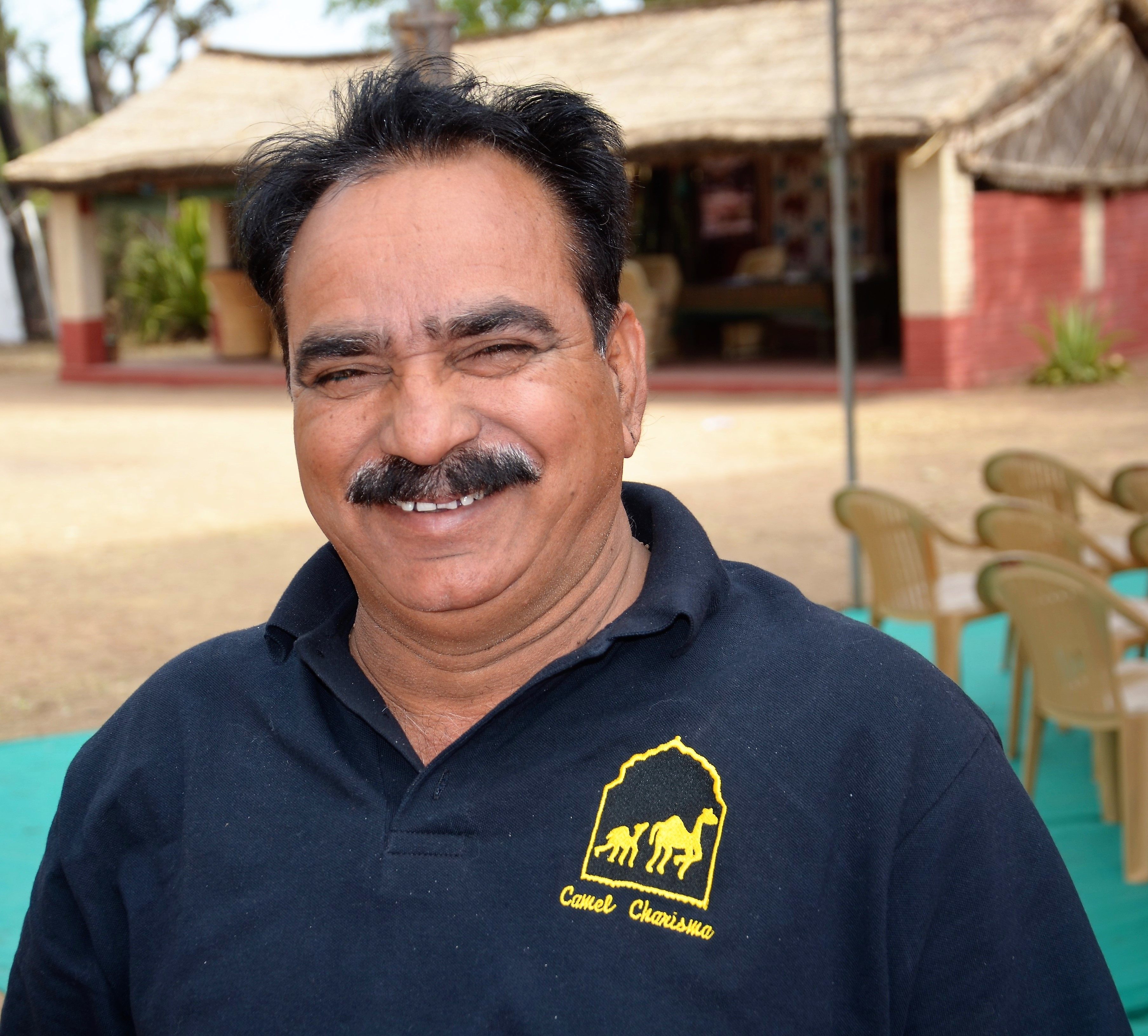 Undaunted, LPPS set out to develop new forms of income using the camel byproducts the Raika had relied on for centuries. They started by convincing the Raika to sell their camels' milk—an idea that went against their long-held beliefs—then worked with herders to supply it locally. In February of 2019, they cut the ribbon on the Kumbhalgarh Camel Dairy to much fanfare, clinking of milk-filled cups, and camel cheesecakes. For Rathore and Köhler-Rollefson, this center is key to allowing large numbers of Raika maintain their traditional, camel-centric lifestyle. In addition to cheese and milk, the dairy produces milk soap, wool textiles, and even paper made from dung. It's the first micro-dairy of its kind in India, and not just because it exclusively processes camel milk.
"We do not have a bulk milk cooler, but quickly pasteurize the milk and then chill it down very fast before bottling and deep freezing it," says Köhler-Rollefson. The frozen milk is then packed into styrofoam boxes and shipped directly to customers, many of whom seek out the milk for its alleged health benefits.
According to traditional knowledge, the camels graze on 36 plants in the area with medicinal properties. This produces milk that the dairy claims can help people with diabetes, high blood pressure, and autism. These are significant claims about nutrition—a field that is particularly challenging and resistant to firm conclusions. But they are being studied by scientists in journals such as Diabetes Research and Clinical Practice. Camel milk is also slightly lower in total fat compared to cow milk, but has more iron and vitamin C.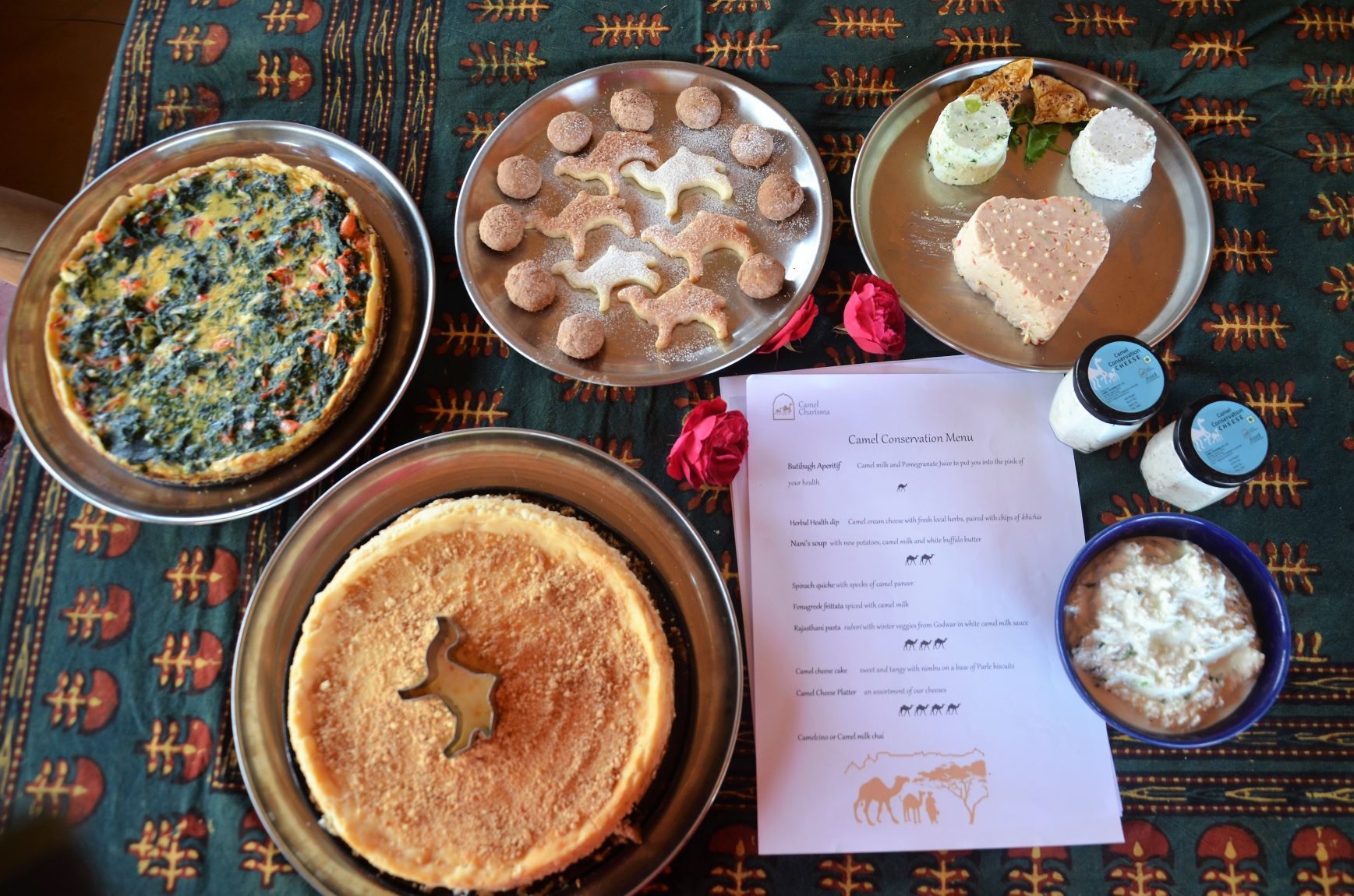 As for the Raika, they've adapted to the idea of selling the milk for profit. It's either that or walk away from camel herding altogether.
"Now all Raika want to sell camel milk," says Köhler-Rollefson. "We get dozens of phone calls most days from Raika who want to sell their milk, but we can't take it all at this point."
At present, the Kumbhalgarh dairy can pasteurize, chill, and ship 200 liters of milk in about a day, but the potential milk supply outstrips demand. Köhler-Rollefson and Rathore hope to offer more opportunities to suppliers as interest in camel products grows. In addition to promoting the milk to Indians as a heritage health drink, they're leveraging the novelty of camel products to draw in tourists. Ice cream seemed like the most novel and appealing product, but the team quickly learned that the "desert dessert" wouldn't make it far with Rajasthan's infrastructure.
"This requires a perfect cool chain, and with frequent electricity outages, this is just not guaranteed," says Köhler-Rollefson.
Instead, they've shifted to making cream cheese in flavors such as garlic, green chili, black pepper, and red pepper, as well as the occasional batches of feta and halloumi. While delicious and more shelf-stable than ice cream, the switch came with its own set of challenges. The Raika haven't traditionally made cheese, and camel milk doesn't coagulate easily. Rathore and Köhler-Rollefson had to bring in master cheesemakers from Austria, Denmark, and Kenya to help them develop the recipes.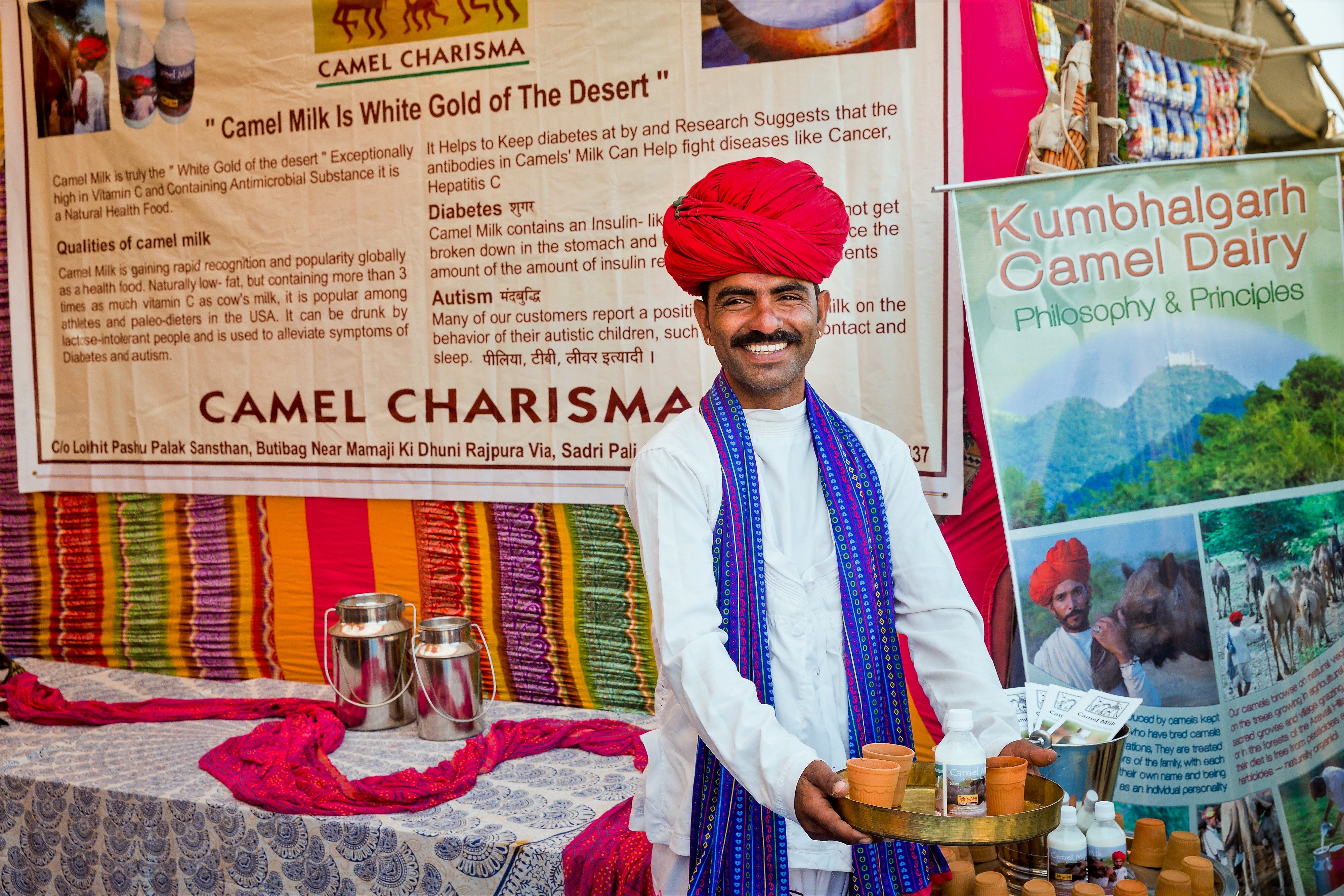 For now, interested buyers can get the cheese directly from the dairy or when they stay at the Ranakpur Camel Lodge, both of which are on the LPPS campus in the town of Sadri. Soon, however, diners at restaurants inside the Mehrangarh Fort in Jodhpur may be able to find Kumbhalgarh cheeses on the menu. The dairy has also been collaborating with Rajasthan's heritage hotels to make it available to tourists across the state starting this October.
Even with the upscale vendors, camel products have a ways to go toward being an industry that can sustain an entire caste. There's the issue of convincing Indians to drink the milk, which last October was described by Indian Express as needing to be "deodorised," which LPPS and camel herders say is nonsense.
Despite the hurdles, the team at LPPS and the Kumbhalgarh dairy are hopeful. They're pressing ahead with plans to promote the milk in Delhi supermarkets as the ultimate feel-good drink, one that is healthy for the buyer, supports the Raika, and protects camel breeds unique to Rajasthan from extinction. They've also received mentoring and support—Köhler-Rollefson has won a Rolex Award for Enterprise, which comes with a cash grant.
"We get a lot of help," says Köhler-Rollefson. "Somehow the whole issue of saving the camels casts a spell over people."
Gastro Obscura covers the world's most wondrous food and drink.
Sign up for our email, delivered twice a week.