Tasting the History of Puebla's Calle de los Dulces
One of Mexico's most fascinating streets for candies has ties to Emiliano Zapata.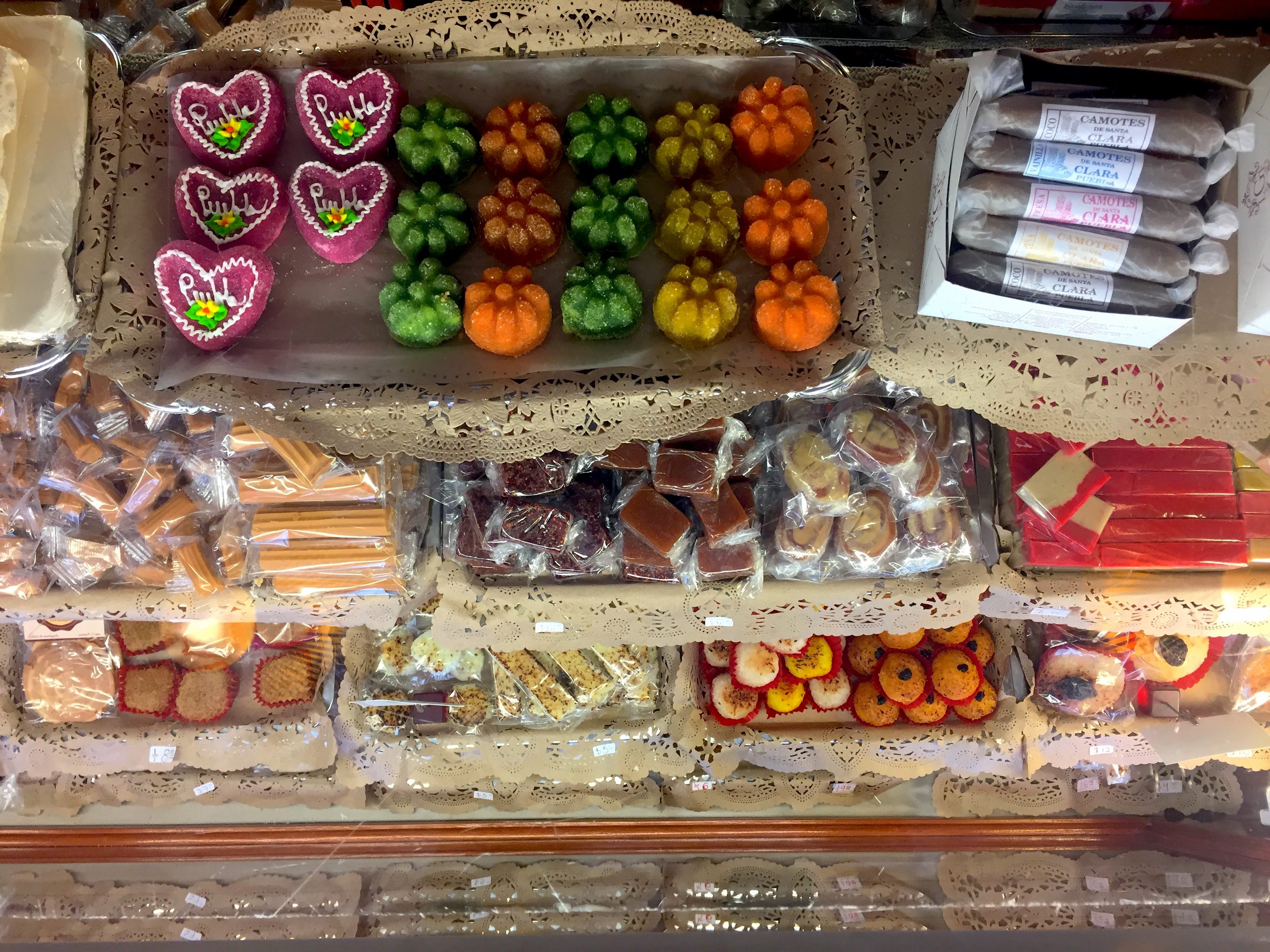 Every morning in Puebla, Mexico, most of the 40 dulcerías that line Avenida 6 Oriente open their front doors around ten. Owners shuffle down from their homes, often located above the shops, and set out displays of crystallized peaches and rainbow oblea wafers packaged like poker chips. Others polish glass cases of sweet potato camotes and caramel-colored Tortitas de Santa Clara. Another owner plays banda tunes over a single standing speaker. A paleta salesman bikes by, advertising his wares in a shout.
While passing foreigners might see this and think Willy Wonka took his genius to a two-block street in Central Mexico, this is daily life for people on La Calle de los Dulces. Situated in between the modern-style Mercado Victoria and the Teatro Principal, La Calle is the place where Puebla's candy artisans have the advantage of upped sales and public familiarity. And, of course, friendly competition.
"I can tell you that every house has its own recipes," Claudia Soto, the owner of La Gran Fama, says as she walks from the foyer to the kitchen in the dulcería she inherited from her grandmother, Dolores Espinoza. In the nearby front room, two-dozen types of Poblano sweets—from dulce de leche varieties to hen-shaped sugary figures—sit under a glass display case, glittering like pieces of jewelry. "It's just like talking about chile en nogada or, let's say, picadillo," she says. "One abuelita likes to put [in] pine nuts, while the other likes to use almonds."
Before we sit down to taste test the honey-made mueganos and mezcal borrachitos lathered in sugar flecks, Soto talks of La Gran Fama's history as inseparable from her own. Her great-grandaunt, Victoria Ortiz, a child of Spanish immigrants, began the official business—which Soto says was Puebla's first—sometime in 1892. This was a few decades before Mexican Revolutionaries roamed around the city (records show a "La Guadalupana" dulcería, where La Fama now stands today, going back to 1852). Though Ortiz owned two other shops, as many owners did, La Gran Fama persisted, and flourished long after her death in 1938.
Three generations later, Soto's the boss. She also has a career in interior design, which has ensured that her family's long-standing dulcería doesn't shut its doors. In fact, it's now the street's most popular. "I was born here," she says, "Right in the back house. I don't see my life without it. Without La Fama."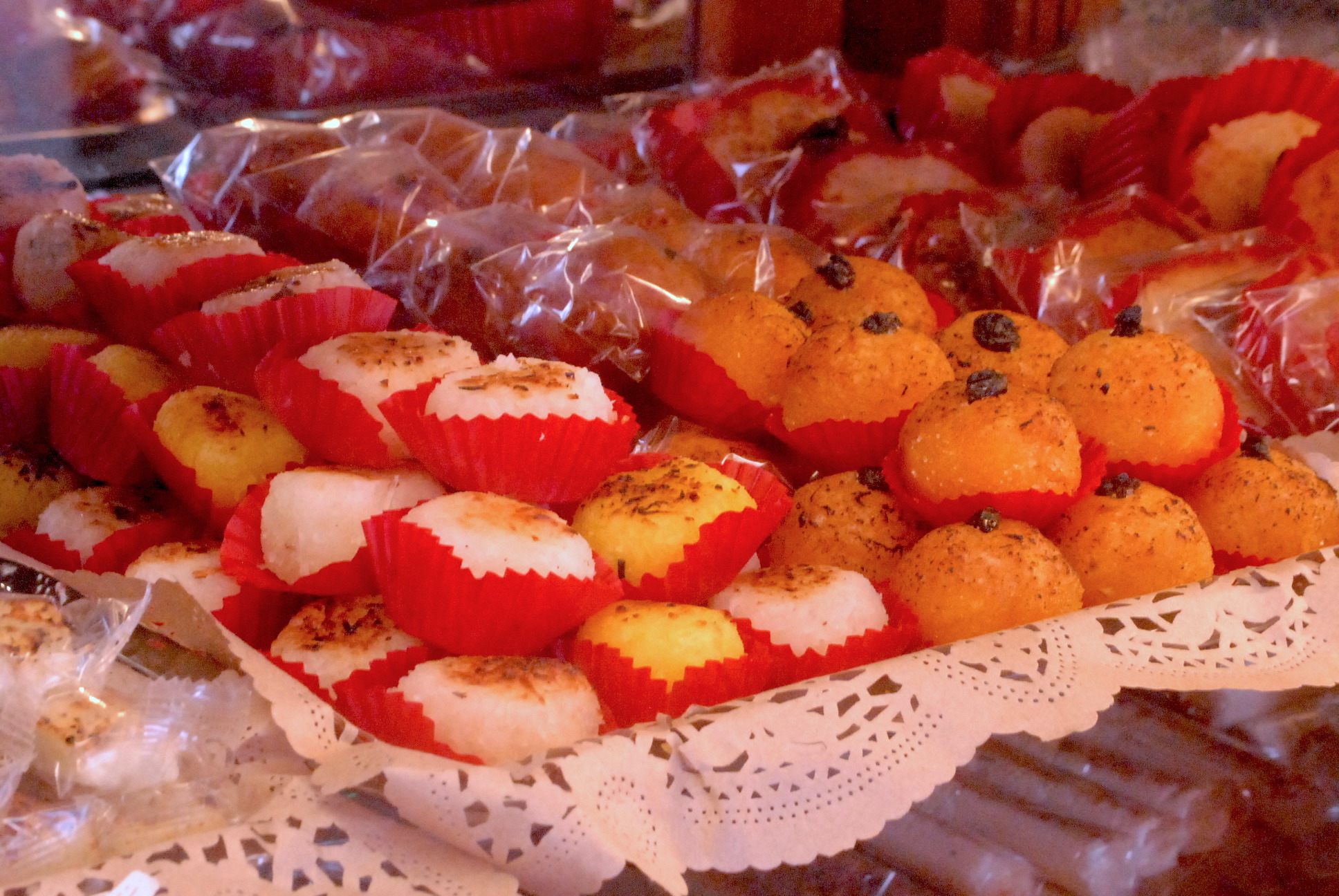 Although dulces existed in Mexico long before the Conquest, the Spanish influence—along with the Arabic and French—had an impact on present-day varieties. Seventeenth-century Franciscan monjas, or nuns, are often cited as its originators (such as Santa Clara of Assisi, patron saint of her eponymous cookie). In the kitchens, they mixed together milk and sugar cane, along with pumpkin seeds or almonds cultivated from native land.
Popular recipes emerged from nearby convents, like the one La Gran Fama's building used to be, and were both produced and perfected by the nuns' African and Indigenous slaves. That production kept Santa Clara's proprietor as one of the wealthiest convent owners in the city. "People always talk about the myth of the monjas," says Raymundo Padilla Narvaez, a third-generation owner of Dulcería Maryfer. "But they often forget who had the greatest part in the process: the people that labored in the kitchens."
On November 18, 1910, Carmen Serdán—whose brothers Aquiles and Máximo wrote anti-government treatises and stockpiled rifles for Emiliano Zapata from their boarding house on 6 Oriente—is said to have fired the "first shot" that sparked the Mexican Revolution. All the while, La Gran Fama operated next door. Today, a placard hangs on Soto's shop dubbing it "witness to one of the most significant events in Mexico." "We're neighbors, sure," Soto says. "But I don't know if there's any direct connection."
By the 1950s and 1960s, La Calle de los Dulces had grown into a centralized hub for típico-style confectioners, backed by Puebla's government, earning its current nickname. Soto says a burst of 1970s-era tourism birthed nearly half of the dulcerías you see up and down the two blocks—though quality, she says, is what made its reputation. I ask to try some of Fama's best, so Soto fills a tasting tray with seven well-known sweets. I pick up a dulce de pepita, a pumpkin-seed sweet with a soft center reminiscent of a cinnamon roll. "Te gusta?" Soto asks.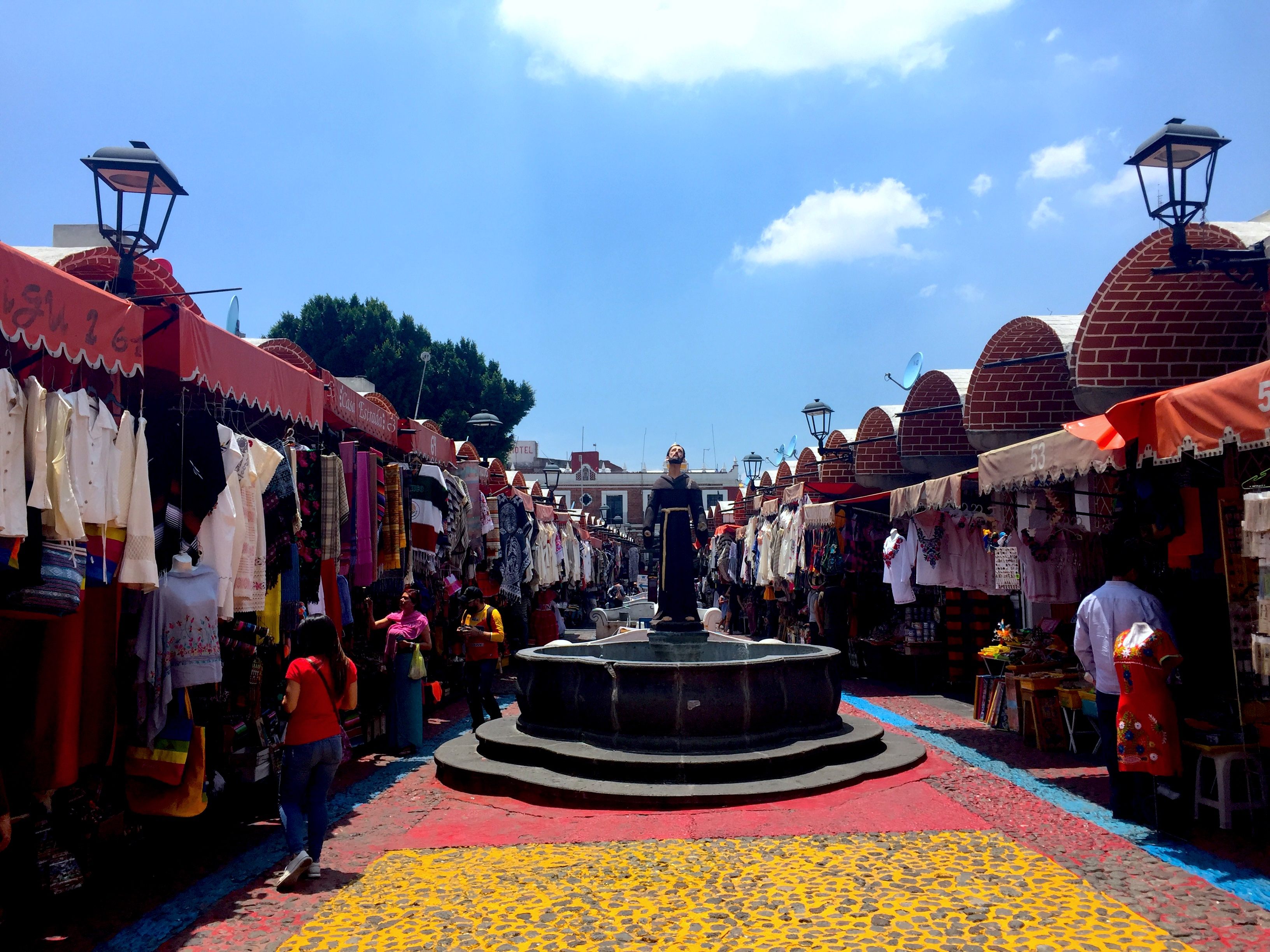 A few blocks southeast of Soto's two-store operation lies Calle 6 Norte, which, if you follow it far enough, runs into a similar hub called the Barrio Artesanal. There, tucked in a side house of a gold-colored colonial structure, is Cecilia Reyes Mendiola and her husband José Emilio. The two are the proprietors of El Colibrí, a dulcería shop and factory that's been in business for several generations, and that was started by José Emilio's grandparents. In a two-room kitchen, Cecilia and her husband prep all 28 of Colibrí's sweet offerings, including mounds of powdery yemitas, gummy gomitas, and borrachitos made with the house special (white wine). Of course, like any other shop, Colibrí has its own special charm.
"Mira, aquí," Cecilia orders, and shows me what she and her husband are producing: tiny Día de los Muertos calaveras (skulls) made from a mixture of water, egg whites, and pulverized sugar. They craft the eyes from cut sequins and sculpt the heads from a mold refurbished from motorcycle parts. Espinas de maguey (agave thorns) are used in place of wire tools. It's especially impressive, given that Colibrí will ship hundreds of these crafted skull dulces around the world by the end of October—with only four family members to help. "Y todos," she reminds me. "Son a mano." No machines or blenders are used; these are made by hand.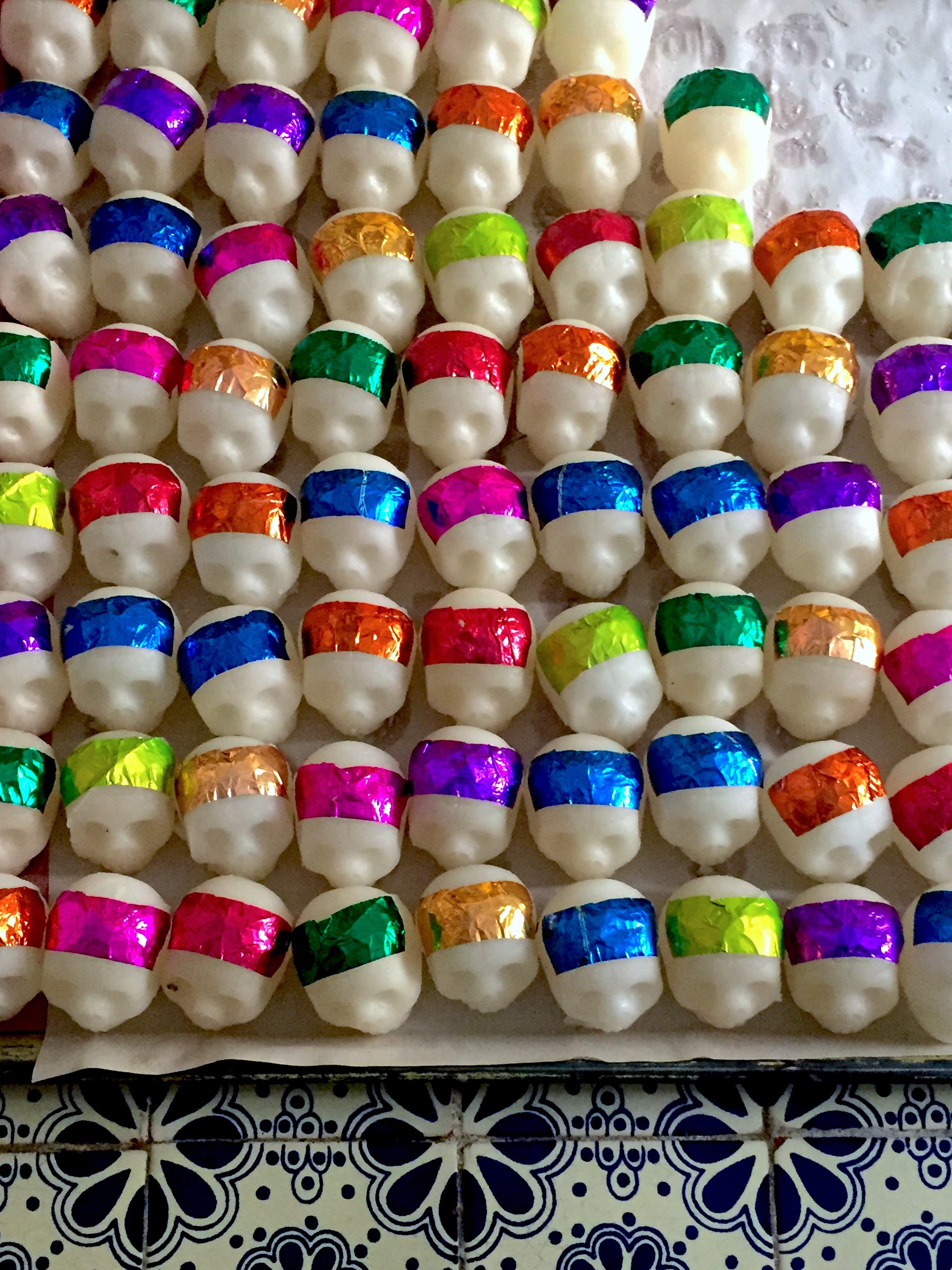 In the factory, gigantic cazuelas de barro (the clay pots mole is stirred in) hang on the wall, along with bright-colored papel picado (festival flags) and various homages to Frida Kahlo. While José Emilio works, Trío Los Panchos sing old boleros over the record player. Skeleton figures (catrinas) greet patrons hanging from the ceiling. As Cecilia explains, color comprises the base of this tightly-guarded tradition, one not separate from a cultural philosophy of the senses: taste and presentation coupled as one. "The advantage of us Mexicans," Cecilia says, "is that we're really colorful. We love color here."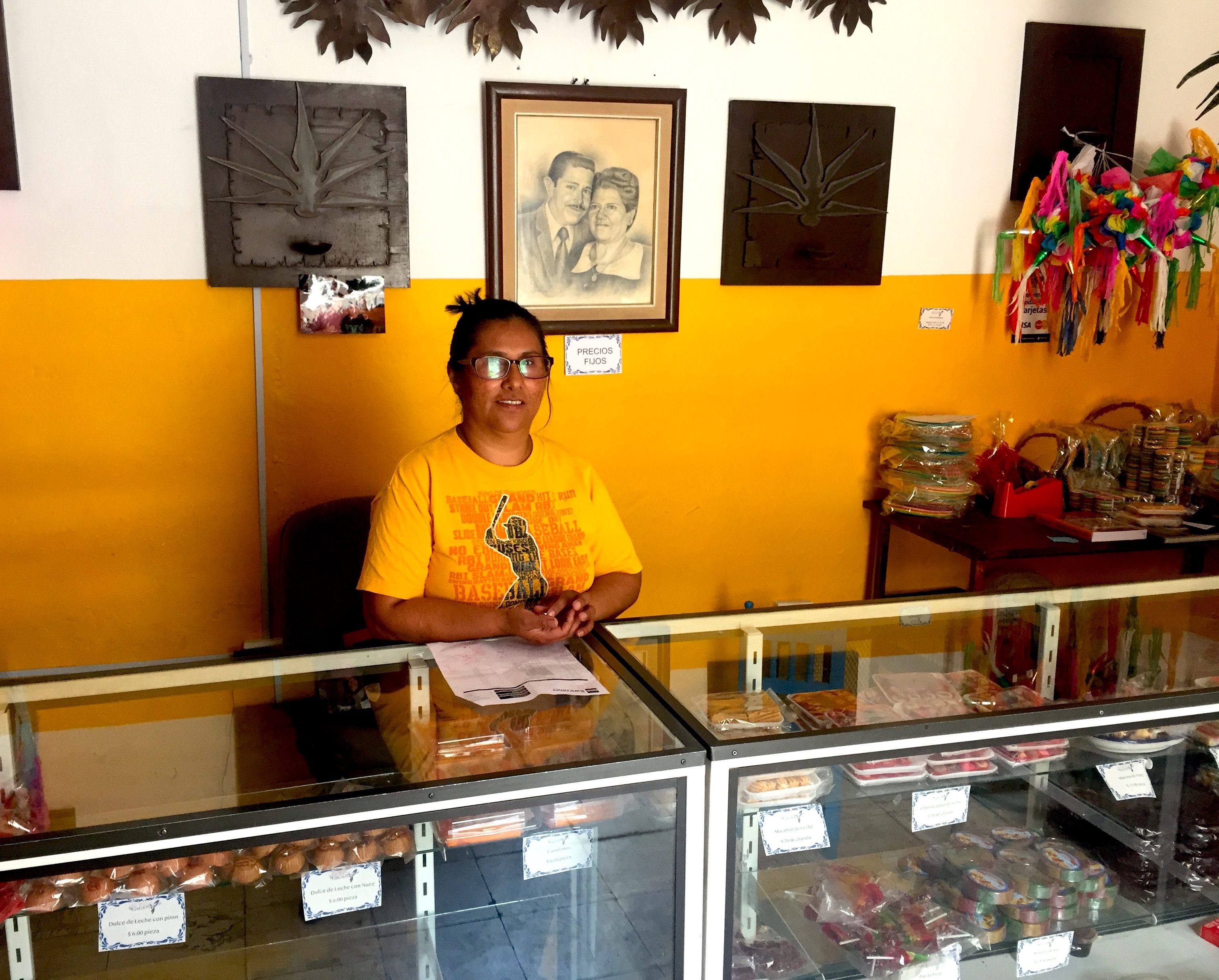 Though most owners, such as the proprietors at Colibrí, admit that the majority of their sales are geared towards Puebla tourists, a good percentage of patrons are dulce regulars. José Emilio says it's primarily because of La Calle's inherent magic, its legacy of location. "You see, I don't have to leave the street," José Emilio tells me. "All that I need is right here."
Expensive shipping fees, a lack of preservatives, and scarce international importers have kept knowledge of Colibrí's—and Puebla's—goods solely within Mexico. It's the same for Soto at La Gran Fama: Most of the shops and factories on Avenida 6 don't ship their sweets outside the city. If they do, it's not too far. "There's only one disadvantage to dulces tipicos," Cecilia says. "We can't ship the most delicate kinds too far around the world. If we did, they'd break."
Gastro Obscura covers the world's most wondrous food and drink.
Sign up for our email, delivered twice a week.