Found: A Slew of Cannonballs Below a Stockholm Street
They'd been there for centuries.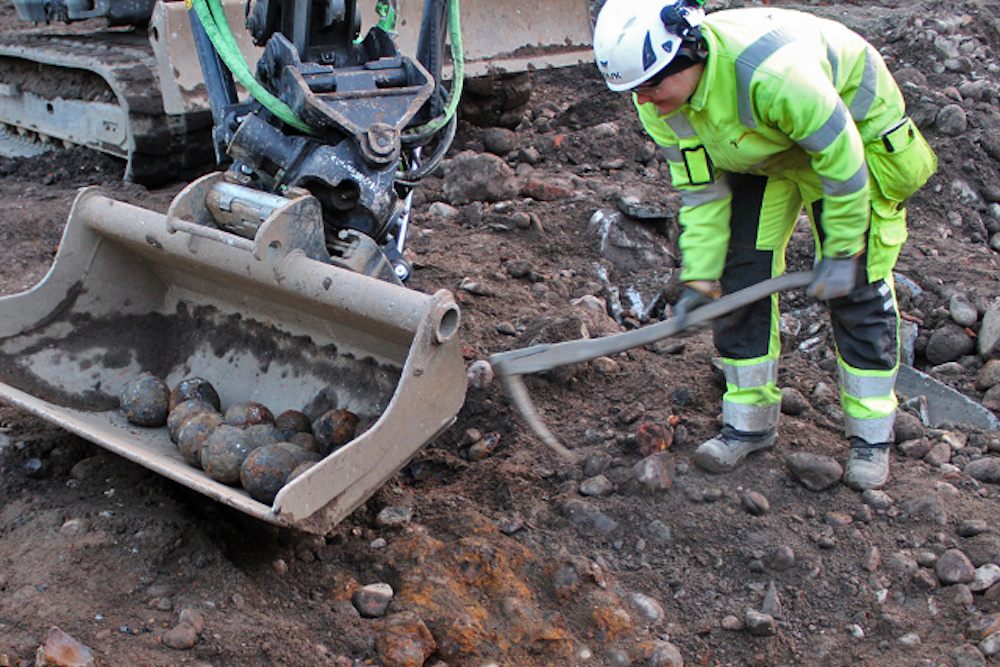 Construction projects are ostensibly all about the future, paving the way for smoother commutes, more housing, or maybe denser shopping districts. During the building process, though, crews often encounter the long-buried past. That's what happened in Stockholm, Sweden, last month, when crews came upon a trove of centuries-old cannonballs.
The Slussen area of the city has had a number of past lives. It has been a lock connecting waterways, and then a clover-shaped traffic junction and a broader transit hub. In the future, it's also slated to be a pedestrian paradise, with outdoor eateries and plenty of space to wander. At the moment, it's a dig site—and that's where, The Local reported, a crew recently uncovered some 200 cannonballs, plus a couple of grenades and cannons, strewn in an old moat.
Iron was a big business in Stockholm throughout the centuries. By the 1650s, exported bar iron topped 17,300 tons. Speaking to The Local, archaeologists from Arkeologikonsult surmised that the balls—which weigh as much as 18 pounds—may have been dumped on the site in the mid-1600s, deliberately left behind when fortifications moved elsewhere.
But why were they buried, instead of melted and reworked? That's a puzzle that archaeologists have yet to solve.